Game Summary
The defending NBA champion Cavaliers travel to Oakland on Monday night for Game 5 against the Golden State Warriors at Oracle Arena. Tipoff is at 9:00 p.m. (ET).
The Wine & Gold aim to build momentum following their thrilling, 137-116 victory in Game 4 on Friday night at The Q.
CAVS TO DON BLACK JERSEYS.
From where to catch all the action to Monday's game notes, Cavs.com has you covered.
WTAM 1100, 100.7 WMMS, 87.7 FM La Mega
Joe G. has your five keys to a victory.
Learn more about Monday's matchup.
Discuss on Wine & Gold Nation.
The Cavs' 137 points in Game 4 set a franchise playoff record and was the highest single-game total in a Finals game since the L.A. Lakers beat Boston, 141-122, on June 4, 1987.
Cleveland got off to a fast start in Game 4, outscoring Golden State, 49-33 in the first quarter, which is the highest-scoring quarter by one team in NBA Finals history (prior was 47 by Lakers vs. Boston in the third quarter on June 3, 1984; Game Three at L.A.) and in Cavaliers history (regular and post). The Cavs' 49 points marked the highest-scoring first quarter in NBA postseason play and were two shy of matching the largest overall quarter in NBA Playoff history (51 by the Lakers vs. Detroit in the fourth quarter on March 31, 1962; Game Five, West Finals).
Also in Game 4, the Cavs rang up the highest-scoring half in NBA Finals history and franchise history (regular and post) when they outscored Golden State 86-68 in the first half.
Much of the Wine & Gold's high-scoring came via the long ball. The Cavs have now made at least 20 three-pointers twice in this year's postseason after nailing an NBA Finals record 24 three-pointers (including Finals record 13 in the first half) in Game 4 against Golden State. The Cavs also connected on 21 three-pointers in Game 3 of the First Round against the Pacers on April 20. In NBA Playoff
history, there's only been 11 times a team has made at least 20 threes, and the Cavs have done it five of those times.
As hot as the Cavaliers were on Friday night, they know the task gets tougher as the squad faces another elimination game, this time at Oracle Arena where the Warriors are a perfect 8-0 this postseason.
Of course, heading to Oakland with a 3-1 deficit is nothing new for the Wine & Gold, having completed the greatest comeback in Finals history in the exact same hole to claim last season's title.
If the Cavaliers hope to repeat history, they will have to find a way to contain Kevin Durant. The Warriors All-Star forward has scored 30 or more points in five of the last six games - including his last four - compiling averages of 34.3 points and 8.8 rebounds in the Finals.
Where to Catch the Action
Radio: WTAM 1100, 100.7 WMMS, 87.7 La Mega
Probable Starters/Status Update*
#2 - Kyrie Irving
#5 - J.R. Smith
#23 - LeBron James
#0 - Kevin Love
#13 - Tristan Thompson
G
G
F
F
C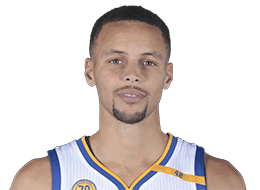 #30 Stephen Curry
#11 - Klay Thompson
#35 - Kevin Durant
#23 - Draymond Green
#27 - Zaza Pachulia
Status Update: (Cavs) - None to Report
Status Update: (Warriors) - None to Report
Series Stats
LeBron James registered his 19th playoff triple-double (3rd of 2017 postseason) with 31 points on 11-22 (.500) shooting, a team-high tying 10 rebounds, a game-high 11 assists and a steal in 41 minutes. In this series, he is averaging a triple-double with 31.8 points on .540 shooting, 11.8 rebounds and 10.8 assists in 41.5 minutes.
With his first basket of the night, James moved past Michael Jordan (1,176) for the 3rd most points in NBA Finals history. Only Jerry West (1,679) and Kareem Abdul-Jabbar (1,317) has more Finals points. James also passed Jordan (1,643) for the most free throws made in NBA postseason history with his third make of the game. He also moved past Magic Johnson (8) for the most triple-doubles in NBA Finals history with 9.
Kyrie Irving finished with 40 points on 15-27 (.556) shooting from the field and 7-12 (.583) from beyond the arc, a postseason career-high seven rebounds, four assists and a steal in 41 minutes. Irving now has three career 40-point games in his playoff career, including two in the NBA Finals. His 7 three-pointers are a new postseason career-high and are tie for the the 2nd most in a NBA Finals game (record is 8 by Ray Allen on 6/6/10 at LAL). In the 1st half, Irving poured in a postseason career-high and franchise record tying 28 points (LeBron James 28 in 2nd H at IND on 4/20/17; LeBron James 28 in 1st H at BOS on 5/7/10), going 11-14 (.786) from the field and 4-6 (.667) from deep.
Kevin Love finished with 23 points on 7-14 (.500) shooting and a 6-8 (.750) mark from deep, five rebounds, two steals and a block in 29 minutes. Love has now scored at least 20 points in six games this postseason.
J.R. Smith tallied 15 points, including a 5-9 (.556) mark from beyond the arc in 29 minutes. In his last two games, Smith is averaging 15.5 points on 10-20 (.500) shooting and 10-19 (.526) from beyond the arc in 31.5 minutes.
On Deck
If the Cavaliers can stay alive, they return to what promises to be a berserk Quicken Loans Arena for Game 6 on Thursday night. If history repeats and the series goes the duration – Game 7 goes down on June 18, Father's Day once again, at Oracle Arena.FIND SEATS | SCHEDULE