Game Summary
After defeating the Boston Celtics 4-1 in the Eastern Conference Finals, the defending NBA Champion Cavaliers are back in the NBA Finals. Tipoff for Game 1 against the Golden State Warriors from Oracle Arena is at 9:00 p.m. (ET).
The Wine & Gold reach the Finals for third straight season and fourth time in franchise history (2007, 2015, 2016, 2017).
CAVS TO DON NAVY JERSEYS.
From where to catch all the action to Thursday's game notes, Cavs.com has you covered.
WTAM 1100, 100.7 WMMS, 87.7 FM La Mega
Joe G. has your five keys to a victory.
Learn more about Thursday's matchup.
Discuss on Wine & Gold Nation.
Cleveland and Golden State have split the last two NBA Finals, with the Cavaliers defeating the Warriors 4-3 in the 2016 Finals to become the first team in league history to overcome a 3-1 Finals series deficit and earn their first NBA championship.
Both squads enter this season's Finals having cruised through their respective Conferences.
At 12-1 this postseason, the Cavaliers are the first Eastern Conference team to reach the NBA Finals with one or fewer losses since the 1995-96 Chicago Bulls. Cleveland
is 7-0 on the road and have won 9 straight road playoff games overall (2nd-longest road win streak in NBA Playoff history, behind only the L.A. Lakers-12 straight from
4/29/01-5/18/02).
Golden State is the first team in NBA history to start the postseason 12-0. The last team to enter the NBA Finals without a loss was the 2001 Los Angeles Lakers (11-0). Overall, including the regular season, the Warriors have won 27 of their last 28 games.
Cleveland has scored at least 100 points in all 13 playoff games, becoming the first team in NBA history to score 100+ points in each of their first 13 postseason games. Golden State has reached the century mark in scoring in each of its 12 postseason games.
In the 2017 Playoffs, the Cavs lead all playoff teams in field goal percentage (.507), three-pointers made per game (NBA-record 14.6), three-point percentage (.435),
and offensive rating (120.7), while ranking 2nd in points per game (116.8) and 2nd in points differential (+13.6). The Warriors possess a point per game differential of +16.3, the highest in the history of the NBA Playoffs (minimum 5 games), according to ESPN Stats & Info.
Where to Catch the Action
Radio: WTAM 1100, 100.7 WMMS, 87.7 La Mega
Probable Starters/Status Update*
#2 - Kyrie Irving
#5 - J.R. Smith
#23 - LeBron James
#0 - Kevin Love
#13 - Tristan Thompson
G
G
F
F
C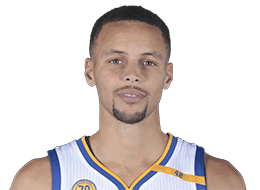 #30 Stephen Curry
#11 - Klay Thompson
#35 - Kevin Durant
#23 - Draymond Green
#27 - Zaza Pachulia
Status Update: (Cavs) - Edy Tavares (Right Hand Fracture, Out)
Status Update: (Warriors) - None to Report
Head-to-Head Matchup
The Wine & Gold and Warriors split their 2016-17 Regular Season series with each team winning on their home floor.
Against the Warriors in the 2016 NBA Finals, LeBron James became the first player in NBA history to lead both teams in all five major statistical categories for an entire
playoff series with 29.7 points (208), 11.3 rebounds (79), 8.9 assists (62), 2.57 steals (18) and 2.29 (16) blocks.
This postseason, LeBron James has scored at least 30 points in 11 of 13 playoff games and is averaging a team-high 32.5 points on .566 shooting from the field (.421
3FG%), 8.0 rebounds, 7.0 assists, 2.15 steals and 1.38 blocks in 40.9 minutes. He also will become the 7th player to play in at least seven straight NBA Finals. The others
occurred on Bill Russell's Boston Celtics teams: Russell (10 in a row from 1957-1966), Sam Jones (9), Tom Heinsohn (9), K.C. Jones (8), Frank Ramsey (8) and Bob Cousy (7).
Kyrie Irving averaged 27.1 points against the Warriors in the 2016 Finals, as he and LeBron James (29.7) became the first teammates to average more than 27 points per
game in an NBA Finals series since 1963 when Elgin Baylor (33.8) and Jerry West (29.5) did it for the Lakers. Irving had at least 23 points in six of the seven games.
Tristan Thompson averaged a double-double against the Warriors in the 2016 Finals (10.3 points, 10.1 rebounds, .636 FG%).
On Deck
The Finals continue in Oakland for Game 2 on Sunday night before the series shifts to The Land for Games 3 and 4 on next Wednesday and Friday.FIND SEATS | SCHEDULE