Game Summary
The Cavaliers return to Oakland on Sunday night for a winner-take-all Game 7 showdown against the Golden State Warriors. Tipoff is at 8:00 PM ET on ABC, WTAM 1100, 100.7 WMMS or 87.7 FM La Mega. FOX Sports Ohio will carry both pre and postgame coverage, with the pregame show starting at 6:30 PM ET.
Sunday night will be Cleveland's first ever NBA Finals Game 7 and their fifth overall Game 7 in franchise postseason history: 1976 Semifinals vs. Washington (4-3), 1992 Semifinals vs. Boston (4-3), 2006 Semifinals vs. Detroit (3-4) and 2008 Semifinals vs. Boston (3-4).
EVERYTHING YOU NEED TO KNOW
From where to catch all the action to Sunday's game notes, cavs.com has you covered.
Tune into ABC. Pre and postgame coverage on FOX Sports Ohio.
WTAM 1100, 100.7 WMMS, 87.7 FM La Mega, ESPN Radio
Get into the conversation with other die-hards.
Joe G. has your keys to victory.
A win on Sunday would be the Cavaliers' 1st ever NBA title, as well as its 100th playoff victory in team history (99-89). Cleveland will try to become just the 4th team to win an NBA Finals Game 7 on the road (3-15) and the first of 33 teams to overcome a 3-1 deficit in the Finals.
The Wine and Gold have won 3 of the last 4 games against the Warriors, outscoring them by an average of 12.0 points (111.0-99.0) per contest, while shooting .512 (170-332) from the field.
Cleveland is a perfect 15-0 when scoring 100 points or more this postseason. En route to 115 points in Game 6, the Cavs outscored the Warriors 31-11 in the first quarter. Golden State's 11 points (5-22 FG) marked the fewest ever in a first quarter in post-shot clock NBA Finals history.
Defensively over the last four games, Cleveland has limited Golden State to a combined .398 (130-327) shooting from the field.
The Wine and Gold will have to continue their productivity at both ends of the floor for Game 7 in a hostile environment.
Golden State is 50-4 this season at Oracle Arena, including 11-2 in the Playoffs.
With their starting center, Andrew Bogut, out due to a knee injury, the Warriors inserted swingman Andre Iguodala into the starting lineup. In Game 6, Iguodala (last year's Finals MVP) appeared to have back issues and scored just five points and grabbed four rebounds in 30 minutes.
The Warriors will need their "Strength in Numbers" if they look to repeat as Champions on Sunday night.
Where to Catch the Action
TV: Game: ABC, Pre and Postgame: FOX Sports Ohio
Radio: WTAM 1100, 100.7 WMMS, 87.7 La Mega, ESPN Radio
Probable Starters/Status Update* presented by  
#2 - Kyrie Irving
#5 - J.R. Smith
#23 - LeBron James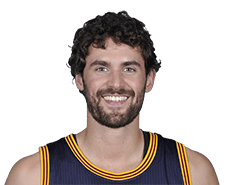 #0 - Kevin Love
#13 - Tristan Thompson
G
G
F
F
C
#30 Stephen Curry
#11 - Klay Thompson
#40 - Harrison Barnes
#9 - Andre Iguodala
#23 - Draymond Green
Status Update: (Cavs) - None to Report
Status Update: (Warriors) - Andrew Bogut (Knee Sprain, Out)
More Playoff Stats
In Game 6, LeBron James notched his team-leading 12th double-double of the 2016 Playoffs and second consecutive 40-point game with 41 points (16-27 FG, 3-6 3FG, 6-8 FT), eight rebounds, 11 assists, four steals and three blocks in 43 minutes. It was James' 17th 40-point playoff performance and his five 40-point games in the Finals is tied with Shaquille O'Neal for the 3rd-most all-time, behind only Jerry West (10) and Michael Jordan (six). James is also just the 5th player with at least 40 points in consecutive NBA Finals games, joining West (1965 and 1969 Lakers), Rick Barry (1967 Warriors), Jordan (1993 Bulls, doing so in four straight games), and O'Neal (2000 Lakers).
In 12 career playoff games against the Warriors, LeBron James is averaging 33.0 points, 12.3 rebounds, 8.7 assists, 2.00 steals and 1.33 blocks.
Kyrie Irving has scored at least 20 points in 17 of the 20 playoff games, including five times in the 2016 NBA Finals. Irving (25.2 ppg) and LeBron James (26.3 ppg) are on pace to become the 5th teammates to average 25.0+ points in a single postseason: Kevin Durant/Russell Westbrook (2014, 2016), Kobe Bryant/Shaquille O'Neal (2001-2003), Charles Barkley/Kevin Johnson (1994) and Elgin Baylor/Jerry West (1962-63, 1966, 1968). (ESPN)
Tristan Thompson posted his 3rd double-double of the 2016 NBA Finals after tallying 15 points (perfect 6-6 FG), 16 rebounds, including a career postseason-high 14 defensive rebounds, and three assists in 43 minutes. Thompson, who is averaging 10.3 points and 12.2 boards in his Finals career, has recorded double-figure rebounds in 10 of his 12 career Finals games against the Warriors, including seven double-doubles. His 16 rebounds were the most he's ever had in The Finals and one shy of career Playoff high (17 at Chicago, May 14, 2015; Game Six of East Semis).