RECAP
Thursday's contest in Houston was exactly what the Wine & Gold needed.
After dropping three of their previous four – including a heartbreaker in New York to start their recent roadie – the Cavaliers worked the Rockets over before intermission, opening up a 26-point halftime edge and coasting the 113-95 victory at the Toyota Center.
Playing without Donovan Mitchell, who, earlier in the evening earned his first All-Star Game start – and fourth appearance of his career – the Cavs were all business from the opening tip, tallying 37 points in the opening quarter and 37 more in the second, getting a much-needed blowout win with the second-half of a back-to-back in Oklahoma City looming on Friday night.
Darius Garland celebrated his 23rd birthday by leading all scorers with 26 points, going 9-for-16 from the floor, including 5-of-8 from long-range, dishing out a game-best nine assists to go with four boards and a game-high four steals.
Evan Mobley notched 18 of his 21 points before half, going 6-for-17 from the floor and 9-of-10 from the line, adding a team-high-tying 10 rebounds – half of them off the offensive glass – to go with three assists, a pair of blocks and a steal.
Dean Wade had his best game since returning from a shoulder injury last week – netting 15 points on 5-of-8 shooting, including 4-of-7 from long-range, in 23 minutes of work off the bench.
Jarrett Allen tallied his 19th double-double of the season on Thursday, finishing with 14 points on 6-of-10 shooting, adding 10 boards to go with three steals in the win.
Caris LeVert, starting in place of the injured Mitchell – who re-tweaked his groin in the closing moments on Tuesday night in New York – finished with 12 points, five assists and a pair of steals.
Overall, the Cavaliers took advantage of a sloppy Rockets squad – scoring 40 points off 22 Houston turnovers while committing just 10 miscues of their own. Cleveland also handed out 29 assists and drilled 15 triples in the win.
Rookie Tari Eason led the Rockets with 18 points and a game-high 11 rebounds in the loss – going 8-of-13 from the floor in 25 productive minutes of work off the bench.
FEAT. HIGHLIGHT: JA'S EARLY POSTER
Feat. Highlight: Allen's Early Poster Jam
TURNING POINT
The Rockets made a brief fourth-quarter run to get to within 17 points with five minutes to play in the game, but this game was decided in the second quarter – with the Wine & Gold blowing things open in the completion of a 74-point first half.
Cleveland went into the second period up 10, but Houston briefly cut the deficit to single digits less than four minutes into the quarter. That would be as good as it would get for the Rockets, however, with the Cavs closing the opening stanza on a 30-12 run – taking a 26-point advantage into the locker room and barely looking back from there.
BY THE NUMBERS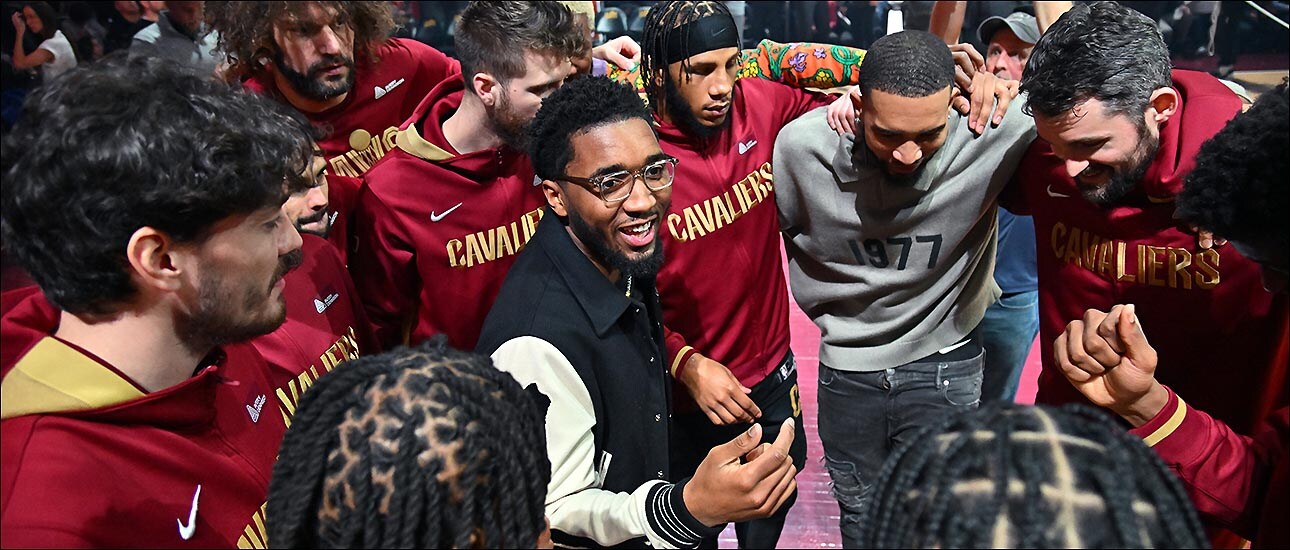 2,725,558 … total votes that Donovan Mitchell received – second-most among Eastern Conference guards – for this year's All-Star Game in Salt Lake City.
Mitchell – one of just two players in the NBA this season (along with Steph Curry) averaging at least 25.0ppg while shooting at least 48 percent from the floor and 39 percent from deep – becomes the becomes the first Cavalier to start an All-Star Game since LeBron James in 2018 and the fourth to do so overall, averaging career-highs in scoring (28.3ppg) as well as shooting percentages from the floor (.481), from beyond the arc (.396) and the free throw line (.869).
QUOTABLE
Head Coach J.B. Bickerstaff, on tightening up his rotation for Thursday night's win over the Rockets …
"In trying to make sure that everyone gets an opportunity, you have to figure out that balance between what's fair for each individual guy. And the more you play certain guys, the less opportunity there is for others. So being able to give guys longer stretches, get them some longer runs gives guys a chance to get comfortable. And we were able to do that tonight."
CALLS OF THE GAME
Enjoy the best broadcast calls of the night from Cavaliers Radio Network's Tim Alcorn and Rafa Hernandez-Brito from Power 98.1.
UP NEXT
After evening their mark on the three-game trip, the Wine & Gold travel to Oklahoma City, hoping to wrap up the roadie with a winning mark when they face off against Shai Gilgeous-Alexander and the Rockets on Friday night.
From there, the Cavaliers come home for a well-earned three-game homestand, beginning with a Sunday afternoon showdown against Tyronn Lue's Clippers on Sunday, followed by a Tuesday night visit from the Heat before wrapping up the extended stay with a nationally-televised battle against Ja Morant and the Grizzlies next Thursday.