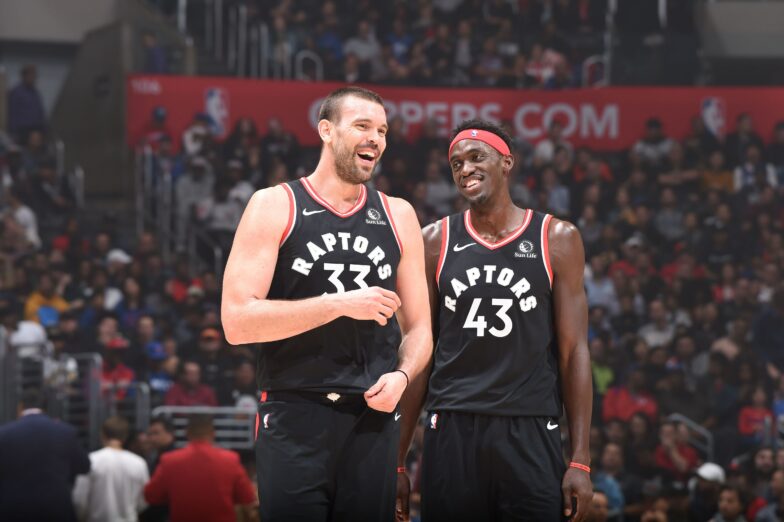 1. Red-hot Raptors aim for 15 straight
Earlier this season, the Milwaukee Bucks put the NBA world on notice by ringing up 18 straight wins in roughly a month's time. These days, the Toronto Raptors are trying to do likewise as they seek their 15th straight win tonight vs. Minnesota (7:30 ET, League Pass). As with any great team, defense has been key for Toronto — especially during the win streak. Since Jan. 15, the Raptors are No. 1 in steals (10.5 per game), No. 2 in deflections (19.9 per game), No. 5 in charges drawn (12) and No. 5 in total contested shots. Minnesota will have its work cut out for it, then, as it ranks 21st in turnovers and No. 5 in turnover frequency percentage.
2. Can Jazz win another close one?
Just when it looked like Utah was slumping, it has gotten its act together. A controversial three-point win on Friday vs. Portland was followed up with a thrilling one-point win Sunday (thanks to Bojan Bogdanovic's 3-pointer at the horn). Lest you think those wins are pure luck, consider that the Jazz are 6-4 in games decided by three points or less this season. The Mavs host the Jazz (8:30 ET, League Pass) and while Luka Doncic remains out, Kristaps Porzingis has been hot during Doncic's absence (he's averaging 29 ppg, 11.3 rpg and 1.8 spg since Jan. 31). Porzingis struggled in Dallas' last game vs. Utah (which, of course, was another close win for the Jazz) and will no doubt be looking to both bounce back from that showing and keep his hot streak rolling.
3. Bucks dominating sub-.500 teams
Milwaukee is setting the standard this season when it comes to a winning team playing one that is its opposite. To date, Milwaukee is an impressive 33-1 against teams under .500 while also taking care of business against winning teams (going 12-6 in those games). The Kings visit the Bucks next (8 ET, NBA TV) and will to not get steamrolled by Milwaukee's machine-like play. It won't be easy though … the Bucks are fresh off their 13th victory of the season without trailing and their 30th double-digit win. They're also outscoring opponents by 12.5 ppg, which is on pace for the highest point differential in NBA history.
4. Rodeo road trip woes for Spurs
In the days leading up to San Antonio's annual road journey, the team was fresh off solid wins against the Jazz and Hornets. Since then, though, it has been mostly a disaster. The Spurs are 0-4 on the trek, losing two of those game by 20 points or more. A visit to Denver (9 ET, League Pass) would not seem to help things as the Nuggets are 8-3 in their last 11 games. Aside from that, All-Star center Nikola Jokic is rolling: he's averaging 24.8 ppg, 10.9 rpg and 7.0 apg on 53.7% shooting since Jan. 2.
When the All-Star reserves were announced on Jan. 30, Suns guard Devin Booker was somewhat vocal about being excluded from that group. It's hard to say exactly how being left off has affected Booker, but the numbers show a dip in scoring production. From the start of the season until Jan. 30, Booker was averaging 27.1 ppg on 51% shooting (36.8% on 3-pointers), 4.1 rpg and 6.4 apg and the Suns were 20-27. Since Jan. 30, Booker is at 24.3 ppg (45.4% overall; 36.1% on 3-pointers), 5.0 rpg and 5.7 apg and the Suns are 1-5. Maybe tonight's matchup against the Lakers (10:30 ET, NBA TV) and their All-Star duo of LeBron James and Anthony Davis will get Booker refocused.
6. On this date: Pierce immortalized
Every generation of Celtics fans seems to have its iconic player and for those fans from the 2000s, that player was Paul Pierce. On Feb. 10, 2018, Boston officially retired Pierce's No. 34 jersey after the Cavaliers-Celtics game at TD Garden. Pierce became the 21st Celtics player to have his jersey retired, joining legends such as Larry Bird, Robert Parish, Kevin McHale, Bill Russell, John Havlicek and others.