2019 FIBA Basketball World Cup
Team USA Notebook: Players bemoan Cousins' injury; decision time looms for roster
USA roster needs to be cut from 15 to 12 before team departs to Australia

EL SEGUNDO, Calif. — The news that Los Angeles Lakers center DeMarcus Cousins will miss a significant portion of a third straight season with yet another severe injury hit the U.S. Men's Senior National Team training camp hard.
Cousins is a member of the program. He won gold at the 2014 FIBA World Cup in Spain and at the 2016 Olympics in Rio. And with camp wrapping up Thursday afternoon at the Lakers' practice facility at the UCLA Health and Training Center, it was the topic all over the gym.
Golden State Warriors coach Steve Kerr, an assistant to Gregg Popovich this summer, said the entire NBA community was deflated by the revelation that Cousins tore his left ACL, knowing all that he's already been through.
"I'm devastated for DeMarcus," said Kerr, who coached Cousins last season with the Warriors. "I read about it on the way to practice and it's been a couple years of hell for DeMarcus with the injury — first the Achilles and then last year in the playoffs with the quad.
"I was really hoping that this year for him upcoming with the Lakers would be a year for him to get healthy, get his rhythm and conditioning and really start his comeback, so we're all crushed for him. All these guys in this gym, fellow players and coaches. You know, this is a small community and everybody's been talking about it. We've all reached out to him and you just feel terrible for him."
Cousins played a big role in the two games the Warriors won in The Finals, something Kerr said he thought about as he processed the news that Cousins will be dealing with another arduous recovery.
"The two games that we won, it's no coincidence that DeMarcus played well," Kerr said. "Both of those games he helped us immeasurably, knocking down shots and scoring inside and rebounding. The tough part for DeMarcus and us is that he had just missed five weeks, so there was no way he was going to have the consistency over a five- to seven-game series.
"He just didn't have his conditioning and rhythm. He gave us a lift in spots and gave us a hell of an effort but between the injury to Kevin [Durant] and Klay [Thompson], DeMarcus just didn't have enough. But he gave everything he had."
P.J. Tucker has battled Cousins on the floor with the Houston Rockets and was looking forward to resuming those battles this season. Now he's flattened by the reality of what Cousins is dealing with.
"It hurts my heart, man, because DeMarcus is such a good guy," Tucker said. "He's one of the best bigs I've ever played against, ever. He's amazing. And to see somebody like that get hurt, fight come back and lose weight and do all that stuff and then get hurt again … man, it's heartbreaking obviously."
Cousins signed a one-year deal with the Lakers last month and was slated to move into a starting lineup alongside LeBron James and Anthony Davis for a team expected to contend for a championship this season.
It was supposed to be the next step in the reclamation process for the former All-NBA big man who played 30 regular season games for the Warriors last season while fighting his way back from an Achilles injury suffered two season ago alongside Davis when they both starred for the New Orleans Pelicans.
Cousins appeared to be in some of the best shape of his career this summer, showing off his slim and trim physique while working out in preparation for the Lakers' upcoming campaign.
Now he's facing another surgery and grueling rehabilitation process before he can resume his playing career.
"Injuries are a part of the game," Kerr said. "But when you're talking about a player who has dealt with the two most feared injuries for NBA players, the Achilles and the ACL, each basically knocking you out for an entire season, to deal with that over a two and half, three-year span is unheard of.
"So I don't know, what a blow for him and the Lakers … He's going to have to process it all and start all over again. Not a whole lot to say other than to offer everybody's sympathy and hopefully, he can get back on the bike and start riding again nine months from now or whenever it is he gets back."
Popovich is not looking forward to the roster decisions that have to be made after Friday night's exhibition game against Spain (NBA TV, 10 ET). The roster needs to be trimmed from 15 players to 12 as the group departs for Australia on Saturday.
The competition was extremely tight throughout camp and with versatility at a premium, Popovich knows that a case could be made for every player who has participated in the process.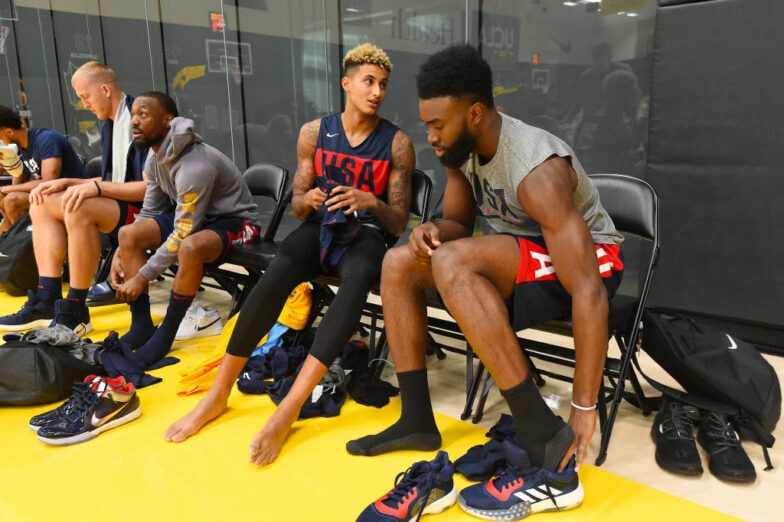 It's a part of the job that never gets any easier, Popovich said.
"Even when you cut people from your regular NBA team, it's difficult," Popovich said. "We're going to have to do that [here] and it's going to be even more so, and I'm dreading having to do that. But it's got to get done."
Popovich has been on both sides of the process with an international team. He was one of 66 players who tried out for the 1972 Olympic team when the trials were held at his alma mater, the Air Force Academy.
It was a team Popovich, and plenty of others, thought he should have been on. But he was cut.
"I got screwed," Popovich said, the topic striking an obvious nerve all these years later. "I was devastated when I didn't make it, as anybody would be."
Popovich was put on an alternate team that he said went on a tour to Brazil and Argentina and partied "their [expletive] off."
"I don't even know, we probably lost every game," he said. "And that's the truth. But I was young and foolish and it wasn't the real team and we were down there for kicks or whatever. And we did that."
Back then a committee decided who made the team, a much more political process than what happens today. But the memories of that time, and particularly the infamous Gold medal game when the U.S. Team lost in a hugely controversial finish to the Soviet Union team, will never fade.
"In addition to the ridiculous situation at the end of that game, I'll always remember Doug Collins," Popovich said. "The two most pressurized and important free throws I've ever seen anybody shoot, and I don't care about NBA championships or anything else. To have to make those two free throws that he made, at his age, just incredible. It still gives me goose bumps every time I think about him having to have the courage to step up and do that. That's the big thing for me."
2017 NBA Draft class represents
De'Aaron Fox said he takes pride in being one several members of the NBA's 2017 Draft class on display this summer on both the Senior Team and the Select Team that has worked out with and against the squad that will represent the program in China.
"I think it's great to have guys you come into the league with here as well," Fox said. "It's definitely something you'll talk about years now down the road. And I think it says the league is in good hands with so many hard-working guys here, not to mention other talented guys who could be here as well. It just speaks to how competitive the league is and how young it is right now."
Fox, Jayson Tatum, Donovan Mitchell, Kyle Kuzma and Derrick White have all made it to the final phase of the selection process. They're all packed for China, though it won't be known until Friday night's game if they all will make the trip.
Either way, Tucker said, you can't help but he impressed with the array of young talent that has been on display.
"Honestly, all of these guys are better than I realized," Tucker said. "Playing against people twice a year or whatever is one thing. But when you get here and you're working out together every day and you see these guys work, all of these young guys. De'Aaron Fox is amazing. He's way better than I thought he was, and not saying that I didn't think he was good. But he's really, really good.
"And I play Donovan all the time in Utah and I know he's really good. But out here he's been great. Jayson Tatum is great. All these guys, top to bottom, are really, really good, and they're going to be great in their individual careers."
Basketball ecosystem wins with FIBA
The big winner in a FIBA summer, according to Popovich, are the teams these players — and players from every country competing — go back to after the competition is over.
It's a shot of energy to the global basketball ecosystem, he said, that certainly works for the NBA.
"Basketball has become so international, with so many great players everywhere, and everyone benefits," Popovich said. "When they get back to their NBA teams, most everybody is probably a better player. They've had more experiences and all the competitiveness they had to exhibit in the tournament carries over."
* * *
Sekou Smith is a veteran NBA reporter and NBA TV analyst. You can e-mail him here, find his archive here and follow him on Twitter.
The views on this page do not necessarily reflect the views of the NBA, its clubs or Turner Broadcasting.