Superdome home to many great moments in NBA history
It's still a sports shrine after four decades, having outlived all the other namesakes: Astro, Hoosier, King, Metro, Silver and Georgia. And as a testament to its durability and resourcefulness, it's truly the last Dome standing, because few if any of today's modern roof structures are actually called "domes."
The Mercedes Benz Superdome, known to many as just the "Superdome", is still feeling rather super if not iconic. And anything that happens in New Orleans doesn't really happen unless the stadium serves a role. Which brings us to NBA All-Star 2017, where the Celebrity Game, NBA D-League All-Star Game and practice sessions for the East and West All-Stars will all get the Dome treatment.
While football is the main event inside the building, the Superdome does have a history with the NBA. It is not a rich one, but it is memorable nonetheless. The Superdome was once the home of the New Orleans Jazz for the franchise's final four years before it relocated to Utah before the 1979-80 season, and had the envious honor of showing off "Pistol" Pete Maravich in his prime.
The Jazz split their initial season between the Municipal Auditorium and the Loyola Fieldhouse because the Dome wasn't yet complete. Basketball was a bit problematic at the Fieldhouse because the floor was elevated so high that league officials surrounded it with netting so the players wouldn't fall off and into the stands.
The Jazz struggled on the court in New Orleans but enjoyed some record crowds thanks to the enormity of the Dome and also cheap tickets; some upper deck seats could be had for $3 (binoculars not included). However, the Jazz also played on the road for a month each season because of Mardi Gras, similar to what the San Antonio Spurs do now when the rodeo comes to town. And an especially-punitive amusement tax on Superdome tickets (11 percent) helped quicken the Jazz's exit, because the tax cut sharply into the owners' profit margin.
Here are some of the more memorable NBA experiences inside the Dome, and what NBA All-Star 2017 is up against:
November 5, 1975, Los Angeles Lakers vs. New Orleans Jazz
This was the first marquee game of the inaugural season in the Dome and New Orleans showed up strong in support of the Jazz. They also came out to Kareem Abdul-Jabbar, who'd been traded by the Milwaukee Bucks to the Lakers that summer. An NBA-record 26,511 flocked to the stadium (two other games that season drew 21,000-plus) and Maravich gave them what they wanted: 30 points and a 113-100 victory. It also helped that it was the sixth straight win for the Jazz and Pistol was headed for a great season as he would finish third in scoring (25.9 ppg). After that win, the Jazz lost five straight and also lost Maravich for almost six weeks with a shoulder separation.
Of course, the real contest between these teams that history won't forget happened two summers later. That's when the Jazz signed free agent Gail Goodrich and sent, among other things, a future No. 1 pick as compensation (per rules at the time) to the Lakers. The Jazz badly needed some scoring balance for Maravich and thought Goodrich, a sharpshooter and underrated backcourt running mate to Jerry West, would give them an insane 1-2 punch. But Goodrich was old and only played three more seasons, never averaging more than 16 per game. That Draft pick in 1979? It only became Magic Johnson.
Nov. 30, 1977, Philadelphia 76ers vs. New Orleans Jazz
This was a game that, on paper anyway, was made for TV. Pistol vs. Julius "Dr. J" Erving featured two of the all-time great showmen in their prime for a regular season game that had the anticipation of an NBA Finals game. The crowd was 35,077, another record, and the home fans were thrilled to see the Jazz take an early 19-point lead against a Sixers' team that went to the NBA Finals in 1976, where they lost to the upstart Portland Trail Blazers. However, the Sixers rallied for a one-point win with Doug Collins (19 points), not Julius Erving or Maravich, doing much of the damage.
And that wasn't even the best Erving-Maravich story. Upset over his ABA contract with the Virginia Squires in 1972, Erving cut a deal on his own with the NBA's Atlanta Hawks, who had drafted Maravich. But the Bucks drafted Erving later that summer and Erving was in limbo. Three teams could stake legal claim for his services. He was insistent on playing for the Hawks and teaming with Pistol — who wouldn't want to see that? — and spent a week in Hawks' training camp that fall before the ABA forced him back to the Squires, who held his rights. Eventually, Erving made his way to the New York Nets and the rest is ABA and NBA history.
Erving said later: "I was in camp with Pistol, Walt Bellamy, Lou Hudson. We had an All-Star team. We played two exhibition games and I bet you in both we scored north of 140 points. We were an unstoppable team. I don't know if anybody could have stopped us. It would have been different for everyone involved."
Feb. 25, 1977, New York Knicks vs. New Orleans Jazz
This was Maravich's finest moment with the Jazz and perhaps in his NBA career. He dropped 68 points on the Knicks and broke Jerry West's record for most points by a guard in NBA history (since passed by Michael Jordan and Kobe Bryant among others). It still stands as the greatest single-scoring effort in Jazz history.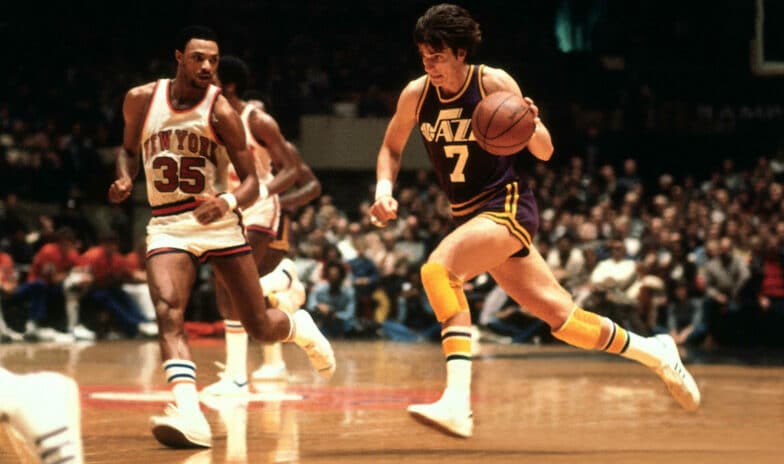 Maravich drew gushing respect from legendary Knicks coach Red Holzman ("brilliant" said Red) and scored 20 of his points in the fourth quarter. The Jazz won easily and Pistol easily surpassed his previous career high of 50 points. He made 26 of 43 shots and, being the perfectionist he was, had issue with that.
"I could've scored more," he said. "I missed a lot of easy shots."
March 29, 1982, North Carolina vs. Georgetown
OK, so this wasn't an NBA game. But it had heavy NBA implications, with future stars such as Michael Jordan, Patrick Ewing, James Worthy, Sam Perkins and Sleepy Floyd all playing in it. And of course, Jordan made the championship-winning shot with 17 seconds left, followed by the infamous ghost pass from Georgetown's Fred Brown to Worthy in the closing seconds.
A few more things of interest from this game: Had the one-and-done rule been in effect, this epic game would've meant the end of college for Ewing and Jordan, both of whom were freshmen. (Jordan ended up leaving UNC after his junior season; Ewing did so after his senior year at Georgetown). This was also the first time the title game was held in a dome. It is now required for the Final Four to play in an indoor stadium (the last arena Final Four was 1996 at the Meadowlands). The TV ratings were, ahem, through the roof (second only to the seminal Larry Bird vs. Magic Johnson game in 1979) and the attendance was 61,162.
Oct. 26, 1991, Chicago Bulls vs. Denver Nuggets
The Jazz had long gone from New Orleans when the Bulls and Nuggets played a preseason game, mainly to commemorate the 1982 NCAA title game and the return of Michael Jordan, who hadn't played in the Superdome since. At this point, he was easily the hottest athlete in sports and in the midst of collecting NBA titles, so 31,278 fans showed up in what is believed to be a record for a preseason game. The amount of fans was also astonishing considering the Atlanta Braves and Minnesota Twins played Game 7 of their memorable World Series that night.
Jordan scored 28 points and for him, it was a trip back in time, to a landmark moment when his 17-foot swish helped North Carolina beat Georgetown in a star-studded championship game.
"Left corner, 63,000 fans," said Jordan then. "It's been almost 10 years since I made the shot I think propelled my career. When I came out here this morning for practice, it brought back a lot of memories."
March 12, 1985, Celtics vs. Hawks
This is an honorary mention because the game wasn't played in the Superdome, but the Lakefront Arena on the campus of the University of New Orleans. Why there? And why the Celtics and Hawks? Well, then-Hawks owner Ted Turner had a deal with a New Orleans promoter to stage "home" games in town for $100,000 per game. So the Hawks played 12 home games away from the Omni in Atlanta. Lakefront Arena only had roughly 10,000 seats and it gave a college-like atmosphere to Hawks' games, with fans nearly on top of the floor.
The other reason this game was special? Larry Bird went crazy and dropped a career-high 60 points.
Nine days earlier, Kevin McHale set the Celtics' single-game record with 56 points against the Detroit Pistons, so there was some in-house competition between the two. And this is more notable: Two days before the game in New Orleans, Bird ran in the Shamrock Classic, a 5-mile Boston road race, along an estimated 4,000 other runners.
He wasn't too tired to run the Hawks off the court and run his mouth in the process, taunting the Hawks' bench with every dagger. After the game, the Hawks ate at a nearby restaurant and Cliff Levingston decided to play a trick on Dominique Wilkins, who was weary from guarding Bird. Levingston ordered a bottle of wine for his teammate and when it arrived at the table, there was a note to 'Nique, which read: "Thanks, from Larry."
Veteran NBA writer Shaun Powell has worked for newspapers and other publications for more than 25 years. You can e-mail him here, find his archive here and follow him on Twitter.
The views on this page do not necessarily reflect the views of the NBA, its clubs or Turner Broadcasting.