News Archive
Sekou Smith's Watchlist: 20 must-see games on NBA League Pass
These are some of the most binge-worthy games to watch while the season is on hiatus

Yes!
I have no problem admitting it: I'm a star gazer when it comes to the NBA schedule. Technically, this applies to the entire season seeing as how we're talking about the best 400-plus players on the planet in the best basketball league in the galaxy.
So fixating on the stars — past, current and future — during this suspension of play due to the coronavirus pandemic does not seem out of line.
We were in the stretch run of a spectacular NBA season filled with standout performances from trusted veterans, young upstarts and a collection of standout rookies.
Thanks to the NBA presenting us all with free NBA League Pass access (games from the 2019-20 season and a selection of classic performances from the league's robust library), the ride doesn't have to end.
We've got plenty of time to indulge our viewing habits, however unique they might be. I'm an All-Star Game junkie (including last month's spectacular Elam Ending affair) and I'm here for all debuts, whether it's rookies or free-agent faces in new places and more.
In an attempt to manage the process, I've come up with my own watchlist of 20 games that include games from 2019-20 and some classic games as well.
(Editor's note: Games below are listed in chronological order.)
* * *
10 Games From 2019-20
Why I'm watching: They come in threes, right? Third night of the season. TNT's third blockbuster matchup of opening week. And the last three Kia MVPs (Giannis Antetokounmpo, James Harden and Russell Westbrook) sharing the floor. This game had must-watch written all over it the moment the schedule was released — and it certainly lived up to the hype. "The Greek Freak" spoiled Westbrook's Houston debut with a 30-point, 13-rebound, 11-assist triple-double, kicking off an encore MVP season that rolled the rest of the season. Westbrook was his relentless self (24 points, 16 rebounds and seven assists), giving the world a glimpse of the whirlwind that was to come after the Rockets worked out the inevitable chemistry hiccups that accompany the sort of blockbuster trade the Rockets pulled off in the summer to reunite Westbrook and Harden.
Why I'm watching: I pleaded with my wife's friends to plan her surprise birthday party for another night. I was anticipating a fireworks show from LeBron James and the Lakers' first visit to Dallas in a showdown with Luka Doncic and his crew. I knew I'd be eyeballing my phone throughout the night. When I found out the location for the party was a nearby Dave & Buster's (complete with a giant, 40-foot wall TV), I realized how much trouble I was going to be in after the party. Our group moved on from dinner to games and other fun … well, everyone except me. I couldn't pull myself away from the game. LeBron (39 points, 12 rebounds, 16 assists) and Luka (31, 13 and 15) put on the MVP duel I expected and it turned out to be an official coming out party for the Mavericks superstar. It was also affirmation from LeBron that the Lakers were going be the championship team everyone expected after they traded for Anthony Davis. The wife is still exacting her revenge, by the way. My honey-do list is 33 pages long.
Why I'm watching: It's not often an All-Star starter goes off for 37 points (on 10-for-16 shooting, 5-for-9 on 3-pointers and 12-for-13 from the free-throw line) and no one cares. Such was the fate of Hawks guard Trae Young on this night, when his Rockets counterpart James Harden smashed the Hawks for 60 points in just 31 minutes. As mind-boggling as that sounds, Harden did so in shooting 16-for-24 overall, 8-for-14 on 3-pointers and 20-for-23 at the free-throw line. His eight assists, three rebounds and three steals were just icing on a wicked night for the league's most prolific scorer as he sent the Hawks to their 10th straight loss.
Why I'm watching: I'm an '80s baby, so I have a strange preoccupation/affinity for the Heat's "Vice City" uniforms and court. Anytime they play in those classic uniforms, I'm prone to watching for the sheer nostalgia of it all. It helps to have Jimmy Butler going at his former team (his free throws served as the dagger in overtime for the home team). I'd already been down to Miami to see if this iteration of the Heat was an early-season novelty act or the real thing. Upon inspection, it was obvious that coach Erik Spoelstra's crew — even with newbies and youngsters like Bam Adebayo (All-Star), Kendrick Nunn, Tyler Herro and Duncan Robinson playing crucial roles — forged a team that turned out to be the genuine item. In fact, they looked more like the team the Sixers were supposed to be than the Sixers themselves.
Why I'm watching: We all have young players that we keep an eye on, watching to see if their play matches the hype or if they are progressing the way we hope as they endure the inevitable trials and tribulations that await most of them. Denver's Michael Porter Jr. has been one of those players for me from the first moment I saw his game when he was a junior in high school. He has talent, size, range on his shot … and sheer determination in fighting his way back from the back injuries that derailed his lone season at Missouri and caused him to slide on Draft night. All of that set him up for a wild redshirt rookie season. He finally got loose against the Pacers, scoring a career-high 25 points on 11-for-12 shooting to support Jamal Murray's 22-point night to help the Nuggets to victory. I'm a firm believer in Porter Jr., who is the wild card for the Nuggets' future as a Western Conference contender.
Why I'm watching: We waited what seemed like forever for Zion Williamson's rookie debut with the New Orleans Pelicans. We had to wait a little bit longer for the Pelicans to get their first win with Zion in uniform, and it came against the Celtics in this Sunday showcase. Zion delivered with a 21-point, 11-rebound game against an elite Celtics team that played without All-Star forward Jayson Tatum (right groin injury). But that didn't take away from the enjoyment of watching Zion go to work (in just 27 minutes) against a tough Celtics bunch on the day we lost Kobe Bryant, his daughter, Gianna, and seven others in a helicopter crash in Los Angeles. Zion's performance that day was obviously overshadowed by the tragedy. But he reminded us afterward that he and every other player that took the court that day did so with a heavy heart.
Why I'm watching: Even when Portland is operating outside the playoff mix, as they have all this season, it's "Dame Time." Blazers star Damian Lillard was deep in his bag as the Jazz came to town, torching them for 51 points (including nine 3-pointers) and 12 assists. This came an night after he torched the Lakers for 48 in a win during an outlandish stretch that saw him score 40 or more points in five of his previous six games. During this run, he averaged 48.8 ppg. Against Utah, he notched his fourth straight double-double (a career best) while turning in three 50-plus point games in his last six outings. Lillard shoved his way back into the Kia MVP conversation on the strength of this run. And this game came after Lillard had earned Western Conference Player of the Week honors, when averaged 52.7 points the week before, including setting a franchise-and Martin Luther King Jr. Day-record with 61 points on Jan. 20 against his hometown Golden State Warriors.
Why I'm watching: Giannis and Zion's first time matching up against each other is one of the games you must see for yourself and no force on Earth would have kept me from this one. The reigning Kia MVP served notice that despite a parade of impressive performances from young Zion, there's only one true Freak on the scene right now. His 34 points, 17 rebounds, six assists and impressive denial of Zion at the rim punctuated the win for the Bucks, whose dominance everywhere they'd been to that point in the season served as the most impressive regular-season run we've seen since the 73-win Warriors of 2015-16. Both Zion (20 points, five rebounds) and All-Star swingman Brandon Ingram (32 points, seven rebounds) were up for the challenge. They just couldn't match the firepower of a Bucks squad that had been clicking on all cylinders since training camp.
Why I'm watching: This was the East vs. West/Kia MVP showdown we waited for as both the Lakers and Bucks dominated their competition — for the most part — all season long. Giannis had a death grip on the top spot in the Kia Race to the MVP Ladder for months, with LeBron secure in the second spot on the list just behind him. As momentous as it was, one head-to-head matchup between two titans was not going to be enough to shift the race dramatically … unless LeBron showed up and showed all the way out. And that's exactly what LeBron did on both ends of the floor. He got the win and also won the battle (37 points, eight rebounds, eight assists, three steals and some rugged defense) against Giannis (32, 11 and six) on both ends of the floor. They split the season series in what many people hope is a Finals preview.
Why I'm watching: If the Lakers' Friday showdown with the Bucks was a Finals preview, the Sunday matinee that followed against the Clippers may have foreshadowed a potential 2020 Western Conference finals matchup. The Lakers couldn't solve the Clippers in their first two matchups (opening night and Christmas) but seemed to have solved that Rubik's Cube just in time. LeBron (28 points, nine assists, eight rebounds, two blocks) and Davis (30 points, seven rebounds, two steals and a block) certainly showed the way, each of them showing up when it mattered most. But the performance to study in this game came from Avery Bradley, who played his role to perfection in this game (24 points, 6-for-12 on 3-pointers and some high-level defense). Kyle Kuzma's crowning of LeBron as he exited the game became one of great memes of this or any NBA season in recent memory. Time will tell if it was true or not.
10 Classic Games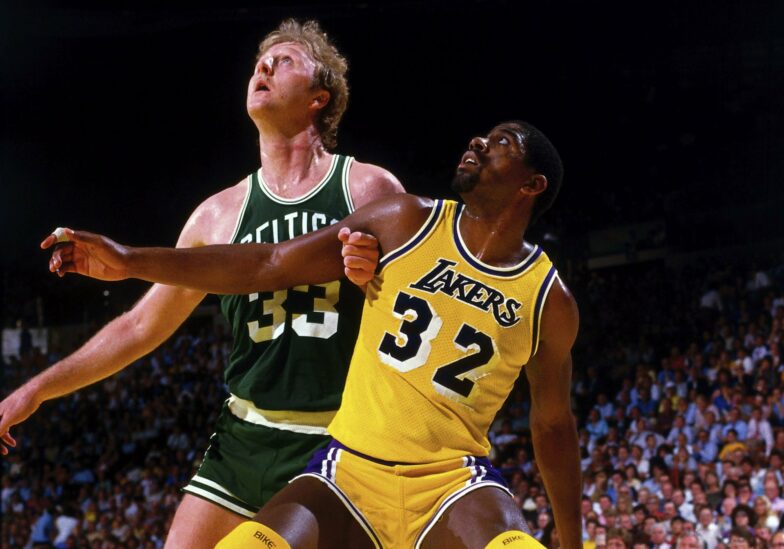 * * *
Why I'm watching: It's Russell and "The Big O" in their primes. Why anyone would pass up an opportunity to jump in the time machine and go back and see those two legends at work is beyond me. The NBA was a different monster back then, of course. But transcendent talents like Russell and Robertson resonate in any era.
Why I'm watching: That coin toss that changed NBA history for the Bucks, who won the right to select first in the 1969 draft over Phoenix, culminated in an opening-night showcase for the then most dominant young big man on the planet. The league's future all-time leading scorer kicked off his career with 29 points, 12 rebounds, and six assists in 48 minutes in a 119-110 victory for Milwaukee.
Why I'm watching: In an era when the All-Star Game was far more competitive than it would be in later years, Julius Erving was the star of stars at MECCA Arena in Milwaukee. He and Bob McAdoo both scored 30 points (Dr. J's in eight fewer minutes), but the East's rally from a 10-point deficit came up short in a 125-124 loss. The bright side for Erving in the defeat? He took home that game's MVP honors.
Why I'm watching: It has nothing to do with my birthday being the next day and Moses Malone ruining my birthday weekend by vanquishing my Dad's beloved Los Angeles Lakers in The Finals that Saturday night. Walter A. Smith was in no mood to party back then. Malone, of course, famously predicted a "fo, fo, fo" run through the playoffs for the Sixers — as in sweeps in every playoff series. However, the Sixers lost Game 4 of the Eastern Conference finals to Milwaukee and ended up going "Fo, fi, fo" during their championship march.
Why I'm watching: Magic. Bird. Lakers. Celtics. The first Finals between these game-changers and their proud franchises was bound to go the distance. Magic finished with 21 points and 10 assists and Kareem Abdul-Jabbar had 30 and 10 rebounds, as the Lakers rallied from a six-point halftime deficit to control the final 15 minutes and stave off elimination (they lost Game 7 in Boston).
Why I'm watching: All-Star games from yesteryear satisfy every single need for me. You get a group of superstar players on one court with the right competitive tone but without the narrow two-team scope of The Finals. Since my older brother and I were in our Pistons infatuation, this turned out to be a huge All-Star weekend with Thomas winning All-Star Game MVP honors.
Why I'm watching: Even after living through every minute of Michael Jordan's insane career, some of his exploits still seem like urban legend. I know folks in Cleveland (Smith family included) still shake at thought of Jordan eliminating the Cavaliers from the playoffs with that iconic shot (cover your eyes, Craig Ehlo and Larry Nance).
Why I'm watching: Fans outside of Chicago had come to grips with the fact that it was Jordan's world. He owned the stage this time of year and it was just a matter of how he wanted to write the ending to each season. Airing out the Trail Blazers from deep, though with six first-half 3-pointers and his famous "shrug" … this dude was unreal!
Why I'm watching: I'm covering the league by now and have seen up close and personal just how devastating Kobe could be when stars are cooking. It was a nine-game night and the team I was covering, the Hawks, had the night off. This is pre-social media, of course, so it's not like you followed along with every game the way we do now. I remember watching the highlights over and over again as they featured every shot he made on that historic night. It was crazy!
Why I'm watching: It's hard to count the number of electric playoff games I've been present for over the years, but this ranks right up near the top of the list. NBA.com's Shaun Powell and I were seated three rows from the court in the media section behind one of the baskets at Staples Center, witnessing what we thought might go down as one of ugliest Game 7s by a superstar in NBA history. Kobe had a brutal shooting night (6-for-24) but willed his Lakers (with a huge rescue job by Pau Gasol and postgame media darling Ron Artest/Metta World Peace) to a revenge win over the Celtics. An absolutely epic night in an atmosphere that's hard to match, especially given the shared history of the two franchises.
* * *
Sekou Smith is a veteran NBA reporter and NBA TV analyst. You can e-mail him here, find his archive here and follow him on Twitter.
The views on this page do not necessarily reflect the views of the NBA, its clubs or Turner Broadcasting.