2020 Playoffs | West Semifinals: (1) Lakers vs. (4) Rockets
Russell Westbrook's debut season with Rockets crash-lands with Game 5 ouster
Reunited with James Harden, Westbrook can't elevate Rockets to new heights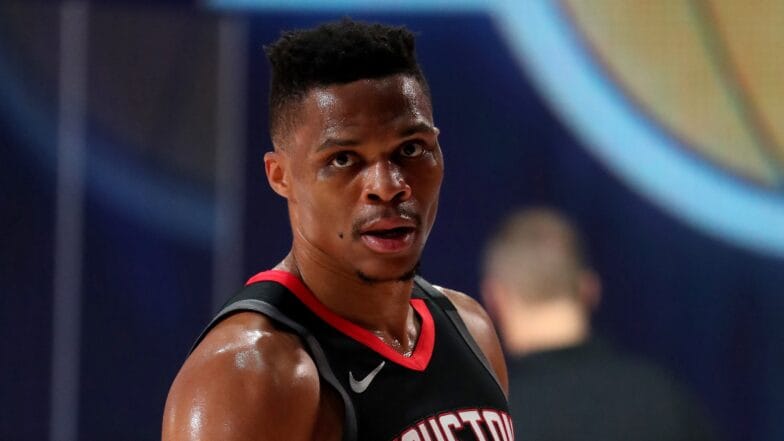 ORLANDO, Fla. — Russell Westbrook's first season with the Houston Rockets ended in ugly fashion Saturday night with a 119-96 blowout loss to the Los Angeles Lakers in Game 5 of the Western Conference semifinals.
But that was only part of a wild night for Westbrook. With 7:42 to play in the fourth quarter, a heated exchange between Westbrook and a member of the Lakers' family section at AdventHealth Arena led to William Rondo, older brother of Lakers' point guard Rajon Rondo, being escorted from the building.
The game wasn't in doubt when William Rondo said something that Westbrook heard and then responded to. LeBron James was at the free-throw line with the Lakers up 23 points. And then things went sideways.
After the game Westbrook explained what happened from his perspective.
"I don't know man. You know, people at the game, you're supposed to shut your mouth and watch the game," he said. "That's the rules, especially when you have families and people here. Apparently, I guess because [Rajon] Rondo was talking [trash], he decided he wanted to hop in, too.
"But, it's OK. It's all good. I get it. He wanted to take up for his brother. But that's it. Those rules stand for everybody though, no matter who it is, family, whatever. When you cross that line, then he's supposed to be at home. There's no rules or regulations for that. But he started talking crazy, and I don't play that game."
Westbrook's season ended with a rough 4-for-13 shooting effort. He finished with 10 points, 6 assists, 4 rebounds, 2 steals and 3 turnovers on a night when James Harden outscored Westbrook and the other Rockets starters 30-28.
I'm not the guy to make excuses. I like to compete. But it is what it is."

— Russell Westbrook
Westbrook said he just never fully regained his rhythm after the March shutdown due to the coronavirus pandemic. A positive COVID-19 diagnosis and a quad injury suffered two games into his bubble experience foiled any hopes he had of him getting back on track.
"It wasn't 100 percent," Westbrook said, "But I'm not the guy to make excuses. I like to compete. But it is what it is. … It's unfortunate for me, because it's very frustrating, honestly man, coming to Houston and then catching Covid, and then sit back 20 days, 20-21 days without working out when I was probably in the best shape I've been in in a long time. Then I come down here trying to get acclimated and play two games and then boom, I get hurt again.
"So it's just very frustrating for me knowing that the postseason is where you're supposed to elevate your game. And for me, I was just trying to catch a rhythm and there was no time for that."
Sekou Smith is a veteran NBA reporter and NBA TV analyst. You can e-mail him here, find his archive here and follow him on Twitter.
The views on this page do not necessarily reflect the views of the NBA, its clubs or Turner Broadcasting.