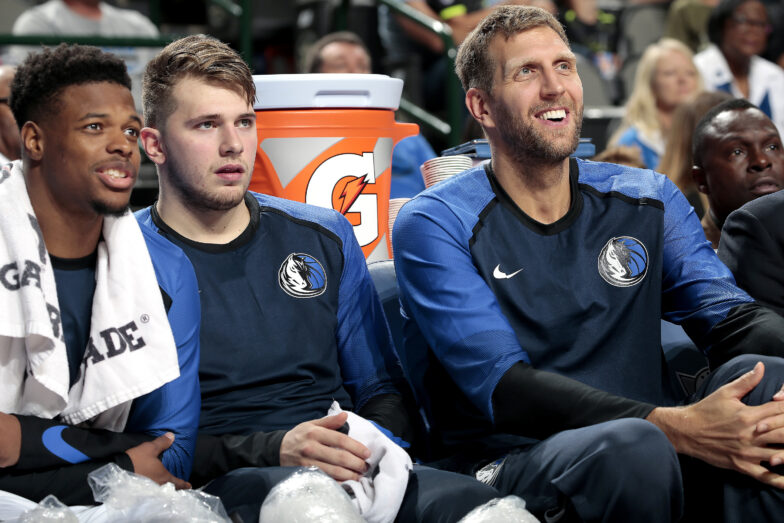 Dirk Nowitzki is ready to return to action after missing the Dallas Mavericks' first 25 games due to a left ankle injury, according to ESPN's Tim MacMahon.
Nowitzki was officially inactive Wednesday night after being listed as questionable for the first time all season.
From ESPN's MacMahon:
Dirk Nowitzki is finally ready to begin his record-breaking 21st season with the Dallas Mavericks, sources told ESPN.

The sources said that Nowitzki plans to make his season debut in Thursday's road game against the Phoenix Suns after a longer-than-anticipated recovery from spring surgery on his left ankle.
"He's getting closer," coach Rick Carlisle said before the Mavs extended their home winning streak to 11 games with a 114-107 victory over the Atlanta Hawks.
The Dallas Morning News reports Nowitzki was on the team flight to Phoenix for Thursday's game against the Suns.
"I can't wait," rookie Luka Doncic told the newspaper Wednesday night about Nowitzki's pending return. "That's going to be great."
Before the season began, Nowitzki said he was open to a reserve role on the Mavs — which is what role he is expected to fill tonight in his reported debut. Per MacMahon, Nowitzki has been practicing with the Mavs over the last few weeks, playing in 3-on-3 games after practices with Mavs player development interns.
Nowitzki had surgery to remove bone spurs from his left ankle just before the end of the 2017-18 season. The 13-time All-Star was on schedule to be ready for the start of this campaign before suffering a major setback. He was experiencing tendon soreness before the start of training camp in September, and since then had to push his timeline back.
Nowitzki, who averaged 12 points and 5.7 rebounds in 24.7 minutes per game last season, joins a scorching-hot 15-11 Mavericks team that is 8-2 in its last 10 games. He sits 232 points behind Wilt Chamberlain for No. 5 on the NBA's all-time scoring list. The 7-foot German is one of seven players overall, and the only international player, with more than 30,000 career points.
He and former Los Angeles Lakers legend Kobe Bryant are the only players to log 20-plus seasons with one NBA franchise. In NBA history, only five players have played 21 seasons: Kevin Garnett, Robert Parish, Kevin Willis, Moses Malone and current Atlanta Hawks swingman Vince Carter.
Information from The Associated Press was used in this report.