The twists and turns of Ben Simmons' standoff with the Philadelphia 76ers finally converged at a resolution Thursday when the club moved the three-time All-Star along with Seth Curry, Andre Drummond and two first-round picks to Brooklyn for superstar guard James Harden.
A two-time member on the league's All-Defensive First Team, Simmons formed a once-promising foundation in Philadelphia that was expected to last for several years alongside five-time All-Star Joel Embiid. That all came crashing down on the heels of a lengthy process starting with an August trade request, culminating in a training-camp holdout, a suspension, fines and Simmons' reported disclosure to Philadelphia that he wasn't mentally ready to return to the team.
Brooklyn experienced its own bout of uncertainty with Harden in recent days, as reports surfaced about the former MVP wanting a trade after coach Steve Nash said Wednesday that the team wasn't planning to move him. With Brooklyn in the midst of a nine-game losing streak, Harden sat out of the Nets' last three games due to hamstring tightness, and the team announced he'd miss a fourth consecutive contest Thursday at Washington.
Instead, Harden is now heading to Philadelphia to play alongside Embiid, while Simmons joins superstars Kyrie Irving and Kevin Durant in Brooklyn.
Simmons has averaged 15.9 points, 8.1 rebounds and 7.7 assists over the last four seasons in Philadelphia, which drafted him No. 1 in 2016 out of Louisiana State University. Harden played 80 regular season games with the Nets and two postseason series.
These latest moves represent just two more breakups in the long line of splits involving All-Star teammates around the NBA.
Here's a look at 10 more recent instances of All-Star teammates parting ways:
---
James Harden, Kyrie Irving and Kevin Durant, Brooklyn Nets
Seasons together: One-plus (2020-21 to 2021-22)
Result: One playoff appearance
It was almost expected Brooklyn would be championship-bound once three-time scoring champ and former Kia MVP Harden teamed up last January with Irving and Durant, who already owned a combined three championships upon joining the Nets.
The Nets acquired Harden from Houston in a blockbuster four-team trade that also involved the Pacers and Cavaliers, sending the Rockets a package that included Caris LeVert and three first-round picks. All those resources ultimately resulted in the Brooklyn superstar trio playing a total of 16 games together out of a possible 125. If we're being ticky-tacky, they played 14 ½ games together considering that Durant was pulled in the third quarter of one of those outings due to the league's Health and Safety Protocols, while Harden left one contest in the opening quarter after suffering a hamstring injury on the first possession.
Durant's knee injury in January, and Irving's decision to remain unvaccinated against COVID-19 further limited the trio's potential time together. When Irving returned, he was allowed to play in only away games due to New York City's vaccination mandate.
---
Russell Westbrook and James Harden, Houston Rockets
Seasons together: One (2019-20)
Results: One playoff appearance
Exactly two weeks after Rockets coach Stephen Silas replaced Mike D'Antoni as Houston's coach, a report surfaced about Westbrook wanting out of town, in part because of concerns regarding the club's accountability and culture.
The two former Kia MVPs and Oklahoma City teammates rejoined after seven years in July of 2019, and you thought the vibe of excess flaunted during Houston's media day that year would translate to the win column. Not quite, but the Rockets finished the season ranked fourth in the West. They narrowly escaped OKC in the opening round of the playoffs in the bubble before falling 4-1 to the Lakers in the conference semifinals.
Two months later, Westbrook's trade request kicked off a flurry of moves that would eventually lead to Harden's departure, too, as Houston finished the 2020-21 season 17-55.
---
John Wall and Bradley Beal, Washington Wizards
Seasons together: Seven (2012-13 to 2018-19)
Results: Four playoff appearances
They combined for a total of seven NBA All-Star appearances, and Beal developed into the player he is today in part because of Wall's absences due to injuries. The duo led Washington to playoff appearances in four of five seasons from 2013-18, but the Wizards never advanced past the Eastern Conference semifinals.
Just when it appeared Wall was set to return fully healthy to rejoin Beal after missing two seasons due to injuries to his left Achilles tendon, left knee and left heel, the Wizards traded the guard to Houston in a deal that sent Westbrook to Washington. Wall's first season in Houston ended with the team shutting him down in April due to a hamstring injury, while Beal, who made All-NBA third-team this past season, remains a constant in many of the league's latest trade rumors.
---
Kevin Durant and Stephen Curry, Golden State Warriors
Seasons together: Three (2016-17 to 2018-19)
Results: Two championships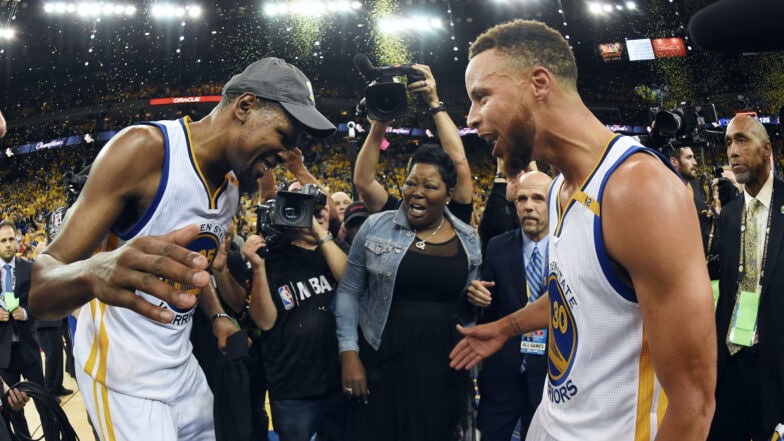 You could argue the Warriors might have captured three titles with this pairing if not for Durant suffering his Achilles injury in Game 5 of the 2019 Finals against the Toronto Raptors or Klay Thompson tearing his left ACL in the following game. The spotlight constantly shining on the star-studded Warriors revealed a few tense moments during Durant's highly successful tenure at Golden State as well as plenty of spectacular highlights.
Durant, Curry and Thompson earned three straight All-Star appearances (2016-19) during Durant's time with the Warriors, while Draymond Green made two consecutive trips (2016-17, '17-18). After winning two Finals MVPs with the Warriors, Durant joined the Brooklyn Nets in July of 2019. He sat out his first season in Brooklyn recovering from the Achilles injury, finally making his debut last December after a 552-day absence.
---
Paul George and Russell Westbrook, Oklahoma City Thunder
Seasons together: Two (2017-18 to 2018-19)
Results: Two playoff appearances
It seems like a lifetime ago that Westbrook hosted the "summer hype house party" in Oklahoma City that secured Paul George's verbal commitment to re-sign with the Thunder during the summer of 2018. George ended up signing a four-year max contract with OKC in that July, only to request a trade to the LA Clippers the very next summer.
Time flies, right? In two seasons playing together, Westbrook and George led the Thunder to a 3-8 record in the postseason that included a pair of first-round exits, including one engineered by Damian Lillard that ushered in an offseason landscape change around the league. George would join Kawhi Leonard on the Clippers later that summer, while Westbrook and Harden would team up in Houston. OKC ended up with Shai Gilgeous-Alexander as part of the George trade to LA.
---
Kawhi Leonard and Kyle Lowry, Toronto Raptors
Seasons together: One (2018-19)
Results: One championship
When the Raptors worked out a trade to land Leonard from San Antonio in 2018, they knew the deal would turn out to be a one-year rental, with a small chance Masai Ujiri might be able lure back the veteran wing in free agency. Toronto pounced at the opportunity, which led to the franchise's first title with Leonard capturing his second NBA Finals MVP trophy.
Leonard's Game 7 buzzer-beater in the Eastern Conference finals turned out to be one of the most thrilling plays of the postseason. But Ujiri couldn't convince Leonard to stay to defend Toronto's title. Lowry and Leonard both made the All-Star game that season, but the point guard wasn't about to try to sway Leonard's pending decision in free agency. "[Kawhi is] going to make a decision on himself, and I'm going to be happy for whatever decision he makes," Lowry told ESPN. "At the end of the day, he helped get what I wanted to get."
---
DeMarcus Cousins and Anthony Davis, New Orleans Pelicans
Seasons together: One-plus (2016-17 to 2017-18)
Result: One playoff appearance
New Orleans showcased a throwback vibe in the season and a half these big men anchored the frontcourt. During their brief stint together, the Pelicans could count on Davis and Cousins to contribute a combined 53.1 points per night to go with 24.2 rebounds. New Orleans hasn't advanced to the postseason since this era.
Sadly, Cousins tore his left Achilles that January, and couldn't contribute in what should have been his first playoff appearance. Just months before becoming a free agent, Cousins was averaging career highs in rebounds, assists and steals and set to hit the market for a max contract. Cousins ended up signing a one-year deal with Golden State that summer, and Davis later requested a trade that eventually landed him with the Lakers.
---
Karl-Anthony Towns and Jimmy Butler, Minnesota Timberwolves
Seasons together: One (2017-18)
Result: One playoff appearance
Pairing the veteran swingman with the young center entering his third season made plenty of sense, and initially, it yielded strong results with Minnesota advancing to the playoffs in 2018 for the first time in 14 seasons (the Timberwolves haven't been back since). Year 2 of the pairing never materialized as Butler requested a trade just days before the start of training camp. Butler missed most of camp and the preseason after requesting the trade and returned for one of the most widely reported practice spats in recent history.
Various reports had surfaced that offseason that Butler had grown frustrated with the complacent attitudes of Towns and Andrew Wiggins. So, on Nov. 10, Minnesota moved Butler to Philadelphia in a multi-player deal.
---
DeMar DeRozan and Kyle Lowry, Toronto Raptors
Seasons together: Six (2012-13 to 2017-18)
Results: Five playoff appearances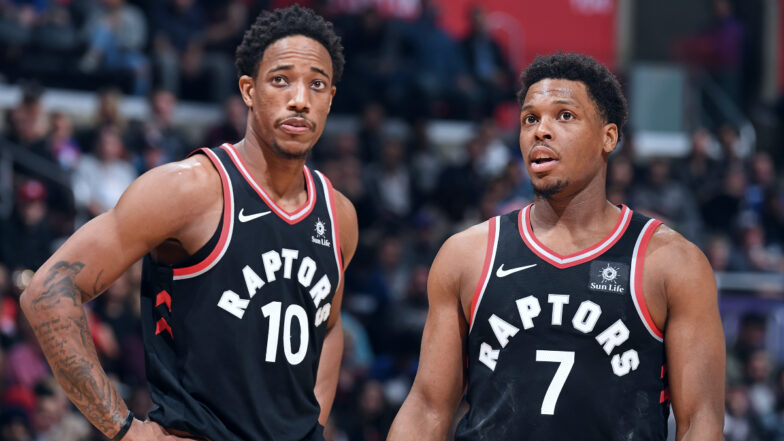 This split hurt them both personally as the duo had become best friends off the court. DeMar DeRozan never wanted to leave Toronto. And after suffering back-to-back sweeps at the hands of LeBron James and the Cleveland Cavaliers in the Eastern Conference semifinals in 2017 and 2018, the duo thought it found a reprieve when James decided to join the Lakers.
DeRozan figured it was finally the Raptors' turn to advance out of the Eastern Conference. He was correct. DeRozan just didn't know Toronto would do it without him as the club moved the veteran wing along with Jakob Poeltl and a protected 2019 first-round pick in a trade for Kawhi Leonard and Danny Green. Interestingly, both DeRozan and Lowry are set to hit free agency. Perhaps a reunion is in the cards. Maybe with James in Los Angeles?
---
Kyrie Irving and LeBron James, Cleveland Cavaliers
Seasons together: Three (2014-15 to 2016-17)
Results: One championship
Technically, there's actually two All-Star splits with the Cavs, as Kevin Love served as an injury-replacement in the 2018 NBA All-Star Game after James left Cleveland to join the Los Angeles Lakers in free agency. But another came out of left field.
A little more than a year after hitting the historic shot that delivered Cleveland's first championship, reports started to circulate that Kyrie Irving had asked the team for a trade. Irving reportedly wanted to become more of a focal point for a team and no longer wanted to play alongside James. That trade request resulted in this last split, with Cleveland shipping Irving to Boston for Isaiah Thomas, Jae Crowder, Ante Zizic and the Brooklyn Nets' unprotected 2018 first-round pick.
In January of 2019, Irving informed reporters he had finally gotten around to calling James to apologize for the way he behaved as a young player in Cleveland. "I had to call 'Bron and tell him I apologize for being that young player that wanted everything at his fingertips. I wanted to be that guy that led us to a championship. I wanted to be the leader. I wanted to be all that."
* * *
Michael C. Wright is a senior writer for NBA.com. You can e-mail him here, find his archive here and follow him on Twitter.
The views on this page do not necessarily reflect the views of the NBA, its clubs or Turner Broadcasting.