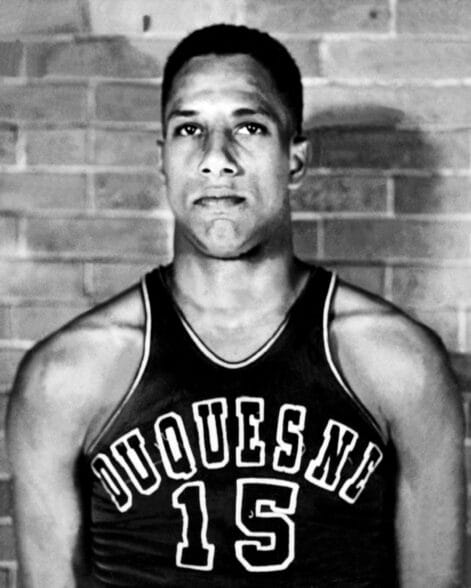 Today marks the 70th anniversary of one of the most influential NBA Drafts in league history as Chuck Cooper became the first African-American player drafted, selected at No. 14 overall by the Boston Celtics in 1950.
Later that year, Cooper, Earl Lloyd and Nat "Sweetwater" Clifton would break the NBA color barrier and lay the groundwork for a league that welcomes all players, from all backgrounds, from all around the world.
To celebrate this anniversary, Cooper's son Chuck Cooper III has co-authored a new book about his father's life, retracing his journey from winning state titles in high school, to playing collegiately at Duquesne, to his professional career in the NBA, all of which culminated in an enshrinement into the Naismith Memorial Basketball Hall of Fame in 2019.
Cooper III spoke with NBA.com's Brian Martin about the importance of preserving his father's legacy through this book and his work with the Chuck Cooper Foundation.
* * *
Why was it important for you to write this book and what do you hope people take away from reading it?
I'm so excited to finally get the opportunity to tell my dad's story, from start to finish. First, I think the story of my father all the early African-American pioneers of the NBA — which are all mentioned in the book — the story is really underappreciated. When people do think about them, I don't think they get credit for being the tremendous ball players that they were.
When my father came out of Duquesne University, he was a consensus All-American, only the second consensus African-American All-American in the history of college basketball; the first being Don Barksdale, and the second my father and Sherman White out of LIU.
Many people think it was a surprise when the Celtics took my dad with the 14th overall pick in the NBA Draft, but after his junior year he was offered contracts with the Chicago Stags, the New York Knicks and the Harlem Globetrotters, so he was someone that was on the national map already.
At that time, the biggest games were being played at Madison Square Garden with the top college teams drawing 18,000 fans. My father's best games were at The Garden, and he was voted during his senior year as the second best player to play in The Garden. Then after the NIT Tournament, it was reported that if they took the vote at that moment, he would have been the top visiting player to play in The Garden.
Even after basketball, he went on to accomplish great things. He has a legacy of firsts; not only was he the first African-American drafted into the NBA, but he became the first department head for the city of Pittsburgh when he was appointed Director of Parks and Recreation. He later became Pittsburgh National Bank's first Urban Affairs officer, where he put community banking on the map, with some of the practices he did to develop the communities were adopted across the country.
Today marks the 70th anniversary of your father being drafted by the Celtics. What does that moment mean to you?
I'm incredibly proud. I know it's something that he was very proud of himself. It really indicated how great of a player he was. Whenever you're a trailblazer and you're the first — even in today's world, when you're an African-American you have to be better to get that position, to get that job. It just validates how great a player he was and we're incredibly proud and to be able to honor this great American sports history with a book, I'm almost at a loss for words. I'm just grateful.
What did your father tell you about those times, when he entered the NBA back in 1950 and the challenges he faced being one of the first African-American players in the league?
It was tough. He always said the NBA was ready to integrate in 1950 but they weren't ready for a black star. He was someone that was extremely confident in his abilities, so it was tough because he thought he could have put up better numbers and been more of a focal point with the teams he played for. But at the same time, he was incredibly grateful to the Celtics organization.
I always tell people, when you look at how Jackie Robinson was treated, Jackie didn't even get support from people on his own team, where the Celtics, with owner Walter Brown and coach Red Auerbach, made sure that my father was treated with dignity and respect and then he developed a great friendship with Bob Cousy and many of the players. So from that perspective, he was supported by his team, so he had a much easier time than Jackie Robinson, but it was tough for those guys.
In talking with Bob Cousy, he said that my father and Barksdale were some of the original athletes, precursors to the modern-day small forwards in today's game. When you watch his highlight reel, you see he's a right-handed player and he's shooting a spinning left-hand hook shot, he's crossing over, he's finger rolling, he's touch passing and then he launches a shot that would be a modern-day 3-pointer.
Kevin Lloyd tells the story of when his father [Earl Lloyd, the first African-American to play in an NBA game] was spit on. I don't remember my father being spit on, but he was certainly called names and that had to be tough. You think about today's basketball world and teams hire psychologists and motivational speakers to bring teams together and back then, these people were ostracized from their teams. They couldn't go eat with the team at the team dinner, couldn't catch a cab ride to go watch a movie together while they had some off time in many of the cities.
So for my father and Earl Lloyd, Sweetwater Clifton, Don Barksdale and all those early African-American pioneers, for them to perform at the level that they did while dealing with all the hatred and the racism, to endure that and still perform at the level they did is pretty incredible.
In addition to writing this book, I know you do a lot of work with the Chuck Cooper Foundation to keep your father's legacy alive. Can you speak about that work and the impact it is having in your community?
After his NBA career, my father went to the University of Minnesota and got his Master's Degree. We wanted to continue to honor his legacy here in Pittsburgh because he was really big on giving back to the community and instilled that in me as well. And we wanted our impact to center around education.
Back in the 1990s I started an after-school program, where we used basketball as the hook to get kids to come in and focus on their education. At the time, Pittsburgh was having a pretty serious gang problem.
In 2009, Duquesne University came to me and said they wanted to do a Chuck Cooper Classic basketball game. I agreed that we could do a basketball game but anything I do in my father's name has to have an educational component attached to it. We thought what better way to honor his legacy than to grant graduate level or higher scholarships to African-Americans who have demonstrated financial need, but have also demonstrated the capacity and commitment of giving back to the community and are already high achievers in school.
Since 2013 when we started awarding scholarships, we've awarded over $250,000 in scholarships. They don't just get the money, they have to come into the community with me and speak to high school and middle-aged students about the importance of education, not only to them, but also for generational success.
Can you speak about the pride you have in preserving your father's legacy?
We're living in a tough world and I was blessed to have a great father, a great role model, and a great mother. I grew up with a great family. The communities near where I grew up were filled with gang violence and people were underachieving and I always wanted to give what my father gave to me back to other people. Everything I do I try to do it in his name to really just share the lessons that he taught me. I try to pour that into as many young people as I can.
I know that we've had some success stores. We've had our after school program, we lost some people that were very close to me, some of our participants to gang violence, but we also have an orthopedic surgeon, we have a judge, we have school teachers that came out of that program and some of these young people tell me that if it wasn't for the Chuck Cooper Youth Development Association, I don't think I would be here now.
So to preserve his legacy and be able to provide a teachable moment to young people about the importance of education, the importance of being good citizens, to being supportive to other people is something that is incredibly important to me and something that I'll always do.
Can you take me back to his Hall of Fame induction and the incredible collection of Hall of Famers on stage to welcome your dad into the Hall? The group included Bill Russell, Kareem Abdul-Jabbar, Ray Allen, Elgin Baylor, Larry Bird, Julius Erving, Tommy Heinsohn, Mannie Jackson, Isiah Thomas and Dominique Wilkins.
Those guys were all game changers and I looked and there were multiple Mount Rushmores of NBA greatness on that stage with us. The love and support that they gave us behind the scenes, we were just truly blessed and it just speaks to their appreciation of my father's legacy and it was representative of their appreciation of what all the early African-American pioneers and trailblazers had to go through. We were incredibly moved, deeply touched by that outpouring of support to welcome our father to the Hall of Fame; it's something that we're blessed with at that moment and it will last forever.
Everyone [on that stage] was connected to my father in some way. It was either a team that they played for, or people he had an incredible amount of respect for like Bill Russell and Elgin Baylor. Russell and Baylor were the first two African-American pioneers that were good enough that they could start to speak up about the way that black players were being treated. He always told me that he was really proud of those guys. You don't have to speak up; it takes courage to speak up against any wrongdoing that is going on out here.
They were there and then Larry Bird and Tommy Heinsohn, two great Celtics, and I was happy to have a diverse group present my dad into the Hall. We think about this world and diversity and my father brought diversity to the NBA, but there is no Jackie Robinson without [Brooklyn Dodgers General Manager] Branch Rickey, there is no Chuck Cooper without Walter Brown, Red Auerbach and the great Boston Celtics organization.
When I speak to my kids and young people I tell them when you do the right thing, good things happen. The Celtics, because of their mindset and the courage they had as an organization that still lives today, they are 17-time world champions, so what a great lesson to learn.
The Boston Celtics are tremendous partners with our foundation, they annually contribute $25,000 to the organization and also provide a fellowship opportunity for one of our scholarship recipients. Unfortunately this was going to be their first year, so that is getting delayed [due to the coronavirus pandemic]. But to have partners like the NBA and the Boston Celtics as well as my father's former employer PNC Bank and Duquesne University — I call them our legacy partners — we wouldn't have been able to climb to the mountaintop without the great support we get from those partnerships.
Congratulations on the release of the book. Where can people find it?
The book is available now on Amazon. And before we finish I have to give a shout out to my co-author, David Finoli. There's about 2,000 hours of research that went into the book and he did an incredible job as it walks you through my father's life and really chronicles his time on the court.