Some NBA trade deadline deals in the past were seismic in name and impact and helped a few teams win or reach The Finals.
There was Rasheed Wallace being sent from the Atlanta Hawks to the Detroit Pistons in 2004, Pau Gasol going from the Memphis Grizzlies to the Los Angeles Lakers in '07 and Clyde Drexler going from the Portland Trail Blazers to the Houston Rockets in 1995.
Don't forget about Dikembe Mutombo going from the Atlanta Hawks to the Philadelphia 76ers in '01, Shaquille O'Neal sent by the Miami Heat to the Phoenix Suns in '08 and last year, DeMarcus Cousins heading to the New Orleans Pelicans right after the All-Star Game.
All beat the February deadline buzzer with a bang.
And then there was the one on Feb. 7, 1979 between the Sixers and then-New Jersey Nets: Harvey Catchings, Ralph Simpson and cash swapped for Eric Money and Al Skinner. A minor deal? Perhaps, and yet: It was the deadline deal that threw the league for a loop, caused some temporary panic and created one of the craziest scenes in NBA history. It ensured that three of those players would play for both of those teams … in the same game.
A game that needed four months to finish.
All the fans got their money's worth. Two games for the price of one."

Former Nets coach Kevin Loughery, on Sixers vs. Nets rematch in 1979
* Box score: Sixers vs. Nets game from Nov. 8, 1978
And maybe longer to completely comprehend, especially when you read the box score, which is confusing and needs to be preserved as proof that this indeed took place.
The absurdity of it all is we're more likely to see someone beat Wilt Chamberlain's 100-point game before three traded players get some burn on both benches again.
"All these years later," said Simpson, "I still can't believe it happened. But it did. I know. I was there."
To answer your first question: No, the trade didn't happen at halftime, causing the players to run down the hall and to the other locker room and switch jerseys. That would've been crazy (and against league rules). But this is borderline crazy.
Origins of a wild make-up game
This happened in a league you wouldn't recognize today. The NBA in the late 1970s was, shall we say, a different and distinctly quieter one than today's. This was pre-ESPN and Twitter and NBA 2K and "Inside The NBA". Teams traveled on regular planes, with players sitting next to regular people. Four NBA cities from then (San Diego, Seattle, Kansas City and East Rutherford/New Jersey) are no longer around. The NBA Finals was shown on tape-delay after midnight because the networks — who are now shelling out $2 billion for rights — would rather stick with re-runs on Sunday afternoons and sitcoms in prime-time back then.
And so, there was nothing special initially about a Nov. 8, 1978 tip-off between the Nets and Sixers, played just a few weeks into the 1978-79 season. The Sixers had Julius Erving but the supporting cast wasn't yet ripe enough and Philadelphia was four seasons from its first of several Finals runs in the '70s and early '80s.
Meanwhile, the Nets had sold Erving to the Sixers after the 1976 ABA-NBA merger and were barreling fast toward irrelevancy because of it. The former two-time ABA champs wouldn't taste respectability again until Jason Kidd arrived (in a trade) three decades later.
The Nets did have a young, future Hall of Famer in Bernard King, though, and this is where the twisted tale begins.
King was in his second season and wound up averaging 21.6 points per game that season, demanding double-teams nightly. The Sixers threw help on King all night and in the third quarter, the extra defensive layer was a hulking center named Steve Mix (whose biggest contribution to basketball was being big). King drove hard to the basket, there was contact with Mix, and King was whistled for an offensive foul.
Enraged, King screamed at referee Roger McCann, ignoring the fact that he already had a technical. Now he had two and an automatic ejection.
King kept screaming and gesturing and then punted a courtside chair on his way to the locker room. Watching this unfold, and reaching for his whistle, was the other referee, Richie Powers.
Powers was one of a handful of referees who had clout and a measure of respect in that era, along with Earl Strom, Norm Drucker and Jake O'Donnell. Famously short-fused and thin-skinned, officials of that era took no lip from players and coaches and often punctuated violation calls with colorful body language. Powers, a 23-season NBA official, worked 25 Finals games in his career.
But this was late in his career, when the body begins to creak and the pace of the game gets foggier to the eyes. Just two years earlier, he was pivotal in the epic triple-overtime Game 5 of the 1976 NBA Finals, which featured legendary shot-making from Gar Heard and John Havlicek.
That call on Bernard set everything in motion, then Kevin went ballistic and next thing I know, the game was out of control with all the technicals."

Former Nets/Sixers big man Harvey Catchings
(In that game, Powers was at the center of a crucial call. With the score tied at regulation and seconds left, Paul Silas called for a timeout in which the Celtics didn't have. Powers ignored it, rather than blow a whistle and call an automatic technical. That made Suns GM Jerry Colangelo say: "If it wasn't for Richie Powers, we would've won that game and maybe the championship.")
Powers called a technical on King, giving him three for the game and one over the limit. Nets coach Kevin Loughery jumped from the bench and raced onto the floor. He got three technicals from Powers, too, which was illegal.
"I liked Richie, but he had a habit of giving technicals," Loughery said recently. "And unfortunately for me, I got a lot of technicals. That's one thing I regret in my career. They're human beings and make mistakes. Sometimes my reactions made it personal."
The referees hated doing Loughery's games because he relentlessly worked them. He was usually among the most T'd-up coaches every season and in his ABA days, he got six techs in one game.
"That call on Bernard set everything in motion, then Kevin went ballistic and next thing I know, the game was out of control with all the technicals," said Catchings.
The Nets played on without King and Loughery. Taking over as coach was the lead assistant, Phil Jackson; this would be his first stint in a head-coaching capacity. Taking over the scoring load from King was Eric Money, a point guard who originally scored 37 points, a season-high, for a game that went double-overtime before the Sixers won 137-133.
Game over. Or maybe not.
Nets demand a redo … and get it
The Nets protested and the league office wasn't thrilled with Powers for his avalanche of technicals. Commissioner Larry O'Brien suspended Powers for five games for "failure to comply with league procedure."
* Box score: Sixers, Nets replay game on March 23, 1979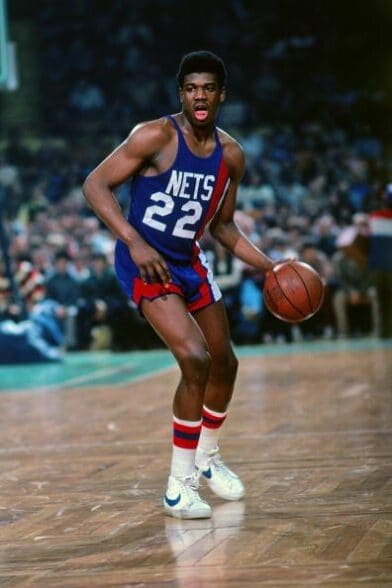 O'Brien also ordered the game to be replayed starting at the 5:50 mark of the third quarter, when the technicals flew. Given the demands of the schedule, the replay couldn't happen until March 23, when the teams had a previously-scheduled game in Philly. Therefore, it would be a double-header: The makeup game first, followed by the scheduled game. Both teams agreed.
But before that double-header, they agreed on something else: A trade between them, that Feb. 7, before the deadline. Catchings, Simpson and cash from the Sixers to the Nets for Money and Skinner.
Some introductions are in order:
Money was a shifty guard who averaged 18.6 ppg for his hometown Detroit Pistons in '77-78, but played only six seasons for three teams. Skinner was a college and pro teammate of Erving but largely a journeyman whose biggest contribution to basketball came later as Boston College's coach.
Catchings was a gangly 6-foot-9 forward who didn't begin playing basketball until he was 16 and wasn't recruited by any big program out of high school. Simpson was a big scorer in the ABA with the Nuggets, where he averaged 27.4 ppg one season, but never averaged more than 6.1 ppg in his NBA days.
(Catchings and Simpson eventually became far less famous than their daughters: Tameka Catchings was a WNBA champion and MVP, while India Arie has won four Grammys and sold 10 million records. Also on that Sixers team were fellow teammates – Joe Bryant, Doug Collins and Henry Bibby — who produced famous sons Kobe Bryant, Chris Collins and Mike Bibby, respectively.)
"I welcomed the trade," said Catchings. "I told Billy Cunningham, my coach on the Sixers whom I had a tremendous respect for, that if I stayed there, my career's going to be cut short. They were committed to Darryl Dawkins and Caldwell Jones. The deck was stacked against me. I wasn't angry or anything, but I told Billy if he could get me out of there, I'd appreciate it."
Simpson said: "I didn't think I was going to get traded because I'd been playing well. But I wasn't really upset. Harvey and I had become pretty good friends and I also knew Kevin Loughery from the ABA. We all had respect for one another."
That trade raised an obvious issue: The suspended game. Once again, the league huddled, then decided the traded players could play in the makeup game, but for their new teams.
'The strangest situation I've ever been in'
And so, on the afternoon of March 23, the game clock at tipoff read 5:50 instead of 12:00, and it was the third quarter instead of the first, and the Sixers were up 84-81. Catchings, Money and Simpson played for the other team this time while Skinner rode the bench for the Sixers just as he rode the bench for the Nets in the previous game.
"The strangest situation I've ever been in," said Simpson. "I was laughing about it, Julius (Erving) was laughing. It was sort of funny for everybody."
Powers didn't ref the makeup game. And nobody earned a technical, either.
However, there was the matter of the official box score, which showed that Powers, in fact, did work the "game," as did three other referees.
"That's when it really hit me, when I walked on the court and saw all of my old teammates," said Catchings. "I thought no way would they let us do this, but then you see the clock and the guys you spent 4 1/2 years with now on the other side, it was mind blowing. Dawkins was teasing me about it the whole game. You know how Darryl is."
Money lost points in the process. Remember, when King was ejected, Money's number was called and he also had the benefit of two OT periods. But officially, he was credited with 23 points, down from his now-erased 37. He was the only one of the three who scored in the makeup game, getting four points for his new team, the Sixers, meaning he scored for both teams in the same game.
The Nets lost that November game and lost this one too, 123-117. The teams went to their locker rooms, rested and showered, then put on fresh uniforms and prepared to play the second game of the double-header. The Sixers won again, which means they beat the Nets three times which counted as two.
"All the fans got their money's worth," said Loughery. "Two games for the price of one."
Technically, it was five quarters plus 5 minutes and 50 seconds worth of basketball, but at that point who was counting anymore?
Loughery and the three who played in both games say their memory of that moment is getting trickier. So many years have passed, and as Loughery said: "I got so many technicals in my career, they all seem the same."
All that's left, really, is a box score that reads like it bypassed the auto-correct. Three players listed for both teams in the same game? And just for fun, guess who met in the first round of the playoffs that year? Nets vs. Sixers, won by Philly.
No matter what happens in the NBA between now and Thursday's trade deadline, no matter the names or the number of players involved or how controversial the trades may be, those deals can only raise questions.
They will never create a trivia question.
* * *
Veteran NBA writer Shaun Powell has worked for newspapers and other publications for more than 25 years. You can e-mail him here , find his archive here and follow him on Twitter.
The views on this page do not necessarily reflect the views of the NBA, its clubs or Turner Broadcasting.