With the Final Four finally set — Gonzaga, North Carolina, South Carolina and Oregon — college basketball stays center stage for one more week, at the end of March Madness. It's been a month of fewer upsets and buzzer-beaters — and guys who have helped themselves, when and if — if — they make themselves available for the Draft.
Here are 10 guys whose performances during the last three weeks, even if just in one game in the tournament, were noteworthy, and earned their tape another look and their scouting reports another read in windowless NBA offices:
De'Aaron Fox, Kentucky: The freshman point guard was already a lock to be a top-10 pick, and his play in leading Kentucky to the Elite Eight may have sent him even higher. His disruptive skills on defense were in full display throughout the tournament, and his showcase game in the Sweet 16 against UCLA and his point guard counterpart, Lonzo Ball — 39 points in Kentucky's 86-75 win — was sensational, controlled and dominant.
Jordan Bell, Oregon: The junior forward has been the most impactful all-around defender in the tournament, a dynamo on the boards (12.5 rebounds per game in the NCAA Tournament) with wonderful timing (eight blocks Saturday against Kansas, completely throttling the Jayhawks' bigger bodies inside). "He is a man!," gushed one NBA front office person Sunday. Bell became just the eighth player since 1985 to grab 12 rebounds or more in four straight NCAA games, joining Shaquille O'Neal, Tim Duncan, Blake Griffin, Larry Johnson, Antonio McDyess, Mark Madsen and Emeka Okafor. All of those players were first-round picks.
Malik Monk, Kentucky: Hoo, man, can the freshman guard shoot and he's got Klay Thompson-esque range. Monk was brilliant against UCLA, with four 3-pointers en route to 21 points), and his game-tying shot against North Carolina in the Elite Eight loss shouldn't be forgotten because the Tar Heels' Luke Maye drained the game-winner at the other end seconds later. Monk will be filling up stat sheets at an NBA arena near you very soon.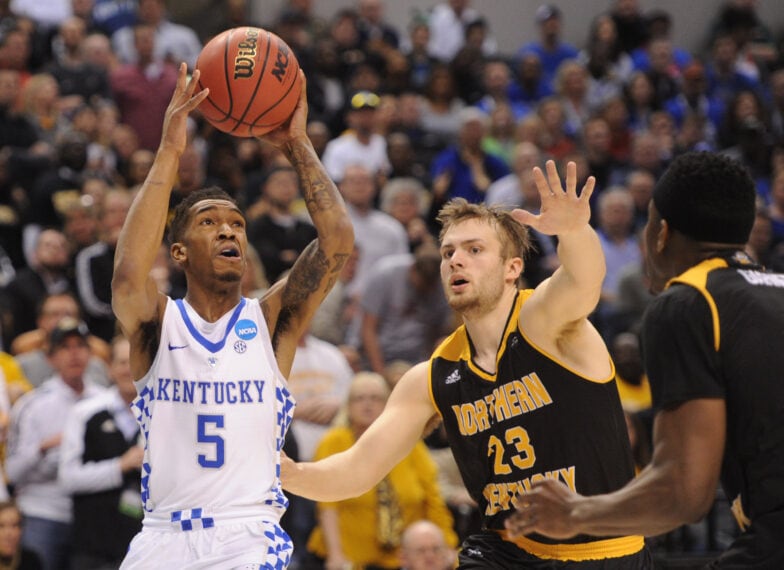 Tyler Dorsey, Oregon: The Ducks' sophomore guard has made shot after shot so far, including the go-ahead 3-pointer against Rhode Island in the second round. He went for 27 apiece against the Rams and against Kansas in the regional final, hitting six of 10 on 3-pointers. He's shown big-play, big-moment capability that has people's attention.
Josh Jackson, Kansas: The Jayhawks didn't make the Final Four, but it wasn't the freshman sensation's fault. Early foul trouble in the regional final against Oregon was the only thing that really slowed him down, and he still managed a double-double in each of Kansas' last two games. His ability to get to the basket no matter the defense was good practice for his next level of play — which will come fairly soon.
Lonzo Ball, UCLA: The freshman point guard didn't shoot it well at all against Kentucky in the Sweet 16, making just 1 of 6 3-pointers and scoring just 10 points. And even though he had eight assists, he never controlled the game against the Wildcats as he has against most opponents all season. Still, he was great against Cincinnati in the Round of 32 (18 points, 9 assists), and one subpar game isn't going to keep Ball out of the top three in the Draft — a destination he made official by declaring late Friday night after the loss to Kentucky.
Sindarius Thornwell, South Carolina: The senior guard was a second-round pick in most mock Drafts. But after his play in the NCAAs — 23.3 points per game, 42.9 percent on 3-pointers — in the Gamecocks' improbable run to Phoenix — his stock is going to Pluto. He's been strong and present every time South Carolina needed a big basket, and he had no trouble getting to the foul line against the likes of Marquette and Duke.
Derrick Walton, Michigan: The senior point guard had an up and down career in Ann Arbor, but he saved his best for last, playing brilliantly against Oklahoma State in the first round (26 points, 11 assists), and led the Wolverines to a Sweet 16 appearance before their storybook postseason run ended in a one-point loss to Oregon. Walton wasn't on a lot of Draft boards at the start of the season, but he's changing that. And, in an era where small guards can now flourish, he will surely get a real chance to shine in Summer League and beyond.
D.J. Wilson, Michigan: The 6-foot-10 sophomore forward has been just as eye-opening as Walton, with "stretch four" written all over him. He was lights out in postseason play, shooting 32 of 50 on 3-pointers combined in the Big 10 and NCAA tournaments — including 5 of 9 against Oklahoma State and 5 of 10 against Louisville in the second round. He could test the Draft waters if he wanted by putting his name into the Draft; he'd have 10 days to pull out after the Chicago pre-Draft ombine ends May 14 and go back to Michigan for his junior season.
Trevon Bluiett, Xavier: The junior guard was one of the best players in the tournament, going for 29 in a second-round win against Florida State. He followed that up with 25 points on 9 of 17 shooting, including 7 of 7 in the first half, in the Musketeers' upset of top-seeded Arizona in the West Region semifinal in the Sweet 16. He didn't shoot great in the Elite Eight game against top-seeded Gonzaga, but he still grabbed seven rebounds.
ALSO HELPING THEMSELVES: Frank Mason, Kansas; Bam Adebayo, Kentucky; Nigel Hayes, Wisconsin; Dillon Brooks, Oregon; Justin Jackson, North Carolina; KeVaughn Allen, Florida; Nigel Williams-Goss, Gonzaga; Jevon Carter, West Virginia; Caleb Swanigan, Purdue.
Longtime NBA reporter, columnist and Naismith Memorial Basketball Hall of Famer David Aldridge is an analyst for TNT. You can e-mail him here, find his archive here and follow him on Twitter.
The views on this page do not necessarily reflect the views of the NBA, its clubs or Turner Broadcasting.