Los Angeles, New York readying for their big moment in free-agent sun
Little doubt Lakers, Clippers, Knicks and Nets will be big players in summer of 2019
It's been 34 years in the making.
Ever since the Clippers moved north from San Diego to Los Angeles in 1984, the NBA has had two teams in each of its two biggest metro areas — the Knicks and Nets in greater New York; the Lakers and Clippers in L.A. (Yes, the Nets played in New Jersey from the time they entered the league after the 1976 merger until 2012, when they moved to Brooklyn. But the NFL's Giants and Jets are still considered by many to still be New York teams even though they've played in Jersey since the late '70s — in the same complex in which the Nets played. So we consider the East Rutherford version of the Nets to have been a New York team, too.)
Anyway, it's a moot point; the Nets are now in Brooklyn, and there are officially two teams apiece in New York and L.A., the nation's two largest cities by population. And, until now, the NBA's never had a situation like the one that is shaping up 12 months from today.
A year from now, all four of those teams will be on the hunt, with significant salary cap space, to go after a group of free agents with as much star power as there has ever been in some time — at least since 2010, the first Summer of LeBron.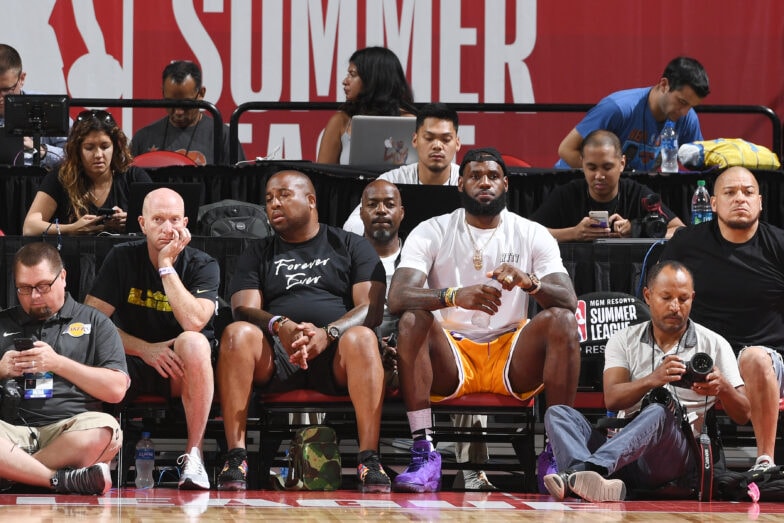 The third Summer of LeBron, of course, has resulted in LeBron James going to the Lakers, a shape-shifting event that will go a long way toward restoring one of the NBA's top two premier franchises as a prime free agent destination, after years of swings and misses. In basketball, as in most endeavors, if you're not going forward, you're falling behind. And it had been a decade since the Lakers last acquired a significant, difference-making player — Pau Gasol, from Memphis, in 2008.
But now, with James leaving the Cleveland Cavaliers for Tinseltown, the Lakers are back in business.
Next year, the potential list of unrestricted free agents — which will depend on some players opting out of their existing contracts for the 2019-20 season — is staggering. Players with player options for 2019 include the Golden State Warriors' Kevin Durant, the Boston Celtics' Kyrie Irving and Al Horford, the San Antonio Spurs' (for now, anyway) Kawhi Leonard, the Cavs' Kevin Love, the Minnesota Timberwolves' Jimmy Butler and Jeff Teague, the Dallas Mavericks' Harrison Barnes, the Milwaukee Bucks' Khris Middleton, the Memphis Grizzlies' Marc Gasol, the New Orleans Pelicans' Julius Randle, the Toronto Raptors' Jonas Valanciunas and C.J. Miles and the Miami Heat's Goran Dragic and Hassan Whiteside.
They won't all opt out. And, it's especially difficult to see Valanciunas, Whiteside or Gasol doing so — and, no, it's not a coincidence that they're all centers, an increasingly fungible position in the small ball, positionless era. But many will.
Players scheduled to become free agents outright include the Warriors' Klay Thompson and DeMarcus Cousins, the Charlotte Hornets' Kemba Walker, the Mavs' DeAndre Jordan, the Oklahoma City Thunder's (for now, anyway) Carmelo Anthony, the LA Clippers' Tobias Harris, the Bucks' Eric Bledsoe, the Pelicans' Nikola Mirotic, the Utah Jazz's Ricky Rubio, the Knicks' Mario Hezonja and Enes Kanter, the Celtics' Marcus Morris and his twin brother, Washington Wizards' big man Markieff Morris, the Indiana Pacers' Thaddeus Young, Tyreke Evans, Darren Collison and Bojan Bogdanovic, the Lakers' Rajon Rondo and Kentavious Caldwell-Pope, the Philadelphia 76ers' J.J. Redick and the Portland Trail Blazers' Al-Faroqu Aminu.
In addition, players from the 2015 Draft class are eligible for extensions this fall. If they don't get them, they would become restricted free agents next summer. Among that group is the Wolves' Karl-Anthony Towns, the Knicks' Kristaps Porzingis, the Celtics' Terry Rozier, the Pacers' Myles Turner, the Bulls' Bobby Portis, the Wizards' Kelly Oubre, Jr. and the Raptors' Delon Wright. Bucks guard Malcolm Brogdon, a second-round pick in 2017 and the 2017 Kia Rookie of the Year, will also be a restricted free agent next summer.
Whew.
And Gotham and the City of Angels will be at the front of the line. They won't be operating in a vacuum, of course. More than a third of the league projects to have significant cap room next summer, or can create it with a simple roster move or two.
Rebuilding teams like Dallas and Atlanta will have it, contending teams like Philly will have it and up and coming teams like Indiana could have it. (The Pacers will have a half-dozen free agents to re-sign, but if they renounced their rights to most or all of them, they would open up enough room to sign a max player to go with Victor Oladipo, Domantas Sabonis and Myles Turner.)
Only two previous free agent classes had this kind of star power: 1996 and 2010.
The 1996 free agent class was unprecedented to that point in league history. Oscar Robertson's lawsuit against the NBA, which paved the way for true free agency for NBA players, wasn't settled until 1976. The league and players union had agreed to a salary cap in 1983. While individual players in given years were fought over (the New York tried unsuccessfully in 1983 to peel Kevin McHale, then a restricted free agent, away from Boston), there had never been such a significant collection of impact players who all reached unrestricted free agency in the same year.
After a very brief, hours-long lockout involving the division of profit from the existing television contracts, teams were off and running to go after a cross-section of elite NBA (and some future Hall of Fame) talent including: Michael Jordan, Shaquille O'Neal, Hakeem Olajuwon, Alonzo Mourning, Gary Payton, Reggie Miller, Dikembe Mutombo, Juwan Howard, Kenny Anderson, Allan Houston, Steve Smith and P.J. Brown, among others.
That year, the Knicks remade their team in one fell swoop, signing Houston for seven years and $56 million, point guard Chris Childs for six years and $24 million and trading for Hornets power forward, Larry Johnson (who had nine years and $70 million left on his deal). And they almost landed the biggest fish of all — Jordan — who had a real flirtation with the Knicks. New York got approval from the league for an offer to Jordan that would have included his becoming a paid spokesman for businesses owned by the Knicks' parent company at the time, ITT. In the end, though, Jordan returned to Chicago on a one-year, $30 million deal.
But the Lakers struck Forum Blue and Gold, too.
Shaq, famously, wound up leaving Orlando and signing with the Lakers on a seven-year, $120 million deal. Los Angeles had cleared the decks for the big man with a flurry of deals before the start of free agency that cleared cap space — including one that sent incumbent center Vlade Divac to the Hornets for the Draft rights to, as was described by The New York Times then, "the high school star Kobe Bryant."
By 2010, after leading the Lakers to a threepeat, Shaq was long gone from Los Angeles, but Bryant was still there and the Lakers were still winning championships. Bryant won his fifth as a Laker that year, as L.A. survived a seven-game Finals with its biggest rival, the Celtics. So the Lakers had no need of getting better via free agency.
That summer was the last great seismic shift of multiple talents around the league, with James and Chris Bosh joining Dwyane Wade in Miami to form the Super Friends. The Knicks had spent two years clearing room to make a run at James, as had the Heat.
But New York didn't close the deal with James, and had to turn instead to Amar'e Stoudemire, giving the former Suns forward a five-year, $100 million deal. Chicago, left at the altar when Second City native Wade turned them down at the 11th hour, wound up giving Carlos Boozer nearly $80 million to leave Utah.
But most of the other top free agents that summer stayed where they were, including Joe Johnson ($124 million from the Hawks), Yao Ming ($18 million from the Rockets), Dirk Nowitzki ($80 million from the Mavericks) and Paul Pierce ($61 million from the Celtics).
Now, James is in Los Angeles. And that resets the board in a dramatic way.
There's no guarantee the Lakers or any of the other three teams will be successful in their pursuit come 2019. Haven't we all learned the lessons by now that you can't assume anything? Or have you forgotten what mortal locks so many said it was that Russell Westbrook and Paul George would each wind up in L.A.?
But the Lakers will be back in the game. And, like the Clippers, Knicks and Nets, they have unique assets that will be central to their pitch.
* * *
LOS ANGELES LAKERS
PRIMARY 2019 ASSETS:
• Cap space (one max contract)
• James (signed through 2022; player option 2021-22)
• Enormous franchise resources (including the team's $3 billion local television rights package with Time Warner Cable)
• Emerging young talent
The Lakers couldn't get out of their own way in recent years. But owner Jeanie Buss went all in last year, firing former GM Mitch Kupchak and her own brother, Jim, the former executive vice president of the team, to remake the front office, hiring Magic Johnson to take her brother's position and prominent player agent Rob Pelinka to become general manager.
The Lakers signed Caldwell-Pope last summer for one year and $18 million — but, more importantly (and, legally), it allowed the team to begin a dialogue and foster a relationship with Caldwell-Pope's agent, Rich Paul — who is James' agent as well. (If you don't think other high-powered agents like Scott Boras don't do the exact same thing with his high-impact clientele in Major League Baseball, or Tom Condon in the NFL, you need to get out more.)
The Lakers signed players who'll help James this season — Rajon Rondo and Lance Stephenson and JaVale McGee — to go with their remaining group of young players: Brandon Ingram, Lonzo Ball, Kyle Kuzma, Josh Hart and their first-round pick this year, Mo Wagner. But the second shoe has yet to drop. That will come a year from now.
"I think that he had analyzed our roster," Johnson said of James in a conference call with reporters last week. "He had analyzed the situation, and so he was willing to say, 'hey, I'm going to make a long-term commitment to the Laker organization.' And so that's what we needed as an organization. And then also, other players around the league can see that, and they'll be willing to play with him, and come to the Lakers, because they know he's going to be here. It also helps our players too, their own mindset that he's going to be here as well."
The Lakers — and, by extension now, James, with his L.A.-based SpringHill Entertainment company and the relationships he and partner Maverick Carter have built over the years both in the entertainment and business worlds — can offer players a platform that few other franchises in any sport can. For all their struggles on the floor in recent years, the Lakers' brand is still iconic. The franchise's history, now embodied in its front office by Johnson, is still powerful.
And, now, they have the best player on earth, even at 33, taking his place alongside the pantheon: Wilt Chamberlain, Kareem Abdul-Jabbar and Shaq. Elgin Baylor, Kobe and Jerry West. As well as all the others who went West in search of stardom and rings. Again, they can dream of rings.
* * *
LA CLIPPERS
PRIMARY 2019 ASSETS:
• Cap space (two max contracts)
• Wealth/passion of owner Steve Ballmer
• Championship winning personnel (Jerry West, Doc Rivers, Sam Cassell)
• Future arena
There is a saying in the Clippers' building about the "Lob City" era: we won, but we were never the winner. The franchise had the third-most regular season victories in the NBA during that stretch, which ran from 2011-17, when Chris Paul was in town. But it ran its course, and with James on the Lakers, the Clippers have again fallen behind their celebrated rivals with whom they share Staples Center for attention and glitz.
But the feeling within the Clippers' organization is that a potential battle with the Lakers next summer for elite free agents should go much differently than skirmishes in the past. They weren't in on James, having decided after trading Blake Griffin to Detroit in February that they were all-in for 2019 (when they'll have room for two max free agents). So there was no taking on contracts with years, and no dealing of either of their first-round picks (the second coming from the Pistons).
In 2019's free agency, the Clippers will be led by Ballmer, the NBA's richest owner, with an estimated wealth of $40 billion. He led the presentation to Griffin last summer that convinced Griffin to not take any free-agent visits and sign a max deal. Sure, the $171 million helped Griffin make his mind up quick, but there was a well-articulated vision for the short and long term laid out as well.
As most everyone should know by now, Ballmer loves to compete. The Clippers will be aggressive next summer, working hard and smart for free agents. The pressure of working for a multi-billionaire in the ultimate alpha male endeavor is staggering. But it's less staggering than working for an owner that isn't willing to go into the luxury tax.
Ballmer oversaw the team's front office restructuring last year, where Rivers was stripped of his president of basketball operations authority but kept aboard as coach, with Lawrence Frank, the team's EVP of Basketball Operations, leading the revamped front office, which now includes GM Michael Winger and assistant GMs Trent Redden and Mark Hughes. The restructuring mirrored new investments in the team's infrastructure across the board that the team believes leaves it well-positioned to match the Lakers and anyone else bell for bell, whistle for whistle.
A 2019 pitch will also include Ballmer's updated plans for a new Clippers-only arena, currently slated for Inglewood, where the Lakers used to play, and which would house a new practice facility.
On the floor, the Clippers will point to a team strafed by injuries last season and the mid-season trade of Griffin that nonetheless battled to the end of the regular season before falling short of the playoffs. Now they'll add their two first-rounders this year, Shai Gilgeous-Alexander (whose Draft rights came via trade with Charlotte) and Jerome Robinson, to Tobias Harris and some of the grinders unearthed by all the injuries last season, including C.J. Williams and Jawun Evans.
But someone who comes to the Clippers will have an opportunity to make his own history, different from "Lob City." That was an era of wins, but never being the winner. There aren't any championship banners in Staples with the Clippers' names on them, and no statues outside of Staples featuring Clippers' legends. The guys who want to be pioneers will get a chance to do it there, in a big city, and for a franchise that will be ready to think big again.
* * *
NEW YORK KNICKS
PRIMARY 2019 ASSETS:
• Cap space (one max contract)
• Kristaps Porzingis
• Young players (Kevin Knox, Frank Ntilikina)
• New Coach David Fizdale
The Knicks have been an afterthought for just about every major free agent for the last decade. They couldn't get a meeting with Durant in 2016 even though he was holding his free-agent visits at a house in the Hamptons, less than two hours' drive from Madison Square Garden — and despite the entreaties of his friend Carmelo Anthony, then the team's franchise player.
They expect that to change next summer, when New York has designs on adding a superstar with their own budding star, Porzingis. He should be fully recovered by then from the torn ACL he suffered just before the All-Star break in February.
The hope is that the disappearance of the toxicity and dysfunction that surrounded the franchise at the end of Phil Jackson's reign will let prospective free agents give New York a real look next summer. Currently, the Knicks can realistically add just one max free agent. It is possible, though, they could get close to a second if they were to move Tim Hardaway, Jr.'s contract by next year.
The team's new braintrust — team president Steve Mills, General Manager Scott Perry and Fizdale — have gone to significant lengths to display a unified front, one that the team believes will be able to close deals next summer.
Even though Fizdale didn't last two seasons in his first coaching job in Memphis, the Knicks think his more successful days as the top assistant to Erik Spoelstra in Miami — when James and the Heat won two titles and made two other Finals — will be persuasive for free agents. Perry, in a short stint as the GM in Sacramento before taking the Knicks' job, was able to get Zach Randolph and Vince Carter to sign as free agents.
And while so many players are living in Los Angeles in the offseason these days, there is still cache and opportunity in the biggest market in the States that isn't around anywhere else. Anthony helped make New York's Fashion Week a big deal for NBA players to attend. Shoe companies and record labels similarly can provide enhanced opportunities.
But the Knicks do have to start showing some real improvement on the court, having again stumbled and bumbled (thanks, Clyde!) to a 29-53 record last season while missing the playoffs for a fifth straight season. There should be no illusions of a dramatic turnaround, especially with Porzingis not likely to be ready at the start of the season.
The goal this year is just to get Porzingis back on the floor healthy by the end of the year. There's hope for Knox to flash, and for either Ntilikina or Emmanuel Mudiay to solidify the team at the point. That would allow the Knicks to tell a story of improvement and foundation a year from now.
Now: just because someone's a good player doesn't mean they'll be so in New York; just ask Ed Whitson. Gotham isn't for everybody.
But the Knicks need it to resonate with somebody.
* * *
BROOKLYN NETS
PRIMARY 2019 ASSETS:
• Cap space (two max contracts)
• Coach Ken Atkinson/player development
• Homegrown success stories
• Future picks (2019 first from Denver, protected 1-12 through 2024; 2019 second-round picks from New York, Indiana; 2020 second-round picks from Denver, Portland)
After years in the wilderness, there's a clearing hard by Barclays Center.
Unable to get restricted free agents like Otto Porter Jr. or Tyler Johnson via offer sheets, the Nets have used their cap room over the last couple of years under GM Sean Marks to get assets — Draft picks from teams that wanted to dump bad contracts, or young prospects if picks weren't available.
Brooklyn got a 2017 first-round pick from Washington to take Andrew Nicholson's deal off of the Wizards' cap; that pick became center Jarrett Allen, and Brooklyn flipped Nicholson to Portland last summer for Allen Crabbe (whom Brooklyn also had signed to an offer sheet). The Nets got D'Angelo Russell from the Lakers in 2017 in exchange for Brook Lopez and a 2017 first-round pick, which became Kyle Kuzma. Then they took DeMarre Carroll's salary off Toronto's hands for a 2018 first-round pick (Dzanan Musa) and a second-rounder (Rodions Kurucs).
And after trading Mozgov and his remaining $32 million to Charlotte for the since-waived Dwight Howard — and paying Howard about $13 million of the $18 million he was owed for next season in a buyout agreement — Brooklyn will now have room for two max salaries next season.
The Nets crave flexibility above everything else. They know that even though they're finally out from the disastrous 2013 Kevin Garnett/Paul Pierce trade with Boston that cost them three first-round picks, and will finally have their own first-rounder next year for the first time since 2015, that it may prove difficult to get two blue-chip players via free agency.
But that doesn't mean they couldn't trade for a big name. It doesn't matter how the talent get there, as long as it gets there. The Nets didn't throw another $100 million at someone else after the Wizards matched their $100 million offer sheet to Porter Jr. last year. Instead, they bided their time.
Atkinson has been as advertised since coming from Atlanta's bench two years ago. The Nets point to players like Spencer Dinwiddie and Joe Harris that have become contributors under Atkinson and the Nets' coaching and player-development staffs — and who have sung the team's praises better than the team ever could.
The Nets are aware that the Knicks are the big name in town. They know the Knicks have at least some positive history to trade on with prospective free agents. But they can't be intimidated by that. Their practice facility in Sunset Park is as dynamic as anyone's in the league.
They think they can get free agents who want to play the way Atkinson teaches — ball movement and body movement and tons of 3-pointers (Brooklyn's 35.7 3-pointers per game was second only to Houston's 42.3 in 2017-18). And whether you're 22 or 28, the Nets pitch goes, you'll get better.
As with the Knicks, Brooklyn isn't for everybody. But neither of the Nets' principal owners, Mikhail Prokhorov or Joe Tsai, grew up anywhere near Atlantic Avenue. Marks is from New Zealand. (Atkinson grew up on Long Island — which both Islanders and Gothamites go to great pains to say isn't New York City.)
But Marks is steeped in the Spurs way, having both played for them and then worked in their front office before being hired by the Nets. Marks has put a first-rate staff together, from assistant GM Trajan Langdon to Andrew Baker, the team's head of strategic planning. They have been methodically planning for the day they can finally get out from under the KG/Pierce deal and start writing a new chapter in franchise history.
It's 12 months away.
* * *
Longtime NBA reporter, columnist and Naismith Memorial Basketball Hall of Famer David Aldridge is an analyst for TNT. You can e-mail him here, find his archive hereand follow him on Twitter.
The views on this page do not necessarily reflect the views of the NBA, its clubs or Turner Broadcasting.
* * *
East Player Movement | West Player Movement | Free Agent Tracker