Shootaround (June 27) -- John Wall trying to recruit Paul George to Washington Wizards
Plus, OKC celebrates Russell Westbrook's MVP and a look at other news from around the NBA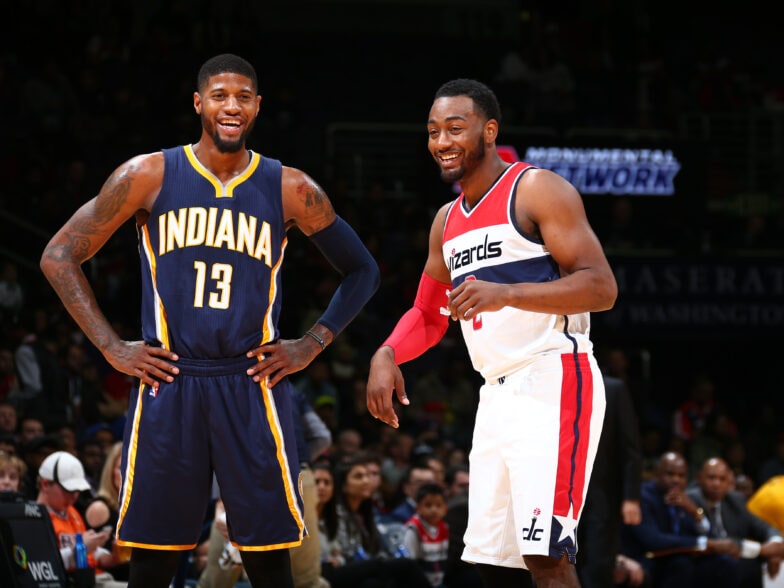 This morning's headlines:
Wall trying to get George to push for Wizards trade — The Los Angeles Lakers, San Antonio Spurs, Cleveland Cavaliers and Houston Rockets have all at one point or another the last few weeks had interest in trading for Paul George. It appears the Washington Wizards can join that list as their star guard, John Wall, is leading a charge to get the team to trade for George. Marc J. Spears of ESPN's The Undefeated has more:
Washington Wizards All-Star guard John Wall told ESPN's The Undefeated that he is recruiting Indiana Pacers small forward Paul George in hopes that George will push for a trade to the nation's capital.

George has no intention of staying with the Pacers beyond the expiration of his current contract in June 2018. The Los Angeles-area native is intrigued by the possibility of joining the Lakers, sources previously told The Undefeated. The four-time All-Star also is being pursued by the Cleveland Cavaliers in a trade, sources previously told ESPN.

However, with Wall leading the recruiting charge, he is hoping his buddy ends up in Washington.

"I am talking to some guys — Paul. I know his ultimate goal of where he wants to be. I'm trying to see if we can make something happen," Wall told The Undefeated before the NBA awards on Monday night.

…

Wall also believes George can help Washington get over the hump to be a title contender and could counter Cavaliers All-Star forward LeBron James.

The Wizards have had trade conversations with the Pacers, a source told The Undefeated. The source added that the Pacers have been patient and that no deal with the Wizards is close at the moment.

"Look at our team. We are one piece away," Wall said. "We have the point guard, we have the shooting guard, we have the center, we have the power forward. Our 3-man [Otto Porter Jr.] did great for us. You can't take nothing away from what he did. But [George] is a guy that can guard LeBron and go back at LeBron. It's a piece that you're going to need to win. If you don't have a guy who can do that, you don't have a chance. …

"You got to add another star. You got to add another piece. You got to have three guys. And that's what it's looking like."

…

"He has to make a decision that is comfortable to him. But at the end of the day, you always have to get [elite players]. You have to go out swinging. You got to get a yes or a no."

Asked about the Wizards' chances to get George, Wall said: "Right now, I don't know. Indiana has all the rights to do whatever they want. And if he goes where he doesn't want to go, he doesn't have to sign next year."
For OKC, Westbrook's MVP run began in summer — For the second time in four seasons, the Oklahoma City Thunder can boast the NBA's Kia MVP winner. Russell Westbrook is the newest man to hold the hardward (after departed Thunder star Kevin Durant won it in 2013-14). To Barry Trammel of The Oklahoman, Westbrook's path to this accolade began not when the season began, but well before it:
But Oklahomans know Westbrook's value in a much deeper way.

When sports fans debate the MVP – and sports fans always debate the MVP – they talk about stats and production and victories and huge plays. They compare. They talk about the "Most" in MVP. They sometimes forget the "Valuable" in MVP.

Westbrook's value in the last 12 months goes far beyond those remarkable feats on the hardwood. Westbrook picked up not just a team in 2016-17. He picked up a franchise and a city and a state that all were reeling in the wake of Kevin Durant's decision to sign with the Golden State Warriors.

Durant's departure did more than leave an unfillable void on the Thunder roster. It left Oklahomans wounded that their greatest hero had fled and wondering if they could ever trust enough to feel the same about an athlete. Wondering if Westbrook was the next out the door, since he was eligible for free agency in summer 2017. Wondering if trading Westbrook was the best move, to avoid the possible pain of losing a second Thunder cornerstone.

Then Westbrook rode down Reno Avenue, pranced through a human tunnel of Thunder fans and entered The 'Peake to pledge an extra year's allegiance to OKC, which was the most he could do at the time.

And Oklahoma exhaled. The NBA future suddenly seemed OK. No Durant, which meant no title contention, at least not on the near horizon. But hope had returned. Westbrook was not catching the last train for the coast.

The Thunder would be relevant. The Thunder would be competitive. The Thunder would be interesting. No one knew then how interesting; no one knew then that Westbrook would climb Oscar Mountain and post a season for the ages.

But Westbrook's value was sealed on Aug. 4. Westbrook gave Oklahomans the freedom to again feel good about the NBA. To feel good about the franchise that had brought such acclaim to the city and the state.

Value doesn't always have to be measured in points and rebounds and assists.
Report: Wolves still trying to trade Rubio — On Draft night, Minnesota Timberwolves point guard Ricky Rubio had his name in trade talks. Ultimately, he wasn't dealt but that doesn't mean he'll be on the Wolves come next season. According to Marc Stein of ESPN.com, the Wolves are shopping Rubio in search of more shooters as they continue their roster remodeling:
The Minnesota Timberwolves remain intent on dealing point guard Ricky Rubioafter acquiring All-Star swingman Jimmy Butler, according to league sources.

Sources told ESPN that despite Rubio's strong second half last season, the Wolves are trying to add more shooting to their lineup and continue to make the Spaniard available via trade.

…

Sources say Minnesota discussed Rubio trades with several teams leading up to the NBA draft. ESPN reported in January that the Wolves and Detroit Pistonsdiscussed a multiplayer deal that would have featured Rubio and Pistons point guard Reggie Jackson.
Jones: Butler trade adds 'toughness' to Wolves — Credit it to whatever you may like, but the Minnesota Timberwolves finished 2016-17 with a thud, going 7-15 in the season's final two months. After landing All-Star Jimmy Butler in a Draft-day trade, the Wolves are hoping his veteran savvy and experience in big games will pay off in 2017-18. That's the word from Wolves backup guard Tyus Jones, writes Jace Frederick of the Pioneer Press:
Tyus Jones knows how talented Jimmy Butler is – everyone does.

The new Timberwolves forward – acquired from Chicago via a trade last week – is a three-time all-star and All-NBA performer. But talent isn't the biggest thing Jones said Butler will bring to Minnesota.

"I just think his toughness," the Timberwolves point guard said Monday night at the Twin Cities Pro Am basketball league, after "coaching" his team to a victory. "Just the grit that he plays with, how physical he is. I think that's something (where) everyone can follow his lead just as far as how talented and tough he plays on both ends of the floor."

Toughness was something the Wolves' talented, yet physically immature, team lacked in certain areas last season. That much was displayed in their defensive numbers. Add in Butler's experience as a guy who's not only competed in the playoffs – a rare trait on the current Wolves' roster – but also won playoff games and series, and Jones said the addition of Butler was "major for our team."

…

"It was a big trade, it was a big move to bring in Jimmy Butler, obviously, so it's big news," Jones said. "It's going to get talked about and everyone's excited and really looking forward to next season."

But with that excitement comes raised expectations. Fans likely won't accept anything less than a playoff appearance after 13 years without one. The pressure is rising.

"We don't try to think about that, even though fans are excited," Jones said. "Maybe other people around the league notice it, but all we try to do is come in here, get better and improve on last year."
* * *
SOME RANDOM HEADLINES: A look at how Russell Westbrook earned his first career Kia MVP award … D'Angelo Russell calls Magic Johnson's criticism of his leadership 'irrelevant' … It's impossible to keep the song from Westbrook's new commercial from sticking in your head … Dwight Howard is feeling confident he can thrive again with the Charlotte Hornets … Bill Russell's speech at the NBA Awards Show last night stole the spotlight … Portland Trail Blazers GM Neil Olshey expects Jusuf Nurkic, Allen Crabbe and Ed Davis to all be healthy in time for training camp … The Minnesota Timberwolves have waived Jordan Hill …