Uncategorized
Minnesota Timberwolves All-Star Jimmy Butler helped off court in Houston with unspecified knee injury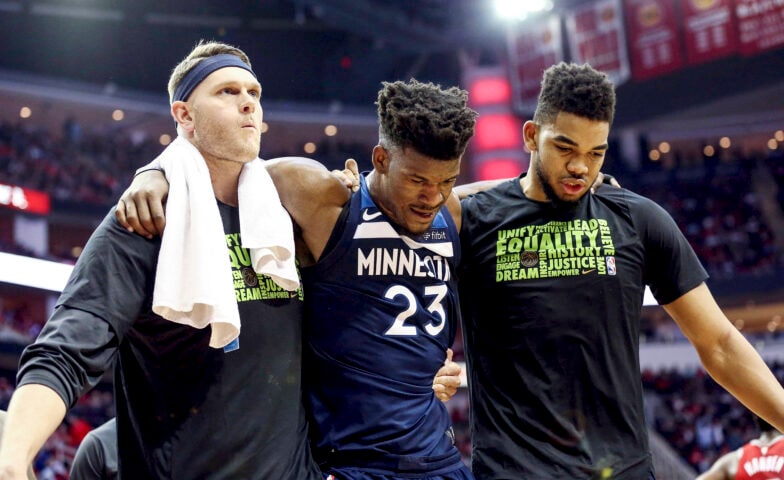 Timberwolves All-Star Jimmy Butler was carried off the court Friday in Houston after suffering an unspecified right knee injury.
Butler was hurt late in the third quarter after grabbing an offensive rebound. Butler took a hard dribble, pivoted and went down without any contact while passing the ball to teammate Taj Gibson.
Butler was helped to the locker room by Karl-Anthony Towns and Cole Aldrich. Butler was later shown hopping on his left leg, unable to put any weight on his right, in a Toyota Center hallway.
Timberwolves coach Tom Thibodeau said after the game — a 120-102 Rockets victory — that Butler would be re-evaluated with an MRI on Saturday after x-rays at the arena were inconclusive.
"You've got to wait for the doctors to do their thing," Thibodeau said. "Until they do the MRI, it's speculating. We'll know more tomorrow. I don't want to speculate on what it might be, but we'll just hope for the best."
Butler did not speak to reporters after the game but was in high spirits, according to multiple teammates. He was visited in the training room by Harden.
"His first reaction was, 'I'm OK, I'll be OK,'" Wolves forward Taj Gibson said. "But he was smiling. That was a big thing and it was a huge relief for everybody in this locker room. He's a warrior so we've just got to hold it down for him."
The Timberwolves have lost four of their last six.
"Injuries are an unfortunate part of the NBA," Thibodeau said. "The next guy has to get up and be ready to get the job done. Every night is a challenge, but dealing with your injuries and being mentally tough when you face adversity is a big part of winning. We have to find a way to win."
The Associated Press contributed to this report