Los Angeles Week (Theme Week)
Showtime: Magic Johnson on mission to take Los Angeles Lakers back to pinnacle of success
Face of the franchise with 16 titles aims to create, find stars to contend again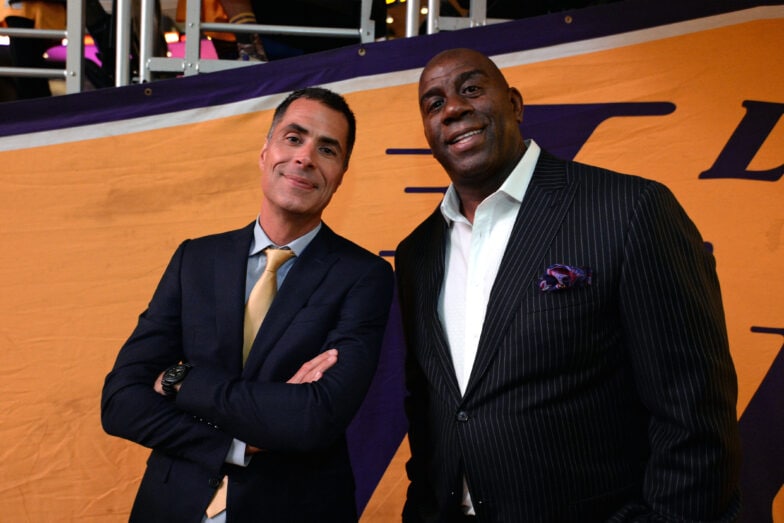 LOS ANGELES — On a typical night, the most besieged person on the Los Angeles Lakers poses for pictures, signs autographs, is followed around the Staples Center, shakes hands, gives hi-fives and has A-list courtside celebrities asking if their people can call his people.
The catch is he hasn't thrown a no-look pass in 22 years or won a championship in 30. Magic Johnson is now decades removed from "Showtime" — although you wouldn't know it by the love he still gets in a town where fame fizzles once careers die. Now in his first season as team president, he remains the everlasting smiling face of the organization, and this is precisely why he rushed back to rescue the Lakers last February. He needs and wants players who can replace him. If that's possible.
And so, Magic is on an ambitious mission to create stars and find them, which is something the Lakers have always done in their rich history. There is perhaps no NBA franchise that reflects the city it represents more than the Lakers do. Flashy and transcendent, magnetic and entertaining, the greats followed in a neat and convenient succession: first Elgin Baylor, then Jerry West, Wilt Chamberlain, Kareem Abdul-Jabbar, Magic Johnson, James Worthy, Kobe Bryant (in No. 8), Shaquille O'Neal and Kobe Bryant (in No. 24). They formed the bedrock upon which the franchise and its 16 championships was built.
When those names suddenly became Timofey Mozgov, Luol Deng and another Johnson (not Magic, but Wesley), and the Lakers couldn't even make the playoffs anymore. The aura vaporized and the pain felt by those with a connection to the franchise was eye-gouging.
Nobody was irritated more than Johnson, by then a wildly successful businessman, TV personality and partial owner of the Los Angeles Dodgers. Whoa, baseball? Seriously, that's where Magic was spending his time until he heard his true calling, a desperate Jeanie Buss on Line One.
"It was hard for me to sit back and see what was going on, the team losing and doing so without a clear vision," Johnson said recently.
When he retired from the Lakers, he never really left them; they remained in his thoughts, his heart and his financial portfolio (Magic had a small slice of the team until he sold it in 2010 to eventually to buy into the Dodgers). When the team began to tailspin five seasons ago and won just 27, 21 and 17 games (in 2013-14, '14-15 and '15-16, resepectively), with a roster and a salary cap in flames, one of the Lakers' biggest critics was … Magic.
The Lakers have the No. 1 fan base in the NBA, so it's good for the league when the Lakers are in contention. That's what we're building towards. And we'll get there."

Lakers president Magic Johnson
Tough love was expressed through social media, where Magic was almost Donald Trump-like on Twitter, taking shots at players, coaches and especially The Brother of Jeanie, who was responsible for the fall. Jim Buss was low-hanging fruit; the more hapless the Lakers looked on his watch, the more that baseball cap slid down over his eyes.
Jim Buss has another big decision. The @Lakers need a championship caliber coach.

— Earvin Magic Johnson (@MagicJohnson) November 9, 2012
LakerNation: I'm hoping that Jim Buss told coach D'Antoni to work on the @Lakers defense.

— Earvin Magic Johnson (@MagicJohnson) January 11, 2013
Laker Nation: After losing to the Thunder by 40pts yesterday, for the first time I'm at a loss for words. lol

— Earvin Magic Johnson (@MagicJohnson) December 21, 2015
A non-bloody coup ensued within the Buss family, with Jeanie flexing her right to swipe control of the Lakers, akin to a sibling wrestling the remote control during TV time, and her first order of business was to ask for, and get, an assist from someone who made that an art form.
So this is where we are: Jeanie, Magic, general manager and former Bryant agent Rob Pelinka, Kyle Kuzma, Lonzo Ball, Brandon Ingram, Paul George rumors, LeBron James dreams and uninvited guest LaVar Ball, all conspiring to revive the one franchise that the NBA needs on the floor in May and June if possible.
"The Lakers have the No. 1 fan base in the NBA so it's good for the league when the Lakers are in contention," Johnson said. "That's what we're building towards. And we'll get there."
Perhaps. But the how and the when are what will make this push to prominence a fascinating one.
Toughest move yet for Johnson
The shot-callers on the Lakers all have a working history with each other. That, on the surface, seems an advantage. There are no introductions needed between Magic, Jeanie Buss and Pelinka.
Johnson and Buss met as teenagers. The bond between them was the late Lakers owner Jerry Buss, who mentored both. Johnson and Jeanie have adopted Buss' philosophies about money and business and running the Lakers.
Jeanie Buss oversaw the completion last spring of a new state-of-the-art training center with all the sweet touches (including a barbershop!), proof of the family's financial commitment to ensure the Lakers have the best of everything. She told Magic and Pelinka to fix the product on the floor and everything else will be provided.
"Jeanie Buss has done a tremendous job keeping the vision of her father and the hope alive with the Lakers," Johnson said. "She's all about titles. We've got everything in place. And people can see that. Who else can say they've been losing for four years and still have sellout crowds?"
Because he can run the Lakers without restrictions or push-back from above, Magic was only too thrilled to take the wheel. Put aside, for a moment, baseball and gourmet coffee and movie theaters (his other business ventures); Magic was trained for basketball.
Of course, just because you've won six championships (including his NCAA title), an Olympic gold medal and put lumps in people's throats, that doesn't automatically translate into front-office brilliance. West aside, the championship track record for Hall of Fame players-turned-executives isn't very encouraging.
Magic's eternal basketball twin brother, Larry Bird, finally surrendered last year after an executive run with the hometown Pacers. He had his moments there (three conference finals, an Executive of the Year award in 2011-12), but couldn't match what he did as a player and didn't produce a ring.
Isiah Thomas, whose friendship with Magic was freshly rekindled recently, had a forgotten run as president of the New York Knicks. While Thomas wasn't the sole reason the Knicks couldn't produce a winner, he became a symbol of a lost era, fair or not, among New Yorkers.
Then there's Michael Jordan, still trying to gain traction as owner of the Charlotte Hornets, who seem no closer to sipping champagne now than when he first took ownership of the team in 2010. Again, the similarities are stark: All-time great player, massively successful businessman (Jordan Brand, commercials) and, so far anyway, unsatisfied basketball bossman.
Is this a curse from the Basketball Gods or merely a coincidence? What does Magic know about running a team that the other Hall of Famers didn't, or don't? That's fair to ask.
Pelinka can't speak for them, but he can for Magic.
"Magic is relentless in his pursuit of excellence," Pelinka said. "Magic is the most positive and enthusiastic person I've ever come across. Every day he gets up at 4 and works out and then he starts calling me at 6 with ideas and vision. He's a 'vision-caster extraordinaire.' I like to do the ground work to make sure his vision comes to life."
'We're going to get this done'
Pelinka is making the ambitious leap from A-list player agent to general manager, a transition that appears seamless. He crunched numbers with Buss about contracts for Bryant. He brings the nuts and bolts knowledge about the agent culture, negotiating and the salary cap, which frees up Magic to spend more time studying talent.
"After so many years representing players who've been through here I had a natural working relationship with Jeanie," Pelinka said. "It seemed a natural progression with her and then to have known Magic so well from being in LA, I have lots of touch points with him. There was just a real common DNA and common vision. The three of us believe in collaboration and round-tabling ideas. We've tried to create a structure that's not bureaucratic. It's the wheel philosophy. We're all spokes on the wheel and when the spokes stay strong the wheel stays strong."
Pelinka has other claims to fame. He was a reserve player on the Fab Five team at Michigan, which first exposed him to stars. And he's a dead ringer for heart-throb actor Rob Lowe; no doubt Pelinka has stories about being approached in LA by strange women biting their pearls.
But maybe the best gift that prepared him for the road ahead came when his wife handed him a song by gospel singer Amy Grant, conveniently titled "Takes A Little Time" which includes these lyrics:
To get your feet back on the ground, it takes a little time sometimes,
It takes a little time sometimes to get the Titanic turned back around.
Buss, Magic and Pelinka put their faith in Luke Walton, a first-time coach (not counting his half-season stand-in for Steve Kerr with the Warriors in 2015-16) who can grow into the role. Nobody panicked last month when the Lakers endured a nine-game losing streak, the defense turned sour and Walton's job security became an issue outside of the organization, not within it.
They haven't forgotten the respect Walton received from Klay Thompson, Stephen Curry and Draymond Green with the Warriors. Also, Walton got good reviews from O'Neal and Bryant on those Lakers championship teams of 2008 and '09. If he can work well with superstars, the feeling is, he can work with anyone.
"I believe in this group and believe in the fact that when you have repetition and hard work and unselfish players, good things will happen," Walton said. "It takes patience and commitment and I think we have all those things in the organization."
They have a Hall of Fame guy, a former ace agent, a basketball lifer as coach and a Buss, all on the top floor of the basketball office. That, they believe, is a winning combo.
"The Lakers have had extreme glory," Pelinka said. "The last 2-3 years have been rough and it's going to take a little time to turn that around. The beauty is we really worked hard to get a great draft class and worked hard with this young core of guys that bring the promise and hope that people see. We have a strong confidence that we're going to get this done."
Young core carries Lakers' burden
Kuzma can't explain how he felt when Magic dropped that "junior, junior" sky hook against the Celtics in Game 4 of the 1987 Finals because you cannot describe what you never saw.
Kuzma wasn't born until three years after Magic retired, typical of the team's "Crib Core" that only knows Magic from what their parents told them.
"Kobe," answers Kuzma, when asked what Laker left the best impression on him. "And I only remember Jordan with the Wizards."
That's what the Lakers are dealing with in their locker room, and it's all positive. Because if Kuzma, Ball and Ingram are indeed keepers, then the Lakers' work is already halfway done. Given their ages — all 22 and under — and small sample-sized looks at their talent, these three can grow organically and develop the same bond as others did before them.
Johnson and Pelinka seemingly had a robust Draft debut last summer, getting Ball, swinging a deal that brought Kuzma while also adding Josh Hart. Some luck was involved, of course, as the lottery fell in the Lakers' favor and they kept a first-round pick that would've gone to the Philadelphia 76ers.
Ball, Hart and Kuzma are relatively productive and on rookie deals, allowing the Lakers to spend on free agents or absorb heavier contracts via trades.
Kuzma, the Lakers' second-leading scorer (15.7 points per game), is supremely athletic and confident. He can score in a variety of way and is a worker bee defensively. Among this rookie trio, he has the most star sparkle, which others have noticed. Perhaps the biggest compliment Kuzma received was getting an approving postgame hug and head tap from the likes of Kevin Durant.
"Every other game it's somebody else," Kuzma said with a grin. "KD had some good things to say. I just try to go out there and play as hard as possible. Being a Laker and getting this much playing time is something I don't take for granted. A lot of rookies don't get the chance to play right away. It means a lot that the coaching staff and organization has a lot of faith in me."
If you heard Ingram's name mentioned in any trades, it didn't come from the organization. He's stretchy and bouncy, and his improving mid-range shot and growing confidence can cause matchup issues with small forwards. Whether he'll ever add biceps and a beast mentality to see minutes at power forward is questionable and Ingram is lacking as a rebounder (5.3 rpg this season in 33.9 mpg) and rim protector (36 blocks in 40 games).
Ball is the Lakers' highest-drafted point guard since Russell (No. 2 in 2015 Draft), but both were the highest drafted Lakers point guard since Johnson in 1979 (No. 1 overall).
But that's the least of the burdens Ball carries.
Johnson had good intentions when he predicted Ball's jersey would hang from the rafters one day. But it only intensified the premature public expectations when Ball's shooting mechanics and accuracy became serious issues to start 2017-18. The basketball world was quick to proclaim Ball as the second-best Lakers rookie after Kuzma, which rings true … in the short-term anyway. And then LaVar Ball, thirsty for fame, took shots at his son's teammates and coach.
If anything, the Lakers are comforted by seeing how the kid deals with the madness. He's amazingly level-headed, and this will serve him well when and if the Lakers start to win big on his watch. His floor vision and passing instincts are constantly applauded by opponents. (He's already got two triple-doubles this season.) And remember, he just turned 20.
Most important, he's well-liked in the locker room and his teammates are giving him room to grow into a leadership role.
"They tell me stay positive when things aren't going right, to speak up when I need to and encourage me," Ball said. "It makes it easy for me."
Ball, Kuzma and Ingram must also cope with the losing that comes with a developing team — and they've put that in perspective.
"I think when you win so much in high school and college it's disappointing to go through, but it's going to make us stronger as we go through this journey, stronger and tougher," Ingram said. "I'm comforted by what we do in practice every day. Eventually it'll come over to the games. Eventually you get tired of losing."
Kuzma promises: "We'll figure it out in the next two years. Or less."
For Lakers, (sustainable) star power reigns
This is the most important summer in Lakers history since 1996 when they swung a draft-day trade for Bryant and signed O'Neal. It's all because they have a healthy salary cap situation, thanks to the Magic-Pelinka-led trades with Brooklyn (last summer) and Cleveland (last week).
When the Lakers dialed the Nets and unloaded Mozgov's bloated contract, it earned them Lopez (on an expiring deal) and the chance to draft Kuzma (who is a steal of a player on a rookie contract). It was brilliant, in hindsight.
"I wouldn't have made that move if I didn't think we could use that money (this summer)," Johnson said.
The Lakers then doubled-down when they sent Jordan Clarkson's big deal and Larry Nance Jr. (on his rookie deal) to the Cavs in return for Isaiah Thomas and Channing Frye, whose contracts expire this summer. They also grabbed Cleveland's No. 1 pick in the process, which replaces the first-rounder that was sacrificed by the Jim Buss-Lakers.
Once again, it was a money-wise move by Magic and Pelinka and heightens their belief that someone worthy is coming their way this summer or next. Johnson stresses that if the Lakers don't load up this July, they'll save some cash for the summer of '19. That's when All-Stars like Kawhi Leonard and Klay Thompson hit the market.
Projections have the Lakers with roughly $47 million to dangle this summer. That could swell towards $70 million if, as expected, they let Lopez and Kentavious Caldwell-Pope walk and use the stretch provision on Deng's contract. There's also the chance they open more money by not re-signing restricted free agent Julius Randle, which is a tougher call. Randle is in the midst of a mini-breakout season and quickly raising his value to the Lakers.
They'll do whatever, if it means adding James and George, the two most logical free agents this summer and also the best by far.
You have to build, and so we don't want to do some stupid trade that could make us good right now but can't build toward contention for championships. So I'm going to build it the right way."

Lakers president Magic Johnson
Another GM believes the Lakers will chase New Orleans Pelicans star DeMarcus Cousins hard this summer, even though Cousins is mending from Achilles surgery. If anything, the GM said, the injury could make it easier for the Pelicans to back away if the Laker offer is big enough.
"We've got some good young players and then you add some veterans," Johnson said. "You look at what Jimmy Butler meant to Minnesota and Kyrie Irving to Boston. Look at their record before they got there and now. They needed a star to take them to the next level. That's all we need here. We get that, and we're like Minnesota and like Boston and we become one of the teams that can contend.
"Those (free agents this summer) can see that. They're like, `Man, this young talent they have? And I can put myself in that lineup? We can be good together.' "
The last major upgrade the Lakers tried — back in 2012 — went bust. Trading for Dwight Howard and Steve Nash proved both were too hurt and beyond their prime and, as a result, Kobe's final years weren't maximized. Johnson says it's different now, with a new regime in place.
"Free agents and their agents know we're serious about winning," he said. "There's a guy in place that knows how to win and will take care of their guys."
It's one thing to have young talent and cap space; quite another if you have those assets and someone who knows what to do with it. The Warriors' worst nightmare is if Johnson knows what to do with this.
The man who wants to win also wants to take his time, which sounds like a contradiction until he explains:
"You can't get it all at one time," he said. "You have to build, and so we don't want to do some stupid trade that could make us good right now but can't build toward contention for championships. So I'm going to a build it the right way."
What Magic Johnson really wants is to walk into the Stapes Center and get trampled by fans chasing one of his players for selfies. That would be bad for the ego, great for the Lakers.
* * *
Veteran NBA writer Shaun Powell has worked for newspapers and other publications for more than 25 years. You can e-mail him here, find his archive here and follow him on Twitter.
The views on this page do not necessarily reflect the views of the NBA, its clubs or Turner Broadcasting.