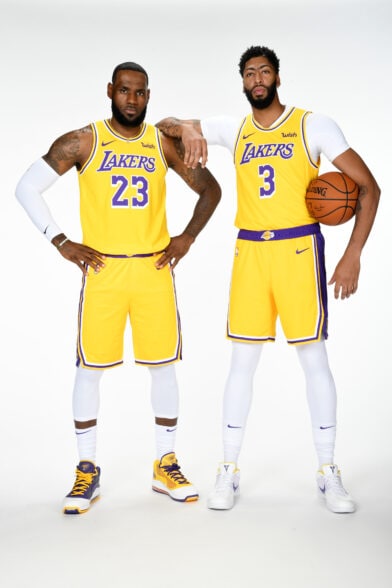 LOS ANGELES — On training camp eve, the atmosphere, scene and vibe at the team practice complex suggested the Lakers will welcome two new and bold additions when the season tips off in three weeks.
One: Anthony Davis, do-it-all forward, rescued from the depths of the New Orleans Pelicans, desperate for a championship and perhaps in line for the next Kia MVP award, both of which would be his first.
Two: LeBron James.
Yes, it's true this is LeBron's second season with the storied franchise, but does last year truly count? In his mind, no, it doesn't, because the Lakers and NBA were all deprived of his usual high standard of greatness and astonishing health in 2018-19. The health part betrayed him for the first time in his 16-year career, causing him to miss 27 games, mostly due to a persistently bothersome groin strain.
The part about greatness didn't necessarily and totally disappear; after all, LeBron did average 27-8-8, numbers that even stars would kill for. Except those numbers didn't translate into a playoff berth, even when he returned from injury and the Lakers still had a chance in the final month. And that, by extension, generated motivation within LeBron to answer the criticism both real (only a scant amount) and imagined (a lot) that LeBron now approaching 35 is no longer the force he was.
"Oh, man," said teammate Kyle Kuzma. "He's going to be a load this season, more than usual."
"He's gonna show all those people who are underestimating him," added Rajon Rondo.
"The stuff I saw him do this summer, getting up early in the morning, first one in the gym, working hard, it's gonna pay off," Davis said.
A changed LeBron? Well, it's hard to imagine him being a more focused player than before, just as it wouldn't be a stretch to suggest that, yes, LeBron could experience a slight drop-off in talent because Father Time shows no mercy to anyone. But it's also quite possible the 2019-20 LeBron can and will do what last year's version couldn't: Push the Lakers to a championship or at the very least, a deep playoff run.
He appeared refreshed Friday at media day — as he should with plenty of time off. Stoic at times and totally businesslike, LeBron spoke about the frustration of watching the playoffs — he stressed he "didn't miss a single game" — from his couch for the first time since 2005. He also shared his anticipation of sharing the floor with Davis.
"It's exciting to have such a beautiful young mind, a beautiful player but also a great leader as well," LeBron said about Davis, although the 2018-19 Pelicans might quibble with that last part. "I know the caliber of player that AD is. When Rob (Pelinka, the GM) and everyone upstairs did what they had to do to acquire a talent, person as AD, I was obviously truly excited. You saw how much time we spent together in the summer."
True enough, Davis and LeBron have been shadows of one another, with Davis spending time on the set of the "Space Jam" sequel, where LeBron is the star and Davis has a role, and also on the phone with Pelinka when the Lakers made decisions on the rest of the roster.
The sight of Davis and LeBron, a pair of generational talents with one of them still in his prime, running the floor and causing problems for the other bench is what LeBron needed but didn't have last season when the Lakers won just 37 games and missed the playoffs for the sixth straight season.
LeBron plans to be as deferential as possible to Davis, who's coming off a bitter end to a six-year run in New Orleans, in order to get the best from his All-Star forward. If that means LeBron must allow Davis to be the focal point of the offense, LeBron says so be it.
"If we're not playing through Anthony Davis while he's on the floor, then it makes no sense to have him on the floor," James said. "Because he's that great."
The goal, obviously, is for LeBron to develop the same chemistry with Davis that he had with Dwyane Wade in Miami, and to get similar results — the Heat won a pair of championships and reached the NBA Finals every year with LeBron in the fold.
The process is a bit more critical now because the Lakers sacrificed a chunk of their future to get Davis, and LeBron has only three years left on his contract. There's also the notion that LeBron is in his sunset years although the insinuation, according to LeBron, is that it means he's lost a step and a place among the league's great players. While some of this criticism might be generated by his imagination, there was talk this summer — such as comments from David Griffin — that might have bothered him a little bit.
Alright alright. Enough is enough. The throne has been played with to much and I ain't for horseplay. Ether coming soon! 😁🔥🔥🔥🔥🔥🔥🔥🔥🔥👑 #JamesGang✊🏾

— LeBron James (@KingJames) August 1, 2019
"I'm very motivated," he said, "but right now I'm in 'not talking about it mode.' I've been very quiet this summer for a reason … but there's some motivation for me. There's a lot of conversations going on this summer and I'm just very quiet, very quiet. And I'm just going to maintain quiet, My mother always taught me, 'don't talk about it, be about it.' So that's where I'm at. I think as a team, and myself, we need to get the Lakers back to what they've been accustomed to over the years. I'm excited about that."
LeBron needs Davis and yet, Davis needs LeBron just as much — the projected 2019-20 LeBron, who's juiced by motivation, failure, an injury setback and all that chatter that he hears (or doesn't) about his declining skills. Because without LeBron, Davis wouldn't be here. Davis would either still be in New Orleans or staring up at the banners hanging from the ceiling in Boston and wondering how to duplicate that.
Therefore, until further notice, the fate of the Lakers will rest with how much LeBron can distance himself from last season. The Lakers will require improved outside shooting and better defense (especially from LeBron) and obviously an MVP-level season from Davis to place themselves in the championship conversation. Then, all of the above are realistic.
But it ends with LeBron, and isn't this how it all started, with him?
* * *
Veteran NBA writer Shaun Powell has worked for newspapers and other publications for more than 25 years. You can e-mail him here , find his archive here and follow him on Twitter .
The views on this page do not necessarily reflect the views of the NBA, its clubs or Turner Broadcasting.