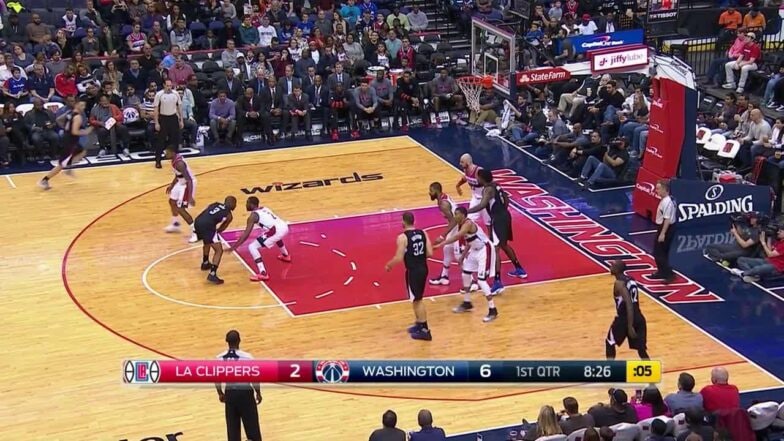 LA Clippers forward Blake Griffin is scheduled to undergo minor surgery on his right knee in the next few days and will probably be out until sometime in January, the Clippers confirmed on Monday:
Forward Blake Griffin will undergo a routine arthroscopic procedure on Tuesday, Dec. 20 to remove loose bodies from his right knee.
Griffin is expected to miss approximately three-to-six weeks and will continue to undergo treatment and evaluation by the Clippers medical staff.
The Vertical's Shams Charania was first to report the injury:
Griffin will undergo the procedure, considered a "clean up," early this week, league sources said. Recently, Griffin has also struggled with left calf and knee soreness. Griffin played 38 minutes in the Clippers' loss to the Washington Wizards on Sunday, posting 26 points, seven rebounds and seven assists.
Griffin is off to a stellar start to the season for the Clippers, averaging 21 points, 8.9 rebounds and 4.6 assists per game. The Clippers currently have a 20-8 record, and Griffin's loss is a significant blow to coach Doc Rivers' rotation, which will now need to rely upon forwards Marreese Speights, Wesley Johnson and Brandon Bass to play more integral roles.
Griffin played in 35 games a season ago after suffering a fractured hand in a fight with a member of the Clippers' equipment staff in January. Despite Griffin's return in April and their 2-0 lead over the Portland Trail Blazers in the first round of the Western Conference playoffs, the Clippers lost Griffin and Chris Paul to season-ending injuries in Game 4 and lost in six games.
Griffin had surgery on his right knee in his freshman season at Oklahoma in 2008 and had a procedure for a torn left kneecap as a rookie with the Clippers in 2010.
Griffin scored 26 points in the Clippers' 117-110 loss Sunday to the Wizards, his fourth straight game with at least 20 points since missing a game on Dec. 10 to rest his sore knee. He has played in all but two of L.A.'s 28 games this season.
Griffin, 27, is averaging 21 points on 48 percent shooting, 8.9 rebounds and 4.6 assists in his seventh NBA season, all with the Clippers.