Blockbuster trade not what Kawhi Leonard or DeMar DeRozan hoped for this summer
Neither All-Star player is happy with swap San Antonio Spurs, Toronto Raptors pulled off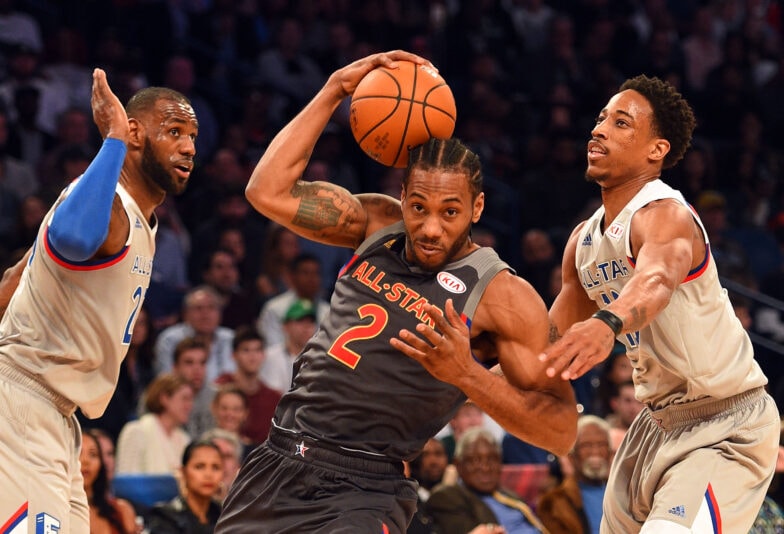 Kawhi Leonard's turbulent last days with the San Antonio Spurs ended Wednesday morning with a trade that neither major party involved in the deal liked.
The Spurs traded Leonard, the 2014 Finals MVP, two-time Defensive Player of the Year and two-time All-Star, along with veteran guard Danny Green, to the Toronto Raptors for four-time All-Star DeMar DeRozan, second-year big man Jakob Poeltl and a 2019 first-round Draft pick, which is protected from 1-12 next year. In doing so, San Antonio ended a relationship with the player that was poised to be the Spurs' next lynchpin, but who had grown disenchanted with the franchise and wanted out.
Leonard wanted to be traded to Los Angeles, closer to his hometown of Moreno Valley, Calif. He preferred the Lakers, and made that known in June, but was not averse to playing with the LA Clippers. However, the Spurs were adamant that they would not trade him to a Western Conference team, even though there was a strong likelihood that he would only stay with any team that traded for him until next year. That is when he would likely opt out of his contract, become a free agent and go to Los Angeles.
Even though the 27-year-old Leonard told the Raptors in conversations between Toronto and his camp over the last week that he did not want to go there, the Raptors were willing to take the chance, anyway.
DeRozan sought assurances from the Raptors that he wasn't being moved in recent days. Both he and his representatives met with Raptors officials during NBA Summer League in Las Vegas, according to a source, at which time Toronto insisted that it wasn't going to trade him. Now, DeRozan feels "lied to," the source said, and, while having no personal grudges with the Spurs, is extremely upset at the deal.
https://twitter.com/daldridgetnt/status/1019571781147987968
Leonard also is not happy at going to Toronto, for several reasons, including the higher taxation rate in Canada than in Texas, which has no state income tax. Leonard's camp had informed the Spurs he didn't want to go there, but the Spurs made no promises either way. San Antonio had had significant discussions with the Philadelphia 76ers — a team Leonard would have given a fair shake at convincing him to stay had it been able to make a deal with San Antonio. But the 76ers were unwilling to include guard Markelle Fultz, the former first pick overall in the 2017 Draft, or forward Dario Saric in any package proposals for Leonard.
Leonard only played in nine games last season, citing an injured quad muscle that did not respond to treatment. But privately, Leonard was unhappy with what he thought was bad advice from the Spurs' medical staff, and sought advice from his own group of doctors, removing himself from San Antonio to continue treatments in New York as the regular season ended and playoffs began.
The Spurs did not push Leonard during his rehab, and referred questions about his status during their first-round series with the Golden State Warriors to his camp. Leonard's uncle has acted as his agent for the last couple of years.
Spurs coach Gregg Popovich informed Leonard's camp of the trade early Wednesday in what was deemed a "cordial" conversation, according to a source. However, given the trade, Leonard is now contemplating not taking part in next week's USA Basketball minicamp in Las Vegas. A final decision has not yet been made.
For his part, the 28-year-old DeRozan let his feelings be known in an Instagram post early Wednesday, saying in part, "Ain't no loyalty in this game" after being dealt from the only team he's played for in nine NBA seasons, and for whom he has been nothing but a first-class ambassador.
The Raptors took DeRozan with the ninth pick in the 2009 Draft, during which time DeRozan became the franchise's leader in several categories, including games, points and minutes played.
He grew as the franchise did, helping lead it to the most successful period in its history alongside his close friend and All-Star teammate, Kyle Lowry. The backcourt did ads together, took vacations together with family and led Toronto to franchise records for wins, reaching the Eastern Conference finals in 2016. At every turn, DeRozan expressed happiness at playing for and living in Toronto, even as he had to make several cross-country trips last season to be with his ailing father in Los Angeles.
DeRozan remade his game as part of the "culture reset" demanded by general manager Masai Ujiri after Toronto was beaten in the playoffs by LeBron James and the Cavaliers in 2017 — a familiar outcome, as James and Cleveland beat the Raptors in three straight postseasons. DeRozan relied less on isolation sets than he had in years past, trying to move more without the ball and give it up so others could be more involved.
Toronto won a franchise-best 59 regular season games last season and was the top seed in the Eastern Conference. However, Toronto suffered another playoff loss to Cleveland, this time a 4-0 sweep. It was especially galling considering the Cavaliers had been extended to a seventh game in their first-round series with Indiana, yet still managed to rally from a double-digit deficit to shock the Raptors in Game 1 in Toronto. The Cavs then cruised the rest of the way in the series.
Ujiri fired coach Dwane Casey afterward, ultimately picking assistant coach Nick Nurse as Casey's successor.
But the reset of the team wasn't complete.
The Raptors believe strongly in their young core group of players, all of whom have been developed by Toronto the last few seasons — guards Fred Van Vleet and Delon Wright, forward O.G. Anunoby and big man Pascal Siakham. Toronto initially opted to keep its existing vets around the kids, giving DeRozan a five-year, $138 million extension in 2016, then giving Lowry and forward Serge Ibaka extensions last summer – Lowry got a three-year, $100 million deal and Ibaka got a three-year, $65 million deal.
However, after the latest playoff debacle, the Raptors let it be known around the Draft that none of their players were untouchable.
If Toronto can get Leonard on board, the Raptors would have a potentially dynamic defensive group on the wings, with Leonard and Anunoby capable of guarding multiple positions. Ibaka isn't the defender he was in Oklahoma City, where he was first team all-Defensive three years in a row, but he's still a plus defender at his position.
The 31-year-old Green is entering the final year of his contract. Long considered one of the best two-way guards in the game, Green was outstanding in the Spurs' seven-game loss to the Heat in the 2013 Finals, making 27 3-pointers in the series en route to setting a Finals record.
Poeltl, 22, was taken ninth overall by Toronto in the 2016 Draft. He worked his way quickly into the Raptors' rotation, averaging 6.9 points and 4.8 rebounds last season.
* * *
Longtime NBA reporter, columnist and Naismith Memorial Basketball Hall of Famer David Aldridge is an analyst for TNT. You can e-mail him here, find his archive here and follow him on Twitter.
The views on this page do not necessarily reflect the views of the NBA, its clubs or Turner Broadcasting.