Playoffs 2017 West 6
In midst of bounce-back season, Eric Gordon is giving Houston Rockets exactly what they need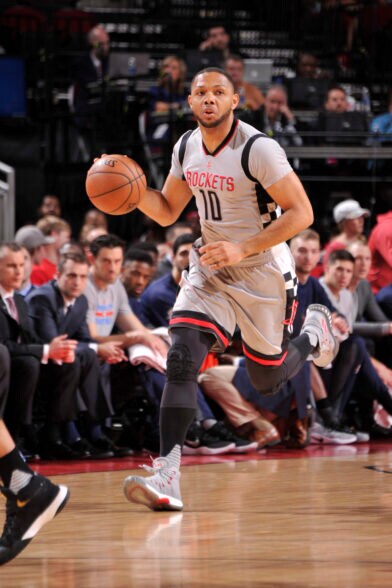 A second-round matchup against the San Antonio Spurs or Memphis Grizzlies awaits, the Houston Rockets are going to need Eric Gordon more than ever. Houston has gone a remarkable 37-7 when its sixth man has scored 15 points or more this season – including two crucial playoff wins against the Oklahoma City Thunder.
That series was billed as a reunion of former teammates and MVP favorites James Harden and Russell Westbrook, but Gordon's influence was a tipping point. He swung the two closest contests with 22 points in Game 2 (a 115-111 Houston win) and 18 in Game 4 at Oklahoma City (a 113-109 victory) while converting 7-for-13 from the arc over those two nights.
Rockets-Thunder series coverage
"He has a lot to prove,'' says Harden of his new complementary scorer. And then Harden amends himself. "We both have something to prove,'' he says. "So it works. Especially in some of those games when he has it going – that's when I let him just continue his success.''
The first 87 games of the regular season and playoffs – of which Gordon has played 80, itself a newsworthy achievement – have laid out the formula that the Rockets will continue to seek from their experienced and yet unfulfilled shooting guard. Gordon celebrated this bounce-back season by contributing 16.2 points to the most successful team of his nine-year career. The Rockets' 55 wins ranked No. 3 in the NBA overall, and much of their joy was tied to the bold four-year, $53 million investment they made in their surprising Sixth Man award candidate as a free agent last summer.
"He's what we need,'' Rockets coach Mike D'Antoni says of Gordon. "He's a two-way player who is very good defensively. He's very strong, which allows you to be able to switch. He can shoot it with range, he's driving it to the basket and he's a much better playmaker than most people think. He is like that little extra that you put into your gas tank. When he comes in off the bench, he's rolling.''
Is his best yet to come?
If so, it has been a long time coming.
Long road back from New Orleans
In 2010-11 — which was Year 3 for Gordon — he was averaging 22.3 points as a 22 year old for the Los Angeles Clippers. He was trending toward All-Star status and his young team was one year away from climbing out of the lottery and up to No. 5 in the West. Unfortunately, the Clippers were going to cross that threshold without him.
At the end of the 2011 lockout, on the eve of his fourth NBA season, Gordon became the most talented Clipper in the blockbuster package that was sent to New Orleans for All-NBA point guard Chris Paul. Gordon was unhappy with the move. The following summer, despite the arrival of the lottery rights to Anthony Davis, Gordon tried to escape New Orleans by signing an offer sheet with Phoenix.
Gordon insisted publicly that he wanted to play for the Suns. But the Hornets matched the offer, and the fans in New Orleans – knowing that Gordon wanted out – came to regard him as Michael Corleone viewed his brother Fredo.
"It had to be my years in New Orleans,'' says Gordon of his rock-bottom experience in basketball. "Because every other team that I have been on, I have been the first or second option. But there, it was all over the place. I definitely wasn't that.''
It didn't help that Gordon missed 173 games in five years with the Hornets/Pelicans. His scoring (15.3) slumped as New Orleans missed the playoffs in four of those seasons.
"He was on his way to being an All-Star his first couple of years in the league,'' says Rockets GM Daryl Morey. "And then the injuries really derailed him. I don't feel like the places he was playing – like New Orleans – necessarily fit how he wanted to play.''
Those injuries, his reduced role and the team's failures made Gordon miserable. "If you're not winning it's almost like they think of you differently,'' he says of his reputation. "That is why I am here to revamp it. And be the player that I should be.''
D'Antoni, hired last summer to coach the Rockets, remembers Gordon as he had been.
"I just know with USA Basketball, he was one of the best players out there,'' says D'Antoni, who was an assistant to Mike Krzyzewski when Gordon was a finalist for the 2012 Olympics (after Gordon had helped the U.S. win the FIBA World Championship in 2010). "Going into it, I don't think his name was ever in the top 12. But you were just watching him every time he got out on the court. We had two courts going back and forth – I remember exactly – and all the coaches were saying, 'What's happening down there, what's that guy doing?' Because he kept making shots. He kept making plays, he kept defending. And he worked his way right into it.''
Both D'Antoni and Gordon had been practically forgotten in recent years, which helped each to see how much they had in common. Gordon needed the opportunity to renew himself in D'Antoni's offense as much as the coach needed Gordon's prolific scoring.
"He believed it would be a good fit for him in Houston,'' says D'Antoni. "I have liked him ever since that experience at USA Basketball, and I've known him a little bit. And then when he got here, he shed some weight and he got his body ready to where he could withstand 70 games. He has avoided the injuries, and the biggest thing going forward is to just keep trying to do that.''
Five negligible seasons had created perspective for Gordon when he came to Houston. He accepted his role coming off the bench. He adapted to the Rockets' unusual training regimen, which includes lifting weights after games. At 29, he has become relevant again.
A capable sidekick to Harden
"He's what we haven't had since James has been here,'' says Morey. "When a team really keys on James and says OK, no matter what happens we are not going to let James Harden beat us – we haven't had that guy who can pick up that slack. One of the reasons James is having such a good year is you can't key on James like that anymore, because Eric will take advantage. You see teams still do it. And when teams are trying to do that, Eric comes in and steps up and really punishes those teams trying to overload on James.''
The Rockets have two such options in Gordon as well as Lou Williams, whose arrival from the Lakers in February exponentially deepened the Rockets' second unit. "Obviously with the benefit of hindsight you can see how well it's working,'' Morey says of the signing of Gordon, which was heavily second-guessed last summer. "You can see with our great training staff he has put a lot of work into staying healthy, and we are playing a style that fits his style. What I really love is he was a top, top defender, and that is really coming back. Eric has had his best defensive year since his first years in the league.''
When Gordon turned pro there were questions that at 6-4 he may be undersized defensively as a shooting guard. "The league has changed since then,'' says Morey. "And then you can just look at him. Physically he is very strong and thick, with a low center of gravity. He can move really well laterally. The league has gone to a lot of switching defenses, so a guy like him who has the strength and physicality to guard bigger guys is now really valuable.''
As a high-end recruit at Indiana and the No. 7 pick of the 2008 NBA Draft, Gordon never would have imagined needing nine seasons to fulfill his potential. Now that his time has come – finally – he recognizes the resilience that he has developed over the years. He is not taking these postseason moments for granted.
"This is great timing,'' he says. "You just never know in this league. You just never know. Sometimes it's not about what you do in your game – it's all about being in the right situation at the right time.
"It's tough to have patience when you're playing so many games and everybody has expectations of you and you're just trying to find a way to get over the hump. It's a learning experience, and you learn how to overcome things. I guess it's my time now.''
The journey has made the man.
Ian Thomsen has covered the NBA since 2000. You can e-mail him here, find his archive here or follow him on Twitter.
The views on this page do not necessarily reflect the views of the NBA, its clubs or Turner Broadcasting.