Top Stories
Brad Stevens excited about fully healthy roster for Boston Celtics training camp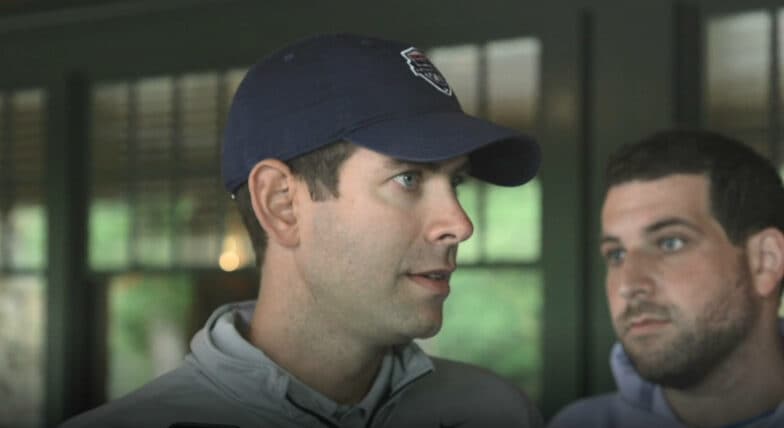 Five days from now, the Boston Celtics will hold their first official training camp practice as they (and every other NBA team) begin preparation for the 2018-19 season. After months of waiting and hoping, it appears everyone on the Celtics' roster — including injured stars Gordon Hayward and Kyrie Irving — will be ready to go come Sept. 25.
Celtics coach Brad Stevens informed the media of that on Wednesday as he spoke at the BCSF Golf Tournament at Old Sandwich Golf Club in Plymouth, Mass. Stevens has been watching as the team has held an "open gym" at the Celtics' practice facility in Brighton and has been impressed with what he has seen, writes Gary Washburn of the Boston Globe.
"As of last I've heard, we should have everybody full go," Stevens said. "Everybody that's been here has been playing five-on-five and been looking good.
"The exciting part is that we should have a full group of guys healthy and ready to go. And the tough part is that we know we've got a lot to cover in a short amount of time."
Brad Stevens took a break from today's Shamrock Foundation golf tournament to give us an update on how the team is expected to look next week for training camp. pic.twitter.com/5xuHJvl3iY

— Boston Celtics (@celtics) September 19, 2018
Stevens' comments about the health of the roster weren't much of a surprise, especially since Boston has been trending toward having everyone ready for camp all summer. Yesterday, Stevens said Irving and Hayward are looking much like their old selves on the court.
"I saw him this morning at the facility and he looks good," Stevens said of Irving. "He's worked really hard, I think he's really excited and it's good to see that. I think both he and Gordon will appreciate all the little things and all the mundane things even more, because Kyrie's had the end of the season taken away from him twice in the last four years, and the one with us last year was such a shock because of the unfortunate event with the infection."
Irving and Hayward missed 22 and 81 games, respectively, with injuries last season. Irving missed the final 15 games of the 2017-18 season and the entire playoffs to repair his left knee. Hayward suffered a gruesome ankle injury just five minutes into his Celtics debut after defecting from the Utah Jazz via free agency last summer.
Stevens told reporters he doesn't plan on playing anyone "a ton" in the preseason opener on Sept. 28 vs. the Charlote Hornets (7:30 ET, NBA TV). In addition, he does not expect to rest Irving or Hayward during the season unless team trainers instruct him to do so.
"Not my call at all," Stevens said. "So the medical team comes and says this person can't play in a back-to-back, then they don't play in a back-to-back. If they can and it's good for them, barring anything else unforeseen, then obviously they'll play.
"We haven't sat in front of it and said that's the case with certain guys yet and I'm not sure I anticipate that with either of those guys. They've made great strides."
Like Irving, Hayward has worked diligently to recover from his injury and Stevens has seen the progress in Hayward's recovery all along the way. The mental challenge in Hayward's comeback — taking that first hit, playing at NBA speed and more — is not something Stevens is worried about his star forward overcoming.
"He's been really diligent all the way through his rehab and progressing each step," Stevens said. "I watched him through the steps of working out to going to one-on-one, to two-on-two, to three-on-three, and he can play some of the open gyms the guys are having.
"Like anything, there's always going to be a period of adjustment, but from my eye, and I think from everybody else that may have watched him work out, he looks like he's looked before. That's positive, I'd say."
Backup center Daniel Theis, who missed the Celtics' playoff run with a season-ending knee injury, has also looked solid in the workouts, Stevens said. Boston suffered minimal offseason roster losses among its key rotation players as only center Greg Monroe (who signed with Toronto) and guard Shane Larkin (who will be playing in Turkey) won't be back for 2018-19.
Despite the loss of their starting backcourt last season, the Celtics still advanced to the Eastern Conference finals, falling to the Cavaliers in seven games. They are expected by many to be a top contender for the East title in 2018-19.