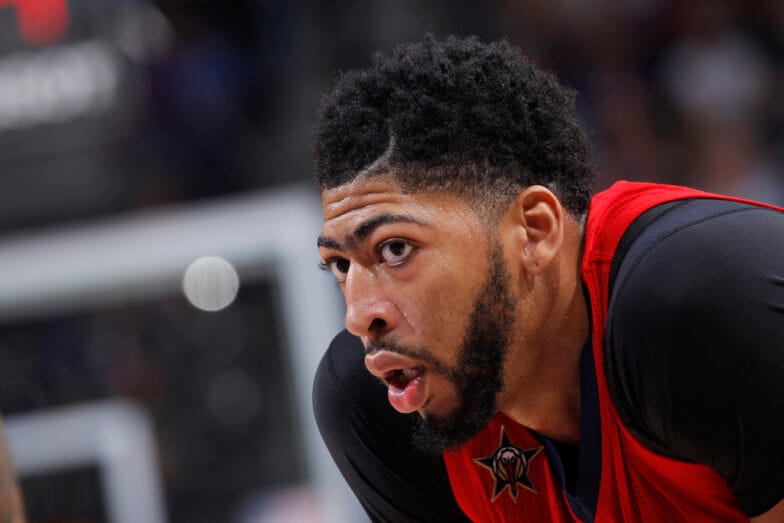 NEW ORLEANS – He admits to his former life with pride. There is no shame.
"I had one talent," says Anthony Davis. "I could shoot the ball. That's it."
Davis will stand out as arguably the most talented big man – as well as de facto host – of NBA All-Star 2017 and the All-Star Game itself here Sunday. The 6-foot-10 franchise star of the New Orleans Pelicans is an explosive scorer (27.9 points per game this season), rebounder (12.0 per game) and shot-blocker (2.5) who dominates defensively and passes like a visionary.
"We have the same mentality," said Pelicans point guard Jrue Holiday. "He sees things happening on the floor before they're going to happen. He knows how to balance between getting himself a bucket and getting everybody else involved. He's just like a 7-foot guard."
Davis is his generation's answer to Bill Walton, with a new-age faceup game born of Kevin Garnett. But the unique blend of skills, athleticism and length do not define his view of himself.
"I was a role player until my senior year in high school," he said.
This is part of his mystique: That as a sophomore he was 6-foot-2, the same as his father, with no reason to believe he would grow eight inches by his senior year.
"I had to find a way," Davis said. "People realized I could shoot in high school, so I had to find ways to move without the ball. All that stuff you figure out from being a role player comes from playing off the best player, because all of the attention is going to be on him."
He is like the CEO who learned his business from the ground up, working every menial job in every department until all of a sudden he's running the company. When Brooklyn Nets coach Kenny Atkinson studies video of the Pelicans and finds his eyes being drawn to Davis, it is because of the peculiar humility that Davis expresses with his every move. All of his instincts and skills go back to those role-playing days. Back then he had dreams in basketball with little power to make them come true.
"You don't feel like he dominates the ball," Atkinson said. "He's so efficient and smart. You look up and he's got 40, and you're like, what? It's just how he finds space. I love his footwork, how subtle it is. It's graceful, the way he plays; it's more ballet than it is a stampede, and it's beautiful. Some people like more force and power. This is a different way, I think, which if you really love the game, you appreciate."
The benefits of his deferential upbringing are many. And yet his old, undersized memories have embedded a sense of doubt within his new point of view. It is not enough that his talent defines and elevates his teammates, who orbit him like planets around their star. Davis is also expected to inspire and coerce and command them, in the mode of the greatest players who have led their teams to NBA titles. It is, he admits, the most difficult step in his sudden progression from the nobody he was to the champion he aims to become.
"People say they want to be me, but until you actually get in my shoes — that's where it gets complicated. That's where guys realize they might not want to be me after all."

New Orleans Pelicans star Anthony Davis
"I thought it would be a lot easier than what it is," Davis said. "Of course winning is hard. Winning the championship is even harder. But you definitely find out that the pressure — the mental toughness, the physical toughness of winning basketball games — it's a lot tougher. And for me to go through this early makes it even tougher for me.
"I thought I probably would be having this problem eight or nine or 10 years in the league. This is my fifth year. And I've had this going on since I got in the league. So it makes it even more difficult. But you've just got to find a way. You've got to find a way."
There is so much jealousy of his talent. He used to be envious, too, of players like him. But now that he is the source of that envy, Davis realizes there is so much more to being the star than he ever knew.
"You get forced out of your comfort zone to try to be as successful as possible and help the team win," Davis said. "People say they want to be me, but until you actually get in my shoes — that's where it gets complicated. That's where guys realize they might not want to be me after all."
As easy as he makes it look to play basketball, the game — for Davis — is harder now than ever.
Speaking out never in Davis' comfort zone
"They all tried to tell me that it was going to be a lot of pressure," Davis said. "Especially since I was the No. 1 pick, the pressure was going to more than what some of them went through. They said people expect you to come out and perform every night, and if you don't do that then it's going to be a problem. And you are going to be criticized."
As a freshman, his rim-protecting defense had driven Kentucky to the NCAA championship. The soon-to-be-renamed Pelicans picked him No. 1 overall in the 2012 NBA Draft as the star who could provide hope amid the renewal of post-Hurricane Katrina New Orleans. And then a series of injuries to American big men led Davis to be added by USA Basketball, at age 19, to the Olympic team that would win the gold medal that summer in London.
Everything was happening fast. He was finishing his second season as a starring big man — Davis had not yet played in an NBA game — and LeBron James was eight years older than him. Kobe Bryant was almost 15 years his elder. Everyone on the Olympic team seemed to be protective of him, as if they were all touched by his good intentions.
"He can't help but smile," said his Olympic teammate Chris Paul one morning in the team hotel in London, as he watched Davis joking in the lobby with teammates and coaches. "If anybody ever comes out with something crazy talking about him — that he got a bad attitude or anything like that — I'm going to be the first one to come out and say they're lying. He don't have a mean bone in his body."
"People hate when someone tells them what to do. Especially grown men. You tell a grown man what to do, they may not say nothing about it because they're probably not in the position to, but it bothers them."

Anthony Davis
As grateful as Davis was the insight he received in 2012 from all the game's stars, he also realizes that no advice could have prepared him for the education that he is undergoing now.
"That is something you have to experience on your own," Davis said. "People always say that it goes by fast, or you're going to have a lot of pressure, or you've got an X on your back. So you try to think, 'all right, what would I do in the situation if this ever occurred?' Then you start to change some of the things that you do. You think differently, act differently, sometimes even play differently."
Which is the biggest mistake.
"Until that moment comes, you're trying to figure out a way where I can make sure it doesn't happen, you know?" he goes on. "But it happens to everyone. It happens to everyone, so you've got to find a way to persevere and just push through it."
Early on he was frustrated by the losing in New Orleans. He wanted to speak out but felt he hadn't earned the right, especially as a rookie who was being phased-in empathetically (for 28.8 minutes and 13.5 ppg as a rookie) by coach Monty Williams. Even in season No. 2 and No. 3, as an All-Star averaging more than 20 points and 10 rebounds while leading the NBA in blocks both seasons, Davis was still keeping his thoughts to himself. Sometimes he could be seen griping about this and that, if only because he had to let out his frustrations somehow.
But the wise young man, the former role player, would not submit to speaking his mind outright. "It was probably my first three years," he said. "I'm 19, 20, 21 — people would have said, 'He hasn't done anything. He's the youngest guy in the team. He hasn't experienced what I've experienced.' So I felt like I always should keep my comments to myself, unless it was somebody I was really close with. But I never had the gall to come out and actually say it in front of the team or to the coach or the GM."
He was not going to make bad situations worse by pretending as if he had the answers.
"People hate when someone tells them what to do," Davis said. "Especially grown men. You tell a grown man what to do, they may not say nothing about it because they're probably not in the position to, but it bothers them."
Giving back fosters growth
His upbringing on Chicago's South Side, followed by that season at Kentucky, could not prepare Davis for what he was about to see. New Orleans was seven years into its recovery from Katrina and Davis was being introduced to the remains of the storm.
"People are taking you everywhere when you first get here," Davis said. "And you see everything that's going on, and you get shook up by it. That's why there's no question, if someone asks me, 'We need you to get into the community, we need to do this or we need to do that for the community' — I'm going to do it. Because so many things in the city were almost gone.
"You see people who are still affected by it to this day. It was 10-plus years ago, and people are still affected by Katrina. It makes you feel some type of way especially when this is your second home. You live here. You are part of this team now. So you want to make your environment, your community, better just as they want it to be better. I have a need to do that."
"He cannot be more supportive of the organization, and he cannot be more supportive of the community. He is a special, special guy."

New Orleans Pelicans president Dennis Lauscha
His "AD Flight Academy" program, aimed at helping children of all ages, has hosted monthly meals for the homeless, holiday shopping sprees, pizza parties and movie screenings. Davis works with local charities, gives away tickets and gear, and makes personal appearances routinely.
"This is my 19th season in professional sports, and I would put him among the handful of guys who are elite athletes and elite people," says Dennis Lauscha, president to the Pelicans as well as the New Orleans Saints (both owned by Tom Benson). "He cannot be more supportive of the organization, and he cannot be more supportive of the community. He is a special, special guy."
Those good works in the community have contributed to his growth as a captain of the Pelicans.
"It makes you a people-person," Davis says of his efforts throughout New Orleans, "and to be a leader you have to be a people-person. You deal with all kinds of people — different emotions, different personalities.
"There's certain guys where I know I can't jump on them like I jump on Jrue or Tyreke (Evans) or Tim (Frazier). You've got to know what everybody like, what everybody don't like — basically know them like the back of your hand. I think being active in the community helps me see a lot of different personalities and allows me to deal with different types of people. It helps me be a better leader here in the locker room with these guys out on the floor."
Instead of distracting or exhausting him, Davis insists that his works of charity empower him. They renew his hope of becoming someone who can help those in need — which, in basketball terms, is what his less-gifted teammates are asking of their franchise star. They need him in order to realize their own basketball dreams.
"Anytime I'm done with a project or a community event, I feel so great to know that I helped someone out," he said. "Even if it touches just one person, you get happy about it. Because for that X-amount of time I'm there, I made one kid smile or one person happy. I made one person remember something for the rest of their life.
"That's why I can't wait for All-Star, or Mardi Gras — I love seeing those types of festivals, because it's everything people thought of New Orleans before Katrina. It brings it back to life. It brings that life back to New Orleans that people thought of before Katrina."
Alvin Gentry, in his second year as coach of the Pelicans, sees the influence of his parents in their son. There was never any belief that Davis would grow up to become a global basketball star. He was being raised to fill a meaningful role in society — to be true as a potential father, husband, friend and employee.
"His best two friends are his parents, and the next best friend he has is his sister," Gentry said. "You look across the room and you go, wow, we are in New York and he is hanging with his mom and his dad and his sister. All they wanted him to be was a good kid that tried hard. He makes my life so simple and so easy as a coach. When I yell at him sometimes he gets a little angry about it, because no one likes to be yelled at. But he has never shown disrespect. Not one time."
Davis behaves as though he will never quite grow used to the powers of his influence.
"My parents always told me, 'No matter how much money you get, who you hang with or where you are, you can never change,' " Davis said. "So when I go into the community, I act the same way. Of course, when you're playing it's a lot different — you have your alter ego. But anytime off the floor I'm going to act who I am. There is no, well, I'm going to fake it because I'm here right now. No. Because then you've always got to put on a front. You've always got to be somebody that you're not."
To put on that front, to change his personality depending on the situation, would be exhausting and unsustainable.
"So you'd rather be yourself," he said. "And then next time you are still yourself. Even until this day, I hear so many people say — people who haven't seeing me in years, from high school or college — they're like, 'Man, you're just the same AD that we knew.' I am not going to change. There's no need to."
Which is why he has found it so difficult to become the leader his team needs him to be. It is because he has been refusing to fake it. He has insisted on earning the right.
Playoffs provide valuable lessons
Davis has been to the playoffs once in his career as the Pelicans were swept in the first round by the eventual-champion Golden State Warriors. Still, Davis averaged 31.5 points, 11.0 rebounds and 3 blocks in the series.
"By being that guy," he says of being the franchise star, "you put it all on yourself. You think, what else could I have done to help my team? If I would've boxed out, Mo Speights would have never got the ball to throw it back to Stephen Curry for the 3 in the corner, and we would've won the game."
That basket from the league MVP forced overtime after Davis had missed a free throw with 9.6 seconds remaining in Game 3 in New Orleans.
"If I would have played better than I did in Game 1 and not waited till that second half, anything could have happened — we probably would've won that game," he says, albeit unfairly, of the 106-99 loss in which he scored 35 points (including 20 in the fourth) in his postseason debut. "You put it all on yourself. I remember when we got swept because we were walking right off the floor and I remember my coach telling me, 'You've got to act like a champion to be a champion.' "
This become a teachable moment for Williams to broaden Davis' point of view, to move him from self-pity to a greater understanding of leadership.
"I was walking off the floor and I didn't want to shake anybody's hand," Davis said. "Because I was so upset with what just happened, and upset with myself because I felt like I didn't do enough to help the team win."
Then he heard the hard advice of his coach.
"So I went over there and shook Steph's hand, shook the players' hands — Draymond (Green) and all of them — and just told them good luck the rest of the way," Davis said. "But that whole time I was in the locker room in this funk, because I felt like I failed my team and failed myself. And they were all trying to tell me, 'It's not on you, it's on all of us. We are a team.' I felt like it was on me, like I didn't do enough."
Weeks later, Davis was signing a five-year contract extension with the Pelicans worth $145 million.
From the marketplace point of view, it was a questionable decision. He could have refused a new deal in order to become a free agent this summer and go anywhere he pleased. The franchise had advanced once in the playoffs since leaving Charlotte in 2002, and the small market of New Orleans had been downsized further by Katrina. And yet he chose to stay because, in some way that exists beyond words, Davis sees the rebirth of the city as helping him to discover and fulfill his own potential.
"If it wasn't for New Orleans, I probably wouldn't be the person who I am today," Davis said. "I have learned so much while I've been here. I've learned so much about myself. In high school and even in college, we never really got out into the community like this. So I'm not sure where this came from. But I love it."
'We are doing this all over'
"At the end of last year, I got hurt," said Davis, who underwent left knee surgery last March. "I thought it was tough for me to go out and say something to people because I'm not actually playing. 'AD isn't playing, how is he going to tell us to do something? He don't know how hard this is,' or whatever.
"But then our GM (Dell Demps) came and told me, `This team is going to go as far as you can take them. You have to be the leader. You got to voice your opinion.' Coach came to me as well and said, 'I know you are not that vocal leader. But if you see something, you don't like something, say it. If you want to call somebody out, I'm going to have your back 100 percent.' "
It is important that he tells this story in his own way.
"That whole summer when I was rehabbing," Davis goes on, "I was rehabbing my mind as well. That you have to be this vocal leader. And my first time actually trying to do it was in L.A. We had a little mini-camp out there.
"We were there, we was messing around in drills. I told the defensive coach, I said, 'We are doing this all over.' I said, 'Start it all over.' I said: 'We've got to stop messing around. We need to pick it up. This is where championships are won, in the summertime.' That's when everybody was like, all right, and we started picking it up. And how I knew I got better was I got text messages from our GM, our coach and some other players that were like, 'I like the way you're taking on this team as a leader. Keep leading this team. Keep doing what you're doing.' "
He recognized the same feeling of strength that he experienced from his work in the community. He didn't feel comfortable inserting himself into the lives of others, whether he was helping strangers or teammates. But he did it anyway, because he cared; and it was because he cared that he felt pride afterward.
"I was like, man, I felt good about myself," Davis said. "And when I voiced my opinion that day, it was like I got a little happy. Because it felt good."
Leading well – even in frustrating season
This ensuing season has not provided him with positive feedback. The Pelicans were doomed to an 0-8 start by injuries, and they've continued to lose more often than they've won. Their best small lineup has shifted Davis from power forward to center, which has coincided with a number of minor injuries that have forced him to the locker room during games.
The only silver lining to all of this frustration, as Gentry sees it, is that the losing is hastening Davis' growth as a leader. The losses are so painful that he cannot keep his opinions to himself any longer.
"I was a role player," Davis said, "and I can relate to a lot of the players in the league. So when I talk to them I don't really get on them, like: 'Your job is to just stay in the corner, that's it.' Because I was that guy. So I know how that feels. I know how that feels when you work on a lot of that stuff in the summer — ballhandling, one dribble pull-ups, crossovers and everything — and then you can't showcase them in the game because that's not your role. I know how that felt.
"I never tell a guy, 'You can't do that.' I just tell him, 'Hey, let's slow it down, get the ball moving, and now you catch it in rhythm — and if it's when you've got it going, then you can go ahead because you've got an advantage.' But I never try to take it away from them. I'm just trying to make sure they know when is the right time to use it.
"He's the No. 1 pick, but he doesn't miss a practice. Every day he's even-keel. You never really seen him rattled. When things are going on, maybe the other team is making a run, it's always the same."

New Orleans Pelicans guard Tim Frazier, on Anthony Davis
"Because I was always that guy where you can't do nothing but shoot the ball and that's it. It kind of stinks, because you know you bring more to a team than just going into the corner and shooting the basketball. That's when you go back to trying to explain to them this is what the team needs from you for us to win."
And so Davis ignores his own stardom, refuses to act superior, and instead dwells on his past for the sake of his Pelicans teammates. They need to hear what Davis has been hesitant to say.
"We've seen him grow from the beginning of the year to now," Frazier said. "But the biggest way he leads is still by the way he plays and how he approaches the game. He's the No. 1 pick, but he doesn't miss a practice. Every day he's even-keel. You never really seen him rattled. When things are going on, maybe the other team is making a run, it's always the same."
"There's not a teammate that doesn't have the utmost respect for him, and it's because of the way he treats them," Gentry said. "I respect guys that embrace their own character and their own personality, and lead with that in mind. And not try to be someone else. You can't be Michael Jordan as a leader. You've just got to be yourself."
Then there is the other side to this unique space that Davis owns. At practice on Saturday in the Mercedes-Benz Superdome, and again on Sunday night in Smoothie King Arena, Davis will be surrounded by NBA peers who have experienced everything he is enduring now.
How many years did LeBron need before he was capable of earning championships? Kevin Durant and Russell Westbrook, who as teammates in Oklahoma City were unable to make good on a 3-1 lead in the 2016 Western Conference finals, are now seeking the ultimate answers as opponents.
James Harden, Paul George, John Wall, Kyle Lowry and even Kawhi Leonard are all but a few of the stars coming to New Orleans this weekend still learning how to bring out the best in their teammates.
He has been at it for five seasons. And yet Anthony Davis, 23 years old, is still younger than all but one of his fellow All-Stars.
"All the players that are surrounding you, you've got to try to be a leader to them," Davis says of his Pelicans. "Because at the end of the day you want to help them just as much as they want to help to you."
He understands that truth from their point of view, and his empathy for them has surely made his career more difficult. But it has not been for nothing. Someday, sooner than later, that truth is going to set him free.
Ian Thomsen has covered the NBA since 2000. You can e-mail him here, find his archive here or follow him on Twitter.
The views on this page do not necessarily reflect the views of the NBA, its clubs or Turner Broadcasting.