About Last Night
About Last Night: Devin Booker back in business
Serge Ibaka makes first 14 shots; Giannis Antetokounmpo posterizes countryman
Devin Booker missed all of training camp and preseason with a broken bone in his shooting hand. He also sat three of the Suns' first eight games with a left hamstring injury.
On Sunday night, Booker looked perfectly healthy while adding to his reputation as one of the premier young go-to scorers in the league.
With 1.7 seconds left, Booker drilled a 17-foot jumper that capped the Suns' fourth-quarter comeback and snapped their seven-game losing streak with a 102-100 victory over the Grizzlies.
"That's what he does," coach Igor Kokoskov said about Booker's game-winner. "He's proven that many, many times … We appreciate everything he's doing. So, yes, [at the] end of the game, he's a guy who can land the plane."
Playing the entire fourth quarter with five fouls, Booker scored 14 of his 25 points in the final period as Phoenix overcame a 12-point deficit for its second victory of the season.
Booker, 22, now has three career game-winning field goals in the final 10 seconds of the fourth quarter or overtime. The previous two — both last season — were buzzer beaters.
Ibaka can't miss
Serge Ibaka made his first 14 shots on the way to a career-high 34 points, and the Raptors didn't need Kawhi Leonard in a 121-107 victory over the Lakers.
Ibaka became the first player to start a game 14-for-14 from the field since Shaquille O'Neal did it in Feb. 2006. And they weren't all dunks and layups: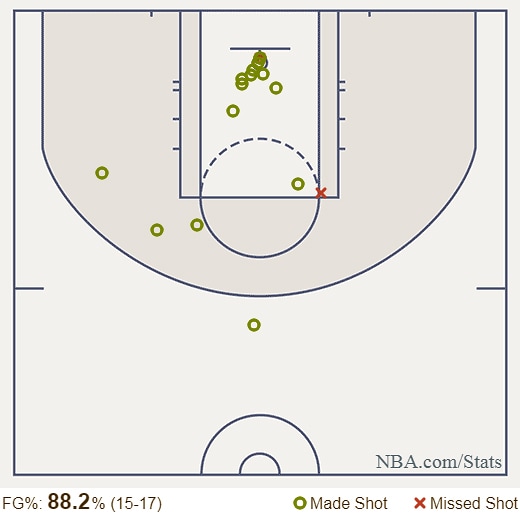 "I was just focused," Ibaka told reporters after the game. "I knew Kawhi was out tonight, so I just wanted to go out there and do my best."
Big fat Greek poster
There's simply no stopping Giannis Antetokounmpo, who finished with 26 points, 15 rebounds and 11 assists in the Bucks' resounding 144-109 victory over the Kings.
The triple-double was Antetokounmpo's second of the season, but we'll remember the poster dunk on Kosta Koufos. After the game, Giannis sounded almost remorseful for dropping the hammer on his countryman.
"He's a great guy….I've met his family. I've met his mother. It's going be kind of awkward when we go back to Greece and talk again, but you gotta do what you gotta do."

– @Giannis_An34 on posterizing Kosta Koufos pic.twitter.com/rXl5Mnx4wV

— Milwaukee Bucks (@Bucks) November 5, 2018
The Kings, who had won five straight games, were happy to get out of Milwaukee and posted a classic "Tommy Boy" clip to describe the 33-point rout.
Game Recap: we don't like deers pic.twitter.com/5OVVgpnxZb

— Sacramento Kings (@SacramentoKings) November 4, 2018
Sixers' road woes continue
Three weeks into the season, five teams remain winless on the road. The Sixers could have reduced that number with a victory in Brooklyn. Instead, the Nets rolled 122-97, improving to 9-4 against Philadelphia at Barclays Center.
The Sixers looked out of sync on the second night of a back-to-back and committed 28 turnovers, most in the NBA this season, leading to 39 points for the Nets.
"We are not, right now, at this present moment, amongst the royalty in the East and we understand that," coach Brett Brown said. "And it's a badge that we want. It's in us. But at this moment, after 11 games, that's not where we are."
Philadelphia, meanwhile, is a perfect 6-0 at home. So there's that.
Stat of the night
The Raptors led the Lakers by 25 points after the first quarter, the largest point differential in a first quarter in the shot clock era (since 1954-55 season).