2020 NBA Finals | Lakers vs. Heat
5 things we learned from Game 2 of 2020 Finals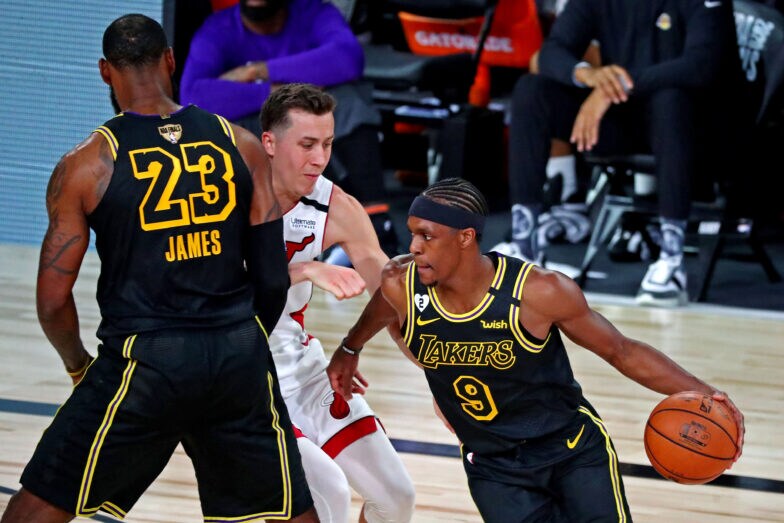 Five things we learned from the Los Angeles Lakers' 124-114 victory over the Miami Heat in Game 2 of the 2020 Finals Friday in the Orlando bubble:
* * *
1. This is now a little-brother series
It certainly was a little-brother Game 2. That's when an outcome never is in doubt and barely even competitive, thanks to the older-brother Lakers sensing they could grab control (mostly with their offense) whenever they needed to do so.
Miami essentially was kept on a bungee cord all night. Sometimes they were way behind, sometimes they were closer. After the Lakers got out in front by eight points deep into the first quarter, the closest the Heat got that period was six. In the second, L.A.'s lead grew to 13, dwindled to four, then jumped up to 14 by halftime.
Second half, more of the same: Up by 18, never leading by less than nine in the third. Then double digits for all but 20 seconds in the fourth.
"Kujos," as Michael Jordan used to say, to those viewers who stuck with it to the inevitable end.
Playing without point guard Goran Dragic (plantar fasciitis) and center Bam Adebayo (neck/shoulder strain), two of its three best players, as it did Friday, Miami was pretty much airport code — MIA — on its way to a 2-0 hole. Not to say there isn't hope, considering that four teams in Finals history have overcome that start.
The 1969 Celtics, the 1977 Trail Blazers, the 2006 Heat and the 2016 Cavaliers each clawed back to eventually celebrate. But Bill Russell, Bill Walton and Dwayne Wade aren't walking through that door, and when LeBron James does so for Game 3 on Sunday (ABC, 7:30 p.m. ET), he'll be turning left for the opponents' locker room.
Miami can muster as much spit 'n' vinegar as it wants, but its words aren't going to hurt and its punches aren't going to land as long as the Lakers have a hand on their forehead, keeping the littler fellas at an Anthony Davis-arm's length.
"We're never giving up," Heat leader Jimmy Butler said. "We're going to fight and we're going to ride with this thing until the wheels fall off. It's not over. We're just down 0-2, so we got to do something special. We're capable of it and I wouldn't want to be in the trenches with any other guys except for the ones that we have."
Except for maybe Russell, Walton, Wade and…
2. Rondo is Laker No. 3
A case can me made for Kentavious Caldwell-Pope, a handy Derringer of a player who always seems good for a couple of timely shots each game. Alex Caruso shines, but mostly because he continues to be grossly underestimated. Kyle Kuzma? Not yet.
It's pretty clear now that the third-best, certainly the third-most valuable and important Laker in the postseason behind James and Davis is Rajon Rondo. The 34-year-old veteran of 14 NBA seasons and deep playoff runs in his long-ago Boston incarnation has been indispensable for several reasons.
Perhaps the biggest is the trust coach Frank Vogel and teammates have in Rondo to run their attack. Against Miami, that means a creator savvy enough to see what's needed — for instance, getting into the heart of the Heat's zone defense with the ability to make plays.
A second benefit is that when Rondo has the ball in his hands, James doesn't have to. Now that he's 35, if James had to play the 39 minutes he logged in Game 2 the way he used to play five or 10 years ago, he'd be tuckered out or cramped up before the buzzer. This way, Rondo gets LeBron off the ball, enabling him to conserve energy on offensive possession (and take off defensive possessions less often).
It's worth a historical note here: Rondo moved up to sixth on the all-time NBA playoffs assists list Friday and now has 1,063. He passed Larry Bird (1,062) and Steve Nash (1,061) with 10 in 26 minutes.
"I didn't grow up with hoop dreams," Rondo said. "The past names that I passed in the playoffs from Isiah [Thomas] to Michael [Jordan] to Kobe [Bryant] to Steve and Larry. I couldn't even dream of that opportunity. … I played with a lot of great teammates that obviously made shots for me."
That brings us to a third reason Rondo has been L.A.'s No. 3: Now he's making shots for his teammates. Specifically, those desirable ones from the arc.
In Rondo's first 96 appearances over seven postseasons from 2008 to 2017, he shot .266 (29 of 109) on 3-pointers. In his last two playoff runs, though, he has shot .439 (25 of 57). So far in this series, he has taken nine, made four.
3. Butler will keep playing his way
The Heat's best player — in Dragic's and Adebayo's absences, definitely — took heat on the broadcast of Game 2 from Mark Jackson for not seeking out his own shot more often. We won't nitpick with that, even though Butler's 1-of-3 shooting didn't capture the eight free throws he had shot to that point (which suggests four more shots for a 28-attempt pace for the game).
Jeff Van Gundy chimed in, too, after Butler a couple of times too often attacked the paint, got near the rim, went into the air … and predictably looked for a Heat teammate on the perimeter to whom he could pass. As skilled and strong as Butler is, Van Gundy said, he first should be looking to score.
There's a case to be made that Miami needs Butler to go off for 15-20 points in the first quarter Sunday, particularly if the cavalry doesn't arrive via his two injured cohorts. It might take pressure off other guys to know the scoring load won't fall so much to them. Maybe it would get the Lakers' defense to scrambling in a way they wouldn't enjoy.
Then again, Vogel and his crew could concentrate on choking off Butler completely, daring — who, Tyler Herro, Kendrick Nunn or Kelly Olynyk to carry the day in a must-win Finals situation?
Butler finished with 25 points, eight rebounds and 13 assists. He shot 12 free throws, twice what anyone else on the floor managed. This is throwback stuff to the criticism LeBron has taken in his career for favoring the "right basketball play" over scoring a boatload of points. More points for Butler would have meant fewer for teammates he wouldn't have passed to.
Besides, offense wasn't the Heat's problem. And let's not forget that early Jordan scored 63 in a playoff game and lost because he didn't have much help.
"I will continue to play that way because that's how we're going to win, that's how we played all year long," Butler said. "Just because we're in the Finals it's not going to change."
4. The Heat got friend-zoned
Scoring points wasn't Miami's problem — everyone one in their authorized bubble party would tell you 114 should have been plenty to win. But their zone defense configurations never really stymied the Lakers, who seemed almost giddy in hoisting 47 3-pointers, as long as they could exploit the Heat's tactic inside as well.
And exploit they did. L.A. made 33 of 50 2-pointers, scored 56 points in the paint and turned 16 offensive rebounds into 21 second-chance points. The Lakers also outscored the Heat by 15 on 3-pointers alone, lousy percentage or not.
Why play zone when the results were so bad? Miami was thin on alternatives, with its best defender (Adebayo) out and targeted guys such as Herro and Duncan Robinson playing extra minutes.
Also, Miami coach Erik Spoelstra didn't question the strategy as much as the execution. Going zone has some natural downsides — blocking out for rebounds gets trickier, and there's a passivity that can settle in compared to man-to-man. Still, Spoelstra expected more individually within that team framework.
Said Spoelstra: "I don't think it really would have mattered man or zone, there was probably eight, 10 of those possessions where we just did not finish it with that next level of commitment. … This opponent is going to require us to go there."
5. Udonis Haslem needs to play
Enough with all the talk about who isn't available for Miami. Let's talk about someone who is: Udonis Haslem. U.D., as he's known. Or the OG, as teammates call him.
If only the veteran forward could get on the court and focus his wrath on the Lakers the way he did on the Heat huddle during a third-quarter timeout.
That was a blistering, a testosterone-fueled challenge to his teammates to play harder, get tougher and "empty" their tanks, Butler said later. It was not suitable for the airwaves. The Heat briefly showed some life after that.
"Maybe he should just start the game off cussing people out," Butler joked.
Better still, in a series without any real dislike or certainly rancor among the players, Haslem could sprinkle a little by knocking around James and his new Super Friend Davis. Theoretically, anyway, since at 40, Haslem played only 44 minutes all season and hasn't touched the floor in the playoffs.
No one would dare say the Heat players don't respect and heed Haslem's advice. Having him in uniform — in warm-ups, at least — gives his voice a little extra heft, in boss Pat Riley's mind, compared to sitting in a suit in the second row.
But this series is past exhortations. Haslem could lead by example, if only for a few bumpy-bangy minutes at a time. If you don't have your Bam, you have to find someone else to lay a little wham on the too-comfortable Lakers.
* * *
Steve Aschburner has written about the NBA since 1980. You can e-mail him here, find his archive here and follow him on Twitter.
The views on this page do not necessarily reflect the views of the NBA, its clubs or Turner Broadcasting.