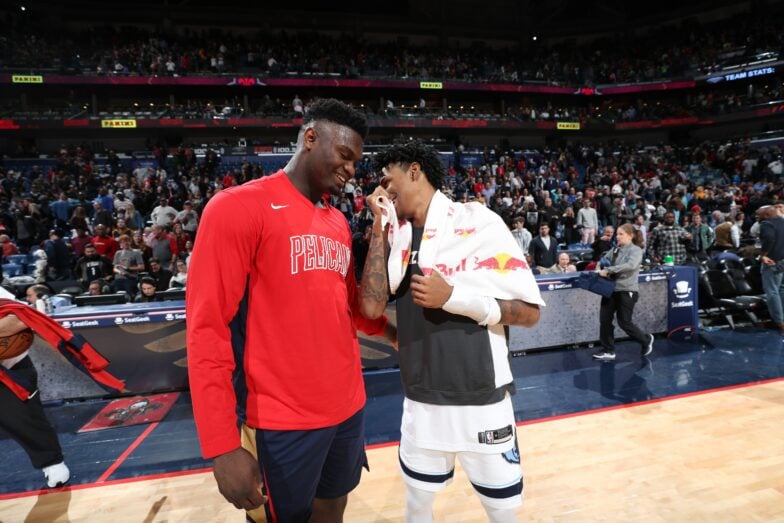 LeBron James and the Los Angeles Lakers got a front-row seat to the Kia Rookie of the Year race this week.
And both Ja Morant and Zion Williamson stepped up for The King.
With the Grizzlies mired in a five-game losing streak, Morant had one of his best all-around games of his young career, scoring 27 points while handing out a career high-tying 14 assists in a 105-88 win over the Lakers. Morant was 10-for-16 from the field, hitting 4 of 6 3-pointers and even dedicated the win to a Twitter troll afterward.
"The kid is super special," said James, whose Lakers had won the three previous meetings. "Like I said when we just played him in L.A., Memphis got a great one. They got a great one. So, the sky's the limit for the kid."
The four 3s were a career high for Morant, and it was the second straight 20-point, 10-assist game, a feat done only by Luka Doncic and Trae Young since 2011-12.
While Morant picked up the win in his meeting to help solidify the Grizzlies as the 8th seed in the West (currently 3.5 games up on Portland), Williamson's Pelicans weren't able to come out on top in their matchup in L.A.
But Williamson sure did his part in his first meeting with LeBron James. The No. 1 pick scored a career-high 35 points on 12-for-16 shooting, but also had six turnovers and got his own front-row seat to a vintage LeBron performance. LeBron finished with 34 points, 12 rebounds and 13 assists, but still heaped praise on Zion for his big game.
"You have to actually be out on the floor to actually feel the strength and the speed that he plays at," James said. "It's a hell of a rookie class, I'll tell you that. These kids are special."
And while LeBron was once in the position of Zion and Ja, fighting to earn respect, he's ready to be the helpful elder statesman.
"I've always thought about that," James said. "Like, what young guys are coming up in the ranks that will be able to continue to carry it on after I'm gone. You look at Ja and you look at Zion. You look at Jayson Tatum. You look at Luka Doncic and Trae Young, and the list goes on and on. Those guys are just not only great on the floor but also, more importantly, off the floor. And that's a great thing to have. … Our league is in a very, very good place.
* * *
1. Ja Morant, Memphis Grizzlies
In a manner of days, things can change quickly in the NBA … and Morant and the Grizzlies are the embodiment of that notion. Memphis was seemingly in jeopardy of losing its grip on the No. 8 seed thanks to a five-game post-All-Star break swoon. During that skid, Morant had cooled considerably as his stats dropped to 16.8 ppg, 5.2 apg and a frigid 15.4% on 3-pointers. But both he and the Grizzlies have righted the ship since then and are 3-1 after Wednesday's win against Brooklyn. Morant was key in one of the Grizzlies' biggest wins of the season during that stretch, a blowout of the Lakers on Feb. 29, and is averaging 18.3 ppg and 8.8 apg while shooting an impressive 46.2% on 3-pointers over his last four games.
2. Zion Williamson, New Orleans Pelicans
What a week it was for the No. 1 overall pick, as he had a chance to show his stuff against Kia MVP contenders LeBron James (on March 1) and Luka Doncic (March 4). Williamson didn't shrink in the spotlight either time, notching a career-high 35 points (and seven rebounds) in Sunday's loss to the Lakers that added another thrilling chapter to a burgeoning rivalry. As for the meeting with Doncic, the Mavs' star dazzled with a triple-double, but Zion wasn't exactly a non-factor as he had 21 points, six rebounds and three assists himself.
To Williamson, these kinds of star showdowns are learning experiences. "The NBA, these are the best players in the world," he said after the game against Dallas. "They're smart. They have high IQs for the game. They have scouting reports, so I think it's just bringing something new to the table every game."
3. Coby White, Chicago Bulls
Since the All-Star break, White has been on a tear and currently ranks as the No. 2 rookie scorer during that span (25.7 ppg), trailing only Williamson (26.7 ppg). While his 30-point scoring streak (which we detailed last week) is done, he's definitely shooting better overall of late (44.1% in his last three games) than he has all season (39.2% overall). He was one of February's Kia Rookie of the Month winners and is no doubt endearing himself to Bulls fans with his hustle (his 59 loose balls recovered ranks him among some of the league's best).
4. Kendrick Nunn, Miami Heat
Nunn quietly continues to make history for Miami. Earlier this season, he became the first undrafted rookie in NBA history to win the Kia Rookie of the Month award multiple times. He added to his lore in a Feb. 29 win against the Nets, passing Mario Chalmers' team record for 3-pointers in a season (114) as he's up to 121 made 3-pointers after Wednesday's win against the Magic. There's potentially more history afoot for Nunn as he needs six more 20-point games to pass the rookie team record for 20-point games set by Caron Butler in 2002-03. It's all part of a post-All-Star break run that has Nunn ranked third among rookies in scoring (17.8 ppg) and heating up from 3-point range (44.9%).
5. RJ Barrett, New York Knicks
If you missed it, the Knicks have been in the headlines the last few days (and not always for wins and losses). Off-the-court drama may be in the mix lately, but so, too, has Barrett. He's averaging 20 ppg and shooting 57.5% (and 50%) on 3-pointers over his last three games, which includes a solid showing against James Harden and the Rockets on March 2. The rookie more than held his own against the former Kia MVP winner, finishing with 27 points (on 10-for-18 shooting) and had a key driving layup with 7.6 seconds left that helped ice the win.
Just missed the cut:
Rui Hachimura, Washington Wizards
Last 4 games (1-3 record): 15.3 ppg, 6.3 rpg, 2.0 apg, 52.6% FG, 42.9% 3FG in 30.2 mpg
DeAndre Hunter, Atlanta Hawks
Last 3 games (2-1 record): 15.3 ppg, 7.0 rpg, 1.7 apg, 1.0 bpg, 51.5% FG, 47.6% 3FG in 33.6 mpg
Eric Paschall, Golden State Warriors
Last 4 games (2-2 record): 21.8 ppg, 4.5 rpg, 4.3 apg, 56.1% FG, 45.5% 3FG in 31.9 mpg
PJ Washington, Charlotte Hornets
Last 3 games (1-2 record): 15.3 ppg, 6.3 rpg, 2.0 apg, 1.0 bpg, 40.5% FG, 33.3% 3FG in 32.8 mpg
Naz Reid, Minnesota Timberwolves
Last 4 games (2-2 record): 11.3 ppg, 9.5 rpg, 2.5 apg, 1.5 bpg, 0.8 spg, 41.5% FG, 45.5% 3FG in 25.7 mpg
* * *
(All stats through Wednesday, March 4)
Send any questions or comments to my email or find me on Twitter @drewpackham .
The views on this page do not necessarily reflect the views of the NBA, its clubs or Turner Broadcasting.