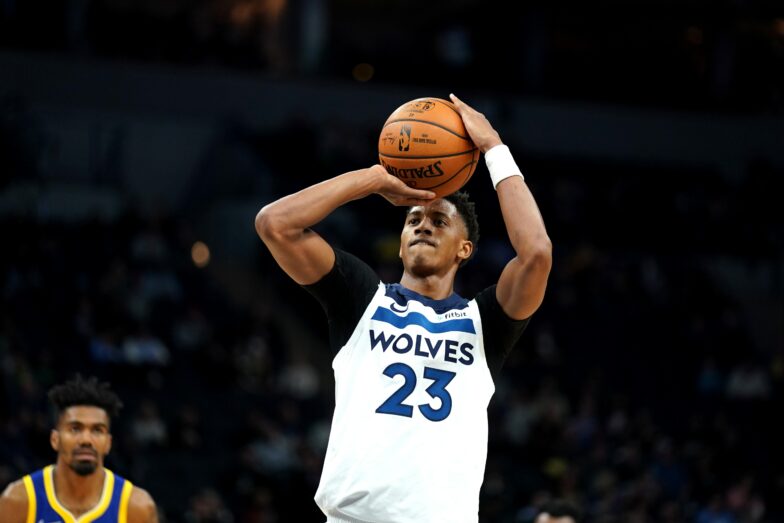 A new year is bringing new opportunities for a few rookies with differing backgrounds.
In Minnesota, Jarrett Culver has made the most of his increased playing time, averaging 14.5 points in the first four games this month. The No. 6 pick has struggled with his shot this season (37.8% overall, 25.4% on 3-pointers), but has continued to earn playing time thanks to his prowess on defense.
But the new year has brought increased playing time for the Texas Tech product thanks to injuries to Andrew Wiggins and Karl-Anthony Towns. Culver has been more aggressive with the extra minutes and finished his week with a career-high 24 points in a 119-112 loss to the Grizzlies on Tuesday night. Culver was 8-for-11 from the field, going 3-for-5 from beyond the arc, but Minnesota — which had won three of four — couldn't hold off the Grizzlies, who got 25 from star rookie Ja Morant.
Two nights earlier, Culver showed off his defense, helping the Wolves pull out a 118-103 win in Cleveland. With Dante Exum exploding for 24 of his career-high 28 points in the second half, Culver got the call late in the game, and didn't disappoint. With Minnesota nursing a 10-point lead, Exum returned to the game with 4:14 left, but didn't score down the stretch as Culver stifled the Cavs' newest acquisition.
"He stepped up to the challenge," Wolves forward Robert Covington said of the performance. "Me being a defensive player, I'm most happy because that step means evolution. I'm glad he made it happen."
Culver is clearly a work in progress as his overall shooting attests, but the results in the new year prove he's got a chance to be something special.
In Toronto, another rookie — undrafted guard Terence Davis — had one of his best games of the season Wednesday night to save the Raptors in Charlotte.
Davis, who has struggled of late and was even called out by coach Nick Nurse after Tuesday's 101-99 loss to the Blazers, scored a career-high 23 points and grabbed 11 rebounds in the win vs. the Hornets.
Have yourself a night young fella. @TerenceDavisJr – 23p/10r pic.twitter.com/7V1qK8cjx1

— Toronto Raptors (@Raptors) January 9, 2020
Davis made the most of his first career start, scoring 13 in the first quarter and six clutch points in overtime (hitting a pair of big 3s) to save the Raptors. Davis has had his moments this season, but clearly isn't about to let recent struggles shake his confidence.
"Obviously, my play was terrible the last few games," Davis said after Wednesday's win. "I take that as a challenge. What [Nurse] said there, I loved it. All of my coaches throughout my career have been like that, straightforward, no sugar-coating. And that's the way you want when you're a player. And the great thing about it is in this league you have games after games. So we had another game the next day which was a blessing in my eyes. So I just wanted to come out and show Nick Nurse and the Raptors I can play a little bit."
Davis certainly showed them, finishing 8-for-16 overall (4-for-8 on 3s) with zero turnovers in 37 big minutes — and Nurse loved the way his undrafted rookie responded to the challenge.
"He was really good," Nurse said. "This isn't that easy to figure out who to play with all these guys out constantly … With me, as you've seen a few times already this year, I'm gonna rattle your cage if you deserve to have it rattled, but I'm gonna put my arm around you the next day and get on with it because I believe in the kid. It was only in his best interests and the team's best interests to do that and we did it."
* * *
1. Ja Morant, Memphis Grizzlies
The Grizzlies have won three straight and have a 5-2 record since Christmas, and Morant has dazzled, most notably in last Saturday's 140-114 rout of the Clippers in L.A. Morant finished with 22 points and nine assists as Memphis pulled off one of its biggest wins of the season. "I think he's exceeded everyone else's expectations," Jaren Jackson said of his teammate. "He's a special talent. He moves without the ball, gets back on defense, set screens and gets the ball to guys when they're open." In four games this week, the No. 2 pick averaged 20.8 points and 7.5 assists while hitting at 63.3% overall and 40% on 3s. The Grizzlies are gaining fans with every win, and a sustained playoff push will only build Morant's budding star status.
2. Jarrett Culver, Minnesota Timberwolves
🥶 COLD 🥶

An new career-high for @Jarrettc08. pic.twitter.com/k1giDsC1Pw

— Minnesota Timberwolves (@Timberwolves) January 8, 2020
As mentioned above, Culver is putting up big numbers and this week his most impressive stats might have come on defense. Culver averaged 2.3 steals in three games this week, thanks to four big swipes against the Cavs. He also had a pair of blocks and finished that victory with a plus-33 rating in 28 minutes. In three games this week, Culver averaged 16.0 ppg while hitting 50% from the field and going 6-for-17 on 3-pointers. Those shooting numbers that will have fans in Minnesota excited about their young prospect.
3. Sekou Doumbouya, Detroit Pistons
Doumbouya grabbed headlines with an early entry for Dunk of the Decade, but he's doing more than just dunk on guys. With Blake Griffin out indefinitely, the 19-year-old is stepping up with his increased minutes. The 6-foot-8 forward has scored in double-digits in four straight games with averages of 13.0 ppg, 7.0 rpg, 1.5 spg and 33.2 mpg. In those four starts, the big man from Guinea — who played in France before being taken at No. 15 — is shooting 47.6% from the field (31.3% on 3-pointers) while earning some praise from coach Dwane Casey. "The injuries have expedited it," Casey said. "The young man has done an excellent job, but let's don't get carried away. There are enough mistakes to be made by all of our young guys and that's what happens when you use young players. He'd sone some good things. I love the way he's cutting, the way he's rebounding. He's made some open shots, so that's good."
4. P.J. Washington, Charlotte Hornets
Washington has missed his last six 3-point attempts and is just 2-for-10 in four games this week, but he finished the week with a double-double (12 points, 12 rebounds) in Charlotte's 112-110 overtime loss to the Raptors. Despite the recent cold stretch, Washington averaged 12.8 ppg and 8.3 rpg this week while shooting 48.9% overall.
5. Darius Garland, Cleveland Cavaliers
Garland seems to be finding his groove as the Cavs' season seems to be slipping into chaos. He's scored in double-digits in six straight and averaged 15.3 points while hitting 37.8% on 3-pointers during that span. Garland said earlier this week his confidence is "at an all-time high" and the reads are becoming easier. "The game is definitely slowing down for me," Garland said. "Pick-and-roll reads are getting easier. A lot of people are starting to go over on screens now, so the decision is starting to be a lot easier."
Just missed the cut:
Kendrick Nunn, Miami Heat
Last 4 games (3-1 record): 10.8 ppg, 2.3 rpg, 4.8 apg, 39.5 FG%, 22.2 3FG%
Tyler Herro, Miami Heat
Last 4 games (3-1 record): 11.8 ppg, 5.3 rpg, 2.3 apg, 39.1 FG%, 40% 3FG%
Terence Davis, Toronto Raptors
Last 4 games (2-2 record): 8.8 ppg, 4.0 rpg, 2.0 apg, 41.4 FG%, 31.3 3FG%
RJ Barrett, New York Knicks
Last 4 games (0-4 record): 15.8 ppg, 4.3 rpg, 1.0 spg, 44.0 FG%, 18.2 3FG%
Anzejs Pasecniks, Washington Wizards
Last 4 games (2-2 record): 10.0 ppg, 6.5 rpg, 1.0 bpg, 61.5 FG%
* * *
(All stats through Wednesday, Jan. 8)
Send any questions or comments to my email or find me on Twitter @drewpackham .
The views on this page do not necessarily reflect the views of the NBA, its clubs or Turner Broadcasting.