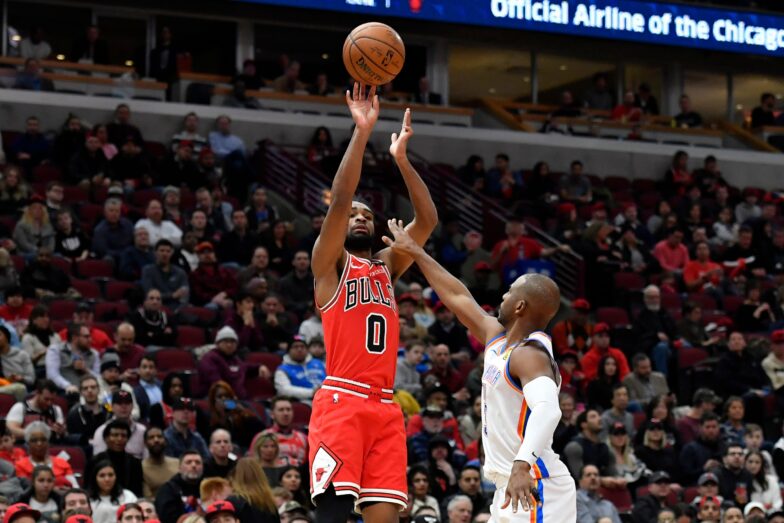 Forget about Ja Morant and Zion Williamson for a minute.
There's another rookie breaking out in a big way.
That would be Chicago's Coby White, who is on a tear of epic proportions.
White scored a career-high 35 points on Tuesday to become the first rookie in NBA history to score 30-plus in three straight games while coming off the bench.
The North Carolina product also became the first rookie ever to make five or more 3s in three straight games and joined Michael Jordan as the only Bulls rookies with three straight 30-plus games.
Any time you're in a conversation with Jordan, you know you're doing something right.
Electrifying. @CobyWhite tonight scored a career-high 35 points and became the first rookie in NBA history to score 30+ points in three consecutive games coming off the bench 🔥 pic.twitter.com/55XY73vYLL

— Chicago Bulls (@chicagobulls) February 26, 2020
"He's coming into his own," backcourt mate Zach LaVine said. "And I've said this from day one, he's special. He can score the ball like no other. He's continuing to get better. He's 20 years old, I think he's starting to find his groove right now."
White, whom the Bulls took with the 7th pick last summer, is the only lottery pick yet to start a game this season, but that hasn't stopped him from finding his role for the Bulls. Even with his recent hot stretch, coach Jim Boylen says he's not looking to insert the 6-foot-4 guard into the starting lineup.
"I keep getting this question and I'm just going to answer it one more time," Boylen said. "Coby's in a good place. We're going to keep him in a good place. Let's let Coby keep playing and let's let him keep developing."
White's definitely in a good place, and the Bulls are getting a good glimpse of what he'll bring for years to come, even if it's off the bench.
* * *
1. Ja Morant, Memphis Grizzlies
Morant is in danger of losing the top rung, but his body of work makes up for what has been a tough start to the second half of the season. The Grizzlies are 0-4 since the break, and Morant hasn't exactly come out firing. He's 1-for-8 on 3s in those four games with 15 turnovers (to 15 assists) and is a -12.5 as Memphis' playoff hopes have taken a big hit. Three of those losses were to West contenders (LAL, LAC, HOU), but now is the time for Morant to step up if the Grizzlies are going to be serious playoff contenders.
2. Zion Williamson, New Orleans Pelicans
No one is playing better basketball than Zion right now, but Morant keeps the top rung thanks to his consistency and not missing time. In three games since the break, Williamson is averaging 27.3 points, 5.7 rebounds and 2.7 assists while shooting 56.4% from the field. He's must-watch TV right now, and only seems to be getting better as he figures out what he can and can't do (which isn't much) on the court. After putting up 29 points in his first matchup with LeBron James, the Lakers' star called Zion "special" and left impressed by the future of the league. "He's playing exceptional basketball," James said. "I think his game is going to get better and better, just having that experience. I think today's game is the perfect fit for his game. The high pace, the way they play, it fits his game. … It works perfectly, and our game is so many possessions now, so much space, it's perfect for his game, so he's doing exceptionally well with that."
3. Kendrick Nunn, Miami Heat
The Heat are in a tailspin, having lost seven of their last nine. But Nunn has returned from the All-Star break with renewed confidence. In four games, Nunn has averaged 20.8 points and 5.0 assists while shooting 52.6% from the field (41.7% on 3s). Nunn gives a little credit to the Rising Stars game, in which he scored 16 points on 7-for-11 shooting to help Team USA beat Team World 151-131. "It definitely was a game where I just wanted to go out there and have some fun," Nunn said. "But I definitely saw the ball going through the basket and I got back into my rhythm and got into the flow of the game. So it helped."
4. Coby White, Chicago Bulls
White has definitely struggled with consistency all season, but this hot streak hasn't come out of nowhere. White gave us an early taste, topping 26 points three times in his first eight NBA games (earning him some early love on the Ladder). But this post-All-Star hot streak is like nothing he's done so far. In the four games since the break, White is averaging 28.3 points while shooting 52.8% from the field (50% on 3s) and hitting 90.5% from the line, where's he's seen a big uptick (5.3 FTA/game).
5. Rui Hachimura, Washington Wizards
Hachimura has scored in double-digits in all four games since the break, averaging 14.0 points and 5.8 rebounds on 48.8% shooting (4-for-8 on 3s). Bradley Beal has drawn all the headlines with his scorching streak, but Hachimura is proving his worth — and not just on the court. The league announced this week that Hachimura, the first Japanese player to be drafted, has the top-selling jersey in Japan, beating out superstars like LeBron James and Stephen Curry, and accounting for 24% of all jersey sales in the country. If Hachimura can continue to improve like he has in his rookie campaign, that number will certainly rise.
Just missed the cut:
Nicolo Melli, New Orleans Pelicans
Last 3 games (2-1 record): 14.7 ppg, 5.3 rpg, 1.7 apg, 63.0% FG, 55.6% 3FG in 23.0 mpg
Darius Garland, Cleveland Cavaliers
Last 4 games (3-1 record): 13.8 ppg, 4.3 apg, 47.8% FG, 44.4% 3FG
DeAndre Hunter, Atlanta Hawks
Last 3 games (1-2 record): 13.7 ppg, 8.0 rpg, 1.7 apg, 37.1% FG, 30.8% 3FG
Jordan McLaughlin, Minnesota Timberwolves
Last 4 games (1-3 record): 11.0 ppg, 4.8 apg, 1.5 spg, 56.0% FG, 72.7% 3FG, game-winning FG with 8.5 second left Wednesday to beat Heat
Terence Davis, Toronto Raptors
Last 3 games (2-1 record): 12.3 ppg, 3.7 rpg, 46.7% FG, 37.5% 3FG
* * *
(All stats through Wednesday, Feb. 26)
Send any questions or comments to my email or find me on Twitter @drewpackham .
The views on this page do not necessarily reflect the views of the NBA, its clubs or Turner Broadcasting.