We're in the home stretch now, with only four days of the NBA regular season left. It may be Opening Day and Day 1 of The Masters, but that doesn't mean we can't make a little cash on NBA props to fund all our baseball and golf bets, right?
While the rest of the world is  focused on those sports, we'll be using the Action Labs Player Prop tool to compare our NBA projections to the props posted at a variety of sportsbooks.
Below, I have laid out four prop bets that I'm playing, the case for each bet and the best books to find odds on those player props.
NBA Player Props & Picks
James Harden, Over 6.5 Rebounds (-135)
It hasn't been the smoothest ride for James Harden in Philadelphia.
Harden came out of the gates roaring his first few games, rejuvenating the team and looking like the Beard of old. But he's been more hot and cold since and sometimes struggles to get to the rim or find his usual aggression. It's becoming clear that this is still Joel Embiid's team, and it's been a long time since Harden has had to take on a secondary role.
I'm staying away from points and assists props on Harden for the time being, but the rebounds have still been relatively stable. Harden is averaging 7.8 RPG for the season, so this line is a bit low. He's gone over it in 46 of 63 games, hitting this over 73% of the time, and that includes both games against these Raptors with nine and 10 boards.
To be fair, Harden's season-long RPG average is down slightly in Philadelphia from what it had been in Brooklyn. His 8.0 RPG with the Nets is down to 7.4 with the Sixers. But that number is superficially deflated by three huge duds with three or fewer rebounds, and he's at 8.4 RPG in the other 16 games. And either way, the averages are still well above this line.
Even with the hot-and-cold production, Harden is over 6.5 rebounds in 13 of 19 Philly games, hitting this over 68% of the time. This prop should probably be a rebound higher. We project Harden at 8.4 boards and our Props Tool rates this over a 10 out of 10. I'll play to -165.
---
Tre Jones, Over 16.5 Points + Rebounds (-120)
| | |
| --- | --- |
| Spurs vs. Timberwolves | Timberwolves -8.5 |
| Time | TV | 8 p.m. ET | NBA League Pass |
| Best Book | Caesars |
Anybody up for a homecoming?
Tonight might be Tre Jones night in Minnesota. Jones grew up in Apple Valley, Minnesota, in the Twin Cities area, and he was a basketball legend. He was the state's Mr. Basketball and two-time Minnesota Player of the Year, and that was all before he went on to star at Duke University. He didn't quite live up to older brother Tyus there, who led his team to a national title, but Minnesota fans love the Joneses and of course employed Tyus for four years out of college.
Tonight it's baby bro's time to shine. The Spurs clinched a play-in berth with the Lakers loss on Tuesday night, so now the goal is to get healthy and rest a little before next Wednesday's play-in game. That means Dejounte Murray will sit this one out, and with the way San Antonio's first-time All Star has been playing, that leaves a whole heap of minutes and usage.
Expect Tre Jones to step into that role and shine. He's started nine times this season and has played at least 32 minutes in all but one of those starts with very admirable numbers at 14.4 points, 5.4 rebounds, and 8.0 assists per game in those 32-minute games.
That means I'm hunting Jones overs, and honestly, I like them all. He's gone over his 12.5 in six of the eight games, and that one's about even odds. He's over 7.5 assists in five of eight. He's also over 4.5 rebounds in five of the eight, and that one's plus juice against a poor rebounding team. The assists line doesn't offer a ton of value, but the points and rebounds lines both look good so we'll play them both together and look for a big homecoming game.
I also don't mind playing Jones's turnovers under at -130 for under 1.5. That may seem counterintuitive with the higher minutes and usage, but Jones takes care of the ball as well as almost anyone in the league and rarely ever turns it over. He's only recorded five turnovers total in those eight high-minute starts and has gone under that line in all but one of them.
If you really want to go whole hog, you can use a Same Game Parlay on all four individual props for one big Tre Jones stack. I'm seeing that one at +850 for a big Jones homecoming. But the best and safest play looks like the points + rebounds over, so we'll play that one to -130.
---
Jordan Poole, Over 3.5 3-Pointers (-148)

It's becoming pretty clear at this point that the Warriors have another star on their hands in Jordan Poole.
Poole was a popular pick for both Most Improved Player and Sixth Man of the Year before the season, and he's not going to win either of those awards, but his improvement is very clear and he's too valuable to come off the bench these days anyways.
He's really exploded since the start of March. Over his last 16 games, Poole is scoring 26.6 points per game on 49/45/90 shooting. That includes 44.8% on 10.2 3-point attempts per game, good for a ridiculous 4.6 treys per game over this last month plus. Looks like Golden State finally has a third Splash Brother on its hands.
Poole has gone over 3.5 made 3s in 13 of these last 16 games, hitting this over 81% of the time. The volume is so high right now that even a slightly off night still gives Poole a good shot at hitting this. Besides, it should be open shooting tonight against a Lakers defense that hasn't been good all year anyway and now finally has nothing left to play for.
The best part, of course, is that the volume is up more than ever with Steph Curry out. Over these last nine games with Curry sidelined, Poole is up to 11.4 attempts per game from beyond the arc. Even in games where he stays silent for a quarter or half, he's now one of those Warriors that can heat up and knock down a trio of 3s in a couple minutes and flip everything.
I have to keep riding Poole's hot volume shooting, so I'll play this over to -165. I'll also sprinkle the alternate over with 5-plus 3s at +162. That's only one more shot for nearly double the payday, and he's made at least five in half of his last 12 games.
Let's keep the Poole party going!
Bonus NBA Prop Bets
LeBron James, Points Overs & Alternate Scoring Overs: There's no word yet on whether LeBron will suit up tonight, but if he does, wild horses could not keep me from betting on his scoring overs. The Lakers are eliminated from the playoffs, so at this point there's literally no reason left for James to play other than to get the two more games and huge scoring lines he needs to become the oldest player in NBA history to win the scoring title. We know LeBron loves playing the Warriors too. He has nine 40-point games against the Warriors and a pair of 50s. No line is too. Give me all the LeBron points overs.
East No. 8 vs. East No. 7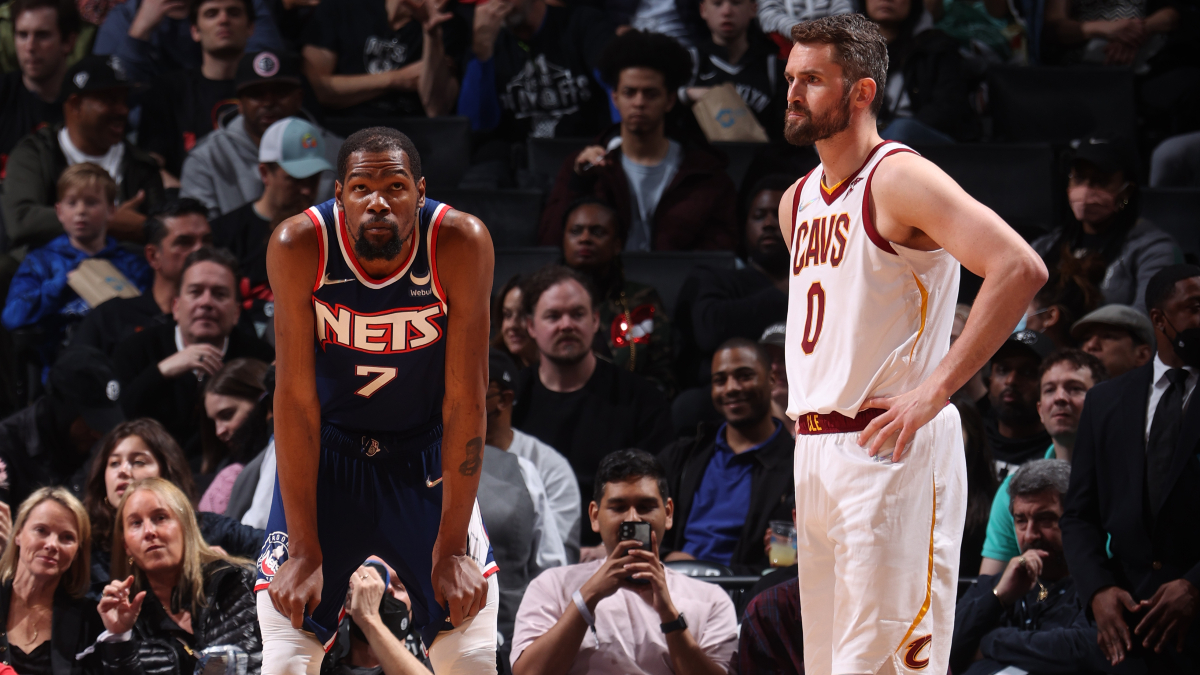 Cavaliers vs. Nets (-8.5) 7 p.m. ET

The Cleveland Cavaliers and Brooklyn Nets will face off in the opening game of the NBA Play-In Tournament Tuesday night. The winner will secure the No. 7 seed in the Eastern Conference and face the Boston Celtics in Round 1 of the NBA Playoffs. The loser will face the winner of Hornets vs. Hawks in a single elimination game on Friday night.