Free agency doesn't begin until Friday afternoon, so no teams are talking about anything, they all are respecting every other team's players currently under contract. 
Just kidding, of course they are talking to these players and their agents and have been for weeks. Welcome to the new NBA where the offseason begins before the playoffs reach the Finals. Here's the latest on moves that could shape free agency over the next few weeks. 
As always, take this with the grain of salt that often these talks are outdated, and teams have moved on, and that leaks are almost always driven by agenda. 
The Jalen Brunson Saga
Let me try and do this the quick route. Here's a brief history of this year and Jalen Brunson's free agency question. 
As the NBA trade deadline approached this February, Brunson was involved in trade talks in January. But as the Mavs continued to progress, and Brunson continued having a career season, Dallas shifted. They signed Dorian Finney-Smith to an extension and then eventually shut down talks for Brunson, signaling, strongly, that they intended to re-sign Brunson.

After the Mavericks were eliminated by the Warriors, Mark Cuban told reporters the Mavericks intended to re-sign Brunson. "We can pay him more than anybody," Cuban said.
The Knicks then signed Brunson's father Rick Brunson as an assistant coach.
The Mavericks were thought to still be confident at the start of June of re-signing Brunson, but the price tag was thought to be increasing.
Two league sources suggested that the Mavericks had a price tag for Brunson they were unwilling to go past, despite Cuban's indications. The Knicks, sources suggested, were willing to go beyond that figure.
Despite that, Bleacher Report's Jake Fischer reported the Mavs

were still the leaders in the clubhouse a week ago

.

The Knicks, on the other hand, began making moves to clear cap space. On draft night, they moved Kemba Walker's contract and made multiple pick moves to clear roughly $18 million in cap space, clearing the way for a $25 million offer for Brunson.
Then, Monday night, Fischer reported things had swung the other way:

 
"From everything I've heard it really does sound like things have shifted and [Jalen Brunson's] more likely than not to become a member of the Knicks as opposed to the Dallas Mavericks." (via @JakeLFischer)

Source:https://t.co/8PxqmZlEej pic.twitter.com/DMlxASM7zR

— The Trade Deadline (@_TradeDeadline) June 28, 2022
The key question here is whether the Mavericks are willing to go beyond the figure they were trying to limit themselves to, or whether the Knicks have other plans to go beyond that. 
If the difference is $22 million per year vs. $25 per year for four seasons, it doesn't make much sense. $12 million over four years, given how the Mavericks have limited themselves otherwise, would be an odd line to refuse to cross. 
Committing $100 million to Brunson is a risky move… for most franchises. For the Knicks, it's just another risky free agent signing for a high amount. 
Brunson was great last season. He's quick, decisive, shot 37% from 3 and 50% from the field. In the playoffs, he was instrumental in helping the Mavericks get past the Jazz for their first playoff win while Luka Doncic was out with an injury. However, in subsequent series when teams switched on him, he struggled. It's unclear at this point if Brunson can be a No. 1 option on a team as the Knicks are planning to pay him to be. 
The Mavericks, meanwhile, are backed into a corner. If they re-sign Brunson, they're locked into that contract which could limit their flexibility going forward. If they don't, they lose Brunson for nothing and still have $150 million locked in for next season. 
The Mavericks and Pistons, according to multiple league sources, have engaged in talks about the Pistons absorbing one of their sizable contracts into cap space. It's not known if the Pistons want additional compensation, which would create a holdup.
There are plenty of ways for the Mavs' front office to pull a rabbit out of a hat here. But pulling this particular rabbit (significant improvements to a team that came up short in the WCF while retaining Brunson) out of that particular hat (an overloaded cap sheet with their 2023 pick partially conveyed to New York, protected 1-10) will be a challenge. 
Will John Collins Ever Get Traded?
John Collins has slid into the role of the player perpetually in trade talks. Two years ago when the Hawks were floundering under Lloyd Pierce, trade talks ramped up for the versatile forward with Collins headed for free agency. Ultimately, the Hawks shut down talks, kept Collins, made the Conference Finals, and re-signed Colins to a five-year, $125 million deal. 
Then this season, the same pattern repeated. The Hawks underperformed almost inexplicably, Collins expressed frustrations with his role, and trade talks started to bubble up, only for the deadline to pass again with no move. 
Now there seems to be a higher degree of urgency for the Hawks to move Collins, but draft night netted no deals, in part due to such a subdued market. 
The Hawks were said to be shopping two players the most going into draft night: Collins and veteran forward Danilo Gallinari. Gallinari has been discussed in talks with San Antonio as cap filler along with draft pick compensation for Dejounte Murray, outlets out of Atlanta suggest. However, Collins is said not to be involved in those talks (and if the Spurs are indeed rebuilding, trading for Collins makes zero sense). 
Boston, Chicago, and Sacramento are three other teams that have shown interest in Collins, sources have said over the last few weeks. It's a little surprising Collins' market isn't stronger. He averaged 16-8 on a miserable team last season, is a proven contributor at a high level in the playoffs, and gives good effort on both ends of the floor. Collins' defense is his weak point, but at 24, he should improve significantly there over the next four seasons. 
Either way, Collins is the player I'm most interested in seeing who sneaks in and acquires him. 
Rudy Gobert Remains with the Jazz for Now
Here's what people around the league expect when it comes to the All-Star and multi-year Defensive Player of the Year: 
The asking price will be steep and likely result in a prolonged negotiation that will tie up a team and hinder its ability to make other moves while trying to finish the deal with the Jazz's Danny Ainge, a notoriously difficult negotiator.

The Bulls should be the odds-on favorite for what team Gobert is on next season, even including the Jazz.
The Minnesota Timberwolves are a considerable threat to one-up the Bulls as the Timberwolves continue to look for a veteran center to pair with Karl-Anthony Towns.

 
The Towns-Center pairing has been a surprise in conversations, but new President of Basketball Operations Tim Connelly is convinced that the best way to maximize the roster is to put Towns next to a defensive force who can protect the rim and control the glass. Towns' elite shooting means that you can still build an offense with enough spacing in a two-big lineup, which is a rarity in the NBA and provides counters to what the Wolves will see in the playoffs. 
The Wolves' best asset is D'Angelo Russell, whom multiple sources have said has been actively shopped by Minnesota in recent weeks. Russell shrunk in the playoffs against switch coverage and has always been an unsteady player, further bringing his value into question. 
However, if the two primary suitors for a Gobert trade are the Bulls and Wolves, is Russell better than Nikola Vucevic and filler? This is why some executives speculate – and I stress this, speculate – that eventually Chicago will involve Patrick Williams in the deal.
Without Williams, the Bulls' offer may not be the best on the table. Whether that's posturing from Utah or not, that's the consensus. As is typical with these types of negotiations, there's a standoff element with both sides resolved not to blink. 
What's the Deal with OG?
OG Anunoby was a hot trade topic for weeks in May and June up until the last weekend before the draft. Then, word started to circulate that the Portland Trail Blazers, widely reported to be the No. 1 suitor for Anunoby, started to project they were ready and willing to use the No. 7 pick on a rookie, eventually selecting Shaedon Sharpe. 
Here's the best read I have on the situation: 
Anunoby is thought to want a bigger role. Notably, Anunoby is a Klutch Sports client, and this is pretty much standard for Klutch clients.

In related news, multiple people on the Blazers roster are Klutch clients.
Toronto media sources, who are of course the most and best plugged into the front office, have downplayed the tension and expressed skepticism that Anunoby will be traded.
Ultimately, the asking price for Anunoby, which was said to be the No. 7 pick, Josh Hart or Nasir Little, and an additional first-round pick, was too much for the Blazers.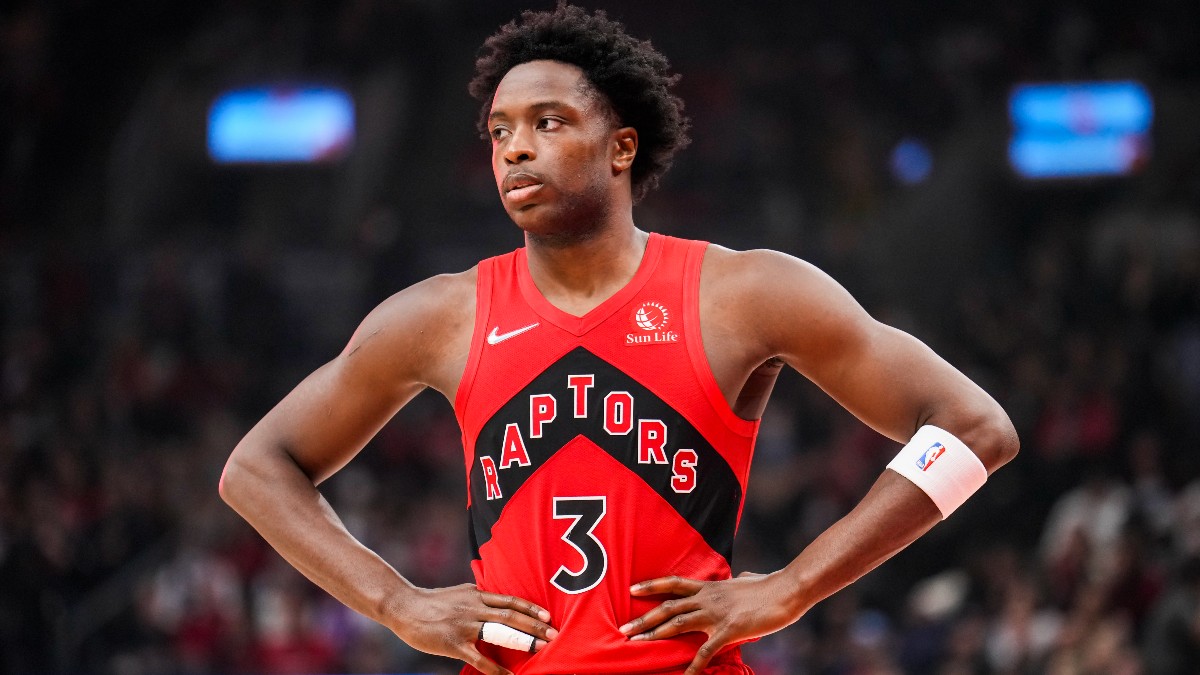 Here are the key questions which I don't have answers to:
How much does Anunoby want out, if at all? Multiple people around the league are pretty firmly convinced (to the degree anything in the ether is convincing) that Anunoby or his camp is applying pressure for a trade. Is that just manufactured by other teams who want him?

 

If he does want out, or if Klutch is advocating for him to be traded, will Masai Ujiri waver? Typically, standoffs with Masai Ujiri do not work out well for the other side.

If this is all noise, and Anunoby doesn't want out, and the Raptors have no intention of trading him, what generated the near-unanimous consensus from sources I talked to that this was on the table?

 
At this point, with the Raptors having not blinked through the draft and having the No. 7 pick on the table, I'm skeptical of a deal. Ujiri will ask a high price for Anunoby just as he did from Portland, and while Anunoby is ideal for what most teams are looking for (a long, offensively talented wing who defends at a high level), the premium exceeds a lot of what's available. 
Quick Hits
Backup center remains a popular positional target despite how much the respective conference champions went small in their runs. Both Toronto and Chicago are said to be actively pursuing centers. Toronto looked for one at last season's trade deadline, but the market was too constricted, and they eventually added Thaddeus Young as a small ball option.

The Cavaliers are not looking to trade Isaac Okoro despite their need for offensive upgrades and the drafting of Ochai Agbaji.
The Celtics are thought to be more active than you'd think for a team that just reached the Finals in terms of trade talks, but they also are not looking to disrupt the core that just brought them within two wins of a championship. The periphery bench players, however, are on the table and have been offered in deals for picks (which obviously did not come through) and various upgrades.
As has been reported earlier by multiple outlets, Atlanta, Brooklyn, Chicago, Philly, and Miami are the teams said to be in pursuit of P.J. Tucker. Tucker is said to be looking for a third year in contract talks, and Marc Stein

reported the Sixers are open to offering him just that

.

The Pistons still have a sizable amount of cap space. The speculation is that they will be a Deandre Ayton suitor. However, if the Pistons strike out on their free agency targets, more than one source has said they intend to offer that space to take on contracts for veterans like the Dallas talks suggested above. Several sources have said Collin Sexton is another name Detroit has interest in.
Sacramento is a possible landing spot for Tobias Harris if the Sixers re-engage in trade talks for him.
As Indiana continues to take calls for Malcolm Brogdon and Myles Turner, the Lakers have circled back to a familiar target: Buddy Hield.