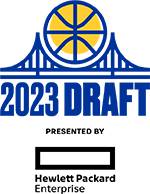 The Warriors went into Thursday night with just one scheduled draft selection but doubled that number after the team acquired the draft rights to 6'9 forward Trayce Jackson-Davis, the 57th pick of the 2023 Draft. Jackson-Davis averaged 20.9 points, 10.8 rebounds, 4.0 assists and 2.9 blocks during his senior season at Indiana University. As one of the older prospects in the draft, Jackson-Davis believes his experience will help him on the NBA level.
"There's just an experience factor," the 23-year-old Jackson-Davis said. "Some guys are 19; some aren't even playing college basketball. I think having more experience will benefit me."
Golden State Warriors Draft Picks Introduced to Dub Nation | 2023 Draft
At Indiana University, Jackson-Davis played under two coaches, former NBA Head Coach Mike Woodson and Archie Miller.
Having a coach like Coach Woodson come in, his NBA experience helped me be the best player I can be," Jackson-Davis said.
Trayce Jackson-Davis Analysis | 2023 NBA Draft (ESPN)
Jackson-Davis was a consensus All-America First Team selection last season while ranking fourth in the nation in blocks, sixth in rebounds, eighth in double-doubles (18) and 16th in scoring. Among Big Ten Conference players, Jackson-Davis ranked second in points per game (20.9), second in rebounds per game (10.8) and first in blocks per game (2.9). He was named to the All-Big Ten team in all four years and twice to the Big Ten All-Defensive team.
Before being drafted by the Dubs, Jackson-Davis already had ties to the franchise. His father, Dale Davis, played 36 games for the Warriors during the 2004-05 season and shared the court with current General Manager Mike Dunleavy. Dunleavy's brother James is also Jackson-Davis' agent.
The rookie big man made waves on Thursday night, tweeting, "Y'all will regret it… I promise you," in response to teams passing him up in the draft's second round.
Nevertheless, he believes he found himself in a great situation with the Warriors, who believed in him so much that they traded into the second round to acquire him.
"The way that I run the floor, can bring the ball up, create matchup problems on defense with slower guys, bringing them out, being able to pass the ball to open shooters, the best shooters in the world. Honestly, I think it's a great fit for me," Jackson-Davis said.
With the shooting and playmaking the Warriors can put around him, Jackson-Davis sees plenty of opportunities for easy baskets.
"I live for screen and rolling, lob plays, energy plays," Jackson-Davis said. "Those are all things I excel at. This organization and the personnel are a perfect fit for me."
As a big man, Jackson-Davis is grateful for the opportunity to learn from veterans such as Kevon Looney.
"Looney is 6'9-6'10 but can guard guys bigger than him," Jackson-Davis said. "I want to learn how he does things because he's been very successful at it. Being able to switch one through five is a big thing for me."
The rookie big man considered Giannis Antetokounmpo "one of his favorite players" and is looking forward to challenging himself against some of the best bigs in the NBA.