Kerr's Path Through the Playoffs Filled With Familiar Faces
by Brian Witt
Winning at the NBA level is a difficult enough task in itself. To do so at the most critical time of the year, against people who know you almost as well as you know yourself, is likely to take that degree of difficulty up another notch, or several.
If you've been around the NBA as long as Steve Kerr has, in the various capacities he's performed in, that possibility becomes all the more likely.
In each of the first three rounds of the 2018 Playoffs, Kerr has gone up against a familiar face from his nearly 30 years in and around the NBA as a player, broadcaster, general manager, and now, head coach.
Over the course of his 15 seasons as an NBA player, Kerr played for six different franchises, including the Suns, Cavaliers, Magic, Bulls, Spurs and Trail Blazers. During those years, he played for multiple Hall-of-Fame coaches, including Lenny Wilkins, Phil Jackson and current San Antonio Head Coach Gregg Popovich.
Who was on the opposing sideline from Kerr during this year's first round series and last season's Western Conference Finals between the Warriors and Spurs? Kerr's friend and mentor Popovich, of course.
After he won his fifth NBA Championship with the Spurs in the 2003 Finals, Kerr hung up his shoes and went out on top. He retired, and soon transitioned into broadcasting, serving as an analyst for TNT for several years while simultaneously contributing to Yahoo! as an NBA commentator. Then, in June of 2007, Kerr began a new venture in his NBA career when he was named General Manager of the Phoenix Suns, a position he would hold for three seasons.
Upon accepting the job, Kerr was thrown right into the fire. The Suns were coming off a season in which they had won 61 regular season games, but were eliminated by the Spurs in six games in the Western Conference Semifinals. The head coach of that Suns team? Current Houston Rockets Head Coach Mike D'Antoni.
In Kerr's first season as G.M., the Suns finished the regular season sixth in the West with a record of 55-27, before losing in five games to those same pesky Spurs in the first round of the playoffs. That marked D'Antoni and the Suns' fourth-straight postseason appearance, but they never made it further than the Conference Finals over that stretch. Upon their first round flameout, Kerr made the decision to go in another direction, firing D'Antoni and hiring Terry Porter as Head Coach during the ensuing offseason.
That next season, the Suns didn't quite live up to the level they'd maintained over the previous four years. Going into the All-Star break, they had lost five of eight, and sat outside of the playoff picture. When the Suns returned from the break, they had a new head coach.
That coach? None other than current New Orleans Pelicans Head Coach Alvin Gentry.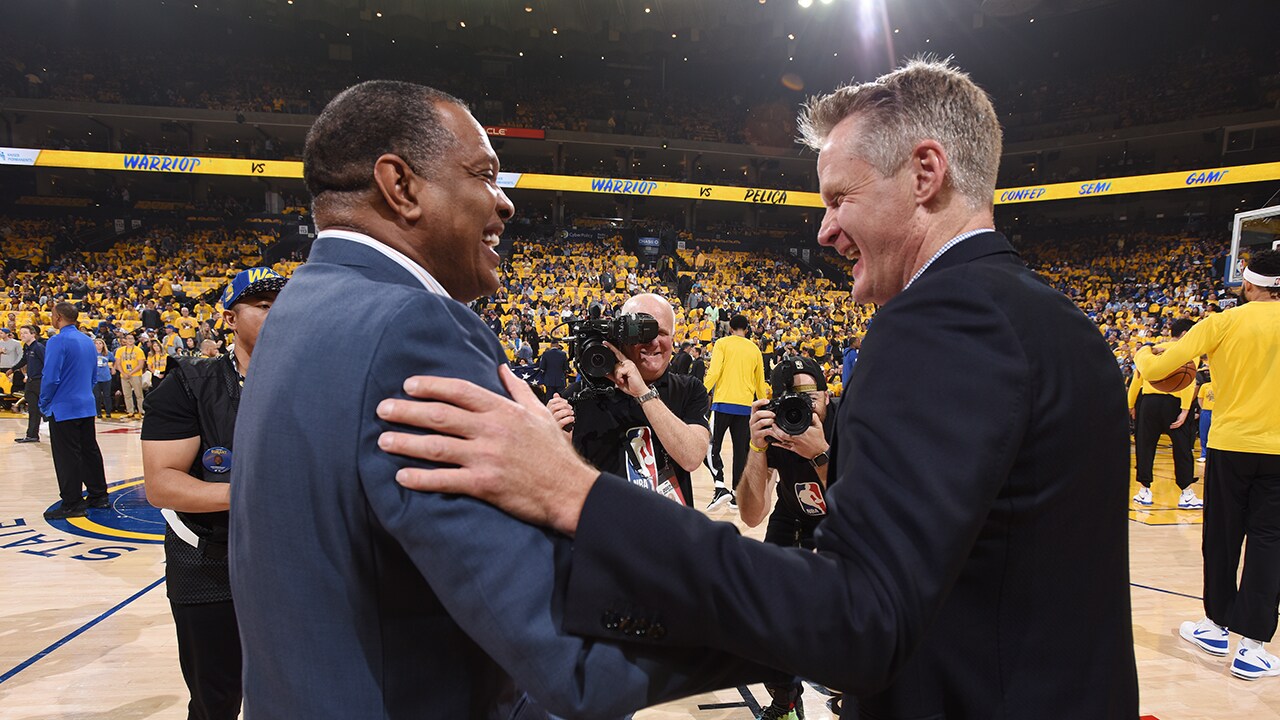 The team responded to the coaching change, finishing the regular season 10 games above .500, but just missed out on a playoff berth. The next season – Kerr's final as General Manager – Phoenix went 54-28 during the regular season with Gentry at the helm before losing a tough six-game series to Kobe Bryant and the Los Angeles Lakers in the Conference Finals, who would go on to win the NBA Championship.
In a surprise to many, Kerr stepped down from his position as General Manager less than a month later, in what he described as a "professional and personal decision". Upon his departure, Rick Welts, the Suns' President and CEO at the time remarked, "There can't be anybody more respected or better-liked anywhere in the NBA than Steve Kerr."
Care to take a guess as to who is the Warriors' current President and COO?
Soon after leaving Phoenix, it was announced that Kerr would return to the broadcasting booth with TNT, where he'd remain for the next four NBA seasons. Then, on a May afternoon of 2014, Kerr met with Golden State brass in Oklahoma City, where he was to call the playoff game between the Thunder and Clippers later that night. The point of the meeting? It was a job interview.
Kerr had never been a head coach before, but during his time as an analyst, he picked the brains of numerous coaches he encountered. When it came time for the Warriors to choose the next head coach to lead the team to greater heights, Joe Lacob and Co. tabbed Kerr as the right man for the job.
He knew he would need a lot of help, though. What he lacked in coaching experience, he made up for in coaching relationships. Soon after accepting the job, Kerr hired a staff that included current Warriors' defensive guru Ron Adams and current Lakers' Head Coach Luke Walton as assistant coaches, and Gentry as Associate Head Coach. And the rest, as they say, is history.
Since arriving in Golden State in May of 2014, Kerr has experienced unparalleled success in NBA coaching history. Over his three-plus seasons with the Warriors, the Dubs have posted a cumulative regular season record of 265-63 (.808), a playoff record of 56-17 (.767), set the all-time single-season wins record and won two NBA Championships, among other accomplishments. After winning Game 1 of the Western Conference Finals in Houston on Monday, Kerr and the Warriors are inching closer to a third.
To get to this current point, Kerr has gone up against three major figures from his past in Popovich, Gentry, and now D'Antoni.
"The NBA is a small world," Kerr related earlier this week. "It really is kind of a fraternity, and you get to know everybody, some people better than others. And it just seems like in this playoff run, I'm coaching against guys who I know pretty well. But we all know each other, and it's just kind of a random thing this time, but as you go through the NBA and you coach or you play or whatever, it does feel like a small circle and you kind of get to know everyone."
One may wonder if going up against a familiar face can have an effect on the dynamic of competition, but Kerr was quick to dispel that notion.
"I coach my team and Mike coaches his and Alvin coaches his," said Kerr. "I think I can say with genuine honesty we're all happy for each other's success, and we all would much rather win than lose, but you go out and compete and whatever happens, happens."
What's currently happening is the most highly anticipated postseason series of the year between the Warriors and Rockets. Golden State took Game 1 on the road, but Houston was the league's top team during the regular season for good reason, and D'Antoni had plenty to do with it. Long considered an offensive genius who Kerr credits with being a critical figure in the transformation of the modern game, D'Antoni has diverted from the seven-seconds-or-less offense he ran with those Phoenix teams to a more isolation-based offense, heavy on pick-and-roll actions, perfectly suited to his star-studded backcourt of James Harden and Chris Paul.
"I think that's Mike's brilliance," Steve Nash relayed on a conference call last week. "He's able to adapt and bring the best out in a group of players."
Few people would know better than Nash, who thrived within and served as the linchpin of D'Antoni's offenses in Phoenix. Thus, Nash – who will soon be inducted into the NBA Hall-of-Fame and currently serves as a Player Development Consultant for Golden State – has an interesting perspective on the current series, and the coaches at the helm of the teams involved.
When asked to compare Kerr and D'Antoni, Nash insisted they are most similar in their congenial personalities, as well as how they think the game.
But when asked to describe how they currently differ, Nash focused on their strategic decisions:
"I think Steve is definitely much more influenced by Pop and Phil, and there's a lot of off the ball cutting, a lot of elbow play and triangle-type formation where people are moving off the ball and getting either feeds from the post or the mid-post or the elbow."
"I think Mike's team is much more pick-and-roll and iso," Nash continued. "So the main difference is the fact that the Warriors play out of more triangle-type sets in the post, mid-post or elbow, and guys are cutting and moving without the ball. So there's a little more movement – I would say a lot more movement in Golden State – and a lot more deliberately spacing you out…and then taking advantage of [Harden and Paul] in isolation situations."
A day prior to Game 1 of the Conference Finals, D'Antoni was asked an interesting question: if he and Kerr switched teams, would Golden State and Houston play similarly to the way they do now?
"Possibly," replied D'Antoni, "but I think every coach has a little different way to do it, whether right or wrong. And it takes a little bit of a different identity, and each team wouldn't have been exactly the same, but maybe you end up in the same ballpark."
It's a fun hypothetical to consider, but not one D'Antoni is going to spend a lot of time on, and for good reason. The Rockets have already surrendered home court advantage, and desperately need a win in Game 2 on Wednesday to even up the series before it transitions back to the Bay Area for Games 3 and 4. Kerr may be genuinely happy for D'Antoni and the success he and the Rockets have experienced this year, but you can be sure neither side will be pulling any punches – so to speak – as the series resumes.
And if the Warriors are fortunate enough to advance? After nearly 30 years in the NBA, it's unlikely Kerr's streak of encountering a friendly foe would stop now.