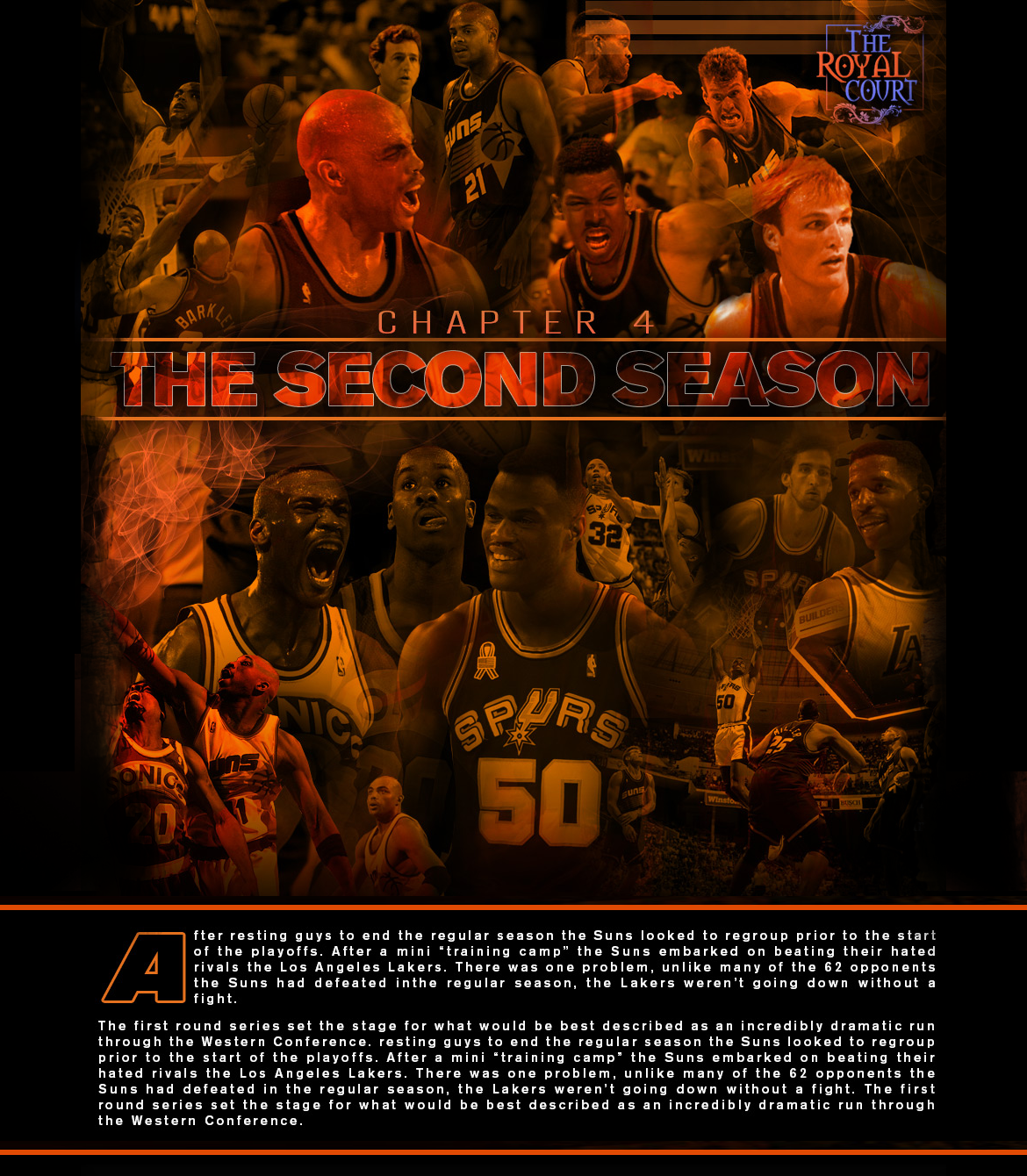 ---
May 2, 1993 – Suns fall behind Lakers 0-2 in best-of-five first-round series to the hated Los Angeles Lakers. During postgame press conference, Westphal, criticized for "exhibition" declaration, guarantees Suns will win three straight games and win the series.
---
Westphal: So we're down 0-2, and I suppose the next question is: "Are the Suns dead?" No. We're going to win this series. We'll win Tuesday night, and then we play again Thursday. We'll win that one and then come back here and win, and everyone will say what a great series it was. It has been. We just haven't liked it very much.
Suns center Mark West: I think [Westphal] probably took it from Cotton's book. Where "I'm going to put the challenge to them. I'm going to tell them they can do it. If I put them to the wall they can do it." Once he made the statements, everybody in that room knew we could.
KJ: You never want to make a guarantee in professional sports for obvious reasons. Not only does it add fuel to the fire and perhaps provide additional motivation to the opposition, but it also can quickly be proven wrong. With that said, we were a confident team and knew what we were capable of accomplishing. We compiled the best record in the league and three wins in a row was not out of the question. We just had to take it one game at a time.
Chambers: He went out and said what we all thought we could do and he did it. He sounded like a prophet out, there especially after the series was over after we did exactly what he said. We knew we could do that.
Ceballos: That was pure Westphal. That's how he was the whole season. He never really worried about leads. He never worried when we were down or up. He wanted to drill everybody we competed against. If you were on the opposite team, if you weren't wearing the same colors we were wearing, Westphal had confidence that we were going to kick your butt and his prediction just let everybody else know where his mentality was. We already knew that he was there.
Majerle: I think we had confidence before that, but I think it was more for the fans in Phoenix. We knew that we were able to go on the road and win games. We did it all year long. I think we had won 17 or 18 games straight, so it wasn't something that we didn't think we could do, especially in L.A. where we had dominated most of the year. We just had to remain confident and go out and play our style of basketball.
Ainge: We just had a major letdown for whatever reason. Maybe we didn't respect that Laker team. They weren't a very good team in the regular season. I think it's hard in this league when you're expected to win and to have teams that are playing with absolutely nothing to lose, and I think that's what happened. The Lakers were just playing fantastic. They had the great tradition and it took us digging deep. I don't think going into the series that everybody had the right mindset.
---
May 9, 1993 – A mere minute from becoming the first No. 1 seed ever bounced from the playoffs by a No. 8 seed, the Suns came back and forced overtime. Oliver Miller scores nine points and gets five rebounds in OT, helping the team win 112-104. The Big O also finished with a Suns playoff-record seven blocks, while the team became the first to come back from a 0-2 hole to win a playoff series.
---
Majerle: Westphal made that famous quote and we went to LA. We were able to win the first one. That put the pressure back on LA. We were able to win the second one there and then we won in overtime here in Game 5 to save the season.
Ainge: That was just a great, intense game. The Lakers just showed their tradition and the great champions they were. We had a significantly better team and they took us all the way on the hill.
Dumas: It was electric, because they knew that we had to win. It's bad enough to struggle in the first round. We had to win and that's it, or the whole season was all over with.
---
May 20, 1993 – Suns superstar Charles Barkley with the ball in his hand at the top of the key in San Antonio runs clock from 10 seconds to 1.5. After spinning the ball in his hands he makes his move and sinks a 20-footer over David Robinson for 102-100 series-clinching victory over the Spurs.
---
Majerle: It was a big shot, especially in San Antonio. Charles just isolated (David) Robinson at the top and just pulled up and shot a 17-footer, and sealed the series win. It was a big moment definitely. I had confidence in Charles. He had a big man on him and Charles had always been a pretty good shooter from the outside, and he'd always been a clutch player. We knew we were going to put the ball in his hands and I thought he made the right shot. He did a good job of backing David off and just shooting the 17-footer.
Ainge: Charles one-on-one at the top of the key, knocking down the jumper. I thought Charles would try to drive it more, shoot his little patented fadeaway, but we pretty much knew Charles would take the shot. We isolated him at the (top) which is much more difficult with the shooters in the corners. It was much more difficult to be double-teamed from that spot.
Frank Johnson: I remember being in the HemisFair Arena and it was so loud, and then there was such a hush when Charles hit the shot to win it. That was pretty amazing.
Chambers: It was nice to go down there and win one. You hate to go to a Game 7 because in one game anything can happen in the NBA. That's what you work for all season long is that home-court advantage, but you hate to have to go down to a Game 7. The game was close and when it's close with Charles on our team, we felt like we could win at the end. I don't know if that was the best shot in the world, him pulling up from the top of the key, but that's the way he wanted to do it. He had confidence in himself and he made it.
Dumas: That's one thing about Chuck. Chuck is a smart basketball player. The shot that he took was because David Robinson is 7-foot, long and agile. He'd get a better shot shooting a three, because (David) was not going to guard him out there and he had that ability to hit that shot. I'd seen it at practice a lot of times. He just figured it was better to shoot a jumper then go to the hole because David has a chance then, his length comes into effect. I wasn't worried about it. Chuck can hit those shots. I knew he can hit that shot because he did it all the time.
Barkley: I wanted that shot. We were up 3-2 going into San Antonio so we obviously had a Game 7 at home if we needed it but it was nice to close things down there.
---
May 24, 1993 – Ceballos gets surprise start over rookie Richard Dumas in Game 1 of Western Conference finals against Seattle at home. He responds with 21 points in a 105-91 win but he aggravates stress reaction in his foot suffered earlier in the year
---
Dumas: No, he never talked about [being benched for Game 1]. Actually, I've watched the games since and to me it was a smart move. They had more height at my position. They were more athletic at the time. So we had Tom Chambers at 6-10. We had big guys on our team and Charles played his role as the 6-4 power forward. I understood what (Westphal) was doing. He was trying to win the series.
---
May 25, 1993 - NBA announces Charles Barkley wins MVP award becoming the first Sun ever to win award.
---
Barkley: I'm sure when I look back on this achievement in 10 or 15 years when I'm retired, it will mean something very special. But the only thing that I came to Phoenix for was to win a world championship.
Westphal: Any of the four [candidates] could've won but I think this is Charles' year.
---
June 3, 1993 – Suns' hopes of clinching trip to Finals at Seattle dashed in 118-102 rout by Sonics. Ceballos' stress reaction degenerates into stress fracture, needs surgery and he is out remainder of playoffs.
---
Ceballos: It was tough. We were waiting for it. Right before the All-Star break I cracked my foot. The doctors and coaches were just waiting on it. The doctor said it was going to break eventually. You can rehab it and sometimes that messes it up or you can just play on it until it breaks and it just broke.
---
June 5, 1993 – Tom Chambers, in only start of Western Conference Finals and the season, has 17 points, grabs six rebounds and blocks two shots. Charles Barkley adds in 44 points, grabs 24 rebounds, after predicting he'd get 40 points and 20 rebounds, in Game 7 as Suns move into NBA Finals with 123-110 win over Seattle.
---
Chambers: We came back here [to Phoenix] for Game 7, it was tied up and it shouldn't have been. We were having trouble guarding Derrick McKey and he was somebody who I played with. I asked Coach Westphal if I could start because I felt like I could contain him and that's what we did. So the only time I started that whole season was in Game 7 of that series and I was able to hold him down and I was able to score, too, so it added some more scoring to our team. Me being a veteran in the playoffs was a huge advantage for us. Before that, we were starting a rookie (Richard Dumas) and it just didn't work out for us in some of the playoff games.
Johnson: The Seattle series was the toughest because it went the distance (7 games) and we seesawed back and forth trading off wins throughout the series. Seattle also had a great backcourt with the veteran Nate McMillan and a young Gary Payton.
Majerle: Tom's a big reason that America West Arena was built and the Suns turned around, so it was nice to have him involved. I'm sure that season was a little disappointing for him, because he didn't get to play as much as he wanted to. He's always been a great player so that was great.
Ainge: I do remember [Chambers] starting that game and I remember him playing well. I don't remember the numbers he had that game, but I don't think anybody on our team lacked any confidence in him. I think everybody knew he could still play. He had been there before and should have been fresh, not having played a lot of minutes up to that time. Nobody was surprised with Tom's performance.
Frank Johnson: Game 7, we changed our starting line-up. We started Tom Chambers at the small forward position to offset Derrick McKey. They were really going to McKey and we had to double him because our small forwards couldn't stay with him. We had Richard Dumas and Cedric was out at the time and sometimes we'd go with a smaller lineup and we just couldn't do it. Tom was very instrumental in having us play those guys straight up one-on-one because they had such good shooters. Hersey Hawkins was there at the time, too.
What it allowed us to do was not double them because they were such good shooters and they spread us. We doubled-teamed and that ball was out of there and to Eddie Johnson from the corner. I remember Eddie having a good Game 7.
Dumas: Being an athlete and playing against your old team with something as precious as the NBA Finals at stake, you're going to bring your best when you get the chance. I think it was a smart move because he had rest and his body was healed pretty much. He was able to come out there and do the things he used to and he didn't have to worry about the next game and recover.
Chambers: It was a great game for our team, for me. Playing against my old teammates and feeling like I could come in and do what I needed to do to help the team win and it happened. I came out and hit some big shots, extended the defense a little bit, had Derrick come out to play me. He was a very good defensive player so he wasn't inside bothering Charles all the time and I was able to slow Derrick down offensively, too. He didn't have a terrible game, but he had been playing very well up until that game.
Majerle: I knew [Barkley] could [get predicted 40 points and 20 rebounds]. He'd done it so many times. He'd carried this team so many times and that game he came out and carried us. That's exactly why we traded for him, because he was a guy who can dominate the game and that's exactly what he did.
Johnson: We had a great bunch of guys and I knew we had something special. The city of Phoenix and its fans had endured a rocky road up to my arrival in '88 and it was extremely gratifying to help the team return to the Finals for the first time since 1976.