The Suns App is your ALL-ACCESS PASS!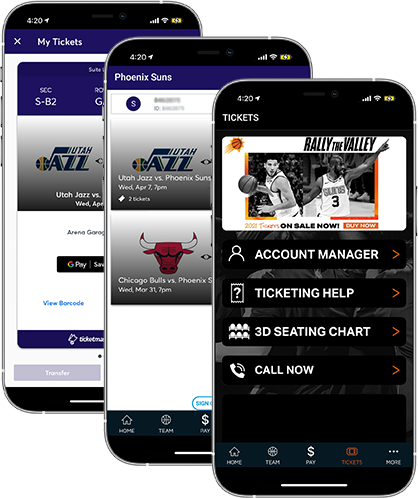 Mobile Tickets
All tickets at Footprint Center are now digital!
Printed tickets are no longer an option.
Helps prevent fraudulent tickets from being circulated!
Allows for a convenient transfer process – you can transfer your tickets with the touch of a button.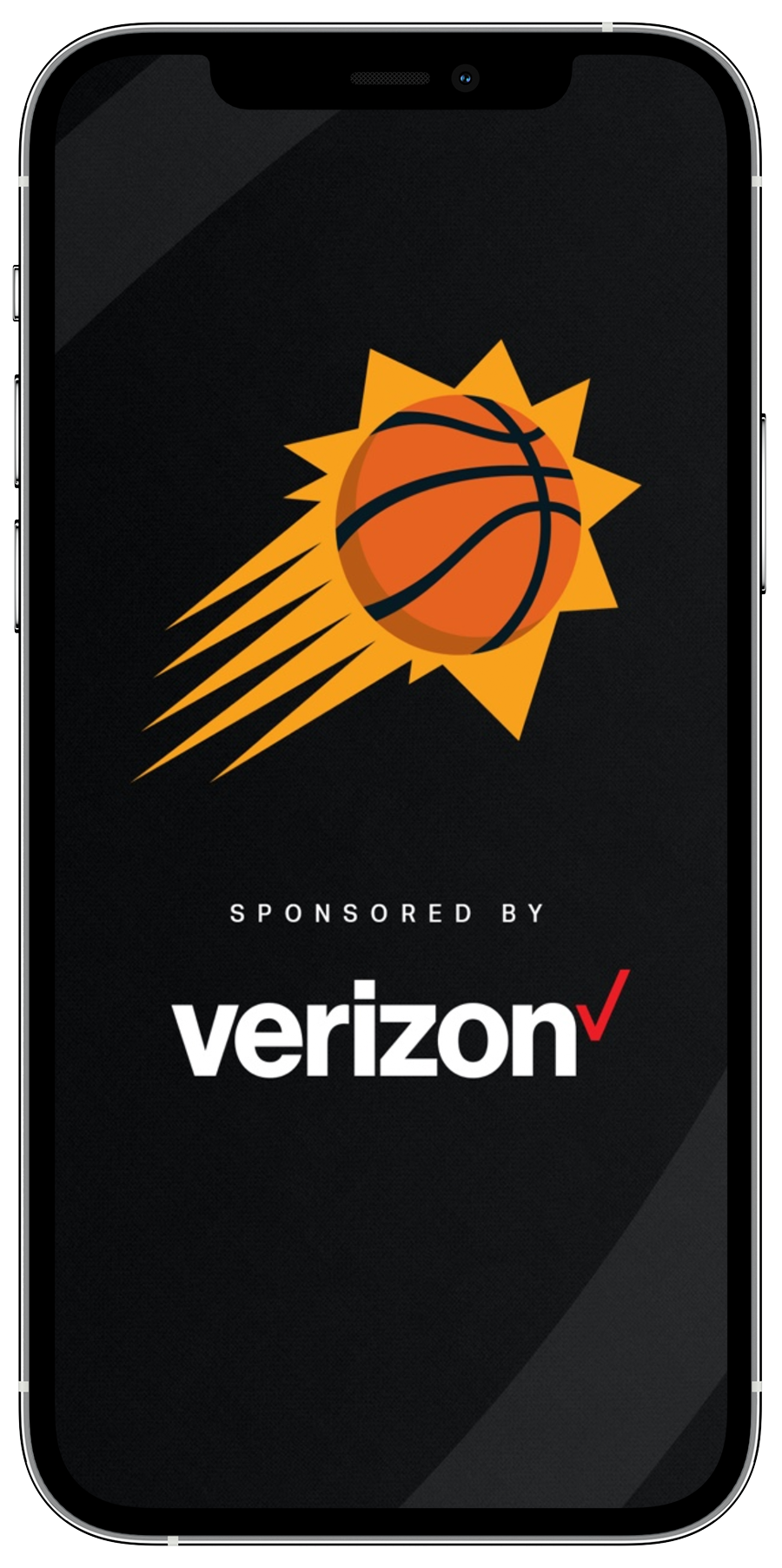 Download the Suns App, available on the Google Play Store or the Apple App Store.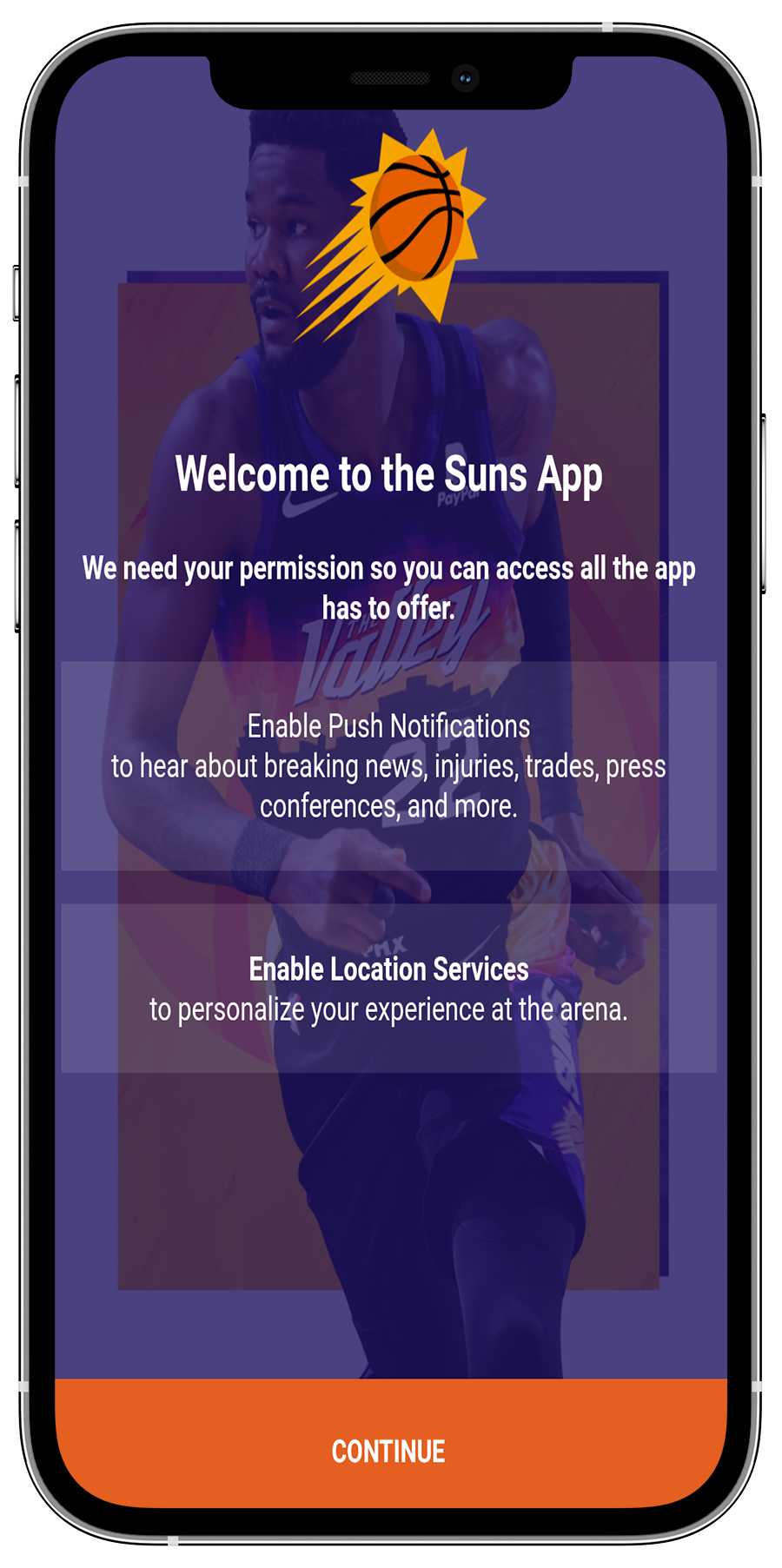 Enable push notifications for news, promotions, and more.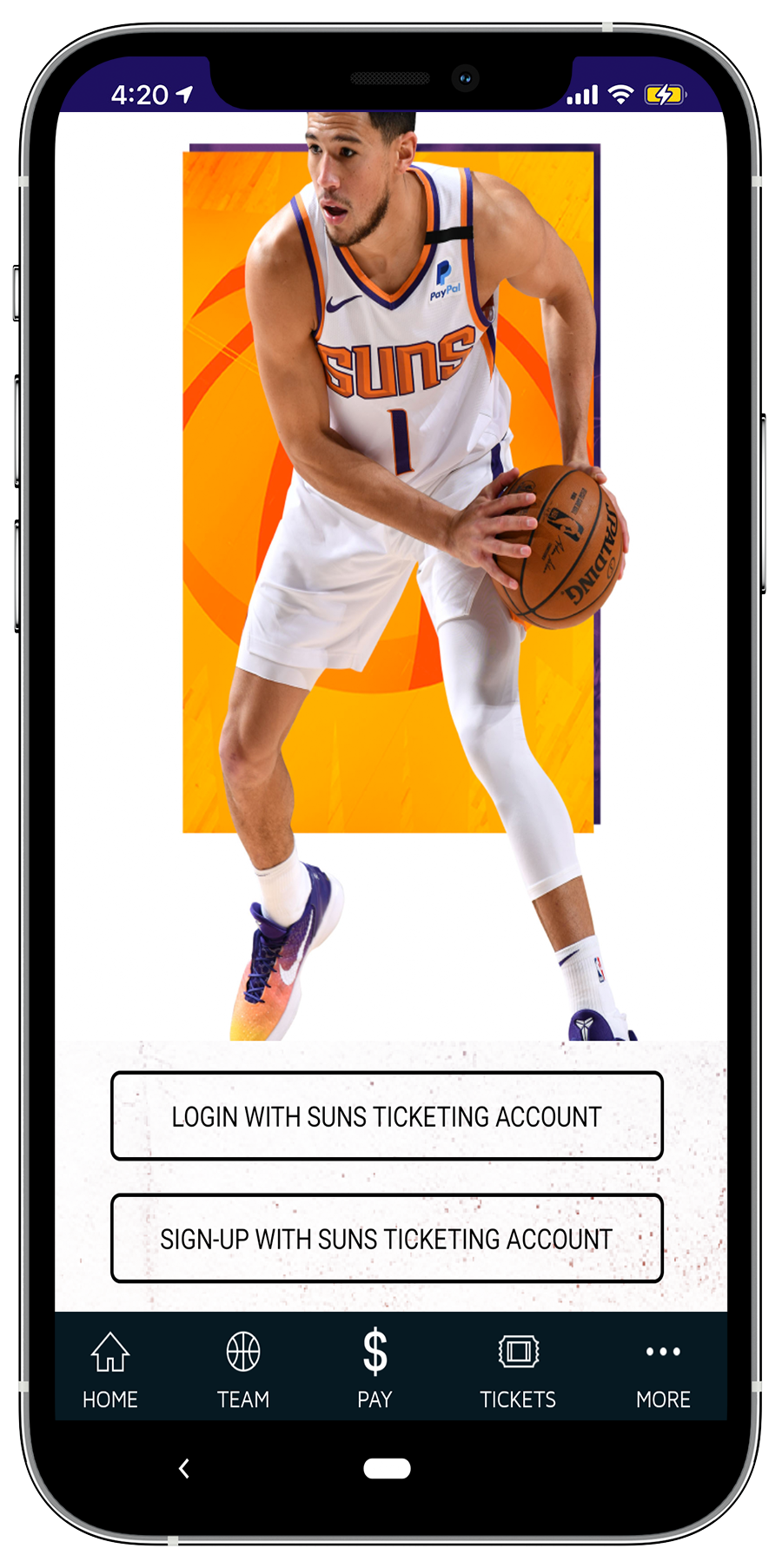 Login with your Suns Ticketing Account or sign-up using an existing Ticketmaster account.
Get The App
Get real-time breaking news from the Suns, previews of upcoming matchups, post-game blogs.
Real team and player statistics plus scores from the official NBA stats source.
Manage your tickets and pay for merchandise plus concessions all in one convenient app.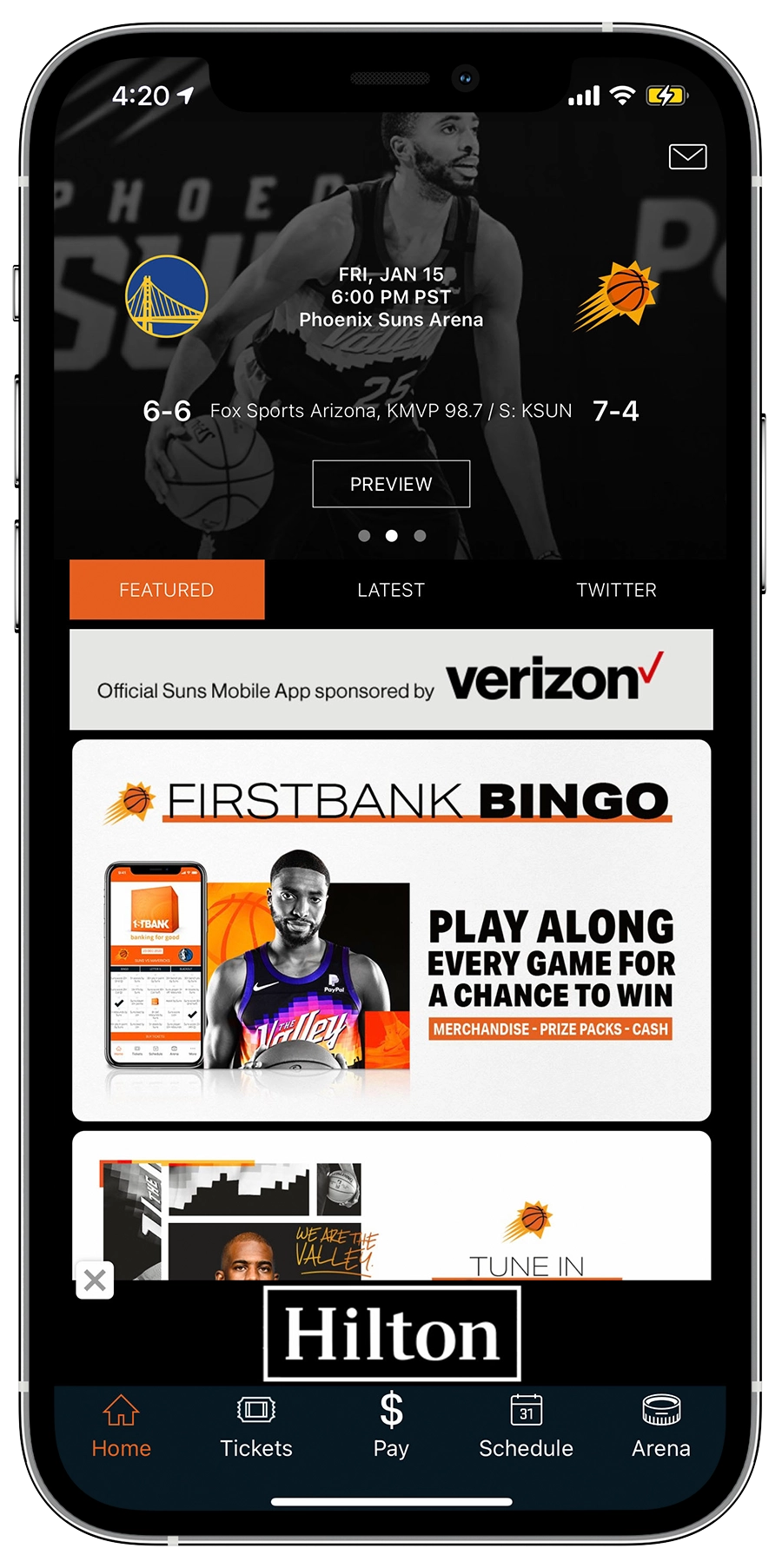 Once you've opened the Suns app, select Pay to open up the cashless experience window.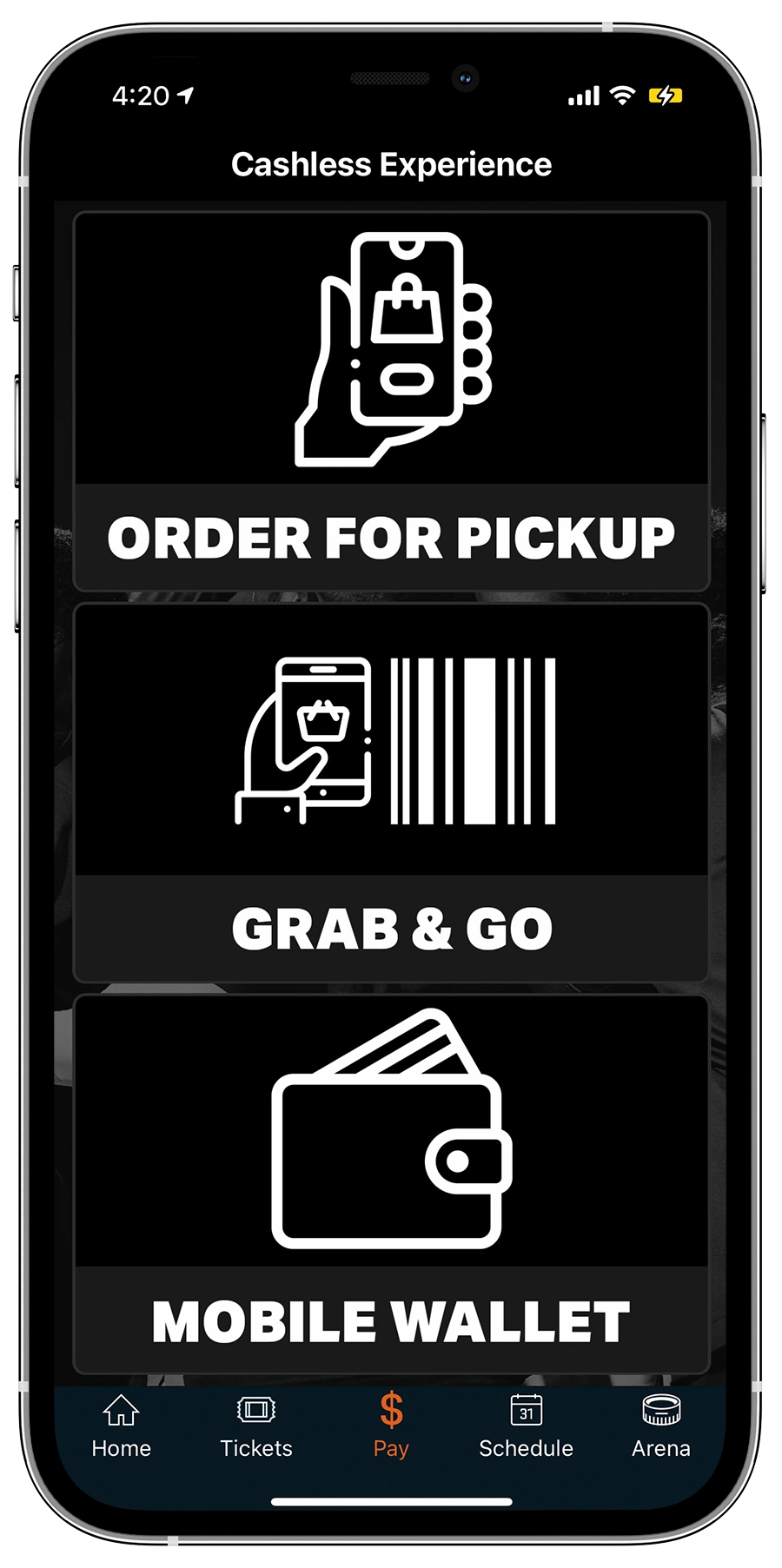 From the cashless experience screen, select Mobile Wallet.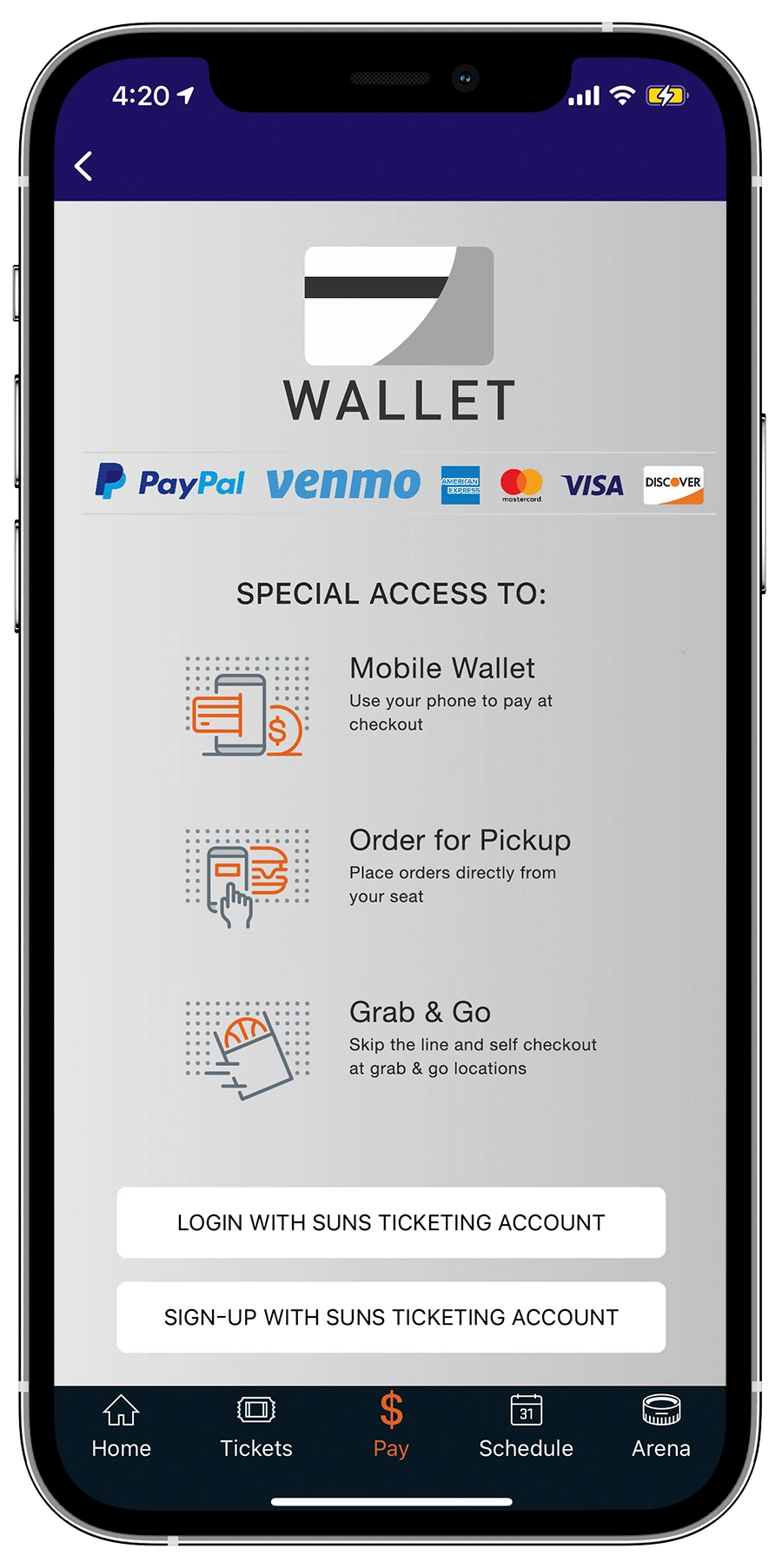 You will need to log in to your Suns ticketing account. If you do not have a Suns ticketing account, you will need to create one.
Mobile Wallet
Set up your mobile wallet and gain access to Order for Pickup and Grab & Go locations.
Connect your account with PayPal, Venmo, AMEX, MasterCard, Visa, or Discover.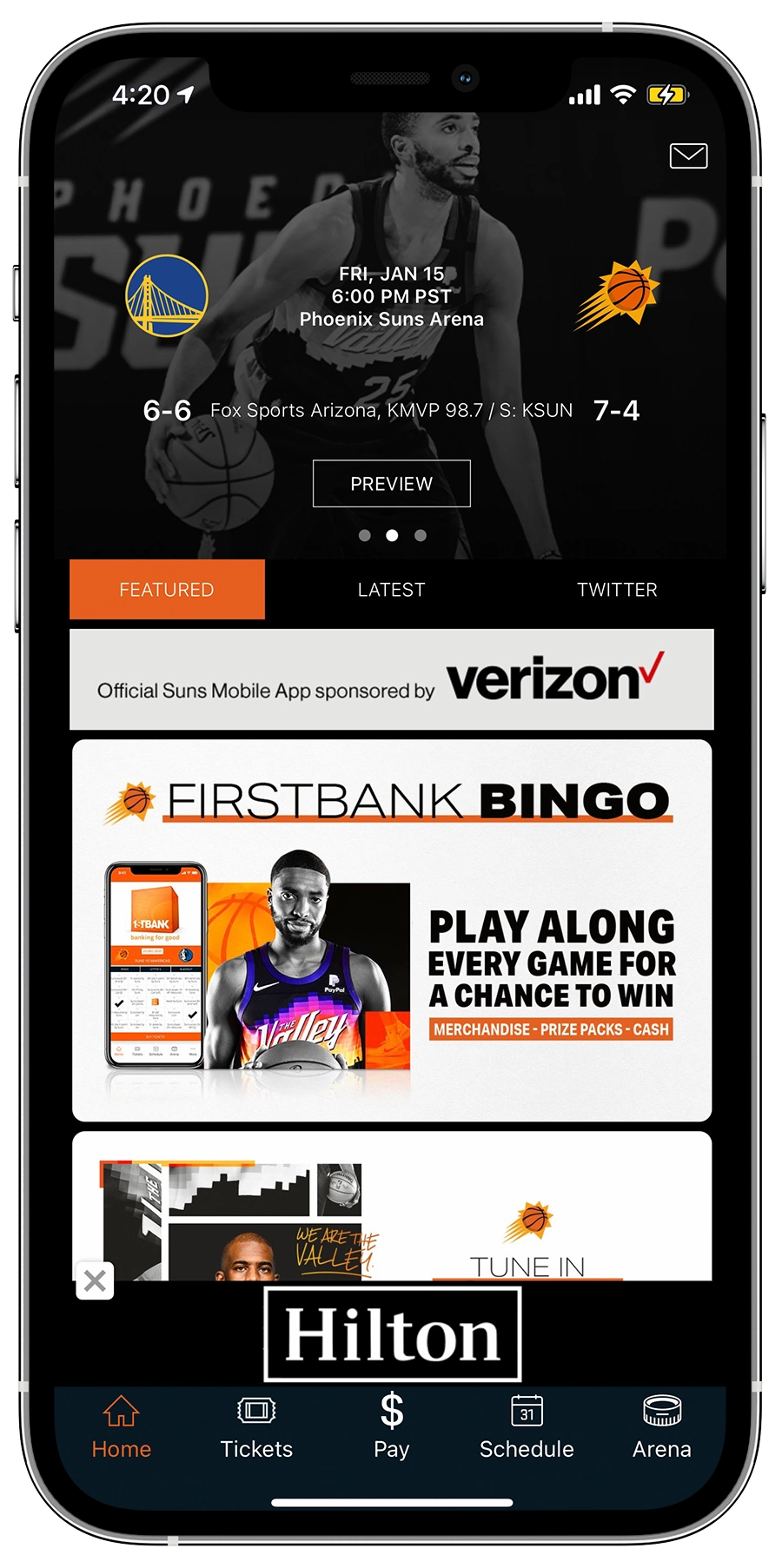 Once you've opened the Suns app, select Pay to open up the cashless experience window.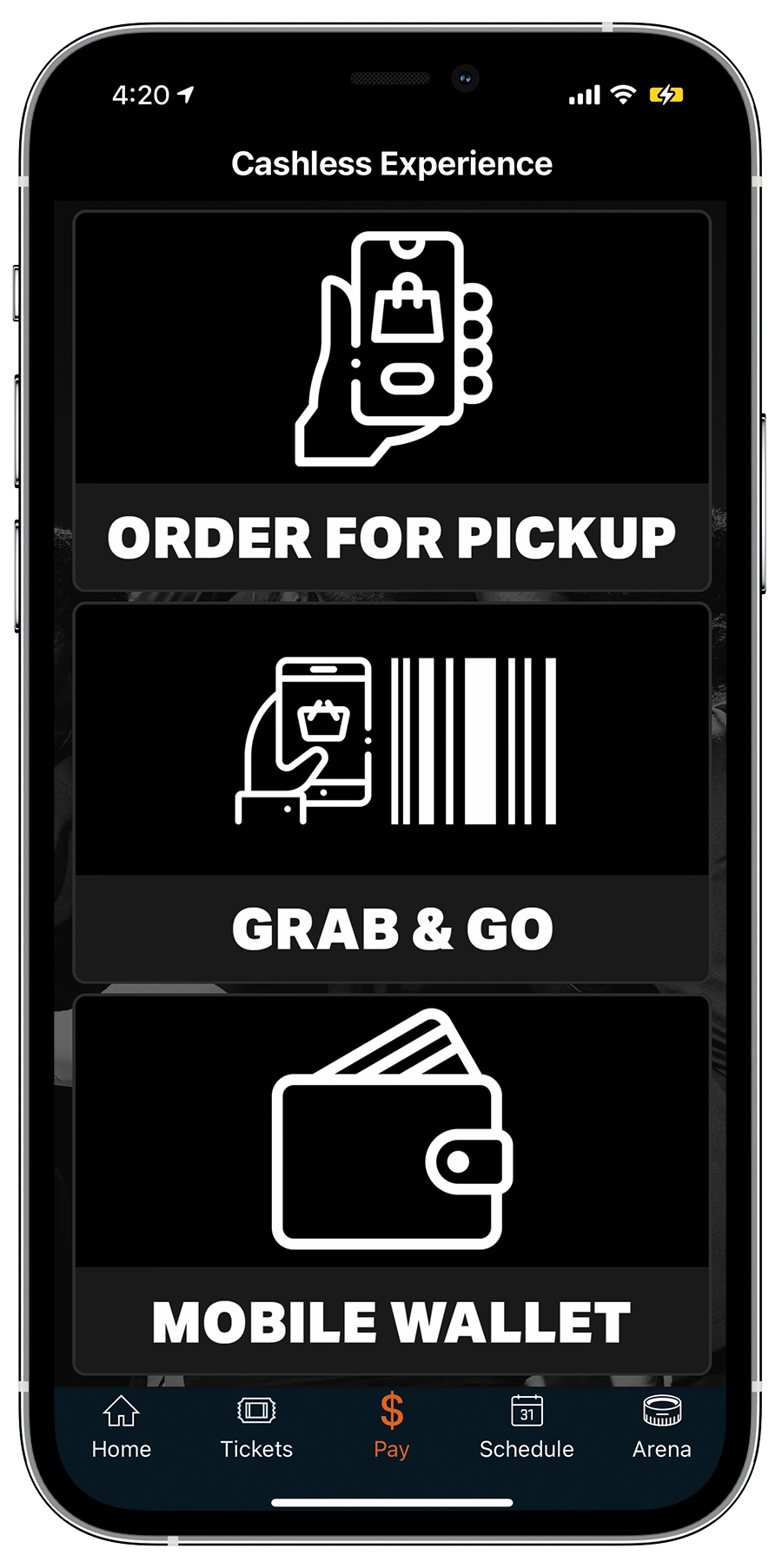 From the cashless experience screen, select Mobile Wallet.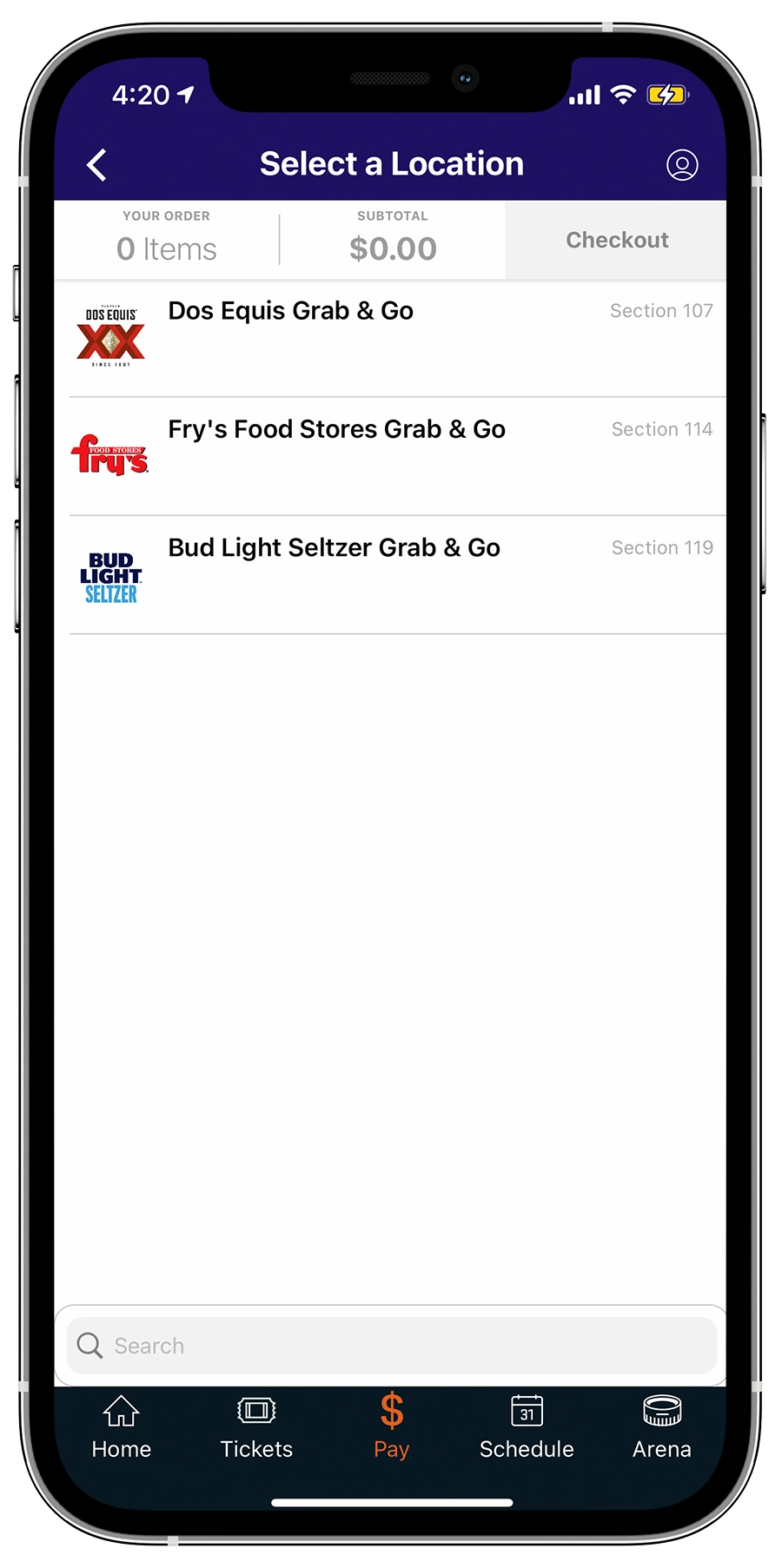 Select the Grab & Go location that you are visiting.
Grab & Go
Skip the lines and grab your concessions on the go!
Visit the Fry's Grab & Go in section 115 or the Dos Equis Grab & Go in section 107.
Open up your Suns app and scan the bar codes of the item you want to purchase!
Get back to your seat and enjoy the game!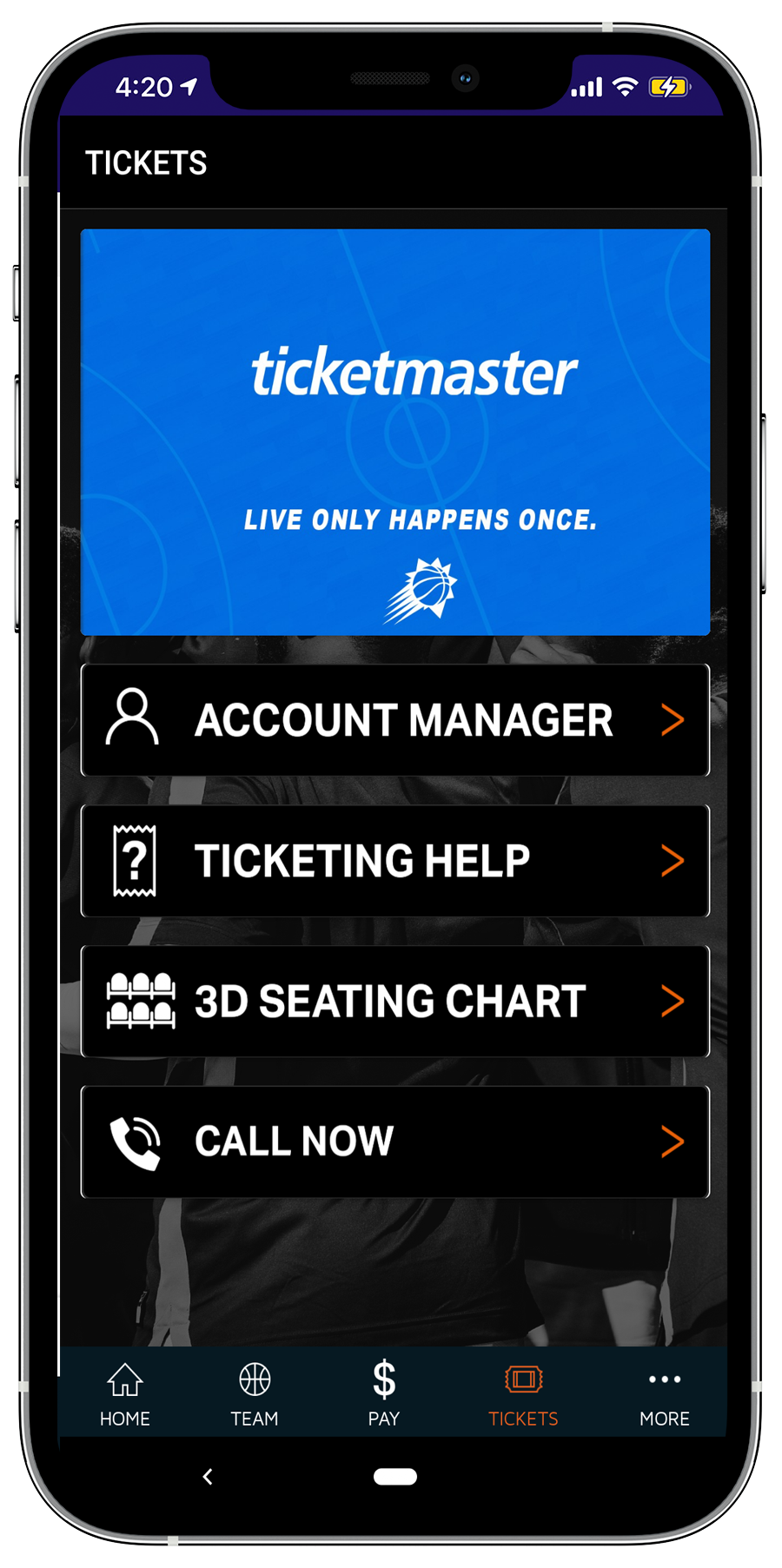 Within the app, click on the Tickets icon at the bottom of the screen and then Account Manager.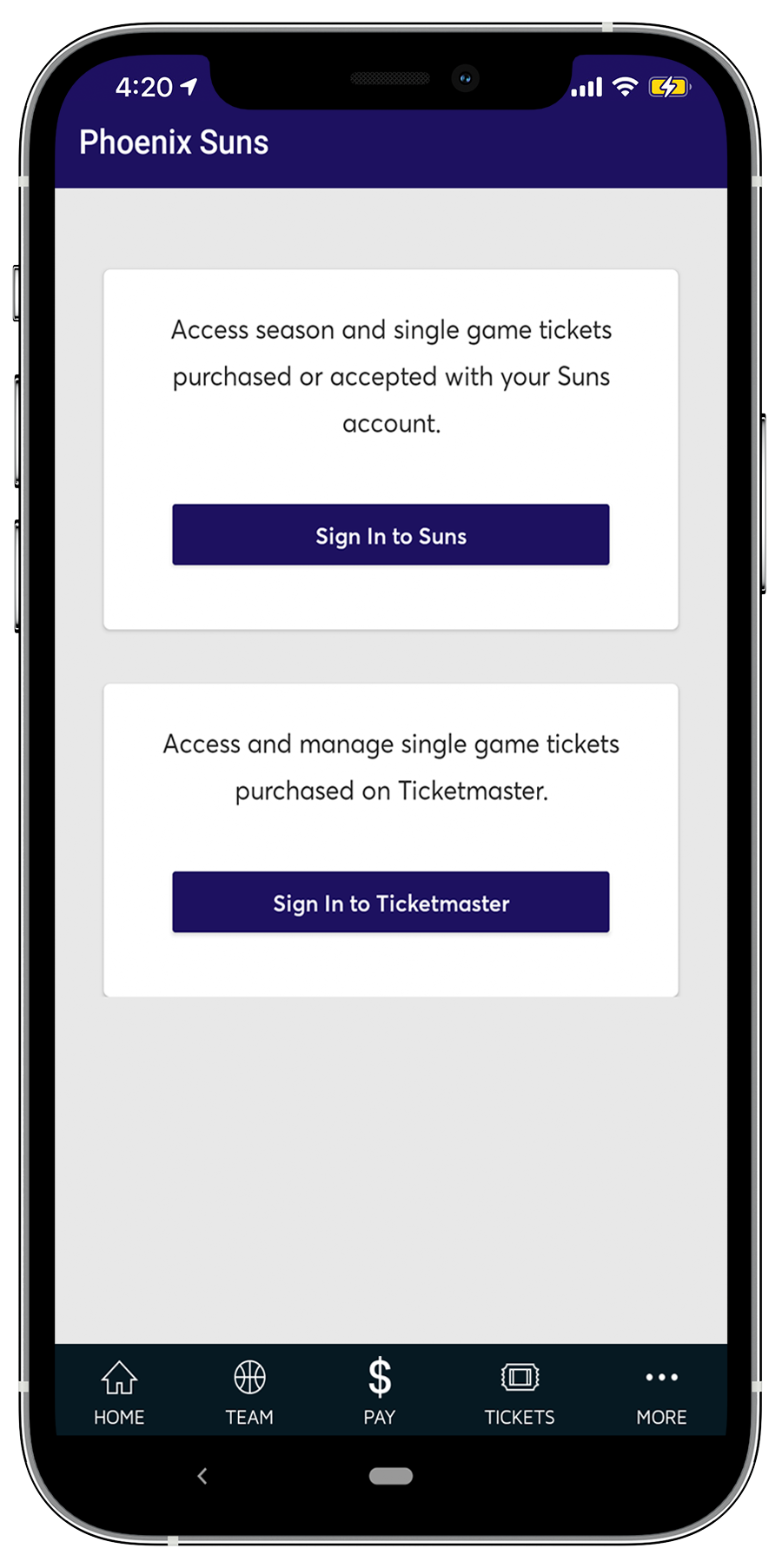 Log into your Suns Account Manager or your Ticketmaster account.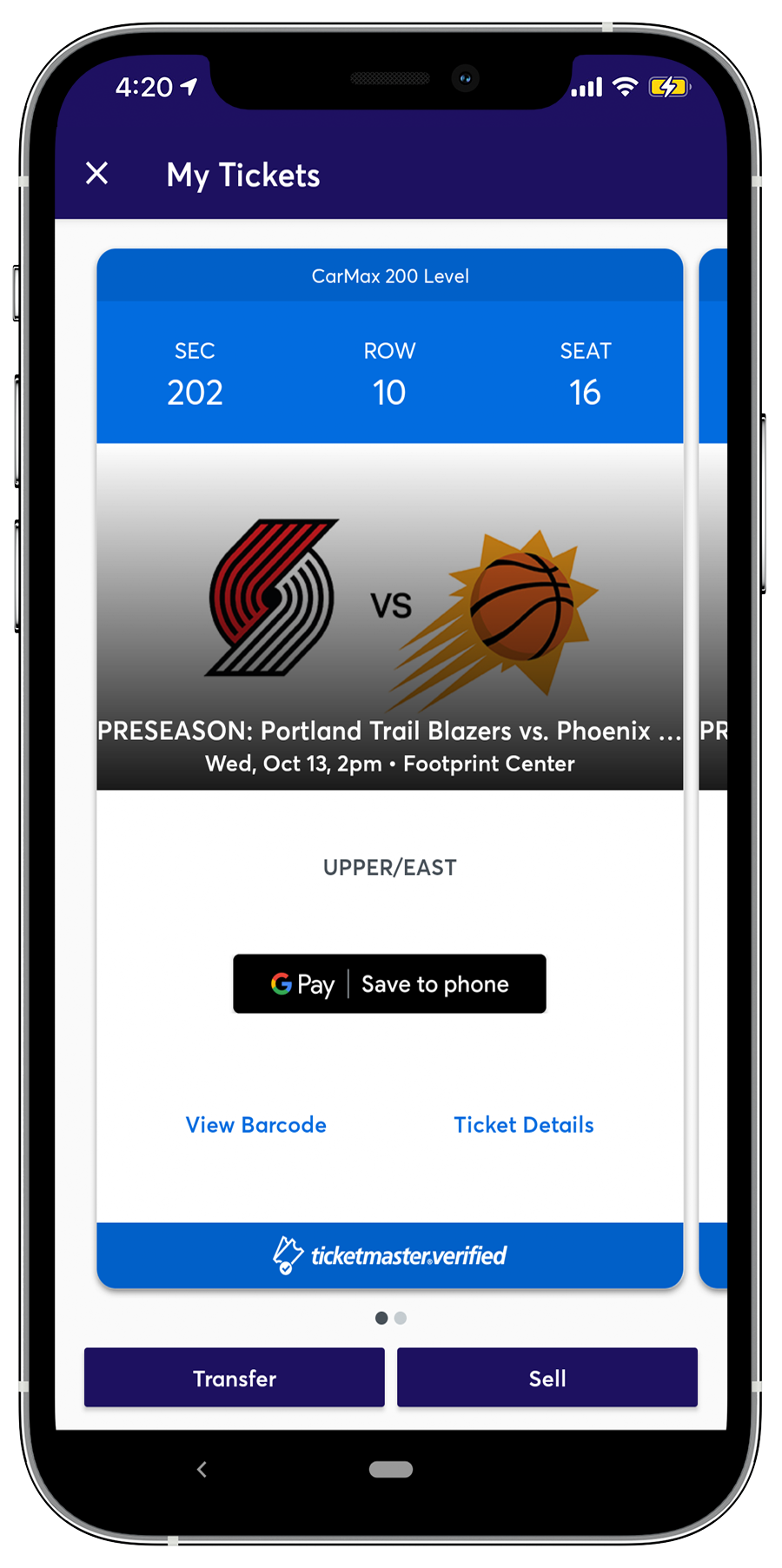 Under My Events, select the event and View Barcode for QR code to scan at door.
Access Tickets
Manage, Transfer and sell tickets all though the Suns App.
Skip the long lines and easily scan your tickets for entry with Ticketmaster's SafeTix technology.
Manage multiple games and events or save tickets to your Apple wallet or Google Pay.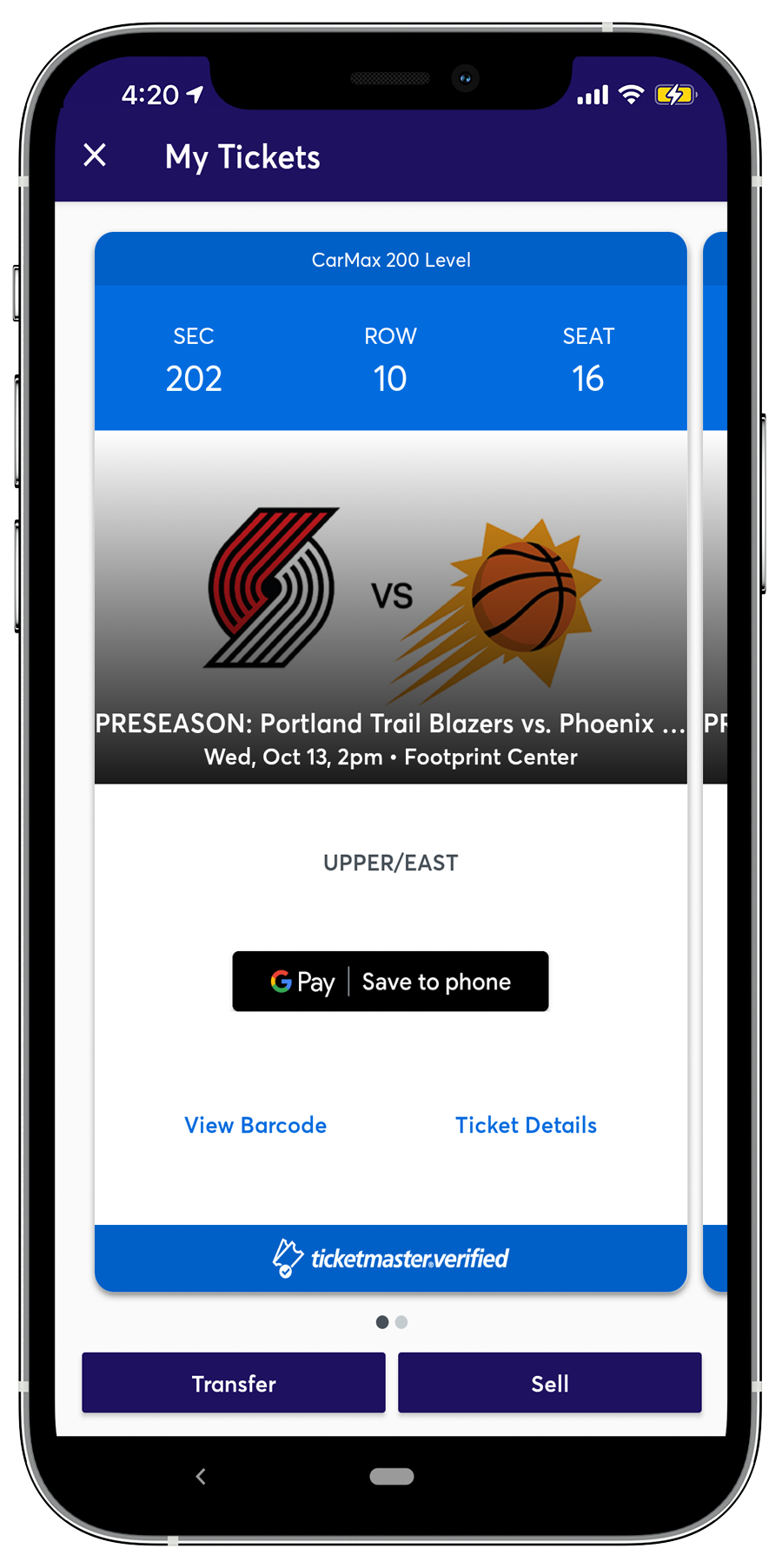 Select the event you want transfer ticket. Click on the Transfer button to begin.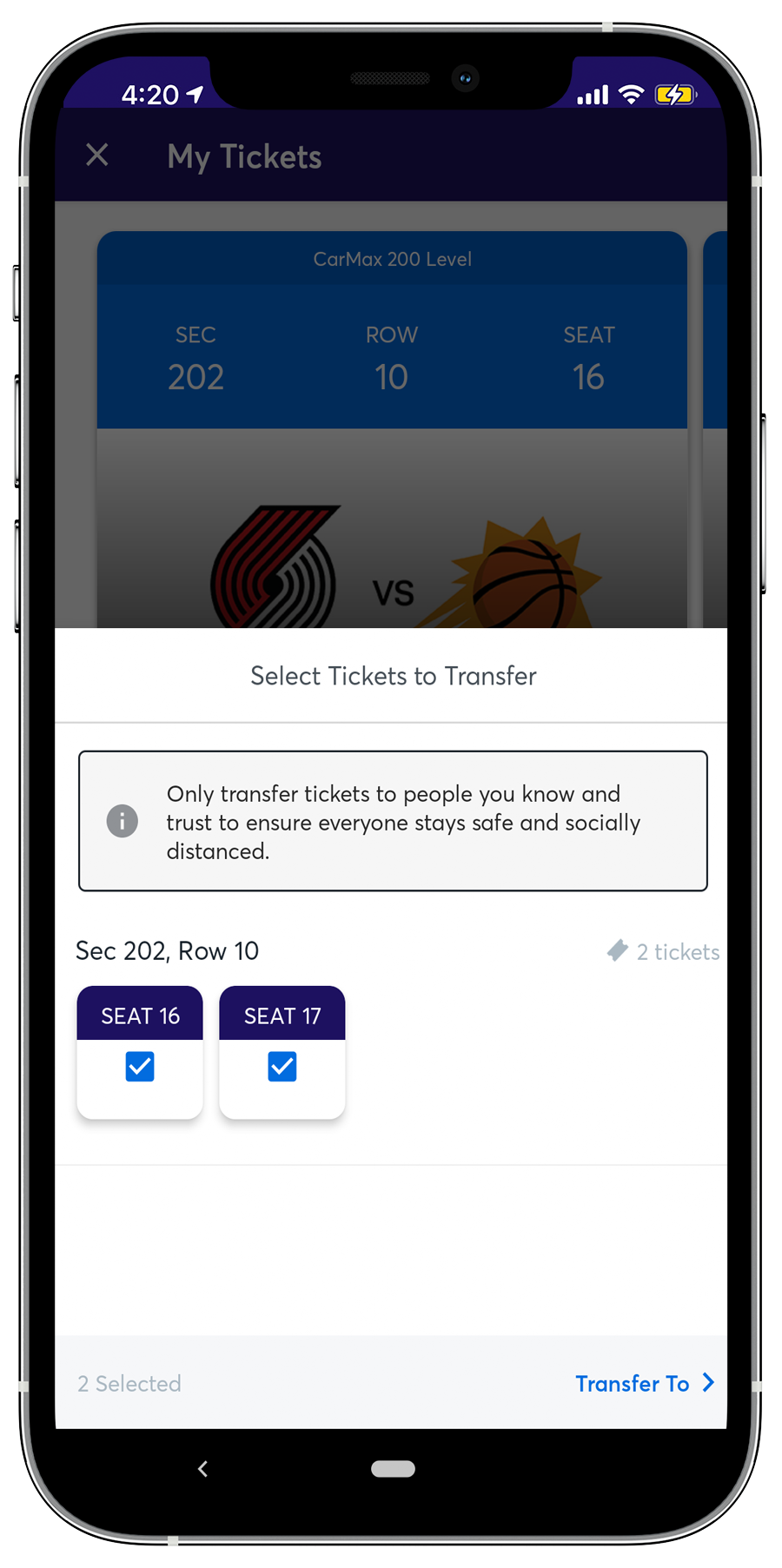 Select seats and click Transfer To where you can enter the recipient details.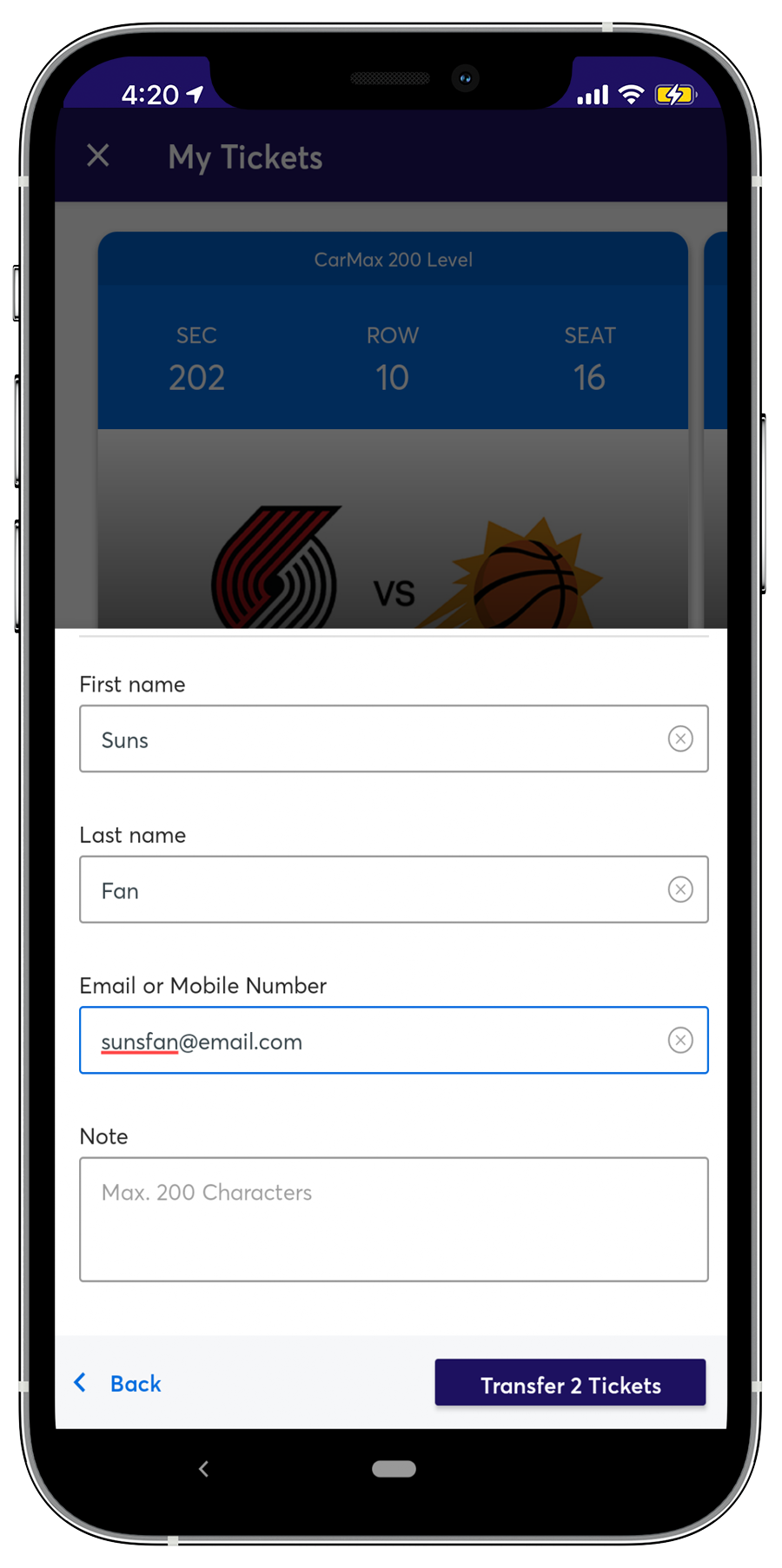 When sending via email, be sure to send to an email address associated with the recipient's Suns/Ticketmaster account (If applicable)
Transfer Tickets
Safely and easily transfer or sell tickets all through the Suns App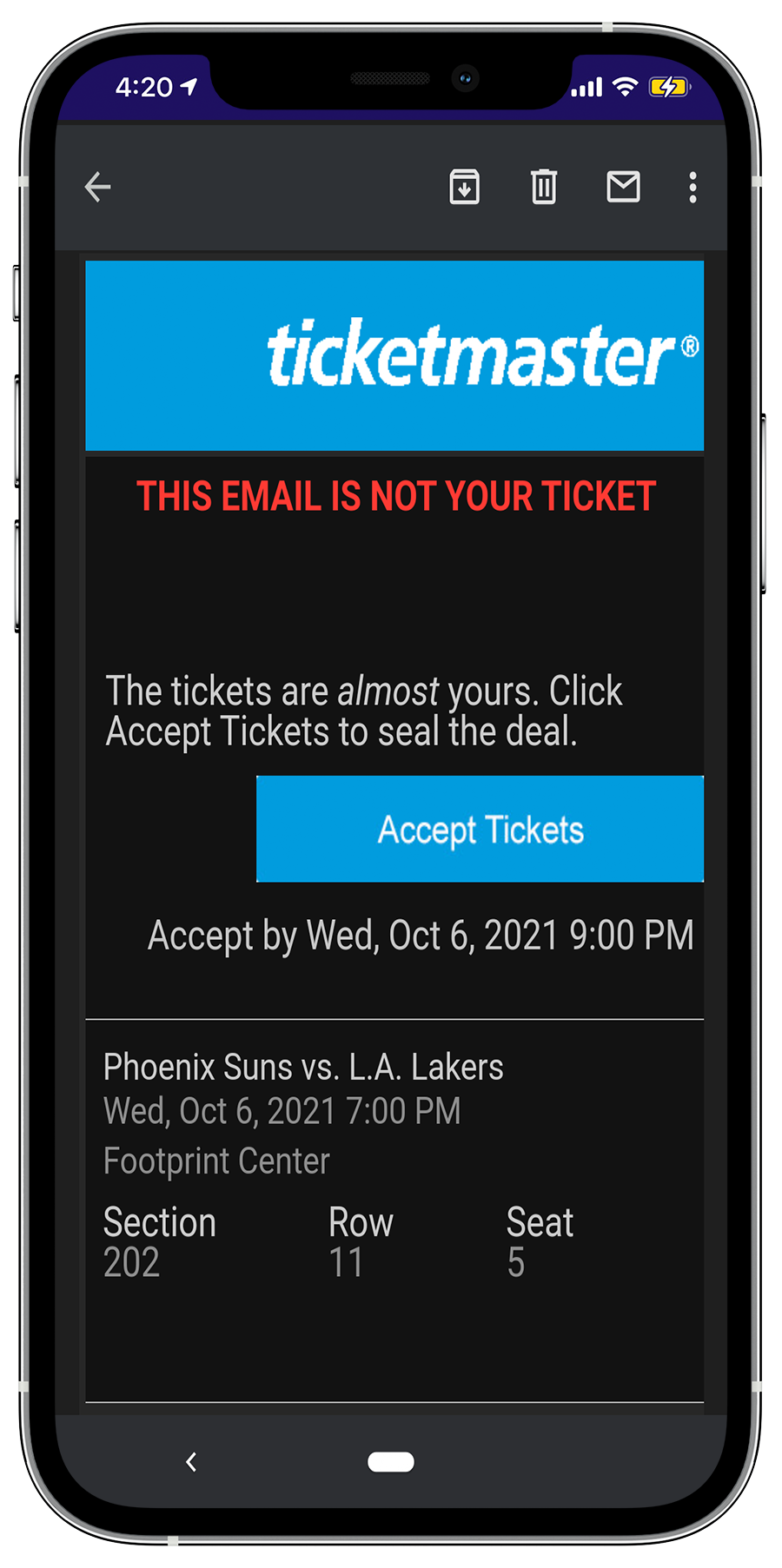 Open email or text message received to begin transfer and click Accept Tickets.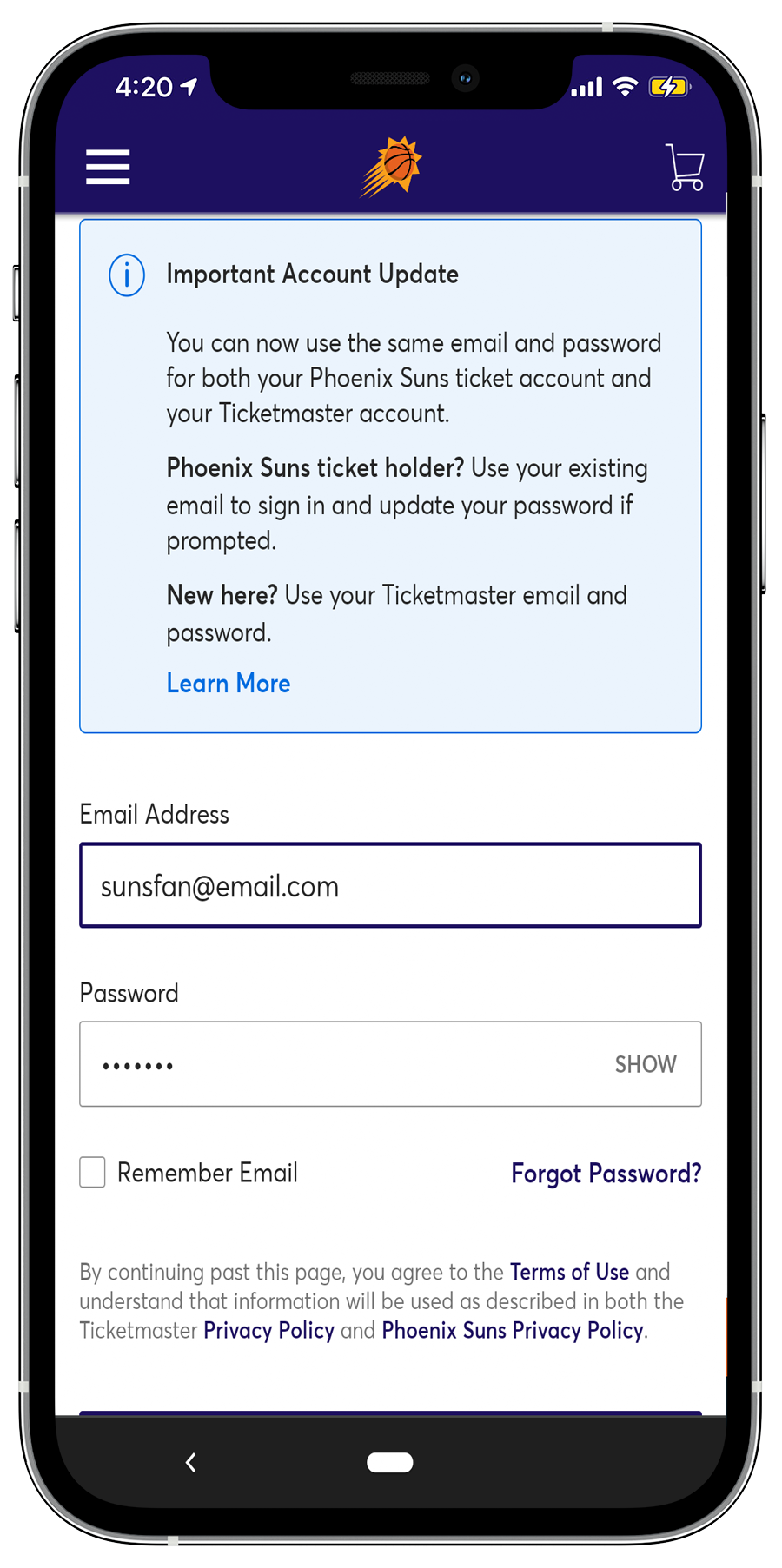 Sign into your Suns or Ticketmaster ticketing account to complete transfer. Please login or create account using the same email as the ticket transfer was sent too. If you don't have an account, click Sign Up.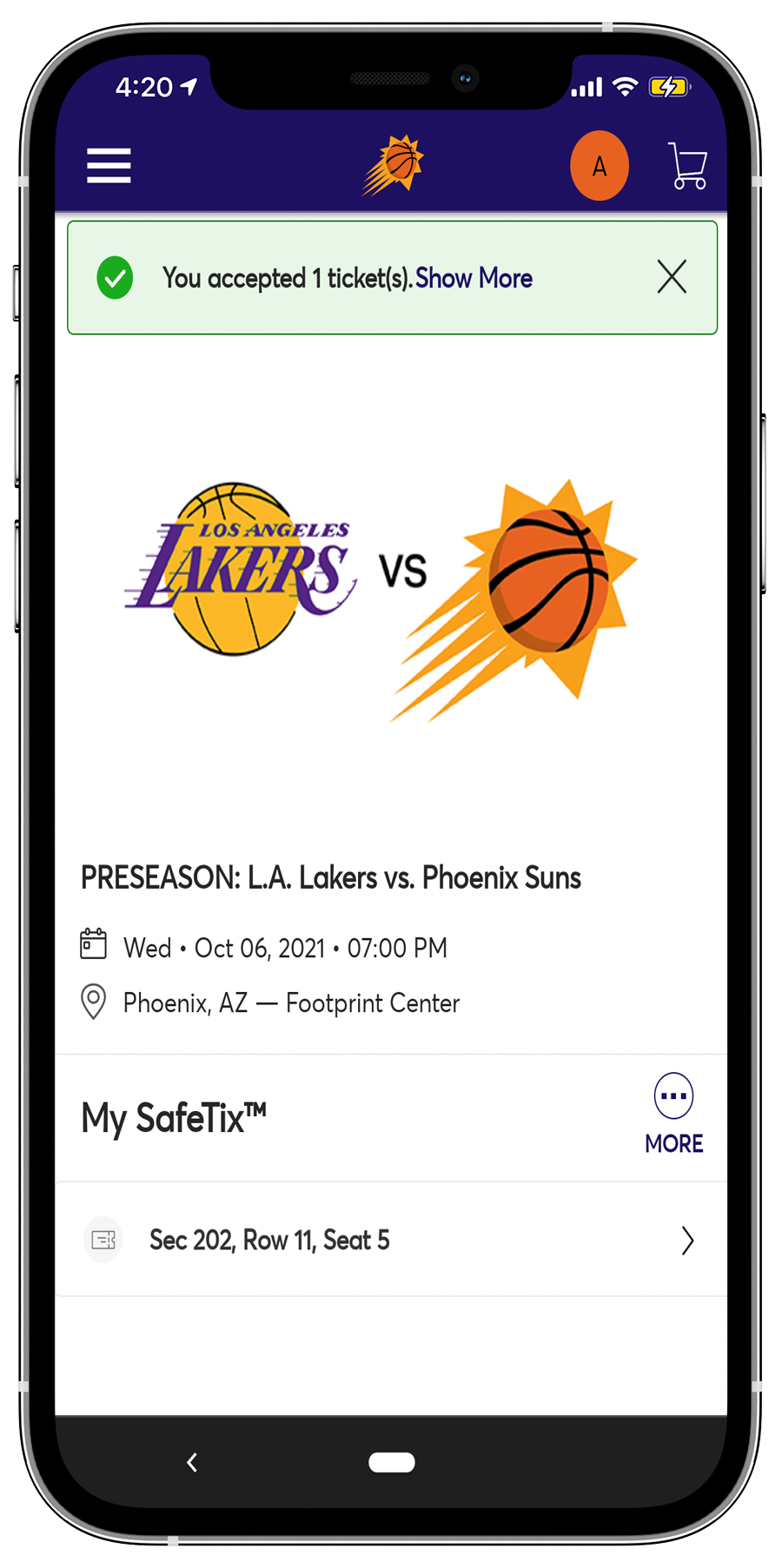 Review the transferred ticket(s) and confirm the information is correct. Once confirmed, press Accept. To access your tickets, open or download the official Suns App.
Accept A Transfer
Easily receive ticket transfers through text or email
Safely and easily accept ticket transfers through Ticketmaster secure process.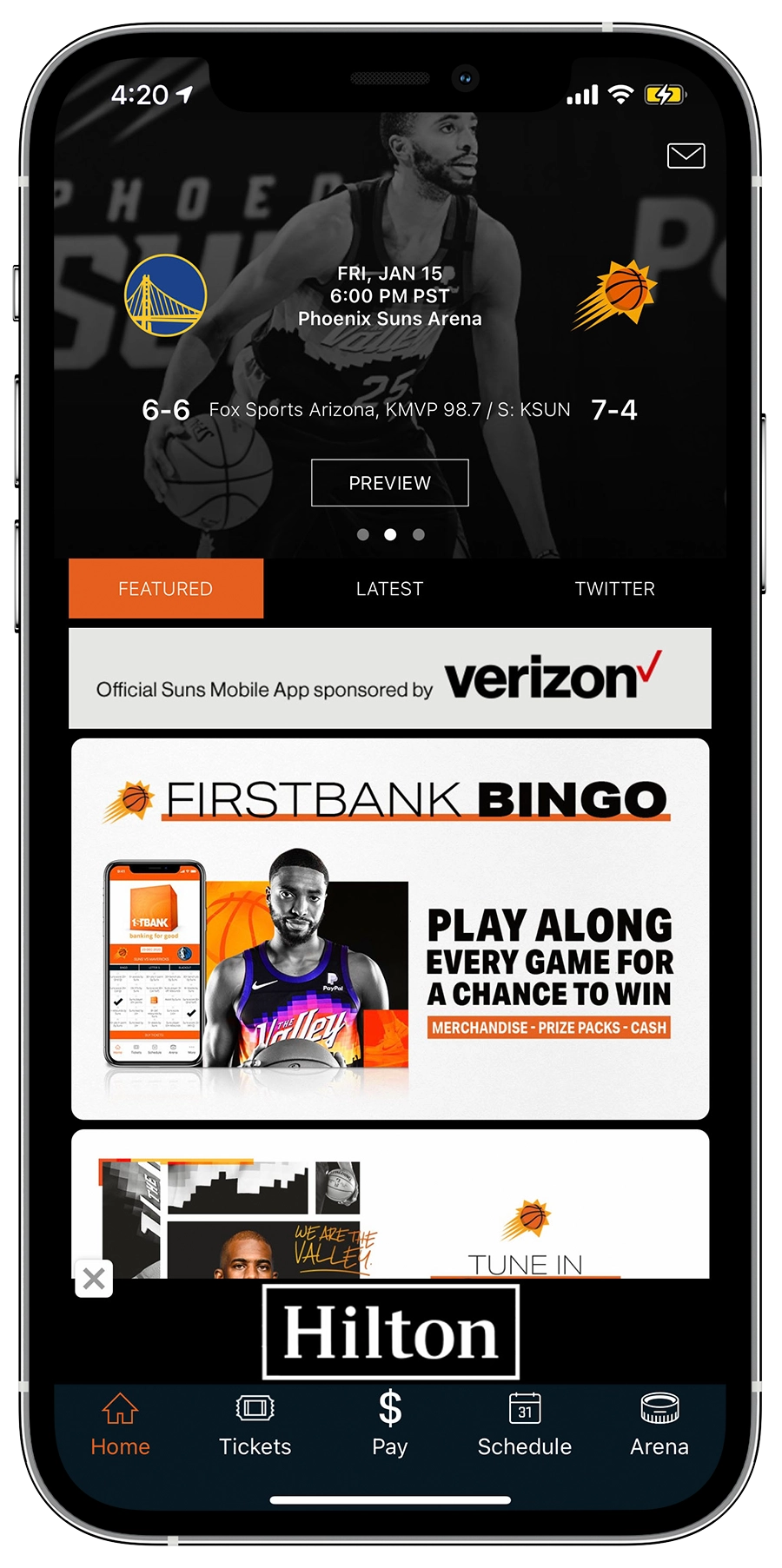 Once you've opened the Suns app, select Pay to open up the cashless experience window.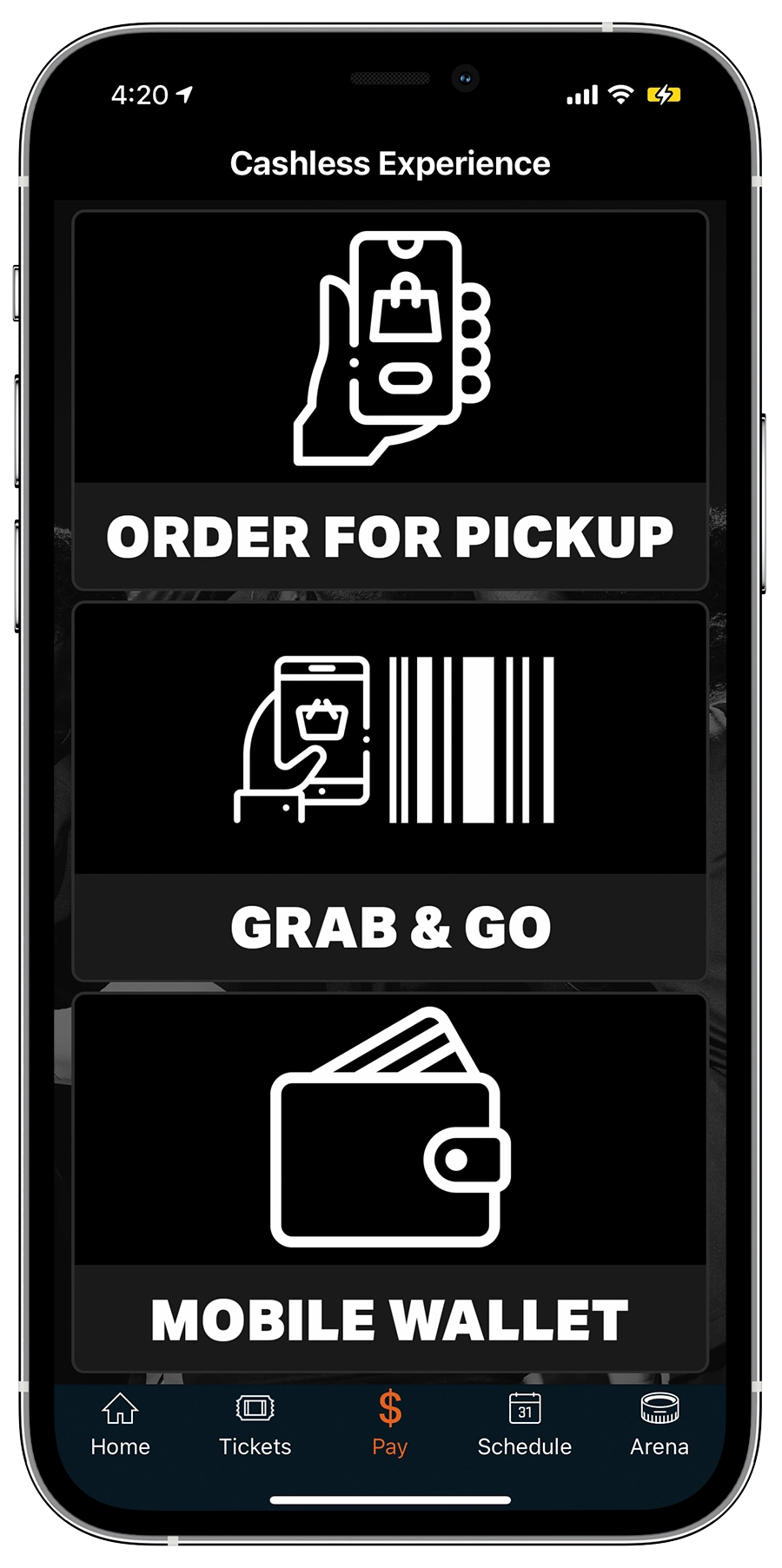 From the cashless experience screen, select Order For Pickup.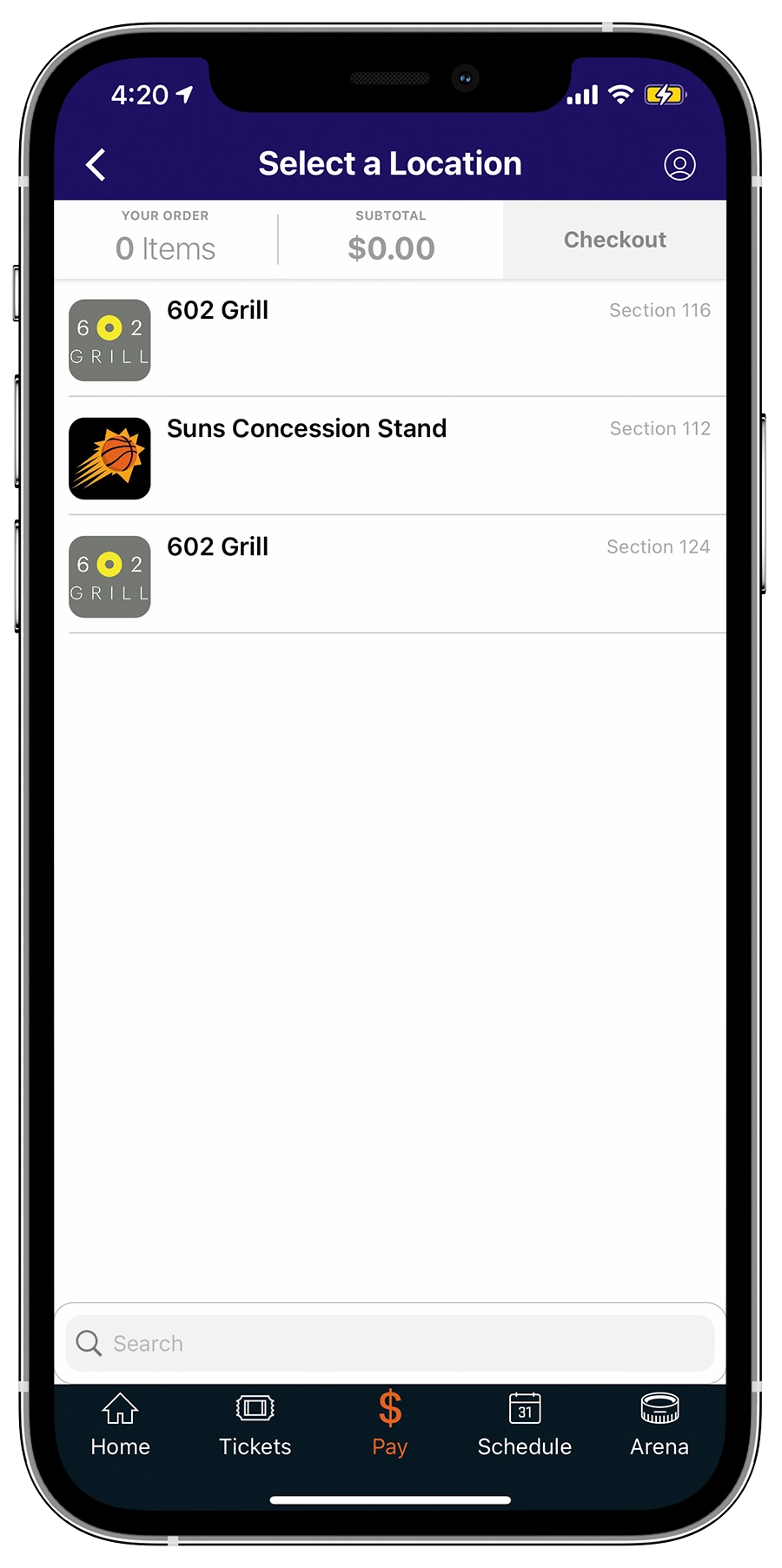 You may now select the concession stand and browse select offerings.
Order for Pickup
Skip the lines and order ahead!
Order food and beverages from your seat.
You'll receive a notification when your order is ready for pickup.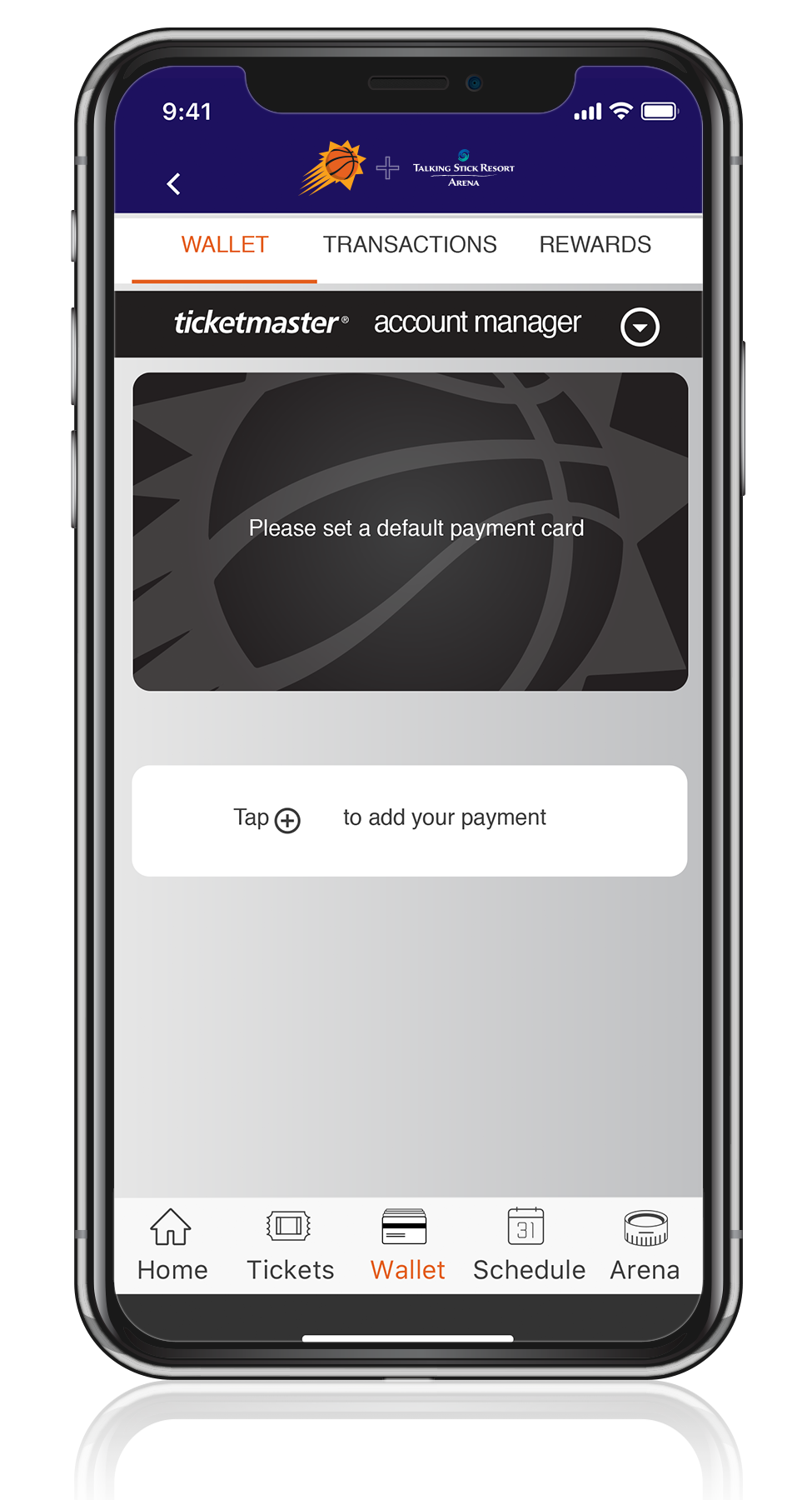 To add a new card to your wallet, click the Tap to add your payment method button OR click on the "Plus" button in the upper right corner.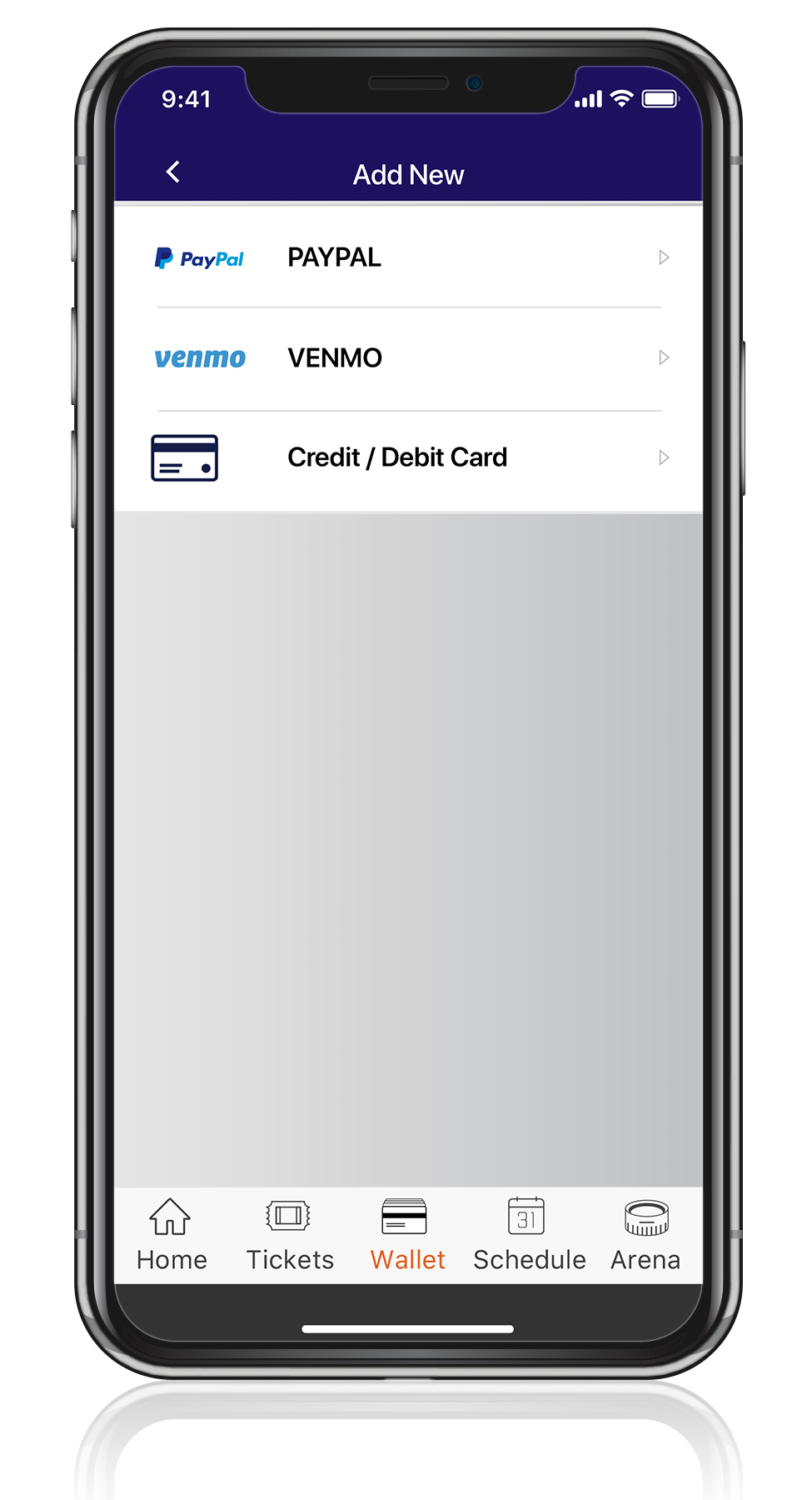 Choose your card by clicking on the PayPal, Venmo or Credit/Debit Card buttons.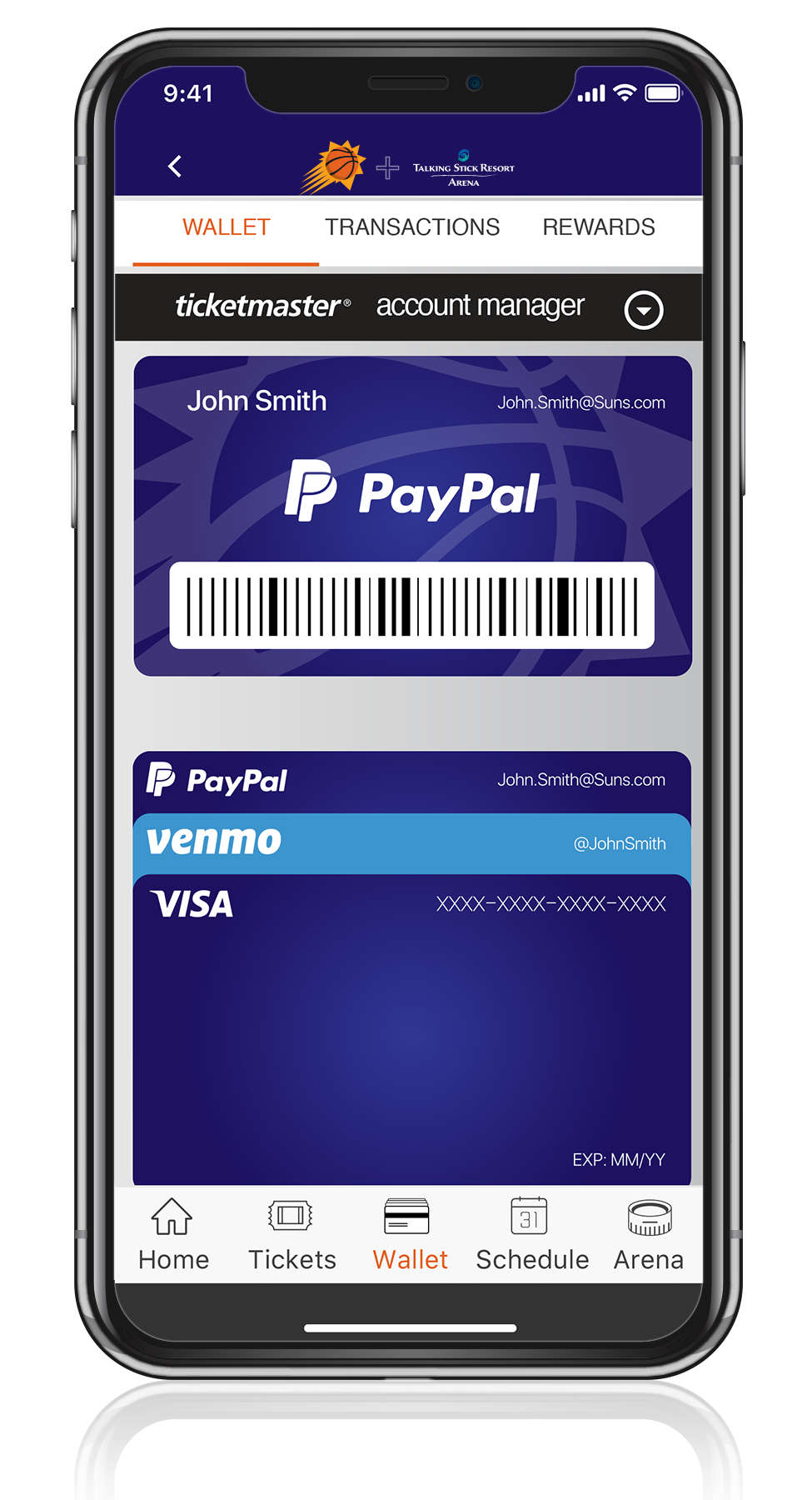 Once you submit your card's information, it will be immediately available for use in your wallet. To add more cards, click on the "Plus" button in the upper right corner.
Update Payment Method
Quickly and safely add a new method of payment to the Suns App
Conveniently switch between payment types at the Team Shop, Concessions and more.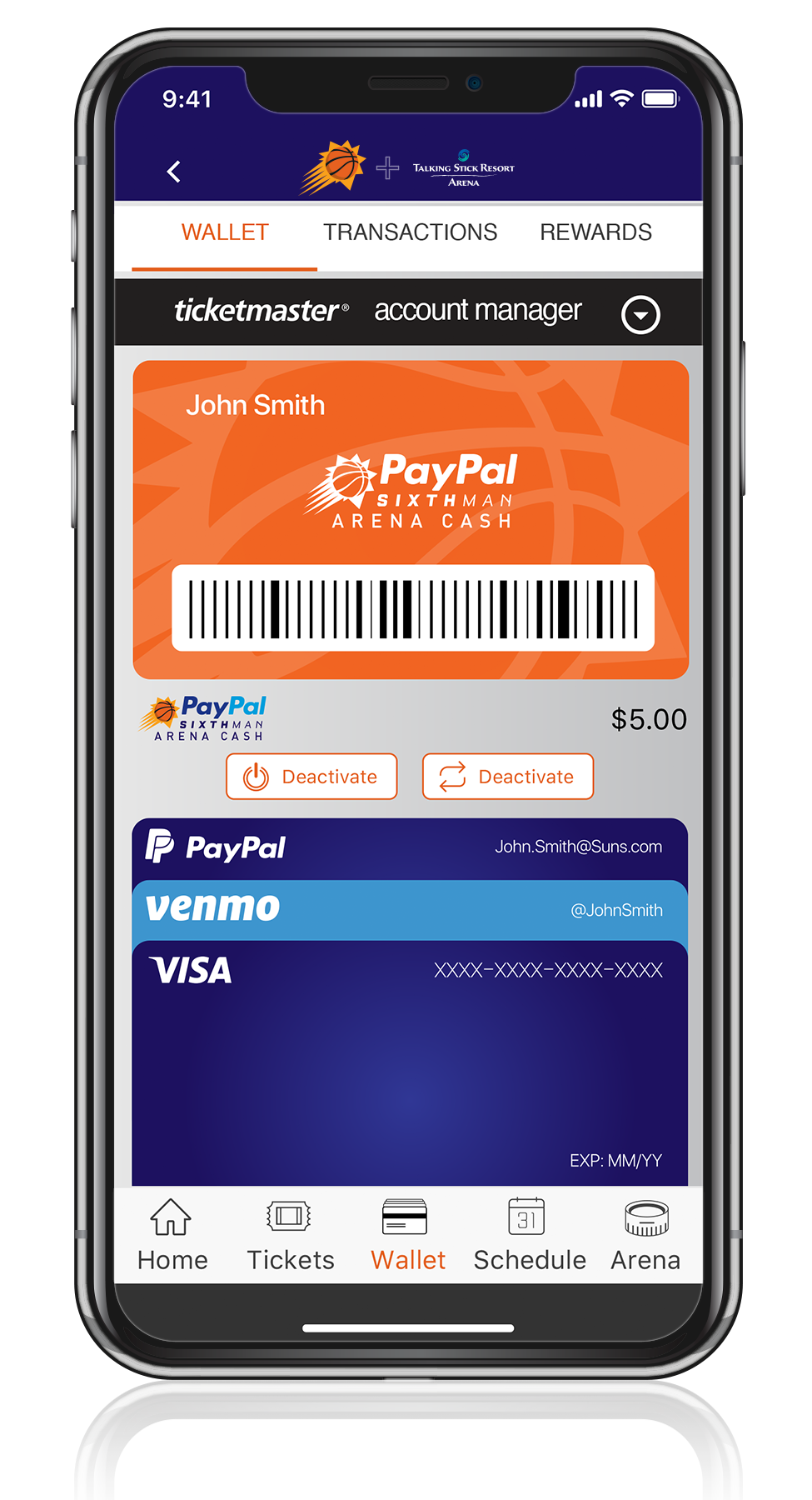 For PayPal Sixthman members who want to transfer arena cash, click on the Transfer button next to your Arena Cash balance.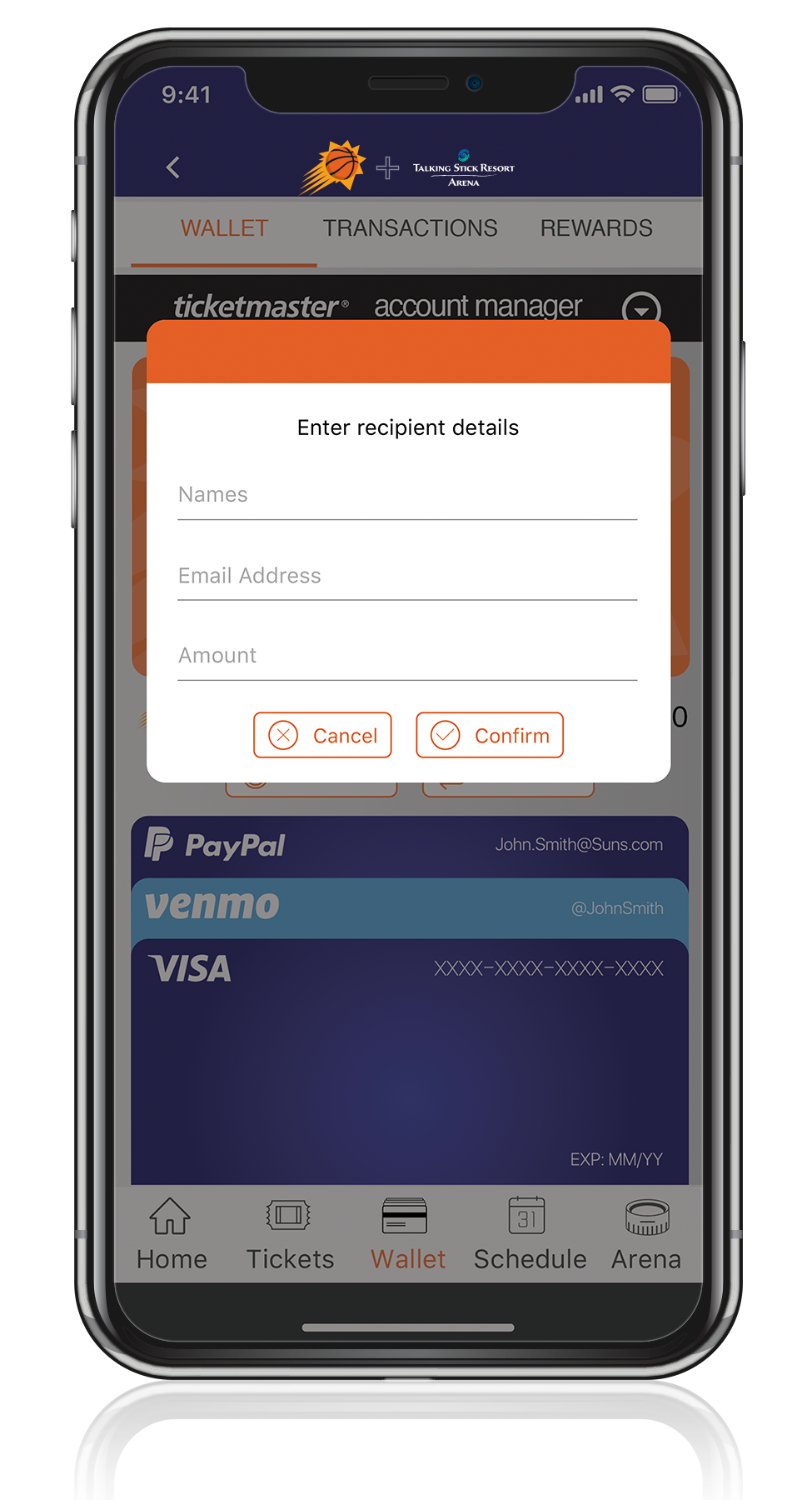 Enter in the name, email address and dollar amount of Arena Cash you want to transfer and click Confirm.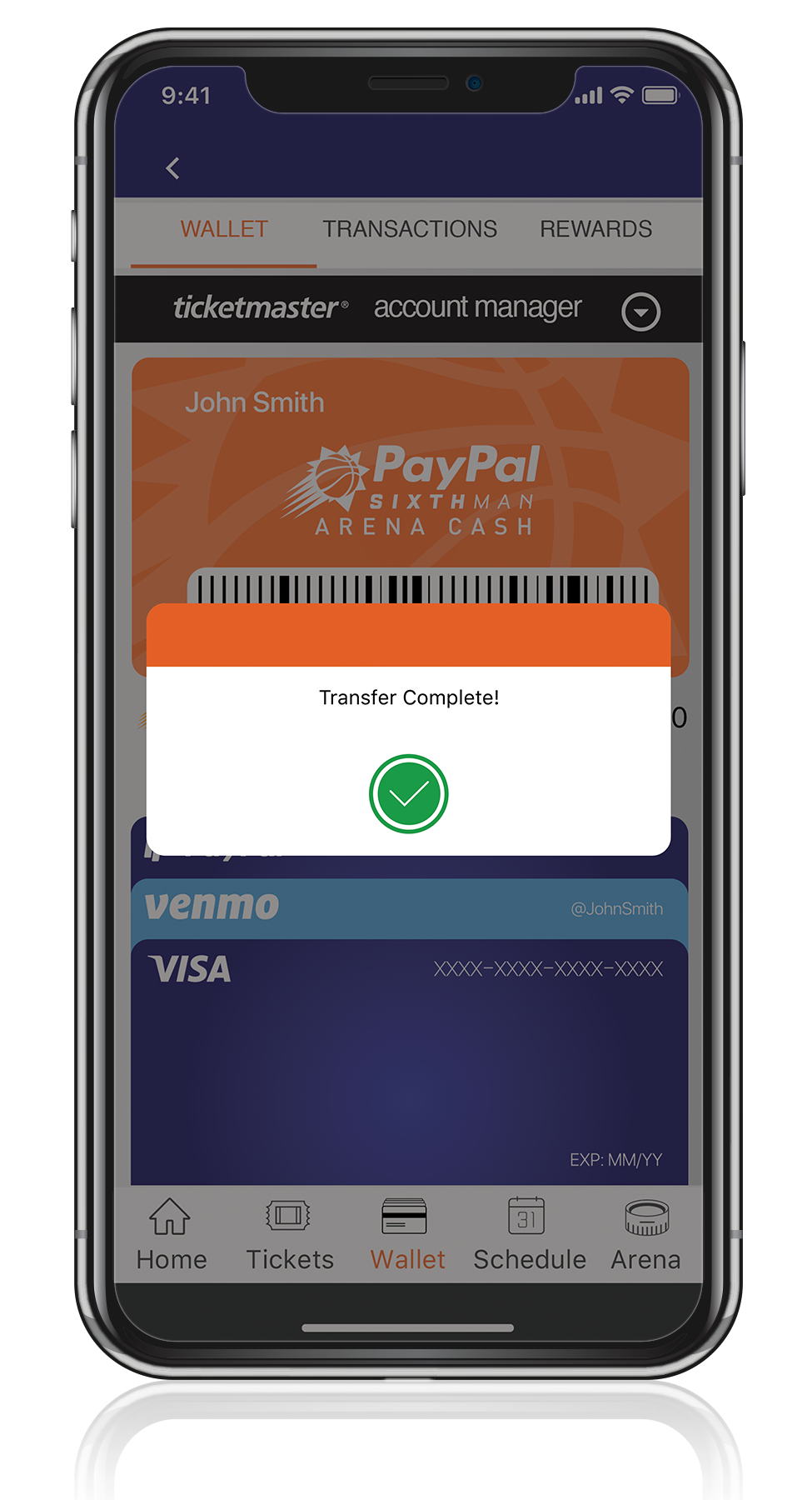 Your Arena Cash transfer is complete! The recipient will receive an email confirmation and instructions on how to access their Arena Cash.
Transfer Arena Cash
SixthMan Members enjoy exclusive arena cash for use at the Team Shop, concessions, Grab & Go and more.
Easily transfer any amount of arena cash to non SixthMan members or other Suns ticketing accounts.
Frequently Asked Questions
Mobile Ticketing
Your Tickets - All In One Place
When will tickets be available to manage in the app?
Once the account is paid in full, Season Ticket Members can access tickets in the Phoenix Suns mobile app. Single-game ticket buyers will be able to access tickets immediately after purchase.
How do I access my tickets on my smartphone?
Download and launch the Phoenix Suns mobile app.
Choose TICKETS in the navigation menu, then select ACCOUNT MANAGER.
SIGN-IN with your email address and password (same as your online account).
Select the game you want to manage.
View and save your tickets to your Apple Wallet or Android Pay for easy access on game day.
Show your mobile ticket at the gate.
What if I forgot my password?
Click the FORGOT PASSWORD link and a new password will be emailed to you. Password reset email may take up to 30 minutes. Plan to reset password ahead of arriving at the arena.
Can I print my ticket from home?
No. All tickets are fully digital. Your phone is your ticket. There are no PDF tickets.
When should I open the app to view my ticket(s)?
We recommend that you view your tickets atleast 24 hours before the game. If you view your tickets ahead of time, they're always ready in the app. You may also save the tickets to your mobile wallet within the app.
Can I use a screenshot of my ticket?
No. The SafeTix technology will refresh your bar code every few seconds. A mobile ticket barcode must be provided either with the app, the mobile website, or within your phone's wallet to gain entry.
Transferring Tickets
All inside the app
How do I transfer a ticket?
Once you have signed in to your account, select the game you wish to send.
Select TRANSFER.
Choose the tickets you want to send then select the TRANSFER button.
Either select a recipient from your contacts or manually enter the information.
Tap TRANSFER If you are sending via email, the process is complete. If you are sending via text, the app will open your messaging app and you must click send to complete the transfer.
Does the person I send the tickets to need a Suns Account?
Yes. If they don't have one already, they will create one in the acceptance process. It's simple and they just need a valid email address they can access.
What if I forward the tickets to the wrong person, can I recall the tickets?
Yes, you can reclaim the tickets as long as they haven't already been accepted by the recipient by clicking CANCEL TRANSFER.
Can ticket holders transfer tickets after the event has started?
Yes, you can send/transfer unscanned tickets after the event has started. However, once a ticket is scanned in, the ticket can no longer be transferred.
What if my entire party is not with me when I enter the arena?
Every fan needs to present a ticket to enter arena. If your party is not with you, you are able to transfer the ticket to them via your smartphone so they may enter separately. We recommend transferring tickets to family and friends 24 hours prior to the game.
What if my phone breaks, dies, or is lost/stolen before I arrive?
Simply come to the ticket office, present your ID, and we'll print your tickets for you?
Grab & Go
Quick, easy and no lines
Do I need the Suns app?
Yes. The Suns app is the most efficient way to purchase items from our Grab & Go locations.
Do I need a Suns mobile wallet account?
Yes, logged in automatically with your Suns ticketing account.
Can I order alcohol?
Yes, bottled or canned drinks such as beer, seltzers, and other beverages are available at the Grab & Go locations.
Order for Pickup
Order from your phone, pick-up without the lines
Do I need the Suns App?
Yes. You will need the Suns app to order in advance for pickup.
Do I need a Suns mobile wallet account?
Yes, logged in automatically with your Suns ticketing account.
Can I order to my seat instead of pickup?
No, guests must pick up their orders from the selected concession location.
Can I Make Purchases At The Arena With Cash?
Footprint Center is a 100% cashless arena. You may convert your cash in order to make purchases at the arena.
Where to convert your cash.
Located at the ticket office in the pavilion near the main entrance. Guest relations will take over cash conversions once the ticket offices closes on event days.
How to convert your cash.
Guest goes to ticket office window and provides amount of cash desired to be converted.
Cashier accepts cash and collects basic information (name and email).
Cash is loaded onto debit Mastercard.
Guest can use card anywhere Mastercard is accepted or load their card into Suns mobile wallet.
Can I use my PAYPAL Mastercard outside of the arena?
Yes, anywhere Mastercard is accepted.
Are there initial fees to convert my cash?
No, there are no initial fees to convert your cash.
Are there fees to continue to use my new card after 30 days?
Yes, if you have a balance on your card 30 days after conversion, there is a $4.95 fee that is applied monthly.
Will the arena accept cash anywhere?
No, we are a completely cashless venue with concessions, team shop, parking, tickets, and more.
Can I convert cash on a non-gameday?
Yes, cash can be converted anytime. The ticket office is open Monday – Friday | 10am-5pm.