In the category of Reassuring Shots in Basketball History, it trails none. The confidence that a free-throw attempt by Rick Barry brought to us bystanders, that it would of course find its destination, was perhaps equalled only by Kareem Abdul-Jabbar's skyhook. Often the emphasis was on the execution – underhanded -- but what was truly unique was a success rate that bordered on perfection. It could be reliably concluded, in fact, that more players over the course of the game's history, especially in its infancy, shot underhanded than those that shot it at the rate Barry did. Therefore, the style should not be the headline; rather, the rarefied percentage.
Call them as they are: Free throws are mundane and frequent, a necessary occurrence that preludes the next burst of action. And yet watching Barry shoot this most routine shot can be quite mesmerizing. He would take several short dribbles before settling, jolting the wrist downward and unfurling. He didn't shoot the ball as much as he looped it. The ball would take this beautiful trajectory towards the basket before, roughly three-quarters of the way through its journey, the backspin took control, giving it a sharp downward change of course into the basket. Because it emanated from a lower position, it's flight path was different to other, more mortal attempts. A granny shot, some called it -- but did your nanna shoot 90% at the foul line?
Encouraged to adopt the underhanded method by his father during his high school years, by the end of his 15 professional seasons Barry had come to master the free throw, conquering a part of the game perhaps as no other player ever has. And here, he shows us how.
Things that happened to Rick Barry in 1967, his second campaign: He scored more points – 2,775 -- than any forward has ever scored in a single season (a mark that is now 55 years old and counting), finally freeing the guide book, for the first time since 1959, of its obligation to list "W. Chamberlain" as the season's leading scorer; he led the San Francisco Warriors to the championship series, scoring 55 points in a Game 3 win, before ultimately falling to a powerful Sixers team that is typically among the first mentioned when discussing all-time great teams; and he was the Most Valuable Player of the All-Star Game, played in the Bay Area, scoring 38 points.
Just how much of a revelation was Barry in 1967? A local television crew felt compelled to make a short documentary on the budding star -- and we are sure glad they did. This rare film follows Barry from the locker room to the floor, through introductions, and out onto the court. Why is this important? Barry's career came to be divided into three distinct segments, and 1967 marked the sudden and unexpected conclusion of that first fascinating phase.
Here we see a glimpse of early Barry, before full diversification of his offensive game in the 1970s, a player of constant motion, indefatigable with ball in hand, relentless against his opponent and officials alike. The records he set that year, you are aware. Now, we watch Barry from that season in living color from a vantage point unique to the time period.
The delirious individual highs of 1967 make Barry's decision that summer to jump to the ABA all the more baffling. And in the years that followed, Barry has outlined his reasons why. But we aren't here to hash that -- we are here to celebrate the player. Basketball was poorer for having him being forced to sit out the 1968 season with the Oakland Oaks, but upon his return for the 1968-69 season, when healthy and available, no matter the league, Barry was one of the best players in captivity.
Barry ultimately spent five seasons in the ABA, and like most things accomplished with the red, white and blue ball, the highlights remain scarcely documented and left to the imagination. Yes, there were flashes of that old San Francisco brilliance -- a spectacular seven-game duel with Spencer Haywood in 1970, and a trip to the championship series as a member of the Nets in 1972 -- but like most memories of the ABA they are confined to the precious few who witnessed them. For everyone else, it was an abbreviated newspaper recap, a skeletal box score, or brief mention through television or radio, if that.
And that is what makes this next film so wonderful. Here is black and white footage of what we have determined to be Barry's 11th game in the ABA -- Nov. 12, 1968 at Denver -- in which he hit for 44 points. Weren't there? Then, simply put, you have never seen this before.
The courts ruled Barry had to return to the Warriors in 1972 and thus commenced the third and final segment in his fascinating career. The version of Barry that left the NBA as a 23-year-old was very different than the one that returned at 28. A recurring injury to his left knee in the ABA had brought about a forced modification to his game.
Statistically, he shot less and passed more. Anecdotally, where once he was equal parts driver and shooter, he was now deadly from the outside, more apt to pull-up in transition or from behind a pick than he was at getting to the basket. He was capable of streak shooting, quick points, and devastating runs.
When not scoring, he was a wondrous passer, one of the best ever from the forward position -- thoughtful, creative, an anticipator rivalled by few.
It is this version of Barry -- prime Barry -- that needs to be best remembered and savored. Here, an examination of Barry the scorer.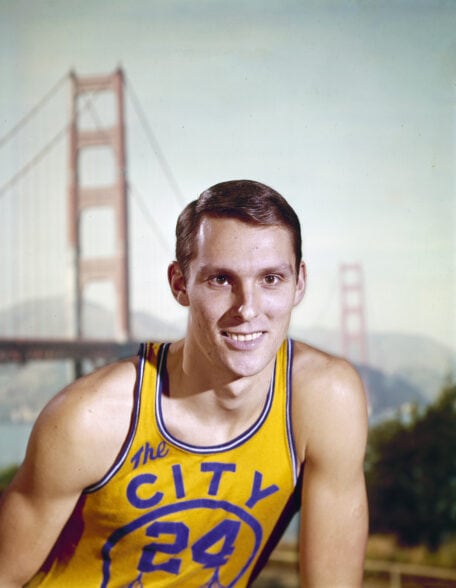 Barry didn't need the Warriors' 1975 title to validate his greatness, but his leading of that most unique championship winner does place him in distinguished company.
The Golden State Warriors roster from that season was not littered with All-Stars. In fact, they represent something of a cliché more than anything else. Each man knew and understood his role. And during the 1975 postseason, despite twice facing elimination in the Western Conference finals against Chicago and entering The Finals with Washington as vast underdogs, these Warriors performed when it mattered.
What you're about to see is an ode to Barry during his finest hour. He dominated Game 6 of the Conference finals at Chicago, down 3-2, by scoring 36 points. In the two home games of the championship series against the Bullets, he scored 74 points, doing so in typical Barry fashion -- from everywhere. In Game 4, with a sweep beckoning, the journey came full circle. It had been eight years since Barry left the Warriors for the ABA, taking with him any hopes for a serious shot at contending. He had returned older and more rounded as a player, and in this most unlikely of championship runs, he was never better.
For those who value what takes place within the confines of a basketball court above all else, Barry's place in history is secure. With the ball in his hands and squared up to a defender, there was nothing he was not capable of, as his pursuit for perfection waged a career-long arm-wrestle with his disdain for mediocrity. The three segments of his career -- the ascent, the defection, and the return -- make for a fascinating story. And when making the short list of the very best forwards to have played this game, Barry's name is a certainty.