The gigantic mitts span 11.25 inches with a length of 9.75 inches, enabling Kawhi Leonard to grip the entire NBA world in the palm of his hands and blossom into one of the best two-way players this league has ever seen.
You could even make the argument that Leonard is the greatest two-way player of the current generation, and he's got the hardware to back up the claim. A two-time NBA champion with two Finals MVP awards and two Defensive Player of the Year awards, Leonard, since 2013-14, has made an All-Defensive Team every season but 2017-18, when he sat out of all but nine games due to injury.
A man of few words, Leonard became the second-youngest player (Magic Johnson was the youngest at 20 in 1980) at 22 to win Finals MVP in 2014, when the San Antonio Spurs demolished the Miami Heat in five games. Fast forward five years, and you'll see where Leonard served as the catalyst in leading Toronto to its only NBA title, nailing the first Game 7 buzzer-beater in NBA history during the Eastern Conference semifinals along the way.
It was an unpopular move among the players at the time, but San Antonio traded point guard George Hill on Draft night of 2011 to Indiana for the Draft rights to Kawhi Leonard, who was selected with the 15th pick.
Even Spurs coach Gregg Popovich struggled to stomach the idea of trading Hill, whom he often refers to as "my favorite player."
"George Hill was one of my favorites, but it was kind of a small lineup to have Tony, Georgie and Manu at the 3," Popovich explained. "That's just not strong enough, big enough. It doesn't work. We needed a bigger 3 in today's NBA. We saw his body. We saw his toughness at San Diego State. He was more of an inside guy than he was an outside guy. But he looked like he had the feet and basketball knowledge; like you'd see when he'd get a rebound, you'd see when he'd make a pass that he kind of understood how to play. We saw a body we thought could be changed pretty easily into a perimeter player. We were willing to take a chance on it."
Still, the franchise never expected Leonard to grow into the generational type of player we see today.
"I'd be lying if I told you we knew he was gonna be the Defensive Player of the Year or we knew he was going to shoot 50% from 3," Popovich said.
That's a credit to San Antonio's player-development staff, but it's more of a testament to the hard work put in by Leonard, not to mention his relentless drive for greatness. We caught our first glimpse of Leonard's work paying off on Feb. 21, 2012, when the rookie scored a team-high 24 points in a 137-97 loss to the Portland Trail Blazers as the big three of Tim Duncan, Tony Parker, and Manu Ginobili watched from the bench as inactives.
Leonard shot 9 of 14 from the field and 2 of 4 from deep that night to go with 10 rebounds and a game-high five steals.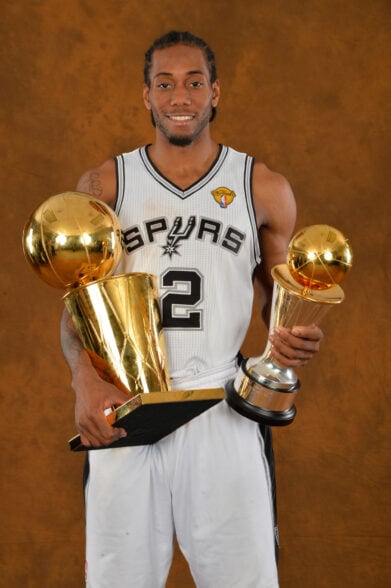 The astounding part about watching these next clips is the fact that Leonard still hadn't yet fully developed into a full-blown superstar in the NBA.
He averaged 17.8 points, 6.4 rebounds, 2.0 assists, 1.6 steals and 1.2 blocks in the 2014 NBA Finals, connecting on 61.2% from the field and 57.9% from 3-point range.
Leonard waited until the last three games of this series to crank up his production, pouring in a career-high 29 points in Game 3 on 10-of-13 shooting, 20 points in Game 4 and a team-high 22 points in the series-clinching Game 5 to go with nine rebounds, two assists, a steal and a block. Most notably, Leonard limited the impact of four-time NBA MVP LeBron James throughout the series.
When commissioner Adam Silver announced Leonard as the Finals MVP, teammates mobbed the forward, who for the first time would openly display an outpouring of emotions.
"Everybody is just living in the moment right now," Leonard said, just after accepting the award from 11-time NBA champion Bill Russell.
Added Popovich at the time: "He wants more. He wants me and the coaches to push him. So, I just talked to him about [not] being in that defer sort of stage. The hell with Tony, the hell with Timmy, the hell with Manu. You play the game. You are the man."
In Toronto, it's known simply as "The Shot."  And Kawhi Leonard hoisted a game-high 39 shots that night, more than twice as many as any other player on the floor. But "The Shot," this rainbow over the outstretched hands of 7-footer Joel Embiid registered as the first Game 7 buzzer-beater in NBA history, propelling the Raptors to their first and only NBA title. With the score tied and a little more than four seconds remaining, Leonard took possession and sprinted hard toward the corner in front of Toronto's bench with Ben Simmons chasing him. As Leonard sped around Simmons, you can see Embiid closing out fast. Hurriedly, Leonard lofts up the shot over Embiid's monstrous reach.
The ball hits the rim and bounces straight up, as Toronto fans collectively hold their breath. Three more slow bounces and it falls through the cylinder, punctuating Leonard's 41-point night and sending the Raptors to the Eastern Conference Finals to face Milwaukee.
Here is a replay of that shot and moment, one of the most dramatic sequences in NBA history, and one that will be forever etched in Toronto's long sports history. 
These massive hands earned Leonard the nickname "The Klaw." It's what he's done with them that puts Leonard squarely in the conversation when debating the best players of the current generation. In 10 NBA seasons, Leonard has reached the century mark in steals on six occasions, including a career-high 148 during the 2014-15 season, when he won one of his two NBA Defensive Player of the Year awards. He's finished with 50 blocks or more three times in his career.
You want the ultimate Kawhi Leonard highlight reel?  Here it is. Over the course of these 30 plays, you'll see exactly how Leonard uses his gigantic hands to put together some of the most eye-popping sequences you've ever seen on the court. One-handed lobs on the move, powerful dunks, steals, pinpoint-accurate 3-pointers … Leonard utilizes every physical attribute at his disposal to frustrate and stymy opponents, leading to victory after victory.
This, folks, is what you call two-way excellence.