The nickname nearly tells the whole story. "Big Game James" was an integral part of the Los Angeles Lakers' 1980s dynasty, and the moniker explains why.  The explosive, versatile, athletic forward from North Carolina always came through in the clutch, and his presence on the Lakers turned a very good team into a great team, arguably one of the best ever.   
Worthy helped the Showtime Lakers win three NBA championships -- 1985, 1987, 1988 -- and that repeat title in '88 is where he produced his finest performance, averaging 22 points, 7.4 rebounds and 4.4 assists and earning Finals MVP honors. In the colossal Game 7 vs. Detroit, Worthy registered a triple-double with 36 points, 16 rebounds and 10 assists.
Magic Johnson was the flashy engine that ran the Lakers' fast break.  Kareem Abdul-Jabbar was the captain the team leaned on when it needed a crucial bucket. But the Lakers would not have fully delivered Showtime in the '80s if not for Worthy's versatility, his ability to do everything on the court almost every time the Lakers needed a signature win.
Any fan should want to watch any of the regular-season games (717) or playoff appearances (141) that Worthy made during his 12-year NBA career with the Lakers. For those that hardly have the available hours to watch games in their entirety, it is surely worth your time to see highlights of Worthy's most impressive and important playoff performances.
In the Lakers' decisive Game 7 victory over the Pistons in the 1988 Finals, Worthy ensured the Lakers their first back-to-back titles since moving to L.A.
Sure, the box score tells some of the story -- double digits in points, rebounds and assists. But the clips you're about to see explain how Worthy posted such numbers. Worthy showed disciplined footwork and explosive quickness to create open shots. He displayed infectious hustle to save loose balls and make defensive stops. And he filled any gaps that Johnson, Abdul-Jabbar, Michael Cooper, Byron Scott and the rest of the team left vacant.
Worthy's "Big Game" propensity led to some post-career developments: The Lakers retired his No. 42 jersey in 1995; the NBA named Worthy one of its 50 greatest players following its 50th season (1996); the Naismith Memorial Basketball Hall of Fame inducted Worthy in 2003;  and this year the NBA included Worthy on its list of the league's 75 greatest players. Worthy earned these accolades by excelling as a position-less and versatile player well before that became fashionable in the modern NBA.
Simply put, Worthy fully lived up to his potential -- and then some -- after the Lakers selected him with the No. 1 pick in the 1982 Draft. The Lakers had the top pick a season after winning the NBA title because they acquired the pick from Cleveland in exchange for Don Ford in 1979. With Cleveland finishing with the league's worst record, the Lakers secured the pick via a coinflip over the San Diego Clippers.
It may not have surprised the Lakers that they could turn such luck into such fortune. Worthy had just led North Carolina to a national championship during his junior season. He also learned the values of fundamentals and team play under one of college basketball's most accomplished and respected coaches, Dean Smith. But Worthy excelled at navigating obstacles, and that included fitting in with future Hall-of-Famers, overcoming a serious leg injury his rookie season, and bouncing back from early playoff disappointment.
Unlike other top draft picks, Worthy didn't face the expectations of becoming a franchise savior. The Lakers already had won two NBA championships with Johnson, Abdul-Jabbar, Jamaal Wilkes and Norm Nixon. So Worthy spent his rookie season caring little about playing-time or touches. He cared more about showing his worth with his offensive fundamentals and defensive hustle.
Consider what Worthy showed in just his 13th NBA game. Against the Seattle Supersonics, Worthy finished with 26 points, nine rebounds and five assists by displaying qualities reserved usually for accomplished veterans. He threw off defenders with nifty spin moves. He fronted the passing lanes with his agile body and spatial awareness. He positioned himself near the glass anytime an opponent took a shot. He sprinted toward the other side of the court when the Lakers ran a fast break.
Worthy appeared on pace to win the NBA's Rookie of the Year award. He had averaged 13.4 points on 57.9% shooting along with 5.2 rebounds, which ranked first among rookies in the 1982-83 season. But then Worthy suffered an injury that halted his rookie season and the Lakers' championship hopes.
Worthy fractured his left tibia after landing awkwardly following a failed put-back attempt against the Phoenix Suns. Worthy then stayed sidelined for the Lakers' playoff run. With the Lakers missing Worthy's versatility, the Philadelphia 76ers swept them in the NBA Finals.
After a disciplined rehab regimen, Worthy returned for his second NBA season (1983-84), posting similar numbers in points (14.5), shooting percentage (55.6%) and rebounds (6.3) without missing a single game. Worthy still encountered some early NBA-career adversity though.
In Game 2 of the 1984 NBA Finals against the hated Boston Celtics, Worthy threw a costly cross-court pass that led to a turnover and an eventual loss.
Just like with his season-ending injury during his rookie campaign, Worthy used that setback as a learning experience.
In the very next Finals game, Worthy threw a vicious dunk over Celtics forward Cedric Maxwell. To this day, Worthy often gloats about posterizing his Celtics' rival.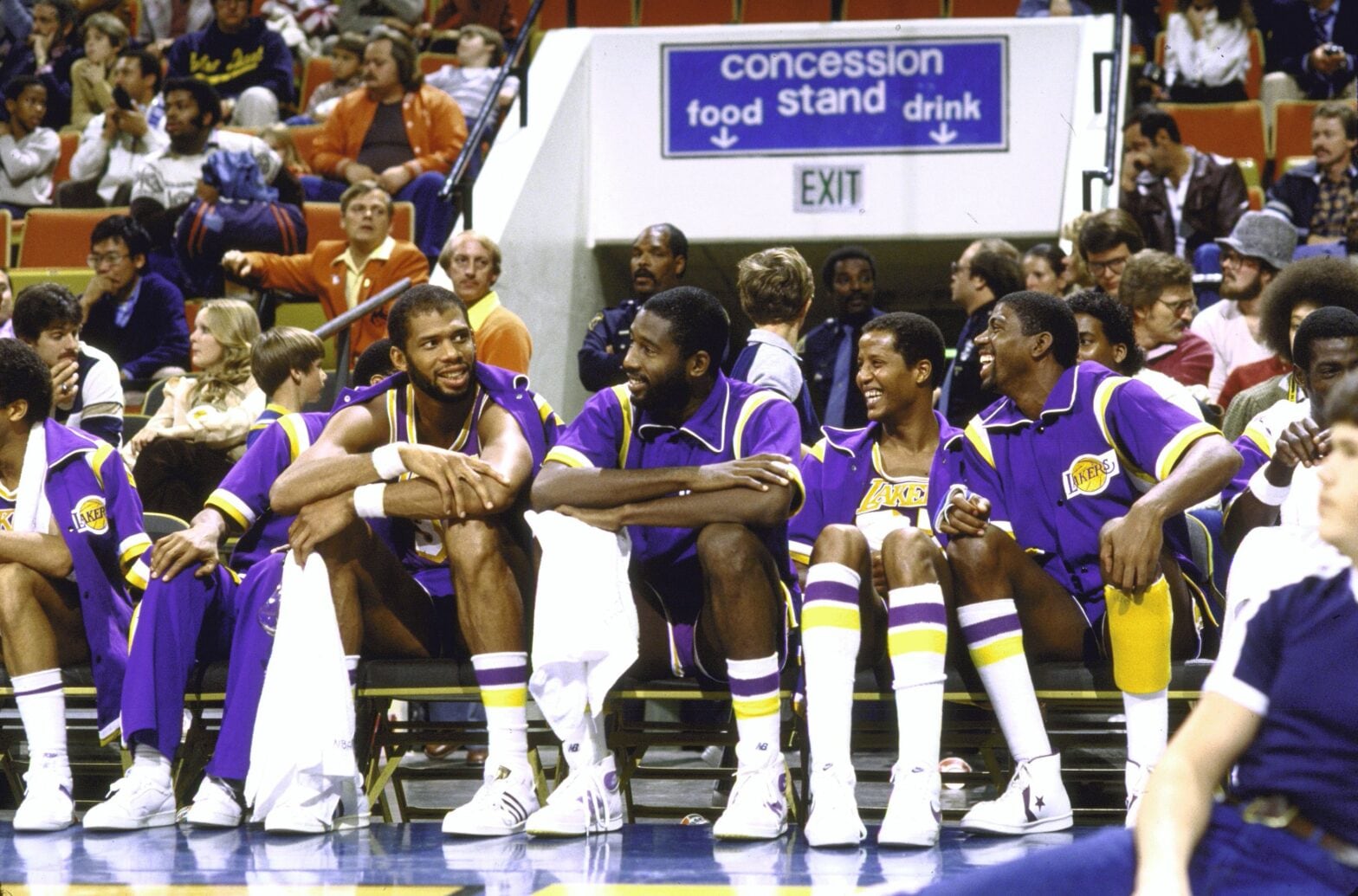 Worthy also applied preventative problem-solving with future injuries after suffering a scratched cornea in a regular-season game against the Utah Jazz. Worthy wore goggles for the remainder of his NBA career to protect his eyes and assure him that he could go about his job with relentlessness. No surprise then that Worthy was a major factor in the Lakers beating the Celtics in the 1985 NBA Finals for the first time in the rivalry's history. During that six-game series, Worthy ranked second on the team in points per game (23.7), second in shooting percentage (56.4%), third in rebounds (4.5) and third in assists (3.2).
Rarely did the Lakers feel dissatisfied with Worthy's play. But given the team's lust for championships, they always kept a wandering eye in case something more attractive came along to ensure the Hollywood glitter remained bright. In 1986, the Lakers entertained dealing Worthy to the Dallas Mavericks for Mark Aguirre and Roy Tarpley. But Lakers general manager Jerry West and head coach Pat Riley convinced owner Jerry Buss not to go through with the deal.
Good thing Buss listened. Two years later, Worthy showed the Lakers how that trade might have backfired. Facing Dallas (as well as Aguirre and Tarpley) in the 1988 Western Conference Finals, Worthy led the Lakers in scoring (23.4 PPG) and steals (12) and was second in total rebounds (35) and third in total assists (35). In a decisive Game 7 victory, Worthy led the Lakers  with 28 points, seven assists and seven rebounds.
Worthy craved high-stakes games, and performed better in the playoffs (21.1 points, 3.2 assists) than he did during the regular season (17.6 points, 1.9 assists). And nothing epitomized his "Big Game" nickname more than those 1988 Finals, where Worthy walked away with the   Finals MVP trophy and created a slew of highlights that routinely victimized the Pistons' Dennis Rodman and John Salley. 
Scour all the highlights that capture Worthy's Hall-of-Fame career, and it feels like watching an artist at work, a technician who's almost always perfect. Not a hyperbolic statement, by any means. In the video below, a handful of dancers note how Worthy's play on the court reminds them of their own craft: The footwork, the balance, the flawless execution, the ability to pull of such moves in the hottest moments and on the biggest stages. 
Put all of that together, and you see why teammates and fans came up with the nickname. Worthy was a big-game performer, on a big-time team.