When Elvin Hayes walked off the court in his final game on April 14, 1984, this is where 'The Great Accumulator' ranked all-time in league history in the following categories: First in minutes (with the tidy sum of exactly 50,000); first in games played; third in points (behind Kareem Abdul-Jabbar and Wilt Chamberlain); and third in rebounds (behind Chamberlain and Bill Russell).
The Hayes career statistical portfolio -- which at a glance is just this mass of numbers not entirely dissimilar to those found on a mathematician's blackboard -- contains as it does for all players the column for G (games).
But to its immediate right there should be a column for GM (games missed). In 16 seasons, his attendance was near-flawless; just nine times his teams went to battle without him in the regular season and playoffs combined. His attendance expressed as a percentage? Regular season: 99.31% (1,303 games played out of 1,312 possibilities). Playoffs: 100% (96 out of 96). We mentioned this was over 16 seasons, right? And perhaps even more impressive than that, only once – once! – did he miss consecutive games, and that came in January of 1976.
For those playing Hayes Injury Bingo, if you needed 'infected right elbow' for the win, congrats.
Between 1968 and 1984, Elvin Hayes -- the Big E -- was always going to show up, and he was always going to play hard.
Excluding the league's very first season -- which naturally was populated exclusively with rookies -- only Hayes (1969) and Wilt Chamberlain have led the league in scoring as first-year players. It's quite remarkable.
And it's difficult to envision that taking place again. For Hayes it came in San Diego as a member of the Rockets with an average of 28.4 points per game.
On the heels of a historic college career at the University of Houston, including his involvement in the famed 'Game of the Century' vs. Lew Alcindor's UCLA Bruins, his rookie season looks now as something of a halcyon year for debutants. Hayes was the NBA's scoring leader, and Wes Unseld – another rookie across the country in Baltimore – was the MVP.
Here, we journey back to 1969, to simpler times, when a player could simply have a singular letter on the back of his jersey.
We see a young Elvin Hayes, athletic, with an early impression of his famed turnaround jump shot and some sky-scraping blocked shots.
The low block was where Hayes made his living. He had the ability to have his back completely square to the basket and turn either way to release his signature turnaround. Because he typically gave no inclination before the move, by the time his defender reacted it was usually too late, and thus, unblockable. But despite receiving criticism throughout his career for not expanding the skills first lauded when he burst upon the scene in San Diego, the flip side was no one could stop those few moves as it was. If the three tentpoles of the Hayes package were his turnaround, his face-up jump shot (which ranged out to 20-feet), and his powerful driving game – and no one could stop them -- then his methodology was to run those wells dry.
With the help of Red Auerbach, listen here as Hayes unpacks the various avenues he used to score the basketball.
The low-down on Hayes is this: 27,313 points, a career-high 28.7 per game in 1971, and a whopping 10 seasons averaging better than 20 points per game. And when he decided to have a big game, Washington rarely lost. The Bullets were an incredible 87-19 from 1974 through 1981 when Hayes hit for more than 30. In an era of parity in the league, Hayes helped make Washington a perennial force.
We have chronicled the durability, and Hayes himself has explained the offensive weaponry.  Now, the other element that made Hayes great: His consistency. Here we take a closer look at Hayes' scoring prowess over the course of his career, with words from his championship coach Dick Motta and his formidable frontline cohort Unseld.
Placing emphasis for a moment on that last Unseld quote about Hayes from that piece: "When he made his mind up to destroy somebody, that person didn't have much of a chance."
One occasion that Hayes made his mind up was Game 7 of the 1979 Eastern Conference semifinals. The somebody: The Atlanta Hawks. The 1979 season, following up the Bullets' 1978 championship run, had been a successful one, resulting in a league-leading 54 wins, which helped Hayes finish third in league Most Valuable Player voting and claim the CBS "Player of the Year" award.
In returning to the Finals and a rematch with the SuperSonics, Washington, as is the right of passage for the reigning champion, fiercely defended its title by enduring two seven-game series, the first coming against a pesky Hawks squad.
Hayes had been questioned at times throughout his career for his ability to come through in the clutch, yet there's no denying his performance in this one. With President Jimmy Carter among those in attendance, it was a Red on Roundball clinic come to life, with each Hawks defensive adjustment ending the same way, with Hayes scoring. The result: 39 points and 15 rebounds while playing every minute as the Bullets survived a winner-take-all.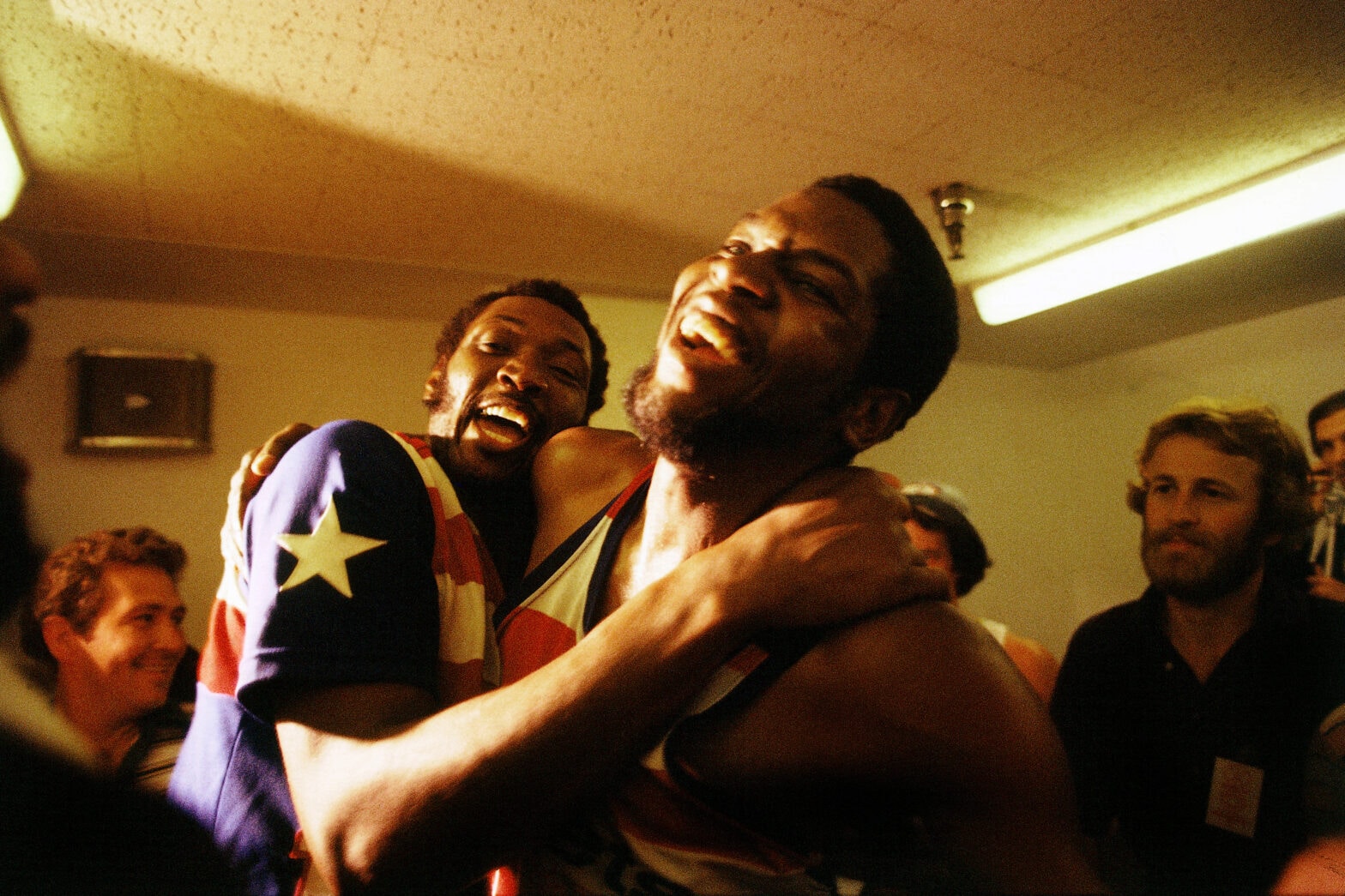 Hayes the scorer. Hayes the rebounder. Hayes the ironman. Hayes the dunker? Perhaps pump the breaks on that one, even after taking in this next delight from the vault. The array of dunks may be, shall we say, a little vanilla. But full credit is due because the man Hayes takes down is Darryl Dawkins, a certified dunking artist.  And we're offering no apologies for that spoiler – this competition aired 45 years ago!
Filmed Oct. 17, 1976, in Towson, Md., and airing April 17, 1977 during playoff coverage on national television, we're going back to the merger year for this primitive yet oh-so-cool look at Hayes in the NBA on CBS Slam Dunk Competition.
Between 1969 and 1980, there wasn't an NBA All-Star Game without Hayes present. Three times his Bullets advanced to the Finals with him leading the way, beating out the likes of John Havlicek's Celtics, Julius Erving's Sixers, and George Gervin's Spurs just to get there. His playing record blushes in the company of no other, and for the countless wonderful players this league has produced over the course of 75 years, he deserves to be remembered.
So we exit the Hayes vault in the most fitting way. First, we take in the ultimate career look, one that chronicles the very essence of this most durable player.
And to finish, this all-encompassing compilation spotlights the very best of Hayes. We see the early incarnation, an athletic player, ripping shots out of the air and ball off the glass. Then the prime version, the one who plied many an honest night's work in Landover. How good was Elvin Hayes? Let the film decide.