The year is 1977. You, devoted basketball fan, are holding in your hands the latest copy of the "Official NBA Guide," which features recent Finals MVP Bill Walton of the champion Portland Trail Blazers on the cover. About halfway through the publication you come across the "All-Time Leaders" section, and amid a maze of glittering statistics covering a league still very much in the process of building a decorated history, your finger runs down the page to the list of players with the highest scoring averages ever. This is what you see:
Wilt Chamberlain - 30.1 PPG
Kareem Abdul-Jabbar - 29.5 PPG
Bob McAdoo - 28.0 PPG
Consider for a moment McAdoo's grand entrance into professional basketball. Year 1: Rookie of the Year. Year 2: First scoring title. Year 3: Most Valuable Player. Year 4: Just the fourth man in history to lead the NBA in scoring in three consecutive seasons. Upon completion of his fifth campaign, and at just 25, he was now eligible for residence on the all-time scoring leaders list -- and the only two names ahead of him were the man who at the time had the most points ever (Chamberlain) and the man who would later take that mantle (Abdul-Jabbar).
So this is the deal: You came here for cool footage and you're going to get it. Presenting the very best we could find in the vault of young Bob McAdoo, Buffalo Braves Bob McAdoo, with those beautiful blue uniforms, solid white wristbands, and flick-release on a jump shot that some at the time were calling the greatest ever. Oh, and he played center. Don't believe it? Watch.
Remarkably, McAdoo was 23 when he won the 1975 Most Valuable Player award. At the time, only Wes Unseld had won it at a younger age (22). McAdoo averaged 34.5 points per game that season, which remains the highest ever for a center not named Chamberlain or Abdul-Jabbar, and he led the Braves to the league's third-best record. Buffalo -- guided by the great Jack Ramsay -- appeared to be a team with a serious future, and it all started with McAdoo. What was the McAdoo experience like? Here, we go back to very early in that season, to "Big Mac" lighting up the expansion New Orleans Jazz for 74 points across two games. We aren't presenting merely a jump-shooter here, but instead highlighting the total package, including a powerful inside game, explosive rebounding, and rim protection. And when that season ended, the players voted on who they thought the best player was in basketball. Their vote was for Bob McAdoo.
It appeared in agate type in newspapers on Sept. 13, 1973, the day following the trade's approval. Braves center Elmore Smith was moved to the Lakers in exchange for small forward Jim McMillian, a transaction that hardly caused reverberations on either coast. However, it brought about McAdoo's move from forward -- where he plied his trade as a rookie -- to center. Simply put, his skill set was devastating for any big man to contend with, even in an era of wonderfully diverse centers with no two alike; think Cowens, Lanier, Reed, Thurmond, Unseld, and of course Abdul-Jabbar.
McAdoo's game was built upon an uncommon speed -- both in transition and with ball in hand – an athleticism that accentuated his truly explosive offensive game. And that jump shot, oh that jump shot: High leap, sharp flick of the wrist, ability to launch from great distance, and of course, net. Even if he had remained a forward, McAdoo's skills when paired with his build -- he stood 6-foot-9 -- made him one of the most fascinating frontcourt players of his or any generation.
The inspiration behind his style was from facing creative defenses as a youngster and from getting an up-close look at a legend.
The Buffalo Braves, like bellbottoms and afros, seem now to be a relic from the 1970s.  But there was once a time when they commanded national attention. On Friday night, April 18, 1975, in Buffalo's Memorial Auditorium, McAdoo scored 50 points and grabbed 21 rebounds in a nationally televised playoff game against the Bullets. Occurrences in the subsequent 47 seasons of a player scoring at least 50 points and grabbing at least 20 rebounds in a postseason game: Zero.
Two days later, once again on the big stage, McAdoo was the subject of this long-lost halftime feature. Not only does it examine his wondrous game, but also how he -- the current MVP and the current scoring-title holder -- was handling his newfound fame.
Something unusual happened to McAdoo in his late 20s, in what should have been the best years of his career: He became a vagabond. Buffalo, New York, Boston, Detroit, New Jersey, and, at the start of the 1981-82 season, his living room. Even in retrospect that period of his career remains baffling, especially for a player of McAdoo's talent. He had been an All-Star with the Knicks. He had even entered the final day of the 1978 season mathematically with a chance to win another scoring title, a silent partner in the Gervin-Thompson firm that chased history on that memorable day. But with each move, each injury, each new team, questions grew about his ability to ever get back to those days with the Braves. And could he do it on a winner?
On Christmas Eve, 1981, the Lakers took a chance, adding McAdoo as they sought to recapture their 1980 title after a disappointing 1981 season. And just as quick as he had disappeared, McAdoo was back, this time as the ideal reserve on a high-powered team. That postseason, the Lakers had San Antonio down 3-0 in the Western Conference Finals, and in the fourth game, with a trip to his first Finals awaiting, McAdoo proved he still had the touch.
In the Finals against Philadelphia, McAdoo delivered in a big way. He was one of six Lakers to average double-figures in the series (16.3 points per game) and did so on 56.9% from the field, mostly coming from the outside. He fell just two votes short of Magic Johnson for Finals MVP, and it wasn't until 2015 that another reserve recorded even one Finals MVP vote. It had been a long, winding road to championship validation for McAdoo, but he had proven himself a winner. And in a crucial moment in the fourth quarter of Game 4, he showed just how desperate he was to get that elusive first ring.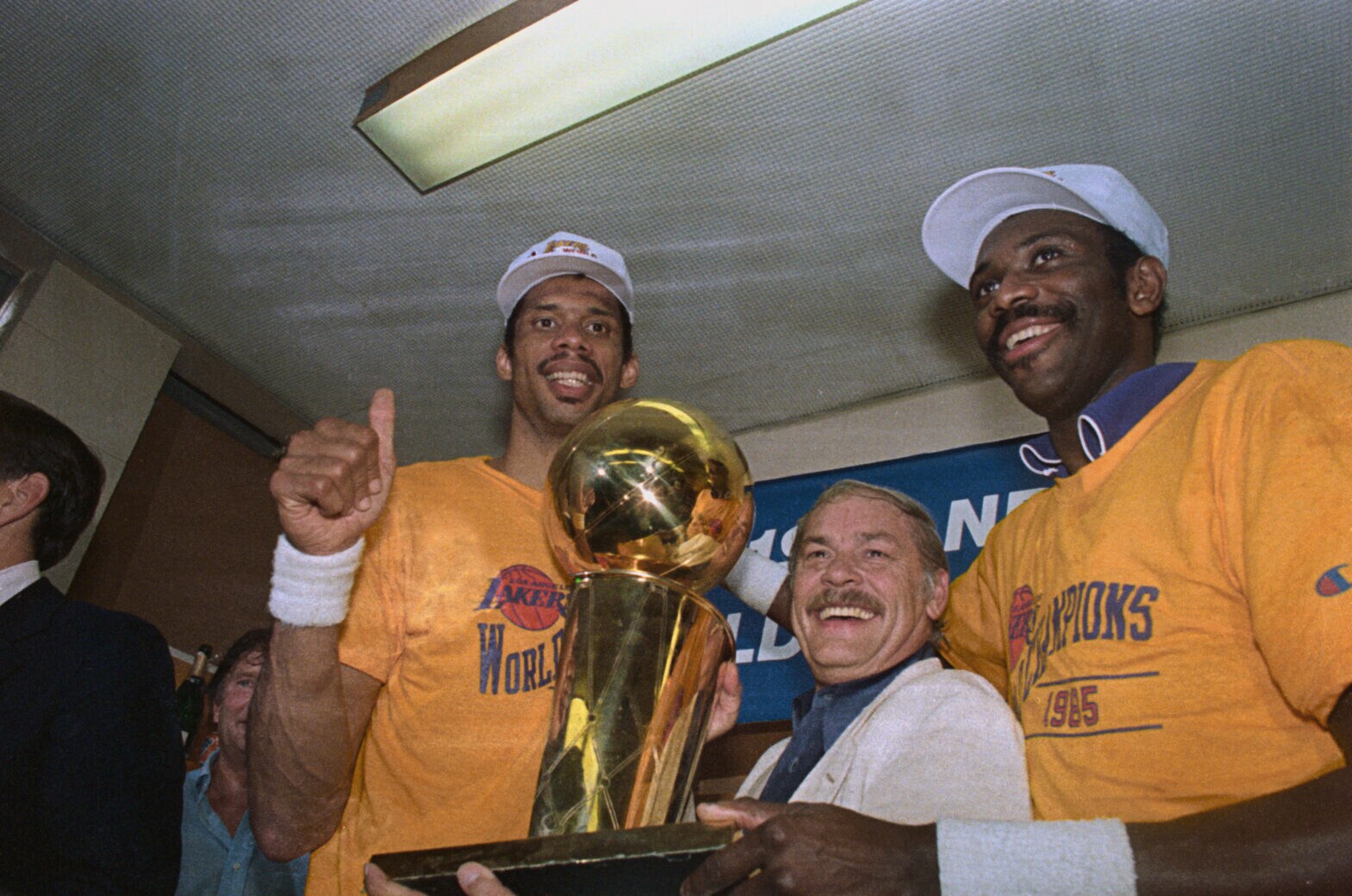 Question: Is shooting a basketball a permanent skill? Is it like riding a bicycle, with that muscle memory forever ingrained? If your name is Bob McAdoo, then the answer is an emphatic yes. His NBA career ended in 1986, but that wasn't the conclusion of him playing professional basketball. McAdoo joined Tracer Milano in Italy and thus commenced a second life.
It just so happened that McAdoo's team was one of three chosen to compete in the inaugural McDonald's Basketball Open, held in Milwaukee in 1987, a goodwill tournament bringing together basketball teams from across the globe. In two games against the Milwaukee Bucks and the USSR, the then-36-year-old McAdoo scored 37 points in each. In fact, in lighting up the Bucks, he set a mark for an international player against NBA competition for that particular tournament that went unmatched.
What you're about to see is very cool. Here's the best of McAdoo from his performance against the Soviet Union, in a tournament that proved to be his last appearance in an NBA arena.
Few players have burst onto the scene as Bob McAdoo did in the early '70s, and few were as good at scoring the basketball when he was in his prime. And though the trajectory of his career took a fascinating detour, he eventually found his place on a generational team in Los Angeles, becoming a vital cog on a squad that went on to dominate a decade. We leave the McAdoo vault with this all-encompassing look at his career, and while the journey was as unusual as his playing style, we are left with both visual and statistical evidence that show he was one of the greatest and most unique centers ever.