Five-Time NBA Champion
1998 Rookie of the Year
14th All-Time: Career Points
Career Shot Chart by Season
5th All-Time: Career Blocks
6th All-Time: Career Rebounds
Tim Duncan's career rebounds total is 15,091. Benchmark graphic for 15,000 rebounds shown below.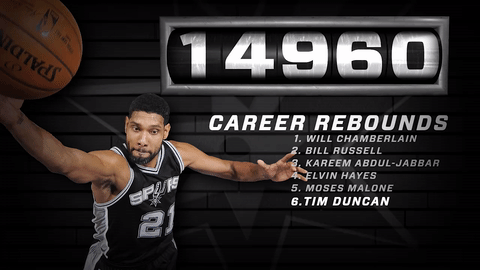 3rd All-Time: Career Wins
Most Career Playoff Minutes Played
15-Time NBA All-Star
15-Time All-NBA Team Selections
15-Time All-Defensive Team Selection
Two-Time NBA MVP
Three-Time NBA Finals MVP
2014-15 Twyman-Stokes Teammate of the Year
In a season where he was named an All-Star and was named to the All-NBA and All-Defensive teams all for the 15th time, he's being honored for his selflessness.
It's an award that goes far beyond statistics, to the moments that may not get noticed as much. It's for the times Duncan is the first player to talk to a teammate on the bench or during timeouts, the lifelong relationships he's built over dinners or paintball and the way he's mentored younger players.
Read Full Story