76ERS WILL RECOGNIZE MORE THAN 500 LOCAL MILITARY MEMBERS AT GAME VS. ATLANTA

CO-BRANDED TOYOTA-76ERS RALLY TOWEL GIVEAWAY FOR FIRST 5,000 FANS IN ATTENDANCE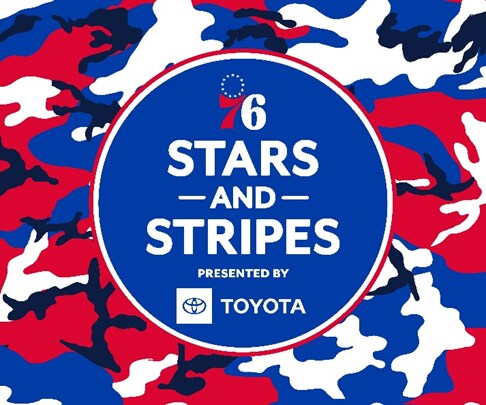 PHILADELPHIA — NOV. 9, 2022 — The Philadelphia 76ers announced today details for its annual "Stars & Stripes" initiative, in partnership with Toyota. As part of the campaign, the 76ers will host Military Appreciation Night, presented by Toyota, on Saturday, Nov. 12 at 7:30 p.m. ET against the Atlanta Hawks. The first 5,000 fans in attendance will receive a co-branded Toyota and 76ers rally towel.

The NBA, its teams, and its players have a long history of collaborating with the military. The 76ers and Toyota's annual "Stars & Stripes" initiative enhances the NBA's mission to honor the military and their families, veteran-serving organizations, and retired servicemen and women.

"The 76ers are proud to partner with Toyota for our seventh year to recognize our veterans and active military throughout the season, and in a big way during Military Appreciation month," said Owen Morin, Senior Vice President, Corporate Partnerships. "We are so thankful for the individuals who sacrifice to protect our freedom and this is just one small way we can express our gratitude." "The Tri-State Toyota Dealers are pleased and honored to continue in the tradition of joining the Philadelphia 76ers to support our active military and veterans here in the Delaware Valley. These are our local service men and women to recognize and support, and, to be able to do that alongside the 76ers for more than seven years is a privilege. We are so proud to take part in this collaboration." said Paul Muller, President of the Tri-State Toyota Dealers Association.
Stars & Stripes Basketball Clinic, presented by Toyota:
The "Stars & Stripes" initiative kicks off on Thursday, Nov. 10 when the 76ers and Toyota host the Stars & Stripes Clinic, presented by Toyota, for over 30 military youth from the USO. The youth will participate in basketball drills led by Jr. 76ers coaches at the Philadelphia 76ers Training Complex in Camden. See details below:
Toyota Stars & Stripes Basketball Clinic
Location: Philadelphia 76ers Training Complex
Date: Nov. 10, 2022
Time: 6:00-7:30 p.m.
Military Appreciation Night, presented by Toyota, Celebrations and Honors:
On Saturday, Nov. 12, during their game against the Atlanta Hawks, the 76ers will celebrate more than 500 active and retired servicemen and women during various recognitions throughout Military Appreciation Night. During the national anthem, members of Joint Base McGuire-Dix-Lakehurst will hold a 1,700-square-foot American flag. The 76ers and Toyota will also honor Eugene Richardson, Original Tuskegee Airman (DOTA) Advisor, with the Salute of the Game.

Just before tip-off on Military Appreciation Night, presented by Toyota, the 76ers will provide Toyota Ambassadors Army Staff Sgt. Rico Roman and Army LT. Melissa Stockwell with on-court access to join the Captain's Huddle and present the game ball to the referees. Both will serve as honorary captains for the game that evening.

Army Staff Sgt. Rico Roman is a Team Toyota Athlete, a three-time Paralympian, and a three-time gold medalist in the sport of sled hockey. He is also a Purple Heart recipient; he had his left leg amputated above the knee when wounded while serving his third tour in Iraq in February 2007.

As a Paralympian and Team Toyota Athlete, Army LT. Melissa Stockwell is an Ambassador for Toyota's Hiring Our Heroes program, which helps veterans transition back to civilian life. While deployed in Iraq with the U.S. Army, LT. Stockwell lost her leg after her vehicle was struck by a roadside bomb.

The 76ers' P.J. Tucker spent part of his childhood living in Germany while his father served in the Army. Tucker will join LT. Stockwell in conversation, which will be shared in-arena during Military Appreciation Night. Pieces of the conversation will also be shared on @sixers and @sixersstrong social platforms on Nov. 11.

At halftime, active servicemembers from each branch of the military will present customized jerseys to local veterans from equivalent military branches. Fans will also see 76ers coaches wearing commemorative "Stars & Stripes" lapel pins in conjunction with Military Appreciation Night, presented by Toyota. As part of the night's tributes, 76ers ENT, including mascot Franklin and Squad 76, will wear military-themed gear. 76ers fans will have the opportunity to sign a 16-foot "Thank You For Your Service" banner located in the Broad Street Atrium.
Season of Giving Event, presented by Toyota:
The following week, on Tuesday, Nov. 15, the 76ers and Toyota will host a Season of Giving event in partnership with the USO (see below details). The USO strengthens America's military servicemembers by keeping them connected to family, home and country, throughout their service to the nation. More than 200 volunteers, including 76ers staff and members of Toyota will work together to package 5,000 on-the-go care kits and write 5,000 letters to send to Military Members. 76ers Mascot Franklin, 76ers Ambassador World B. Free, Squad 76, and select 76ers players will also join the efforts.
Toyota Season Of Giving All Staff Day of Service
Date: Nov. 15, 2022
Location: 100 Clinton St., Camden, NJ 08103 (Battleship in Camden on the water)
Time: 2:00- 4:00 p.m.
Military Appreciate Month Ticket Offer:
Treat your favorite military service member to a Sixers game. Get a special rate using CODE: THANKYOU. https://fevo.me/3WCoJfs
ABOUT THE PHILADELPHIA 76ERS:
The Philadelphia 76ers are one of the most storied franchises in the National Basketball Association, having won three World Championships, earning nine trips to The Finals and making 52 playoff appearances over 73 seasons. The Philadelphia 76ers organization is a Harris Blitzer Sports & Entertainment property.
ABOUT TRI-STATE TOYOTA DEALERS ASSOCIATION:
The Tri-State Toyota Dealers Association (TDA) is comprised of 25 Toyota Dealers in the Greater Philadelphia market dedicated to providing customers in Southeastern Pennsylvania, Northwestern Delaware and Southern New Jersey communities with Toyota vehicle sales and service.
ABOUT TOYOTA:
Toyota (NYSE:TM) has been a part of the cultural fabric in North America for more than 60 years, and is committed to advancing sustainable, next-generation mobility through our Toyota and Lexus brands, plus our more than 1,800 dealerships.

Toyota directly employs more than 48,000 people in North America who have contributed to the design, engineering, and assembly of nearly 43 million cars and trucks at our 13 manufacturing plants. By 2025, Toyota's 14th plant in North Carolina will begin to manufacture automotive batteries for electrified vehicles. With the more electrified vehicles on the road than any other automaker, more than a quarter of the company's 2021 North American sales were electrified.

Through its Start Your Impossible campaign, Toyota highlights the way it partners with community, civic, academic and governmental organizations to address our society's most pressing mobility challenges. We believe that when people are free to move, anything is possible. For more information about Toyota, visit www.toyotanewsroom.com.