2014-15 Preview: Tony Wroten
Before joining the Sixers last summer, Tony Wroten had just 272 NBA minutes to his name. The 6'6" combo guard was coming off a rookie campaign with the Grizzlies in which he split time between Memphis, where he played in 35 games, and Reno, where he made 11 appearances for the Bighorns of the NBA Development League. As a 19-year-old rookie with a Grizzlies team that won 56 games and reached the Western Conference Finals, he played a largely redshirt role, learning under the tutelage of veteran guard and mentor Tony Allen.
On August 22, 2013, the Memphis Grizzlies reached an agreement to send Wroten, the 25th-overall pick in 2012, to Philadelphia in exchange for a heavily protected second-round pick in 2014 (which was not conveyed) and cap relief. The move brought the Grizzlies under the league's luxury tax line and allowed the Sixers to turn excess cap space into an intriguing prospect. 
Playing for a Philadelphia team that was amongst the youngest in league history, Wroten immediately earned playing time. He logged between 16 and 26 minutes in each of Philadelphia's first eight games in 2013-14 before being thrust into the starting lineup in place of an injured Michael Carter-Williams on November 13. In that game, a 123-117 overtime win over the Houston Rockets, Wroten notched 18 points, 11 assists, and 10 rebounds in 41 minutes of action, becoming the first player since starts became an official statistic in 1970 to post a triple-double in their first career start. 
The Washington alum would go on to start 16 games (in 72 appearances) during his sophomore campaign, averaging 17.8 points (43.2 FG%), 5.2 assists, and 4.4 rebounds in those contests.
Inside The Numbers: 2013-14
Over the past several years, NBA offenses have changed markedly in regard to pace and shot selection. One of the most well documented offensive trends has been the purge of 16 to 20-foot jumpers in favor of three-point attempts and shots closer to the rim. 
Perhaps no team provides a better example of this movement away from the midrange shot than the Sixers, who attempted 1,575 "long twos" in 2012-13 (second most in the NBA) but were able to reduce that number to just 796 (second fewest in the NBA) in Brett Brown's first year as head coach last season.
The impetus for the majority of these recent NBA trends is hard data that supports the advantage of change. Midrange shooting is no different. Below is a diagram courtesy of Grantland's Kirk Goldsberry that highlights the relative efficiency of threes and shots at the rim compared to midrange attempts.
•••
•••
Hover over that chart and compare it to Tony Wroten's offensive heat map from last season (via BasketballReference.com); warmer colors denote a higher volume of scoring from those areas. You'll see that nearly all of Wroten's scoring came from the red and orange, "high efficiency" locations on Goldsberry's chart.
In 2013-14, Tony Wroten attempted 808 shots. Of those, 599 came in the paint, 188 were threes, and just 21 were taken from midrange. Breaking it down further, all but 88 of his attempts in the painted area came from inside the charge circle; his 511 restricted area attempts placed him tenth in the league in that category, a remarkable feat considering that he logged just 1,765 minutes last season (24.5 per game). Russell Westbrook is the only other guard to eclipse 500 rim attempts in a season since 2011-12, notching 578 in 2012-13.
Like Westbrook, Wroten uses an explosive first step and impressive body control to slip by defenders and penetrate the lane with ease. With the implementation of SportsVU player tracking throughout the league, fans now have access the calculable data that can show this.
In 2013-14, Wroten scored 422 of his 939 points on drives to the basket. Amongst players who logged fewer than 25 minutes per game, Wroten's 422 points off drives ranked first by a margin of 140 points. Amazingly, only eight players last season scored more "attacking points" than Wroten, who also led the league in that category when adjusting for playing time (8.6 points per 36 minutes).
Snapshot Strengths
Creativity
Explosiveness
Passing
Swagger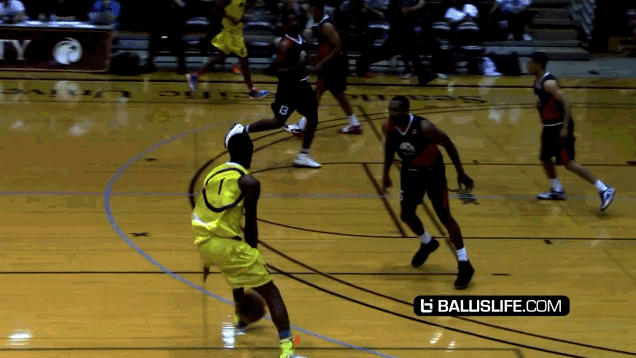 Looking Ahead
"He'll always go 100 miles per hour. Whether he can go from 80 to 20 or 50 to 70 and control his speed is always a challenge for somebody of his mindset and athleticism."
– Sixers head coach Brett Brown 
Tony Wroten may be the fourth most vested Sixer in terms of games played, but at just 21 years old he's also the fourth-youngest player on the roster. Like most young guards, his pace can be frenetic at times, but when one watches him play they can see the immense talent and impressive physical tools he possesses. 
Last season, Wroten became just the fourth player aged 20 or younger to average at least 25 points, six rebounds, and six assists per 100 possessions, joining LeBron James, Kyrie Irving, and Tyreke Evans. His common stats were impressive too – 13.0 points, 3.2 rebounds, and 3.0 assists in 24.5 minutes per game – but turnovers (2.8 per game) hurt his overall efficiency.
In 2014-15, Wroten will look to tighten up the loose ends in his game, cutting down on turnovers and continuing to hone his range from three-point territory, where he shot just 21.3% last season. With Michael Carter-Williams cemented as Philadelphia's starting point guard, Wroten will likely compete with guards Alexey Shved, Elliot Williams, and Casper Ware, as well as swingmen Hollis Thompson and K.J. McDaniels for the remaining minutes at the two backcourt spots.
Tell us what you expect to see from Tony Wroten this season in the comments below.  
More Player Capsules