showAd700x50();
Thursday September 16, 2010 4:45 PM
Q&A with Houston Rockets' 2-guard Kevin Martin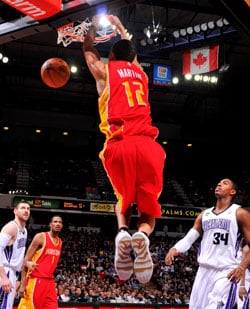 A more explosive Kevin Martin means big trouble for Rockets' opponents this season.
Jason Friedman
Rockets.com
HOUSTON - With the start of Rockets training camp rapidly approaching, the Toyota Center practice court is the place to be as players start ramping up the intensity level in an effort to make sure their games are good to go. You see a sharper focus during the various training drills players perform and the competition taking place during the daily scrimmages is certainly heating up as well.
So with the guys getting ready for the 2010-11 season, it's time for us to do our part as well. And what better way to do so than to catch up with the various members of the team to find out what they've been up to this summer? Today Rockets.com sat down with Mr. Efficiency himself, Kevin Martin.
JCF: I saw you mention in a story earlier this week that Rockets fans didn't get to see the real Kevin Martin last year. So tell us who the real Kevin Martin is and what fans should expect to see from you this season.
KM: Just somebody who's more comfortable and more in a rhythm in the game. Last year I was picking and choosing spots, and picking and choosing games in an attempt to fit in and help our team win, because we do have so many great players. Some games that helps, but some games that hurts, too. So I just want to get back to being my old self and bring future success to this team because that's one of the ways it's going to happen: being in attack mode from day one.
JCF: When you talk about that comfort level, are you referring more to how you feel on the floor within the system and with your new teammates, or are you speaking more about just being a Houston Rocket, period?
KM: I think it's more just being a Houston Rocket, period. When I came to this team I never knew any of the guys. I had never played with any of these guys before. Being comfortable is about more than just feeling comfortable out on the court – it's off the court stuff also. Over the past six months I've been here, I've built some good relationships, so now I feel like I'm at home.
JCF: Who do you feel like you're closest to on the team right now?
KM: Well, since the signing of Brad Miller, I have to say him. But I also worked out with Courtney Lee this summer, and I also have a good relationship with Kyle Lowry and Aaron Brooks. Of course that's smart for a 2-guard to have a good relationship with his point guards – I'm no dummy (laughs). But it's just a great group of guys and I'm just excited to be here.
JCF: How do you see that backcourt pairing with you and Aaron working out over the long term? We saw flashes last season when you guys looked like one of the most explosive duos in the league. But clearly there's still plenty to work on as well.
KM: We just need to keep on building that trust in each other. It's definitely the best backcourt I've been a part of in the NBA. I played with Mike Bibby when he was averaging 20 per game but at the time I was only averaging 10, so we never really played with each other while we were both at the top of our games.
With Aaron developing into a great point guard in this league and where I'm at, I honestly feel like it's one of the top backcourts in the league. Even when I had just arrived here in February, it was crazy how quickly we clicked – it seemed like we'd been playing together for awhile.
JCF: Obviously Yao's presence will change things when he's on the floor as well. Have you had a chance to talk strategy with him?
KM: We've both been in this league for awhile, so we don't really have to talk strategy until we actually get on the court and we know what each other is capable of. But I think we do already have a pretty good feel for each other's game just because we've both been around awhile.
His presence is going to be tremendous for us. Last year we didn't have a guy like Yao, who could alter shots and grab rebounds without jumping. You saw the Lakers had two of those guys, so we look forward to seeing how we match up with them now.
JCF: I know last year was tough for you. Looking back, do you feel as if your final season in Sacramento was the most challenging part of your career?
KM: I'd actually say the lowest part of my career was my first year in the league. I didn't really get to play and I wanted to be out on the court.
But last year, yeah, it was tough. After the first six games of the season I was leading the league in scoring and I felt good – that's what I'd worked for all summer. Then of course I got hurt. And then when I came back from injury, it was tough being out 2 ½ months and not being able to do anything. I think it was tough dealing with the expectations. I was leading the league in scoring, I'd averaged more than 20 (points per game) over the past four seasons, and when I came back people said I was down even though I was still putting up pretty good numbers with a bad wrist. I just had to get back in shape and get back into the rhythm of the game.
So mentally it was definitely time for me to move on with where I was at in my career and Houston couldn't have been a better spot.
JCF: I still remember your introductory press conference here: you had this big smile on your face and you said that it really was the first time in weeks that you had smiled like that. What does it mean to you to make it through a tough time like that and get back to a much better place mentally?
KM: It's huge because people go through things that can potentially affect them for the rest of their career and lead to their downfall. But I think back to my first year in the league – that was the first big roadblock. It was a bad time in my career. Coach Adelman made me work for everything but I eventually realized it was a great test.
Then with these injuries – I've had two really big injuries – it was a test getting back from those and it required determination and hard work, and I succeeded every time I came back. So something like what happened last year – that's minor. I knew my game was there, it was just a matter of time, and getting this opportunity with the Rockets to showcase it in the second half of the season – I'm just so thankful they gave me the opportunity.
JCF: Where do you draw strength from when you're facing adversity?
KM: I think the sort of person I am is I just keep moving. I'm not a guy who listens to what people says or what they say behind my back. I know who I am and I know what I can do on the basketball court. Even through those injuries, you just have to remember to stay true to yourself and get back to what you do best when you have the opportunity.
I think it starts with your family. They insert your values. But when you come to this business, into the NBA, you learn a lot on your own. It really develops you into a man – I think that's what it's done for me. In the middle of my second year, my trainer was calling me and talking about, "Are you ready to go overseas? Because that's going to be your next step after next year." He was testing me with that. Then Bonzi Wells went down with an injury and suddenly my chance opened up before me. I then realized what my trainer had been preparing and testing me for, and that's just another thing you have to realize if you're going to take this game seriously. I think that was really the turning point in my career – seeing how professional you have you to be and how seriously you have to take this.
JCF: Well you're 27 now, so essentially you're entering what should be the prime of your career. You've made the transition from young player to veteran presence, and typically the mantle of leadership comes with that as well. How do you envision being a leader on this team?
KM: I've always been a lead by example guy, even in Sacramento. After Ron Artest, Mike Bibby and Brad left the Kings, people looked for me to be the rah-rah guy in practice. But I'm the guy who's more comfortable leading by example and talking to somebody on the side and helping them out.
And here we have Shane, Yao and Brad – guys who are more knowledgeable about the game than me. So here I can be true to myself and simply lead by my example.
JCF: Do you have any goals or statistical benchmarks that you've set for yourself this season?
KM: Nope. Even the past two years I never did (set specific goals). It was always just: stay healthy and the rest will take care of itself because, if you've watched my career, you know that it's true. If I'm healthy, I'm one of the top-5 shooting guards in the league. So it's just all about being healthy.
JCF: Well we know you busted your butt working out all summer. What did you do for fun?
KM: I took some vacation over in Dubai and also played in a little charity game in Spain. I did get to enjoy that aspect of life. But usually every two years I do something with the NBA, like going to Indonesia or China. I went to Indonesia last summer so I didn't do anything this summer, which is sort of perfect timing with the expectations of where I want to be this year. I really wanted to get as much work in as possible this summer.
JCF: Is travel something you're passionate about?
KM: I do love traveling and seeing different cultures and experiencing new things. But I like doing it with the NBA more because with Basketball Without Borders you get to help out people instead of just going sightseeing, so I really look forward to doing those sorts of things overseas.
Got a question for Rockets.com? Send it to Jason Friedman. And for up to the second news and injury updates follow the Rockets and Jason on Twitter.