NBA experience: One season (one with Pelicans)
Games played/games started: 62/1
Key stats: 5.4 ppg, 2.4 rpg, 88.2 FT percentage, 38.2 three-point percentage
Trey Murphy III 2021-22 Pelicans Season Overview
Asked on April 29 to describe what his overall experience was like as an NBA rookie, forward Trey Murphy III responded with a sigh and one word that may best be reflected as "Whew!"
From his standout performances in 2021 summer league and preseason, to a rocky start to the regular season, to being out of the rotation, to coming full circle and providing key production during New Orleans' run to the playoffs, Murphy seemed to pack a handful of seasons into one.
"(It was) a roller-coaster for sure," Murphy said, recalling the ups and downs. "But it definitely made me stronger. It was the most informative year of my life and probably one of the most important years basketball-wise for me. The things that happened this year will definitely set me up for the rest of my career."
Perseverance was a necessity for the Rice and Virginia product, who looked like he might be headed for a big rookie year based on being named All-NBA Summer League in Las Vegas. He stayed hot from three-point range during the exhibition slate. The first major adjustment came when the regular season began, as Murphy shot just 33.8 percent on three-pointers prior to the All-Star break. However, starting with a 32-point breakout performance vs. Charlotte on March 11, the North Carolina native returned to form in the second half, upping his three-point rate to 44.3 percent.
Murphy was instrumental down the stretch for the Pelicans in claiming play-in and playoff berths, sinking some of the biggest baskets of the campaign in March and April.
"Tremendous," he said of getting to participate in the NBA postseason. "(For Brandon Ingram), this was his first playoff experience, and this was Year 6 for him. You can't put that into words, going to the playoffs your first year and actually contributing. Helping the team win games is very important. I'm very grateful for it."
Murphy (the No. 17 pick in the 2021 NBA Draft), Herbert Jones (No. 35) and Jose Alvarado (undrafted) formed one of the league's most productive rookie groups. Asked if New Orleans had the NBA's best rookie class, Murphy responded, "Without a doubt. It shouldn't be any question. How many rookies played in the playoffs this year? Or as a group, did they even log the amount of minutes we did?"
Jones, Murphy and Alvarado finished 1-3-4 in minutes played by rookies during the first round of the playoffs, with Toronto's Scottie Barnes the only non-Pelican to crack the top four.
"It's just a bunch of dogs," Murphy said of NOLA's trio of first-year contributors. "Jose, Herb, those guys are animals. I knew during summer league we had a special rookie class, just based off what we were doing. I'm super proud of those guys."
As Murphy's shooting accuracy continued to climb late in 2021-22, crowds in the Smoothie King Center began to notice. Zion Williamson remarked that home fans began to rise to their feet whenever Murphy was about to fire.
"I feel like I've built up a reputation where, a lot of my shots, you probably think they're going in, and I have the same mentality," Murphy said, when Williamson's comments were relayed to him. "I like that a little bit, when I can hear the crowd yelling, and as soon as I make it, it's like a 'boom' type of noise. Hopefully I'm able to bring some more booms next year."
Highlights: Trey Murphy III 2021-22 Pelicans Season Recap
Trey Murphy III By the Numbers
0: Double-digit scoring games by Murphy through Jan. 31, a stretch that represented his first 36 career appearances.
7: Double-digit scoring games by Murphy during the final month of the regular season, a stretch that represented the team's last 16 contests.
18: Consecutive made free throws by Murphy to close the regular season. His rate of 88.2 percent on foul shots led all rookies (minimum 50 attempts).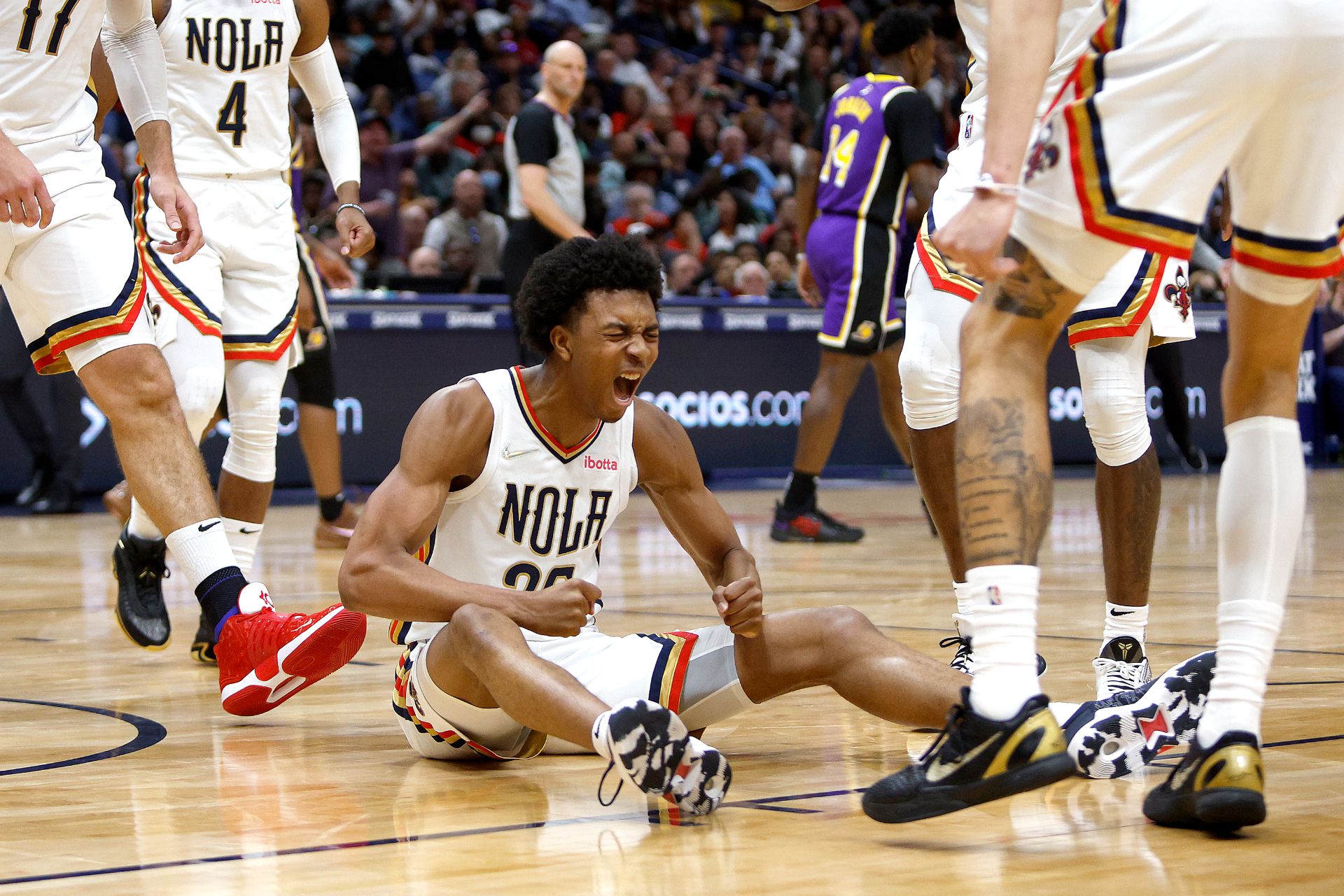 Trey Murphy III's Three Most Notable Games
No. 1: March 27, New Orleans 116, LA Lakers 108
After going scoreless in the first half in his 5:07 of action, Murphy erupted for 21 second-half points, sparking the Pelicans to a momentous comeback victory. After halftime, he shot 7/11 from the field, 4/6 from three-point range and 3/3 on free throws.
No. 2: April 15, New Orleans 105, LA Clippers 101
Not sure what it was about second halves and teams from Los Angeles, but during the play-in win that sent the Pelicans to the playoffs, Murphy deposited all of his 14 points after intermission. He got a friendly roll on one of the most memorable buckets of NOLA's season, a three with 2:10 left for a 101-94 lead.
No. 3: April 5, New Orleans 123, Sacramento 109
The Pelicans clinched a spot in the play-in tournament partly behind Murphy's most efficient offensive game of the regular season. He only needed four shots from the field to score 14 points (in just 19 minutes of playing time), going a perfect 4/4 from beyond the arc.
From the 12
Each player review features a poll or question directed to the New Orleans fan base. For Murphy, the question was: After you saw him make major improvements in the second half and cement a role in the rotation, what aspect(s) of his game make you the most excited about his upside and future? Some of the responses:
@MrWhoDatter: Attacking/finishing at the rim. This will open up more three-point shot chances for him. And not be labeled as just a shooter.
@KulPeople: Would like to see him improve his strength overall, improve as a dribble driver. Also, want him to get better shooting on the move. Screens, pindowns, transition.
@50TigerTd: He's grown two more inches, is aggressive, and just needs to improve his handles and defense. He will be a monster.
@cgsell: Trigga! Pulling the trigger from behind the arc is the best thing that TM3 can do, complementing those who are cutting and driving into the lane. If he can become an effort rebounder and defender, then this makes him a key part of a contender.
@SaintEB: He affects winning. He has to be accounted for. When he's in the lineup, they are plus net rating. Every lineup. He is getting better on the defensive side of the floor. He is using his athleticism to rebound and play in the paint more.