Last Updated: November 24, 12:10 PM
Matchup
The Pacers (8-5), have the look of a team on the rise.
On Tuesday night, Indiana, which has won eight of its last 10 games, faces a test in a Washington Wizards (6-4) team piloted by John Wall.
Despite losing rookie Myles Turner to a thumb injury, and George Hill and Rodney Stuckey to minor ailments, the Pacers have remained one of the hottest teams in the Eastern Conference, with their only losses during the 10-game stretch of stellar play being to the Bulls and Cavaliers. And even those, were close contests. Now, Stuckey and Hill (probable) return to a team that is already humming on offense and stifling opponents on defense.
On Saturday night, after building a sizable lead against division foe Milwaukee, Pacers head coach Frank Vogel challenged his group not to allow the Bucks to make it anything resembling a close game. The Pacers responded to the message, pushing their lead to as much as 40 points in the second half.
Whether Indiana plays a big lineup, with Jordan Hill and Lavoy Allen exchanging interior passes and crashing the offensive glass, or a small lineup, with Ian Mahinmi being the lone big while Paul George, C.J. Miles, Monta Ellis, and other shooters do damage from all over the floor, the results remain the same.
But Washington, boasting a point guard with one of the fastest first steps in the NBA, will be a unique challenge for the Pacers. Indiana will hope to have George Hill and his defensive prowess back for Tuesday night's matchup, but fatigue could be a factor for Hill in trying to match up against the relentless play of Wall.
Inside the paint, the Wizards are big, but not behemoth. Head coach Randy Wittman recently has rolled with a starting lineup featuring Marcin Gortat and Kris Humphries as the forwards, both of whom are under seven feet, but are also adept rebounders. This pairing allows 13-year NBA veteran Nene to provide a serious punch off of the bench, where sharpshooter Jared Dudley makes an impact as well.
With the blossoming third-year player Otto Porter Jr. starting at small forward, guards Wall and Bradley Beal have plenty of options to distribute passes to during their frequent cuts to the basket.
Indiana may be one of the hottest teams in the East, but Washington has now rattled off three straight wins.
The Pacers will attempt to derail that streak on Tuesday night at 7 PM.
Projected Starters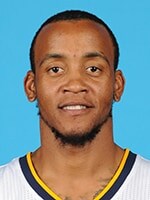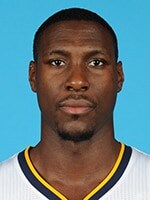 Pacers: PG - George Hill, SG - Monta Ellis, SF - C.J. Miles, PF - Paul George, C - Ian Mahinmi
Wizards: PG - John Wall, SG - Bradley Beal, SF - Otto Porter Jr., PF - Kris Humphries, C - Marcin Gortat
Injury Report
Pacers: George Hill - probable (upper respiratory infection), C.J. Miles - probable (sprained right ankle), Myles Turner - out (left thumb injury)
Wizards: Alan Anderson - out (ankle surgery), Martell Webster - Sore right hip (out)
Last Meeting
April 14, 2015: Needing a win to remain in control of their playoff destiny, the Pacers came out victorious 99-95 in a double-OT thriller at Bankers Life Fieldhouse.
In the season's penultimate game, Vogel played the recently-returned Paul George — who had been coming off the bench with the second unit — during crunch time, and George responded by hitting a floating jumper to tie the game with 22 seconds left in the first overtime.
In the second period of OT, the Pacers managed to put together a 5-0 run that eventually sealed the win for the Blue & Gold, allowing the Pacers to head into the season's final game with a shot at the playoffs.
Noteworthy
The Wizards score at the sixth-highest clip in the NBA at 103.6 points per game, but allow even more, giving up 105.3 points per contest
Washington has five bench players that average over five points per game
With 10 games, the Wizards have played the fewest games in the NBA
The Pacers and Wizards met in the 2013-14 playoffs, with Indiana winning the series 4-2 and advancing to its second consecutive Eastern Conference Finals
TV: FOX Sports Indiana - Chris Denari (play-by-play), Quinn Buckner (analyst), Jeremiah Johnson (sideline reporter/host)
Radio: 93.5 FM/AM 1070 The Fan - Mark Boyle (play-by-play), Pat Boylan (studio host)
Tickets
The Pacers return home on Friday night to host Jimmy Butler and the Chicago Bulls. Good seats still remain. Find Tickets »
Game Night Special
Hooded Sweatshirt - $20. Game Night Specials can be purchased online the day of each away game from 10:00 AM - Midnight. Order Now »