Matchup
Over a month ago, when the Golden State Warriors won their first couple of games to start the season on the heels of their Championship run, it was easy to look at the schedule and joke that they may just be undefeated by the time they make it to the Fieldhouse in December. Well, with their 114-98 win over the Nets on Sunday, that thought has solidified into a reality, as the Pacers prepare to take on a team who is playing at as high a level as any in NBA history.
The Pacers, despite dropping the final two games of their four-game road trip, are also playing a high class of basketball, most notably Paul George, who poured in a career-high 48 points during Indiana's 122-119 overtime loss to the Jazz on Saturday night.
However, there's playing good basketball, and then there's doing what the Warriors are doing, who have won their first 22 games of the season (and the final four of last season). Curry, who won the league's Most Valuable Player award last season, has made some openly question whether he could be in the running for the Most Improved Player award this season. Curry is averaging 32.4 points per game, more than two higher than the next closest player (James Harden), while doing so in five fewer minutes per game. Curry's been aided by the similarly spectacular play of Draymond Green, perhaps the league's most versatile forward. Green has already registered three triple-doubles this season, and has a stat sheet with more balance than tightrope walker.
Much was made over the offseason about the Pacers' small ball lineup and whether or not it would work with their personnel. It has since become clear that Indiana, with career-best play of Paul George, who is averaging 27.6 points per game, can indeed win games with their new style of play, some of which has been based on the Warriors' success. While Indiana is 7-3 in their last 10, both of their past two losses (Portland and Utah) have posed unique lineup challenges that the Pacers were unable to overcome. With the Trail Blazers it was the size and shooting of power forward Meyers Leonard, who quickly became a matchup problem for the Blue & Gold. And with the Jazz, the physicality of forward Derrick Favors proved difficult, as Favors went off for 35 points and 13 rebounds.
But despite those two games, Indiana remains one of the hotter teams in the league, especially on offense. Over the last four games (2-2), Indiana has posted an offensive rating of 106.5, the fourth-highest in the Association. Number one during that same frame? You guessed it: Golden State.
The Warriors and their 26-game win streak (dating back to last season), the third longest in NBA history, will be a true test of just how far along Indiana's new-look lineup has grown, as well as whether they can tighten the screws on defense, where they struggled over the final two games of their road trip.
And the implications of the game, even taking into account that it's just a regular season game in December, are staggering. There is the fact that a win would be a signal flare to the rest of the league that the Pacers (12-7) are a force to be reckoned with. There is the possible MVP conversation the could emerge from a win in which a George-led Pacers topped Curry's Warriors. And there is the final fact that it is a home game for the Pacers, and the place is going to be rocking.
A win for Indiana in this one could legitimately go down as one of biggest victories in the team's 49-year regular season history.
Projected Starters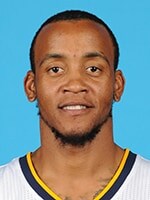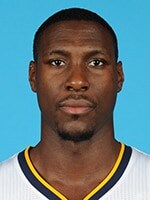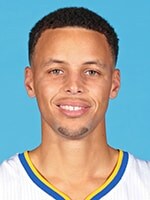 Pacers: PG - George Hill, SG - Monta Ellis, SF - C.J. Miles, PF - Paul George, C - Ian Mahinmi
Jazz: PG - Stephen Curry, SG - Klay Thompson, SF - Brandon Rush, PF - Draymond Green, C - Andrew Bogut
Injury Report
Pacers: Myles Turner - out (chip fracture, left thumb)
Warriors: Harrison Barnes - out (sprained left ankle), Kevon Looney - out (right hip surgery)
Last Meeting
February 22, 2015: Wearing their Flo-Jo jerseys, the Pacers ended up topping the eventual world champions 104-98 in a close one at the Fieldhouse.
It must be noted that Golden State was without the services of one Stephen Curry, whose lingering foot injury flared up before game time, keeping him out of the contest.
Rodney Stuckey took the lead for the Pacers, scoring 30 points while going 11-of-17 from the field. But Stuckey wasn't the only spark off the bench, the Pacers' reserve unit ended up piling up a ridiculous 61 points.
The Pacers' lead was down to just one point late in the fourth, but George Hill was able to knock down a timely triple, followed shortly after by a C.J. Miles three to give Indiana a lead it would hold until the final buzzer.
Noteworthy
Harrison Barnes, one of the key players of the Warriors starting unit, it still shelved with an ankle sprain
The Warriors and Pacers split their season series 1-1 last year
A win for Golden State would move the Warriors into a tie with the 2012-13 Miami Heat for the second-longest winning streak in NBA history (27 games). The all-time longest streak is 33, set by the 1971-72 Lakers
TV: FOX Sports Indiana/NBA TV - Chris Denari (play-by-play), Quinn Buckner (analyst), Jeremiah Johnson (sideline reporter/host)
Radio: 93.5 FM/AM 1070 The Fan - Mark Boyle (play-by-play), Slick Leonard (analyst), Pat Boylan (sideline reporter/host)
Please Note: Inside Bankers Life Fieldhouse, Pacers radio broadcasts can be heard on 1080 AM instead of 1070.
Tickets
Tickets are going fast for Tuesday night's showdown versus the undefeated Warriors. Secure your seats now before time runs out. Find Tickets »
Home Court Gift Shop Game Night Special
Select Long Sleeve T-Shirt - $15. Game Night Specials can be purchased in the Home Court Gift Shop or any of our souvenir stands located on all levels of Bankers Life Fieldhouse. Please shop online also at PacersGear.com.