Matchup
Eight days before tipping off the 2019-20 NBA season, the Pacers will take the floor on Tuesday for one final tuneup ahead of the regular season.
Indiana has been able to build some chemistry through its first three preseason games, particularly among the first unit, as all five projected starters have played significant minutes in each of the first three exhibitions.
The Pacers haven't been so fortunate with their bench, however, as several members of the second unit have missed time during training camp. Third-year forward TJ Leaf did not play in the two games in India due to a calf strain, while backup point guard Aaron Holiday missed Friday's game against Chicago due to illness.
But the most conspicuous absence thus far has been rookie center Goga Bitadze. The 18th overall pick out of the Republic of Georgia has yet to play a game in a Pacers uniform, missing Summer League action due to visa issues and sitting out the first three exhibitions after suffering an ankle sprain early in training camp.
Bitadze could make his long-awaited debut on Tuesday. He participated in a scrimmage at Sunday's FanJam and looked healthy. The only center on the roster coming off the bench with both Myles Turner and Domantas Sabonis in the starting lineup, Bitadze should play a key role for the Blue & Gold as a rookie, and coach Nate McMillan would love to get him some game experience ahead of the regular season if possible.
"We're anticipating him playing tomorrow," McMillan said at Monday's practice. "I want to play him as much as I can."
The Timberwolves are looking for a bounce-back year after a disappointing 2018-19 campaign. Minnesota won 47 games and reached the playoffs in 2017-18, but struggled last season, going just 36-46. The T-Wolves fired coach Tom Thibodeau midseason and replaced him with Ryan Saunders, the son of former Minnesota coach Flip Saunders. The younger Saunders went 17-25 as an interim coach last season and had the interim label removed in May.
Projected Starters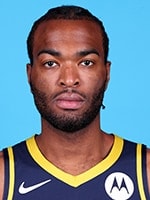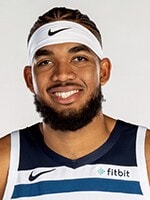 Pacers: PG - Malcolm Brogdon, SG - Jeremy Lamb, SF - T.J. Warren, PF - Domantas Sabonis, C - Myles Turner
Timberwolves: PG - Jeff Teague, SG - Andrew Wiggins, SF - Treveon Graham, PF - Robert Covington, C - Karl-Anthony Towns
Injury Report
Pacers: Victor Oladipo - out (right knee rehabilitation)
Timberwolves: Keita Bates-Diop - questionable (back spasms), Jordan Bell - questionable (strained left calf)
Last Meeting
February 28, 2019: Bojan Bogdanovic scored 14 of his Pacers career-high 37 points in the fourth quarter to help lift Indiana to a 122-115 win at Bankers Life Fieldhouse. The Croatian sharpshooter went 13-for-22 from the field and 4-for-7 from 3-point range while also tallying seven rebounds and four assists.
The Pacers prevailed despite a herculean performance from Minnesota All-Star center Karl-Anthony Towns, who racked up 42 points, 17 rebounds, and four assists. Towns had 23 points in the first quarter alone.
"Karl-Anthony Towns hurt us in the first quarter," Bogdanovic explained. "We started to double him and started to play very aggressive defensively and we had a lot of easy points in the fast break."
TJ Leaf chipped in 18 points off the bench for Indiana in the victory, while Thaddeus Young added 15 points, five rebounds, five assists, and three steals.
Former Pacer Jeff Teague had 13 points, six rebounds, and five assists for the Timberwolves.
Noteworthy
Timberwolves point guard Jeff Teague is a Pike High School graduate and played for his hometown Pacers during the 2016-17 season.
Minnesota forward Robert Covington was teammates with current Pacers T.J. McConnell and JaKarr Sampson in Philadelphia.
Former Butler guard Kelan Martin signed a two-way contract with the Timberwolves this offseason.
Tickets
Secure your seats today to see the new-look Pacers take on Karl-Anthony Towns and the Minnesota Timberwolves in the preseason finale on Tuesday, Oct. 15 at 7:00 PM ET at Bankers Life Fieldhouse. Find Tickets »
TV: None
Radio: 93.5/107.5 FM/1070 AM The Fan - Mark Boyle (play-by-play), Pat Boylan (sideline reporter/host)
Please Note: Inside Bankers Life Fieldhouse, Pacers radio broadcasts can be heard on 1080 AM instead of 1070.