Last Updated: Feb. 19 at 2:30 PM
Matchup
Paul George set an All-Star Game record on Sunday night in Toronto, knocking down nine 3-pointers, and narrowly missed out on another, scoring 41 points to fall one shy of Wilt Chamberlain's 54-year-old All-Star Game scoring record. But despite his standout performance, George wasn't named MVP of the All-Star Game.
That honor went instead to Oklahoma City Thunder guard Russell Westbrook, who had 31 points, eight rebounds, and five assists in the Western Conference's 23-point victory. George admitted after the game that he wanted to take home the hardware and was mildly riffed that the West elected to double-team him in the final minute to keep him from breaking Chamberlain's record.
"It's definitely going to be a little grudge," George joked after Wednesday's practice. "Although Russ won (MVP), (Thunder All-Star forward Kevin Durant) took part in the double-team. So, I've got a little something for them."
All jokes aside, the Pacers (28-25) will look to start their playoff push on the right foot on Friday, and finding a way to beat the Thunder (40-14) on the road would be a huge confidence boost heading into the second half of the season. Indiana entered the All-Star Break in sixth place in the jam-packed Eastern Conference standings, just three games out of third but also just a game and a half clear of missing the playoffs altogether.
The Blue & Gold start the second half with a three-game trip that includes stops in OKC, Orlando, and Miami. If they can find a way to win two of those three contests, the Pacers could be able to make a nice surge up the standings with 15 of their final 26 games at home.
Beating the Thunder, however, is easier said than done. Primed again for another deep playoff run, Oklahoma City has won 14 of its last 16 games and seven of their last eight, with their only loss over that latest stretch coming at Golden State on Feb. 6. Westbrook and Durant are generally considered to be two of the five best players in the entire league, combining to average over 51 points, 14 assists, and 15 rebounds per game.
Projected Starters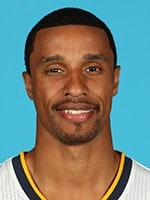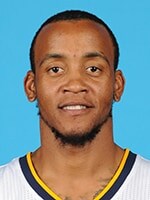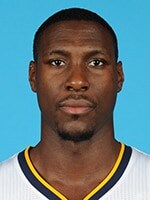 Pacers: PG - George Hill, SG - Monta Ellis, SF - Paul George, PF - Myles Turner, C - Ian Mahinmi
Thunder: PG - Russell Westbrook, SG - Dion Waiters, SF - Michael Kidd-Gilchrist, PF - Serge Ibaka, C - Steven Adams
Injury Report
Pacers: Rodney Stuckey - out (right foot sprain and bone bruise)
Thunder: Andre Roberson - out (right knee sprain)
Last Meeting
April 12, 2015: The Pacers withstood an offensive onslaught from Russell Westbrook and knocked off the Oklahoma City Thunder at Bankers Life Fieldhouse, 116-104. Indiana won despite Westbrook, making a late run at the NBA's scoring title, going off for a career-high 54 points, nine rebounds, and eight assists.
C.J. Miles led Indiana with 30 points and 10 rebounds. "3-J" was 6-for-8 from 3-point range on the evening. George Hill added 19 points and seven assists, while Roy Hibbert recorded his 18th double-double of the season, finishing with 17 points and 10 boards.
Westbrook finished 21-for-43 from the field and 5-for-15 from 3-point range. Dion Waiters added 16 points while Enes Kanter chipped in 13 for Oklahoma City.
Noteworthy
The Pacers are 34-47 all-time against the Sonics/Thunder franchise.
Indiana has lost five straight games in Oklahoma City and is 1-5 all-time in the city. Their lone win came on April 5, 2009.
The Blue & Gold are 19-1 on the year when allowing 94 or fewer points and 13-0 when holding their opponents under 90. The Thunder, however, have only scored 94 or less on three occasions all season and have topped the century mark in every game since Christmas.
The Thunder made a minor move at Thursday's trade deadline, acquiring guard Randy Foye and a trade exception from Denver in exchange for guard D.J. Augustin, forward Steve Novak, two second-round draft picks, and cash considerations.
TV:FOX Sports Indiana - Chris Denari (play-by-play), Quinn Buckner (analyst), Jeremiah Johnson (sideline reporter/host)
ESPN - Mike Tirico (play-by-play), Hubie Brown (analyst), Heather Cox (sideline reporter)
Radio: 93.5 FM/AM 1070 The Fan - Mark Boyle (play-by-play), Pat Boylan (studio host)
Tickets
The Pacers return home on Wednesday, Feb. 24 to host the Knicks at 7:00 PM in a Hickory Night Game. Find Tickets »