Editor's Note: The Delaware St. entrance to the Virginia Ave. Parking Garage is no longer in operation due to the construction of the St. Vincent Center. To enter the Virginia Ave. Parking Garage, please use the entrance located at the intersection of E Maryland St. and S Alabama St.
In addition, the southbound lane of Delaware Street from Maryland to just south of the train bridge will be closed for the duration of the construction project.
Matchup
After dropping their first home game of the 2016 NBA Playoffs, the Pacers will look to bounce back in Game 4 on Saturday afternoon and even their best-of-seven First Round series with the Toronto Raptors.
Bankers Life Fieldhouse was rocking on Thursday night for Game 3, but the Pacers fell into an early hole and never recovered. The Raptors jumped out to a 23-point lead in the first half and led by double digits the rest of the way.
Indiana's offense struggled to find any sort of rhythm, particularly over the first two quarters. The Pacers managed just 36 points and shot 33.3 percent from the field after halftime. The Pacers know that they will have to have better offensive execution to come away with a win in Game 4.
"The best offense is just us being in attack mode," All-Star forward Paul George said after Thursday's loss. "I don't think we're doing it enough."
Taking care of the ball will be another point of emphasis for the Blue & Gold. The Pacers had 17 giveaways in their Game 3 loss, which Toronto converted into 26 points on the other end.
One bright spot in Game 3 was another strong performance from rookie forward/center Myles Turner. The 20-year-old finished the night with 17 points on 7-of-12 shooting and also collected eight rebounds and blocked three shots.
Turner was so effective that head coach Frank Vogel allowed him to start the second half in place of Lavoy Allen. It is conceivable that the 6-11 big man who started 30 games during the regular season could find himself back in the starting five for Game 4.
"We'll consider everything," Vogel said after Game 3. "I don't know what our lineup will look like next game. We'll watch tape and evaluate."
Despite Thursday's loss, the seventh-seeded Pacers still have a chance to put some stress back on the second-seeded Raptors with a win in Game 4. Doing so would effectively make it a best-of-three series heading back to Toronto for Game 5.
Toronto is a team that hasn't advanced beyond the First Round of the playoffs in its current iteration and has to prove that it belongs among the NBA's elite. Heavy favorites coming into this series, the Raptors are no doubt feeling pressure to close out a series, and each Pacers win puts a little more doubt in their minds.
Projected Starters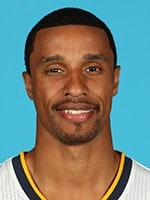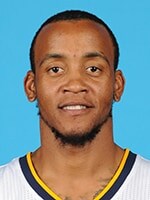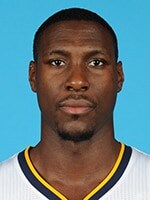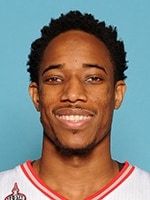 Pacers: PG - George Hill, SG - Monta Ellis, SF - Paul George, PF - Lavoy Allen, C - Ian Mahinmi
Raptors: PG - Kyle Lowry, SG - DeMar DeRozan, SF - DeMarre Carroll, PF - Luis Scola, C - Jonas Valanciunas
Injury Report
Last Meeting
April 21, 2016: The Raptors led nearly from start to finish in their 101-85 victory in Game 3 at Bankers Life Fieldhouse.
DeMar DeRozan scored 12 of his 21 points in the first quarter to help Toronto open up a seven-point lead and then Toronto used a 12-2 run early in the second period to stretch the margin to double digits. They cruised from there, never letting Indiana cut the deficit to under 10 points over the final 34:09.
In addition to DeRozan, Kyle Lowry also scored 21 points and dished out eight assists in the victory. DeMarre Carroll added 17 points and five rebounds for the Raptors.
Paul George led the Pacers with 25 points, going 6-for-19 from the field but 12-for-12 from the free throw line. The three-time All-Star also collected 10 rebounds and six assists in the loss.
Noteworthy
The Pacers had a 24-1 record this season when allowing 94 or fewer points and a 16-0 mark when holding opponents to under 90. In their Game 1 win in Toronto, they held the Raptors to 90 points, but have given up 98 and 101 points in their two subsequent losses.
Backup point guard Ty Lawson and reserve swingman C.J. Miles did not play in the second half of Thursday's loss after struggling in the first half.
The Raptors also shortened their rotation. Rookie Norman Powell, who started Game 1, did not play until the final three minutes of Game 3.
TV: TNT - Marv Albert (play-by-play), Chris Webber (analyst), Kevin Ray (sideline reporter)
Radio: 93.5 FM/AM 1070 The Fan - Mark Boyle (play-by-play), Bobby "Slick" Leonard (analyst), Pat Boylan (sideline reporter/host)
Please Note: Inside Bankers Life Fieldhouse, Pacers radio broadcasts can be heard on 1080 AM instead of 1070.
Tickets
Limited seats remain for Game 4 vs the Raptors on Saturday afternoon. Secure your seats now: Find Tickets »
Home Court Gift Shop Game Night Special
Select Pacers Short Sleeve T-shirts - $12. Game Night Specials can be purchased in the Home Court Gift Shop or any of our souvenir stands located on all levels of Bankers Life Fieldhouse. The special is also available online at PacersGear.com until midnight.